TNA Lockdown Predictions: 4 Title Matches, Lethal Lockdown and More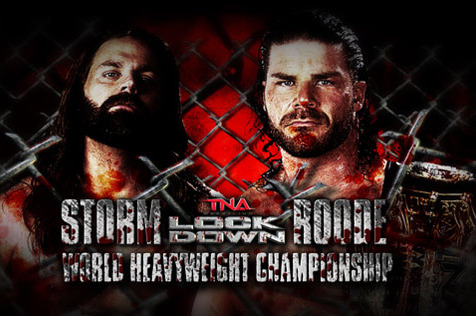 impactwrestling.com
One night a year, TNA Wrestling throws its wrestlers inside the steel cage to settle their rivalries.
Tonight is that night as TNA Wrestling presents their annual all-steel cage event, Lockdown.
The build to this event has been centered around the big Bobby Roode/James Storm one-on-one match for the TNA World Heavyweight Championship and rightfully so.
The match is arguably the biggest title match in TNA's history, not only pitting two former friends against each other but two TNA originals who clawed their way to the top.
Also featured will be three more title matches, the traditional Lethal Lockdown, as well as two others. Seeing as that's only seven matches, expect one more match to be added.
My guess would either be an X-Division Xscape match or a Knockouts Tag Team Championship match between champions ODB and Eric Young and challengers Sarita and Rosita.
If it's the Xscape match, I predict a Zema Ion victory but if it's the title match, I'm going with the champions retaining. If it's none of those matches, then ignore what you just read.
Here are the seven scheduled matches and who I think will come out on top.
Begin Slideshow

»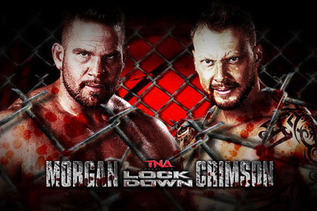 impactwrestling.com
After Samoa Joe took Crimson out of the Bound for Glory Series, Matt Morgan came to his aid. He entered into a feud with Joe but when Crimson was healed, he entered into the feud as well.
A triple threat match was held at Bound for Glory that Crimson won and it saw the exit of Joe from the storyline. Morgan and Crimson then set their sights on each other.
The following month at Turning Point the two of them fought to a no contest and then-general manager Sting saw that as a sign to make them into a team. He saw potential in two giants who were equals and he was right.
They quickly won the TNA Tag Team Championship and held onto them until February, losing the titles to Samoa Joe and Magnus.
Miscommunications between them started the tension right back up and Crimson soon turned on Morgan. They had a match after Victory Road that also ended in a no-contest but both of them then disappeared.
It wasn't until last week when Hulk Hogan took control of TNA that this match was made.
Both men have a lot to gain from winning and a lot to lose from losing. Crimson has more to lose, though, with his undefeated streak on the line.
Both are no doubt the future of TNA and a victory here could put them in line for an eventual world title shot. Crimson's streak is all he has right now which is why I think he'll be winning this.
I'd prefer a Matt Morgan victory, but I just don't see it happening.
Winner: Crimson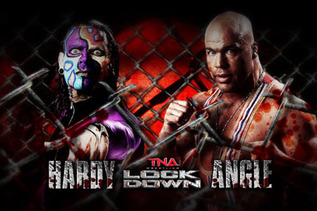 impactwrestling.com
After Sting inadvertently screwed Jeff Hardy out of the title at Against All Odds, he received another shot at the belt on the following episode of Impact Wrestling.
He was screwed again, though, this time by Kurt Angle. Angle soon revealed that he targeted the Charismatic Enigma because his son was more of a fan of Hardy than of his own father.
The two of them met in tag-team matches until finally going at it at Victory Road. Angle picked up the win and declared that he wouldn't be giving Hardy a rematch.
With no scheduled rematch, the two would run in on each other's matches until last week, when Hulk Hogan finally booked the rematch on Impact Wrestling.
Angle would walk out of the match taking the count-out loss. The Hulkster decided to punish Angle for that and booked this match.
These two could very well steal the show here. Angle has never disappointed at this event and Hardy will certainly be right at home inside the cage.
With Kurt Angle winning last month, this match will go to Jeff Hardy.
Winner: Jeff Hardy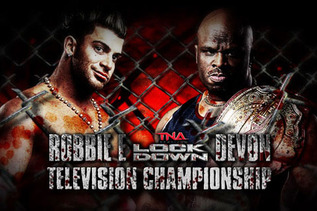 impactwrestling.com
TNA Wrestling's secondary title is on the line in a match that has zero hype.
At Victory Road, then-champion Robbie E issued an open challenge for the title. It was accepted by Devon, who appeared through the crowd.
Devon would win the match and become the new champion, but unless you watched the show or read the results, you would have no idea that he was champion.
He's had the title for about a month and has yet to appear on Impact Wrestling. That's four weeks without a single mention of the title and now, all of a sudden, it's acknowledged?
The title has the potential to be something great, but TNA chooses to ignore it for some reason. If they don't care about the belt, then why should I?
I'm flipping a coin on this one.
Winner and Still Champion: Devon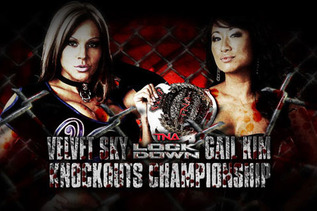 impactwrestling.com
I was at Bound for Glory when Velvet Sky won the Knockouts Championship. It was a great moment to see her hard work finally pay off in a big way. Then everything was crushed when Gail Kim returned to TNA.
She immediately received a title shot and won the title at November's Turning Point.
From there Gail mostly faced Mickie James while Velvet sat on the sidelines. Only appearing to have the occasional match, Velvet was basically kicked to the curb.
As Gail's reign continued, and she finally got away from Mickie, she faced Tara at Against All Odds and Madison Rayne at Victory Road. As Lockdown approached, Gail was still without a challenger.
Hulk Hogan fixed that last week, making a six-Knockouts match where the winner got a shot at the title.
Velvet won the match thus finally getting her rightful rematch. This past Thursday, she gained some momentum by defeating Gail and Madison in tag-team action along with her partner Mickie.
Gail Kim has been a decent champion as she has taken on all comers, though mostly Mickie James. It's time for someone else to represent the Knockouts division as champion, though.
While Gail is the better wrestler, Velvet Sky is quite over with the TNA fans.
Plus, I think she deserves a title reign that's more than a few weeks.
Winner and New Champion: Velvet Sky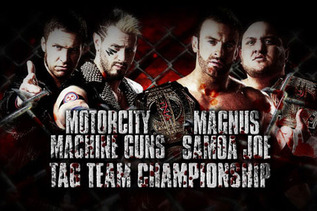 impactwrestling.com
Samoa Joe and Magnus were an unlikely team when they appeared in the Wild Card Tag Team Tournament. As the tournament continued, they showed that they had great chemistry together and made it all the way to the finals.
After defeating A.J. Styles and Kazarian, they received a shot at the Tag Team Championship at January's Genesis. While they failed to win, the new team refused to give up.
They received one more shot at Against All Odds and won the titles from Matt Morgan and Crimson. After successfully defending the titles against the former champions, Joe and Magnus disappeared to make way for the return of the Motorcity Machine Guns.
Despite being inactive for over a year, the Guns returned last week to defeat Mexican America quite quickly. They then challenged Joe and Magnus for the titles and the match was made official for Lockdown.
This past Thursday the two teams went face-to-face but they haven't had much interaction since the Guns literally just returned. It's because of that I don't think they'll be winning the match.
This will be a great match and very well could help revitalize TNA's tag-team division.
As much as I would like to see Chris Sabin and Alex Shelley win the titles, it's just way too early for them to do so.
Samoa Joe and Magnus will retain here, which will set up a hell of a feud between these two teams.
Winners and Still Champions: Samoa Joe and Magnus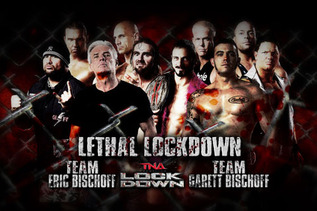 impactwrestling.com
Eric Bischoff, Bully Ray, Gunner, Christopher Daniels and Kazarian vs. Garret Bischoff, A.J. Styles, Austin Aries, Mr. Anderson and Rob Van Dam
TNA's traditional War Games style match returns this year but it is plagued by the name Bischoff. It's because of that I've lost some interest in the match this year.
At the same time, if I ignore the Bischoff factor, this match has a lot of talent inside the cage.
I have no doubt in my mind that Austin Aries will be the star here, though he will be followed closely behind by A.J. Styles.
Hoping that both Bischoffs come out last, the match should overall be quite good. As for the winner, I think it's a no-brainer.
The lesser of two evils will win here. Team Garrett will gain victory thus kicking Eric Bischoff out of TNA, at least as an on-air character.
Winners: Team Garret
Here we have the match TNA fans have been waiting for. After a six-month wait, Bobby Roode and James Storm will finally be going one-on-one.
After Roode failed to win the World Championship at Bound for Glory, Storm stepped up to the plate to defeat Kurt Angle and win the title. A few weeks later, though, Roode would turn on his long-time friend and partner to take the title away from him.
For six months, Roode has been able to avoid Storm, defending the title against the likes of A.J. Styles and Jeff Hardy instead.
The Cowboy finally received a shot at Against All Odds, but it was in a fatal-four way match and wasn't the one-on-one match for which he desperately yearned.
After Storm defeated Bully Ray, then-general manager Sting declared Storm the No. 1 contender and booked this match before Victory Road even took place.
Since then the two have crossed paths but haven't really been able to get their hands on one another like they wanted to.
After a great in-ring segment this past Thursday, these two men are certainly ready to kill each other over the title.
I've been watching TNA since Day One and I can't remember a title match that has been built up quite like this one has. This match will be great, mixing wrestling with pure violence inside the steel cage.
If all goes as well as expected, this very well could be a candidate for Match of the Year come December.
As for the winner, this has to go to James Storm. He's been built up way too much for him to ultimately lose.
TNA already made that mistake with Bobby Roode at Bound for Glory; I'd like to think that they won't make it again!
Winner and New Champion: James Storm