San Francisco 49ers: Future Team Legends Currently on the Roster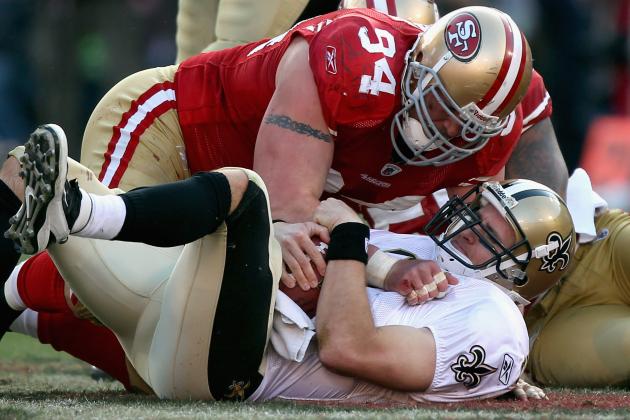 Jed Jacobsohn/Getty Images

As one may be able to tell, the San Francisco 49ers have a handful of stars at particular positions, particularly at key positions to having a good football team. San Francisco has acquired players in the draft and in free agency who will eventually go down as some of the best to ever wear red and gold.
This is a special thing since the 49ers are on the fringe of their sixth championship.
In this piece, I'd like to identify and explain why the following 49ers players will eventually be remembered alongside Joe Montana, Jerry Rice, Ronnie Lott, Dwight Clark and Roger Craig. Some of them may mean less to the rest of the league, but for the 49ers, they are team legends.
Begin Slideshow

»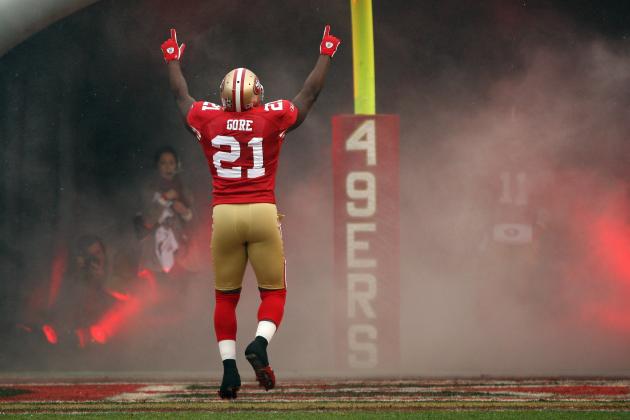 Ezra Shaw/Getty Images

With this 49er, we have the franchise's all-time leader in rushing yards, and San Francisco has had some decent tailbacks in Roger Craig and Joe Perry. Frank Gore was drafted in 2005 with quarterback Alex Smith. The third rounder from the University of Miami has battled injuries for most of his career but always fights his way back, stronger than before.
Like Smith, Gore has gone through several different offensive coordinators but has been a consistent contributor to the 49ers and is often the team's best weapon.
The Pro Bowler is the reason the 49ers have established themselves as such a formidable running team. The offensive line has been in flux ever since his arrival, but Gore has always been great at turning nothing into something.
Frank Gore is arguably the most underrated running back in the NFL. A humble teammate, Gore contributes in both the running game and the passing game. In five of Gore's seven career seasons, he has rushed for 1,000-plus yards. Entering his eighth season in 2012, he'll look to build on his franchise-best 7,625 career rushing yards.
Gore will go down as one of the more memorable players of this generation's 49ers. It would be truly great if Gore could win a Super Bowl before he retires.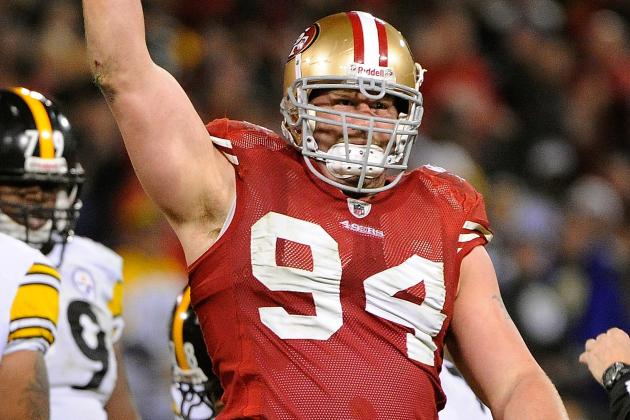 Thearon W. Henderson/Getty Images

Even though he spent most of his career with the Cincinnati Bengals, I believe it my heart of hearts that Justin Smith will retire a 49er and be remembered as one.
In 2011, Justin Smith was discussed as an MVP candidate, against the likes of Tom Brady, Aaron Rodgers and Drew Brees. Smith had numerous tone-setting, game-changing plays during the season—and he had two memorable game-closers to go with it.
Against the Philadelphia Eagles and New York Giants, Smith forced a fumble and batted a pass that won the game for San Francisco. Moving around on the defensive line in 2011, Smith record 58 tackles, 7.5 sacks, three forced fumbles and one fumble recovery.
He has been a phenomenal leader for the Niners in how he prepares and carries himself like a true blue-collar professional. He is unselfish in that he will absorb two offensive linemen to free up his linebackers, even though he's capable of bulldozing through them.
And Smith really has become an unstoppable force of nature. The 2011 season was probably his best yet because the pieces are finally in place around him. Smith will have another few great and successful seasons with the Niners before he hangs it up, and he will no doubt continue to be a 49er fan favorite well after he has retired.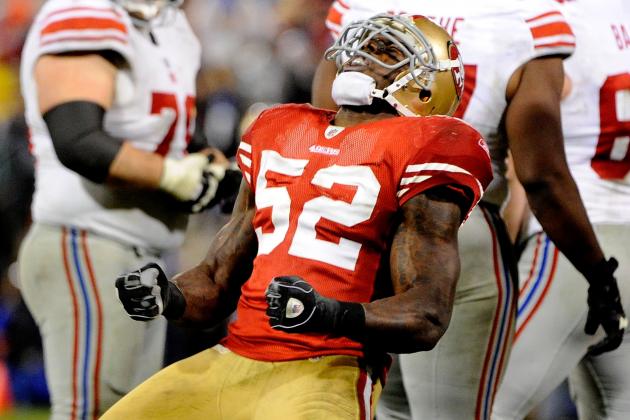 Thearon W. Henderson/Getty Images

To 49ers fans, he will be remembered as the Jerry Rice of linebacking. Not only will Patrick Willis be a 49ers legend, but he will be an NFL legend. The sure-fire Pro Bowler and All-Pro inside linebacker is the best linebacker in the game today. Willis is by far the greatest linebacker the 49ers have ever had and is challenging Ronnie Lott for best defender.
Willis has a complete body of work, with league-leading tackle titles, defensive touchdowns, memorable big hits and unbelievable consistency against the run.
What speaks more to WIllis' legacy is that the defense began to take form around him. Each practice, each game, each year, Willis set the tone for how to prepare and how to perform on game day. Justin Smith had a hand in this too, but Willis is at the nucleus of it all.
Under his command, the 49ers now tout the league's No. 1 defense, which was record-setting in 2011 in run categories and shockingly good in turnover ratio. This defensive unit has evolved because of Willis, and he will forever be remembered for what he has done and what he will do for the 49ers.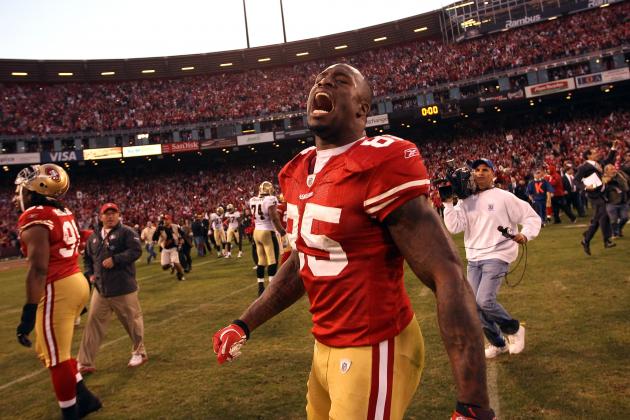 Ezra Shaw/Getty Images

A former first-round pick for the 49ers, Vernon Davis has blossomed into the model professional football player. He is productive, highly athletic, top-three at his position, a hybrid who has matured into a humble, motivated individual. As of 2011, it is now Patrick Willis and Vernon Davis who lead the pre-game chants together.
He is a captain and leader of the 49ers. He has the best chemistry with San Francisco's starting quarterback and is easily the most reliable pass-catching threat the Niners have. In Davis' first two playoff games ever in 2011, he recorded 10 catches for 292 yards and four touchdowns.
He is also now the star of "The Catch III" after making an incredible game-winning reception against the visiting New Orleans Saints in the divisional playoff round.
Davis is the ultimate team player, which is a big reason he probably hasn't broken 1,000-yards receiving in a single season yet; he's asked to block a lot. With his great strength and explosion, Davis is arguably the best blocking tight end in football. But as a receiver, what he does often looks effortless.
In 2009, Davis set the record for touchdowns scored by a tight end in a season with 13. At the time, he broke future Hall of Fame tight end Antonio Gates' record, but Davis' record was broken in 2011 by Rob Gronkowski.
Davis is now in his prime, and his best years look to be ahead of him. What he is able to accomplish from Season 1 to Season 2 in the same tight end-friendly offense with Jim Harbaugh and Greg Roman could be special. This new regime could do wonders for the rest of his career as a San Francisco 49er.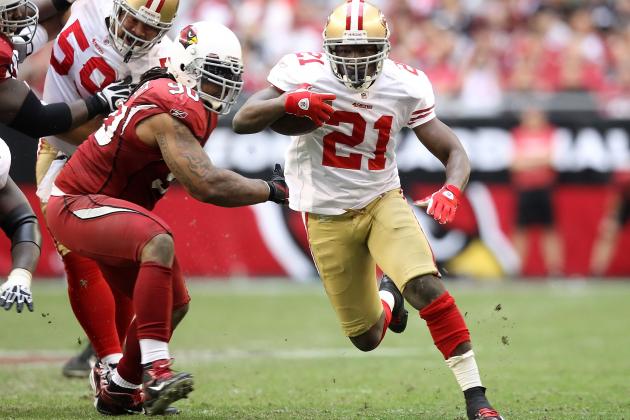 Christian Petersen/Getty Images

The fact that the 49ers have these caliber players on the team at once, while also surrounded with a load of other talent, is a good indicator of future success. All four of these players have really been etched into our minds as the top 49ers players and some of the best in the league.
Gore, Smith, Willis and Davis will all leave their mark on an already historic franchise, and that's saying something. I would be surprised if any of these players did not retire with the 49ers and eventually have a banner in the stadium or a retired number.
Three of these players are original 49er draft picks since 2005. Gore, Willis and Davis all signed contracts not too long ago that will see them reach almost the end of their playing careers in San Francisco.
It's a blessing that Jim Harbaugh came along because with the talent of all of these players, they deserve to know what success feels like in the NFL.
Follow me on Twitter: @DeSimone80