2012 NBA Mock Draft: Project Players Who Will Develop into All-Stars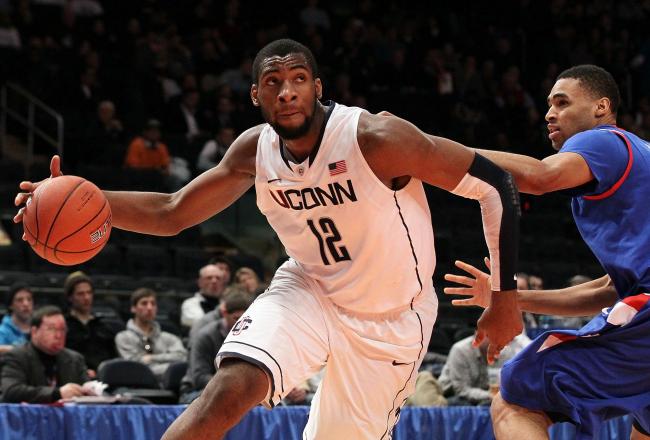 Jim McIsaac/Getty Images
The NBA draft is loaded with players who have huge potential but are raw. These players will either lead the team that drafts them to great heights or humiliating failure.
Every draft has these players. Teams are torn from choosing from potential or going with someone that is a little more proven.
In my mock draft below, the guys that come in with big potential and will fulfill it are highlighted with extra attention.
Langford's 2012 NBA Mock Draft
1. Charlotte Bobcats: Anthony Davis, PF, Kentucky
Davis has the mix of potential and productivity that warrants the No. 1 selection.
2. Washington Wizards: Michael Kidd-Gilchrist, SF, Kentucky
Kidd-Gilchrist will give national champion Kentucky a one-two punch at the top of the draft.
3. New Orleans Hornets: Andre Drummond, C, Connecticut
Why Drummond Will Develop into an All-Star
Will Drummond ever be an All-Star?
At 6'11" and 275 pounds, Drummond has the body for the NBA. He is big, strong and athletic. Guys his size should not move as well as they do, and if they do, they are destined for the NBA.
However, Drummond does not have the game to go with his athleticism. He needs work on his footwork, touch, moves, defense on the pick and roll and more. Drummond is not going to learn to excel at all of these things, but at his size he doesn't have to. He simply has to be passable.
Give this guy an improved shooting touch and a couple of post moves and he will be one of the best centers in the league.
4. Sacramento Kings: Thomas Robinson, SF, Kansas
Robinson catapulted over a lot of prospects with his tremendous season, and he is well worth the No. 4 selection.
5. Toronto Raptors: Jeremy Lamb, SG, Connecticut
Lamb brings a silky-smooth scoring touch that the Raptors need.
6. Portland Trail Blazers (via New Jersey Nets): Harrison Barnes, SF, North Carolina
The Blazers could use a young, athletic player to put out on the wing.
7. Detroit Pistons: Bradley Beal, SG, Florida
The Pistons need to add someone with some scoring punch. Beal can definitely bring that.
8. Cleveland Cavaliers: Meyers Leonard, C, Illinois
Why Leonard Will Develop into an All-Star
At 7'1", Leonard has the height that sends NBA teams drooling. He can also move exceptionally well for someone his size.
Leonard has solid athleticism. He can run the court and has the leaping and timing to be an effective shot-blocker. He also has a developing post game.
What he is missing is strength. Leonard does not have the core strength to get down low in the NBA. However, the guy is not a total beanpole. He weighs about 245 pounds. He will get stronger as he matures.
Leonard will turn into a strong starting center in the NBA and will make at least one All-Star appearance.
9. Utah Jazz (via Golden State Warriors): Austin Rivers, SG, Duke
The Utah Jazz need to add offensive punch to their backcourt, and Rivers can definitely score.
10. Milwaukee Bucks: Jared Sullinger, PF, Ohio State
Sullinger will be a nice scoring threat for the Bucks frontcourt.
11. Houston Rockets (via New York Knicks): John Henson, PF, North Carolina
Henson will give the Rockets some needed athleticism and length to their frontcourt.
12. Portland Trail Blazers: Damian Lillard, PG, Weber State
The Blazers could use a young point guard to help them rebuild their team.
13. New Orleans Hornets (via Minnesota Timberwolves): Perry Jones, SF, Baylor
Why Jones Will Develop into an All-Star
At 6'10", and the athleticism to play small forward, Jones is a rare prospect. He has the ability to be an absolute matchup nightmare on the outside.
However, to do this, he will have to develop a much more complete offensive game. Jones needs to improve his jumper from distance. He is solid in the mid-range, but he will need to extend that beyond the arc.
He has a solid post game, but he will have to increase his strength if he wants to be effective in that area as a pro.
These are both ways that Jones will improve, and he will be an All-Star as a result.
14. Phoenix Suns: Arnett Moultrie, PF, Mississippi State
This athletic big man can run the floor and finish on fast breaks.
15. Minnesota Timberwolves (via Utah Jazz): Dion Waiters, SG, Syracuse
Minnesota needs to find another scorer for its backcourt. Waiters will be a nice fit.
16. New Jersey Nets (via Houston Rockets): Tyler Zeller, C, North Carolina
Zeller is athletic enough that he could team up with Brook Lopez in the Nets frontcourt. This will make the Nets tough to match up with, and it will give them flexibility in a trade.
17. Philadelphia 76ers: Kendall Marshall, PG, North Carolina
Marshall is easily the best pure point guard in this draft, and too much for the 76ers to pass on at No. 17.
18. Boston Celtics: Terrence Ross, SG, Washington
The Celtics will need to find a replacement for Ray Allen, and Ross is a great fit.
19. Denver Nuggets: Moe Harkless, SF, St. John's
Harkless can run and defend. In other words, he is perfect for Denver.
20. Dallas Mavericks: Terrence Jones, SF, Kentucky
Jones has a great all-around game and fantastic defense. He will be an excellent replacement for Shawn Marion.
21. Atlanta Hawks: Andrew Nicholson, PF, St. Bonaventure
Nicholson is raw and explosive. He will help the Hawks get up and down the court.
22. Indiana Pacers: Tony Mitchell, SF, North Texas
Mitchell is an excellent wing defender and is exactly the kind of player the Pacers are building around.
23. Memphis Grizzlies: John Jenkins, SG, Vanderbilt
Jenkins will give the Grizzlies the depth needed in the backcourt to trade O.J. Mayo if they so desire.
24. Boston Celtics (via Los Angeles Clippers): Fab Melo, C, Syracuse
This is a perfect match. Melo's athleticism and defense are exactly what Boston will be looking for.
25. Cleveland Cavaliers (via Los Angeles Lakers): Jeffery Taylor, SF, Vanderbilt
Taylor has potential as a scorer, and the Cavs need that on the wings.
26. Orlando Magic: Doron Lamb, SG, Kentucky
Orlando must add some more skilled scorers to its perimeter.
27. San Antonio Spurs: Kevin Jones, PF, West Virginia
At some point, Tim Duncan will retire. The Spurs will show their acceptance of this reality by drafting a possible replacement.
28. Miami Heat: Festus Ezeli, C, Vanderbilt
The Heat have tried several centers, and none are the answer. They'll hope Ezeli is.
29. Oklahoma City Thunder: Tony Wroten, PG, Washington
Wroten will be allowed to grow as Russell Westbrook's backup. He has the kind of athleticism the Thunder covet.
30. Chicago Bulls: Draymond Green, PF, Michigan State
Green's tremendous all-around game and smart play will fit right in with the Bulls.
This article is
What is the duplicate article?
Why is this article offensive?
Where is this article plagiarized from?
Why is this article poorly edited?