2012 NFL Draft: Why Brock Osweiler Is a Better Project Pick Than Ryan Tannehill
April 15, 2012

Christian Petersen/Getty Images
After Andrew Luck and Robert Griffin III, the talent level drops off significantly for quarterbacks in the 2012 NFL draft.
Considerable amounts of debate and intrigue surround the prospects vying to hear their names called third.
The two most likely candidates to be the third quarterback taken are Ryan Tannehill and Brock Osweiler. 
When comparing the two signal callers, many similarities arise. 
Both used to play different positions (Tannehill a wide receiver and Osweiler a basketball forward). Both have ideal NFL size, and neither left college with adequate time as a starting quarterback.
That makes each a project in the eyes of NFL teams. 
But Osweiler is a better project pick with a higher upside and here's why.
Osweiler has considerably better arm strength than Tannehill. Even though it's an uncanny delivery, his side-armed passes won't be knocked down because he's nearly 6'8". Osweiler's passes had zip on them and, when necessary, he can put touch on the ball. 
Osweiler's size and mobility also draws comparisons to Ben Roethlisberger. Osweiler may not scramble for many yards down the field, but he's a very difficult quarterback to bring down in the pocket. 
The other major reason Osweiler should be drafted higher than Tannehill is his leadership capabilities. When he walks into a room, everyone listens. He commands the team's respect with his voice and his size helps in that department as well.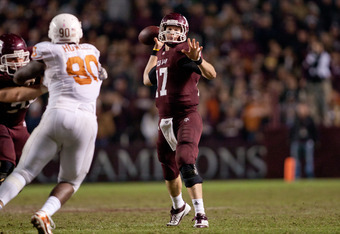 Darren Carroll/Getty Images
Five blown leads of 10 points or more indicate Tannehill could not rally his troops during crunch time. Osweiler's five-game losing streak to close the year was merely a product of an injured, porous and undisciplined defense (Dennis Erickson lets his players play). 
And finally, at times, Tannehill's decision-making was inconsistent and struggled making the correct reads.
In the rivalry game against Texas, perhaps the last time the Aggies play Texas in many years, Tannehill completed just 40 percent of his passes and threw three interceptions. 
NFL Network analyst and former Baltimore Ravens head coach Brian Billick weighed in on Tannehill and said, "Ryan Tannehill reminds me of JaMarcus Russell. Both shot up draft boards based on how they looked in shorts."
Talk about an insult. 
In the Big 12, a league filled with star-studded quarterbacks, and teams that play no defense, Tannehill did not distinguish himself from the league's best gunslingers. At best, he was the fifth-best quarterback in the conference last season behind Landry Jones, Griffin, Brandon Weeden and Colin Klein. 
I don't think either Osweiler or Tannehill should be first-round picks, but with the position being the most vital in any professional sport, some team will end up reaching for one or both of these players. 
Many teams drafting near the top in this year's draft already drafted young quarterbacks in the first round the past couple years. Jacksonville has Blaine Gabbert, Minnesota took Christian Ponder and Cleveland drafted Colt McCoy. 
You have to wonder which team will risk their top pick with a project.