WWE Smackdown Results for April 13, 2012
April 14, 2012

Last night was John Laurinaitis' second night as the new General Manager of Smackdown. He decided to call last night's Smackdown Super Show: Blast from the Past featuring some of the best Hall of Fame superstars like Hacksaw Jim Duggan, Mean Gene Okerlund, Sgt. Slaughter, Mick Foley, The Million Dollar Man, and many others.
The first person who came to the ring was Mean Gene Okerlund, who welcomed everyone to Smackdown. He then invited the new World Heavyweight Champion Sheamus to the ring. Sheamus told Mean Gene that it was an honor to be in the ring with him.
Sheamus also took the opportunity to make a public apology for his actions last Friday on Smackdown. He apologized to the referee who received a Brogue Kick, the whole WWE staff and to all of his fans and the WWE Universe all over the world.
John Laurinaitis had to come out and interrupt Sheamus's apology, of course.John stated that he did not hear Sheamus's apology and made him do it again. John stated that Sheamus's apology did not cut it.
John put Sheamus on permanent probation for his actions. If Sheamus touches another referee by accident or otherwise, he will be fired.
However, John was not done there. He ordered Sheamus to pay a fine. This fine will be $500,000, the largest in WWE history. John also informed Sheamus that he would be facing Alberto Del Rio and Daniel Bryan. Sheamus's partner would be Mean Gene Okerlund.
Match 1: Randy Orton vs. Mark Henry
Randy tried to get the offense in the beginning but Mark Henry was not going to let that happen. Mark Henry completely dominated Randy. Randy eventually connected a RKO but some how Mark was able to get up. Just when it looks like Randy was going to win the match, you hear Kane's music start to play and hear the fireworks going off.
Kane was on the Jumbo Tron talking to Randy. As the camera backs away from Kane, you see Randy Orton's dad (Cowboy Bob Orton) laying on the floor, Randy left ringside to find his dad and Kane.
As Randy enters the room, Kane comes out from a dark corner and hits Randy with a metal pipe. Kane said "I'm a sucker for family reunions," and he walked away, leaving Randy's dad unconscious and Randy in pain.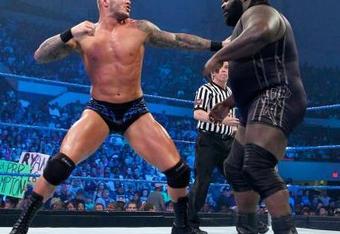 Match 2: Benny Camer vs. Ryback
This was Benny Camer's first match in the WWE and quite possibly his last for awhile. Ryback was definitely the dominant one. As soon as the bell rung, Ryback gave Benny a running clothesline that flipped Benny over Ryback's arm. After that, Ryback slammed Benny to the mat and pinned him. Ryback won the match.
After this match was over, Rowdy Roddy Piper made his way to the ring to speak With Daniel Bryan. They talked about his loss at Wrestlemania 28 and how John is giving him his rematch at Extreme Rules.
Daniel went on to say that he was going to defeat  Sheamus and get his World Heavyweight title back. The Extreme Rules match will be a 2 out of 3 falls match. Piper then asked AJ to come to the ring. They talked about their breakup last Friday on Smackdown. AJ admitted that what happened at Wrestlemania 28 was her fault.
Match 4: The Great Khali, Alicia Fox, & Natalya vs. Drew McIntyre & The Bella Twins
 Khali and McIntyre started this match. Khali dominated McIntyre. After a few seconds, McIntyre tagged in one of the Bella Twins (not sure which) and McIntyre walked back to the locker room.
Khali chose Alicia Fox as his replacement. Alicia Fox dominated one of the Bella Twins and pinned her for the win.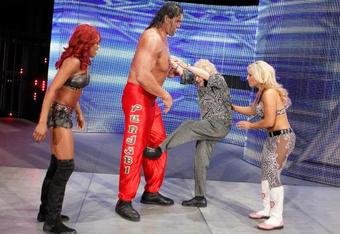 Match 5: Hacksaw Jim Duggan vs. Hunico
Jim dominated Hunico from the start. Hunico got out of the ring to hide behind his backup Camacho. Jim signaled for his backup Sgt. Slaughter to come out to the ring. Hunico got back in the ring and was talking to the referee.
While the referee and Hunico had their backs turned, Sgt. Slaughter handed Hacksaw his 2x4. He hit Hunico in the stomach and then in the back with the 2x4. Hunico won the match due to Hacksaw being disqualified.
After this match was over, Cody Rhodes came out. He put down tonight's show saying it's a waste of time and that the attention needed to be shifted to the future where he is the Intercontinental Champion again.
A few seconds later his father, Dusty Rhodes, came out. His dad tells him that he was the most naturally talented person to enter the WWE since Shawn Michaels and all he wanted to do was poke the bear, The Big Show.
Cody said to his father "You're embarrassing me, Dad. We can talk about this in the back." As soon as Cody gets out of the ring, Big Show comes out. Big Show decided to show a video clip of the real Cody Rhodes.
The clip looked to be like a commercial featuring Cody Rhodes putting on lip balm. Cody was so embarrassed that he was speechless. 
Match 6: Daniel Bryan & Alberto Del Rio vs. Sheamus & Mean Gene Okerlund
Sheamus and Alberto Del Rio started the match.Alberto had the offense early on but kept changing between the two men. Once Alberto had Sheamus down on the mat, he tagged in Daniel Bryan.
After Daniel beat Sheamus for a few minutes, he tagged in Alberto again. It changed every few minutes. Daniel was tagged back in and kicked Sheamus out of the ring. While Sheamus was down, Alberto ran over and kneed Sheamus in the face.
With Sheamus down, that meant that Mean Gene had to step in. Alberto, Daniel and Ricardo surrounded Mean Gene. This prompted The Million Dollar Man, Rowdy Roddy Piper, Hacksaw, Sgt. Slaughter, and many more legends to come to Gene's rescue.
Sheamus eventually came to and got back into the ring. Sgt. Slaughter distracted Daniel long enough for Sheamus to deliver yet another Brogue Kick to Daniel Bryan. Sheamus and Mean Gene won the match. All of the legends started kicking and beating the crap out of Ricardo Rodriguez.
Michael Cole got into the ring with all the legends to make an announcement. He said "Give it up for the legends here tonight. I know you guys have to get back to the retirement home, but let's do a photo op."
After saying that, he was then surrounded by the legends. He kept saying "I was only kidding." Before the show went off air, one of the legends punched Cole in the face.
So what is everyone's take on last nights episode? Is John letting this power he has go to his head?