Washington Redskins: How Much Can We Expect from the Patched-Up Secondary?
April 15, 2012

Jeff Gross/Getty Images
Last season, the Washington Redskins endured inconsistency and time lost from their secondary, which hampered their otherwise impressive defensive efforts. With last season's projected starters no longer with the team, the Redskins will enter the 2012-2013 season with a collection of players with more to prove than previously recorded.
How can the Redskins expect to fare any better on defense this season with a unit built through free agency and one-year contracts?
Having addressed some of their biggest needs with the re-signing of London Fletcher, the signing of receiver Pierre Garcon and the pending selection of quarterback Robert Griffin III, it is difficult to find anything to dislike about the Redskins offseason. However, they parted ways with one-time first-round draft pick safety LaRon Landry and released Oshiomogho Atogwe, leaving their secondary in dire straits.
The team signed Tanard Jackson, Madieu Williams, Cedric Griffin and Brandon Meriweather to short-term deals in hopes that any one of them may recapture their former glory.
Jackson began his career with the Tampa Bay Buccaneers with 32 straight starts, but missed 16 games between 2009 and 2010 following a substance-abuse-related suspension. He has 10 career interceptions, including one season where he intercepted five passes in just 12 starts.
He was released by Tampa Bay after failing a physical, giving the Redskins plenty of power to negotiate an incentive-laden contract.
Best case scenario: Jackson keeps his nose clean and gives the Redskins a solid presence at free safety. Worst case scenario: He incurs another suspension and isn't owed anything per a seemingly elementary contract clause.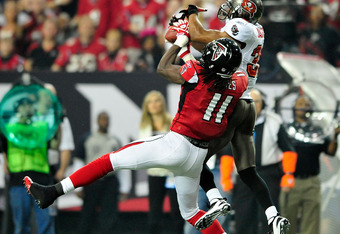 Grant Halverson/Getty Images
Griffin and Meriweather are accomplished players who were supplanted by more technically sound prospects.
After an uneventful 11 starts with the Chicago Bears, Meriweather is looking to prove his worth and earn a long-term contract. As a former Pro Bowler, Meriweather is still young enough to be a factor in the future for the Redskins should he make the team and produce.
Griffin and Williams are the veterans of the bunch, and could be the best additions to the Redskins defense.
Williams is a savvy player who saw his play slip after a solid start with the Cincinnati Bengals. In his first four years, he intercepted nine total passes. In the four seasons since, Williams had just three interceptions playing for the Vikings and 49ers.
He could earn a starting spot, or play a significant role as a mentor.
Griffin is a versatile safety/corner who provides experience and flexibility in the secondary. He could play a big role in nickel or dime packages, as well as step-in at safety if the rash of injuries proves contagious.
The potential for success is apparent in the collective history the additions the Redskins have made, but there is just as much, if not more risk in depending on the castoffs of other teams.
Washington's defense has lacked a dependable secondary for most of the last two decades, and nothing about the group currently on the roster instills confidence in the average fan.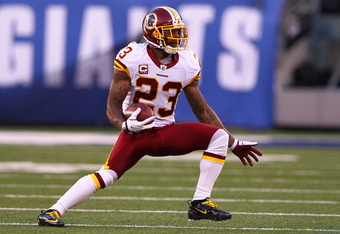 Al Bello/Getty Images
The Redskins defense mustered just 14 interceptions last season, but saw more than their fair share of potential interceptions slip through their fingers or broken up due to poor communication. With a strong pass rush shaping up with the front seven, the Redskins secondary needs to hold up their end of the bargain.
Even if the group of one-year contracts manages to produce a solid season, what does it mean for the future if they get new contracts from other teams?
With the draft just around the corner, the Redskins may consider drafting either a safety or a corner to provide youth and depth to the needy unity. However, the Redskins have just six picks after they draft Griffin and may not have the resources to draft an NFL-ready player to ease the minds of worried fans and skeptical experts.
The returning cast of characters was average at best throughout last season despite the potential for playmaking with DeAngelo Hall and Josh Wilson.
Kevin Barnes is a solid nickel corner, though somehow he has managed to be overshadowed by Byron Westbrook's gutsy but unremarkable play. Reed Doughty and DeJon Gomes are solid stop-gap safeties with the ability to perform admirably without really excelling or wowing in the process.
The Redskins have a few months to put their new additions through their paces and figure out who, if anyone, gives them a viable option for the coming season. In the meantime, it may be wise to temper whatever optimism this defense encourages given the questionable strength of the secondary.