Cleveland Cavaliers: Offseason Work for Kyrie Irving, Tristan Thompson and More
April 18, 2012

Chris Chambers/Getty Images
With a roster full of young players, there is a lot of individual offseason work each Cleveland Cavaliers player can do.
This is something the Cavs' Alonzo Gee took advantage of during the lockout and it helped him get off to a hot start this year. There are a lot of young players on this team that should follow his example. Let's take a look at some of the good things some players do as well as some things they should work on. 
Kyrie Irving, PG

The Good: There isn't much to complain about with Kyrie Irving. He is much further along in his development than many expected. Everyone knew he could handle the ball and penetrate coming out of college, but his jump-shooting proficiency, 41.4 percent from three this year, is surprising.
Another impressive aspect is his ability to score at the rim around bigger defenders. He is 60 percent on attempts around the rim. To put that in perspective, Derrick Rose is 58 percent on shots at the rim this year.
Irving's 5.8 assists per game this year are lower than most expect from a point guard, but most point guards don't have as much scoring responsibility as Irving did this year. His assists per game should also improve as he is surrounded with more talent. 
Offseason Work: As good as Irving is offensively, his defense leaves much to be desired. Veteran point guards like Jose Calderon were able to do what they wanted when they wanted against Irving this year. The rookie of the year front-runner has the athleticism to become a good defender and should work on his on-ball defense this year. 
He could also work on his mid-range game as he shot 37.8 percent on shots that weren't lay-ups or threes.  It would also be nice to see him develop a floater in the lane for when teams crowd the basket.
Donald Sloan, PG
The Good: Donald Sloan is hanging in there as Kyrie Irving's replacement. He is acting as more of a traditional point guard, setting up the offense and creating for his teammates. Sloan does a good job taking care of the ball and has a 2.5 assist-to-turnover ratio. His battle with Lester Hudson for the backup point guard job next year should be fun to watch the rest of the year.
Offseason Work: Donald Sloan should try to develop his jump shot in the offseason. He is a putrid 24.3 percent on jumpers this year, including 6.2 percent from behind the three-point line. He could also work on his man-to-man defense in the offseason. By improving those two things, he could have a shot at the Cavs backup point-guard position.
Lester Hudson, G
The Good: Lester Hudson has provided a spark for the Cavaliers, averaging 14.1 points, 4.2 boards and 3.1 assists per game since his arrival. He has done so well that Cleveland is currently in "Lesanity."
One of Hudson's strengths is his ability to penetrate and finish around the rim. He also does a good job drawing fouls on those drives. He is the type of player that could provide a scoring spark off the bench without requiring a lot of minutes.
Offseason Work: With the style of game Hudson plays, it is crucial he further develop his jump shot.  For a player that will be asked to provide scoring off the bench, he will need to shoot higher on jump shots than the 30 percent he is shooting this season. Scoring efficiently will be the key to his success off an NBA club's bench.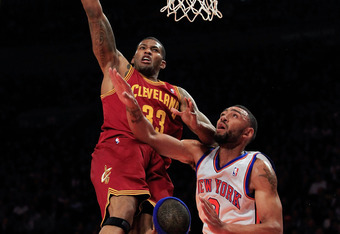 Chris Trotman/Getty Images
Daniel Gibson, SG
The Good: While he is known for his three-point shooting, Gibson improved defensively under Mike Brown and is now one of the better perimeter defenders on this team. Unfortunately, three-point shooting and defense are about where his strengths end.
Offseason Work: Daniel Gibson should spend his offseason learning how to shoot a floater.  Cleveland fans grew accustomed to seeing Mo Williams slash in the lane to use his patented "Mo-Flo" and Gibson should call up his old teammate and take some lessons. 
When Gibson has tried using the floater in the past, it has usually ended in a charge call and a turnover. He has a tendency to jump forward instead of stopping his momentum and going straight up.  Changing this will help him improve his effectiveness in the lane.
Alonzo Gee, SF
The Good:  The Cavs' front office should try to find find one player in the Developmental League that could contribute to their team every year. Alonzo Gee is one of those players. Gee improved his game a lot last offseason, even playing in Poland during the lockout. 
He is now an above-average defender and able to attack the basket, finishing explosively at times.  Cleveland fans have to be pleased with his development so far.
Offseason Work: One thing that would greatly improve Gee's offensive game is a pull-up jumper.  Towards the end of this season, teams have been packing in the paint knowing Gee is looking to drive.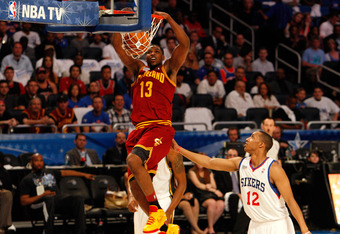 Ronald Martinez/Getty Images
Adding a pull-up or step-back jumper, similar to what Delonte West was able to do so well, would make defenders play up on him, making penetration easier.
Antawn Jamison, PF
The Good: Antawn Jamison is a complete professional and great role model for the young guys on this team. He is providing offense for a team without many playmakers while also making sure the younger guys keep there heads in the game. 
He still spaces the floor well with his jumper and somehow makes those funky shots in the lane for which he is known. It is tough to imagine where the Cavs would be this season without Jamison.
Offseason Work: He has never really been known for his defense, and at this point in his career he will be looked to for scoring more than anything. It would be nice if Jamison became a better defender, but that could be too much to ask for. 
Instead, he should work on scoring more efficiently, since he will probably be a bench player the rest of his career. One way to do this is to make sure he is balanced and squared on his jump shots. Jamison has looked off balance with his jump shot for stretches this season and bringing back some fundamentals should increase his jump-shooting percentage.
Tristan Thompson, PF
The Good: He hasn't lived up to the normal expectations of a fourth-overall pick, but in a weak draft, the Cavs could have done much worse. Tristan Thompson has good size and athleticism to defend other power forwards and has done decently covering centers since entering the starting lineup. 
He is also doing well rebounding for a rookie, averaging six per game in only 24 minutes. He will become a good-to-great defender as his career progresses, but that was never really in question when the Cavs drafted him. 

Offseason Work: Just about everything on the offensive end. One thing he should focus on, though, is scoring at the rim. For being so athletic, he does not finish well around the rim, shooting 56.3 percent on shots around the hoop. This ranks him behind Varejao (64 percent), Semih Erdin (64 percent) and Samardo Samuels (63 percent). 
One way to improve this is by hitting the weight room and getting stronger in his upper body, allowing him to muscle his way through contact more easily. Thompson will also improve by working with a veteran such as Tim Duncan again. 
One other daily task for Thompson is to shoot as many free throws as possible this summer to improve his percentage from the line. 
Anderson Varejao, C

The Good: Anderson Varejao is the heart and soul of this Cavaliers team. He is a terrific defender in man-to-man and pick-and-roll situations and the other players feed off of the Wild Thing's energy on the court. His constant hustle and offensive rebounding ability also helps get the home crowd excited and into the game. 
The Brazilian is a nifty finisher around the rim as well, shooting 64.7 percent on those shots this season. Varejao understands what type of player he is and he is one of the best in the league at what he does. 
Offseason Work: The last couple seasons, Varejao has had injury issues, and that is his biggest weakness. However, that is not something he could really improve on. 
If Byron Scott plans on playing Varejao and Thompson together, one of them will have to shoot a 10-15 footer in order to keep the paint open for Kyrie Irving to penetrate. Since Thompson only hit three shots in that range this year, Varejao wins by default. 
Anderson Varejao should focus on hitting a mid-range jump shot in catch-and-shoot situations. He should also get his body prepared in an attempt to stay healthy for the 82-game grind. 
Samardo Samuels, PF/C
The Good: Samardo Samuels has been playing out of position most of this season. He has also been in and out of Coach Scott's dog house. When in the game he has done surprisingly well, finishing around bigger defenders at the rim, shooting 63 percent.
It is hard for him to defend other teams centers at 6'7", but he should be able to defend power forwards if called on to back up Tristan Thompson next year.

Offseason Work:  The first thing he could improve is giving constant effort in practice and in games. This should help him be more active, thus becoming a better rebounder and better defender. 
Another way he gets in trouble is by taking bad shots. For Samuels, a bad shot this year was anything outside of three feet, where he only connected 23 percent of the time. Since he seems dead set on shooting jump shots in games, he should hoist hundreds per day in the offseason in an effort to improve.