Oakland Athletics: Comparing Yoenis Cespedes' Rookie Season to Ichiro Suzuki's
April 14, 2012

Ezra Shaw/Getty Images
Coming to a foreign country as your new place of employment can often be a difficult transition for anybody. There's the obvious potential language barrier. There's the scrutiny of your new peers and high expectations from your superiors for importing you into their business. And the obvious adaptation to the new surroundings is daunting enough as it is.
For the average expatriate, these issues themselves can be difficult to overcome. Now imagine doing your new job, in a foreign land, while being followed by hordes of media, with the extreme demands of both representing your native country and performing at a high level.
That's what it has to have been like for Oakland Athletics outfielder Yoenis Cespedes, who defected from Cuba this past March to seek employment with Major League Baseball. And just like that, the madness began, the international pressures of success emerged, and the resulting media crush surrounding Cespedes' every move was spawned.
Though it doesn't seem like that terribly difficult of a situation, there have to be some growing pains for Cespedes in his amalgamation into MLB and American culture, especially as the most highly-touted Cuban prospect in the past few decades—as an everyday position player to boot.
Over the years, several Cuban defectors have put up brilliant performances and seasons, but most of them were starting pitchers, e.g., Livan Hernandez, Orlando Hernandez and Jose Contreras.
Yet it's the performance of position players that draws the attention, the adulation and the lofty expectations from American fans, the international media and their native fanbases.
Nobody understands that more than Seattle Mariners outfielder Ichiro Suzuki, who experienced similar fanfare 11 years ago as the first Japanese-born everyday position player in MLB history. Carrying an entire nation of fans on one's back each day, for 162 games, is something few players understand quite like Suzuki does.
One has to wonder if Cespedes has taken notes from Suzuki over the past month.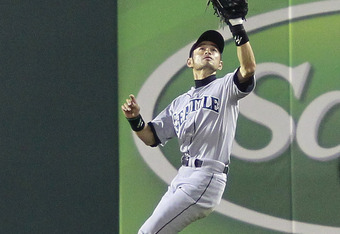 Rick Yeatts/Getty Images
The Athletics and Mariners square off this weekend, their third series already in this young baseball season. If it were possible, it'd be interesting to see if Suzuki has any sage advice for Cespedes in his rookie season in MLB.
Although the paths each player took to the U.S. are a bit different, there are some similarities to the foundations for their respective American careers.
Suzuki came to the Mariners as a 27-year-old who played nine professional seasons in Japan's Pacific League. He completely assaulted the competition, stroking a .353 career batting average, accumulating seven batting titles and three consecutive MVP awards in the process. These astonishing accomplishments helped propel his desire to advance his career to the major-league level in America.
Cespedes' pre-U.S. résumé surprisingly resembles that of Suzuki. Cespedes joined the majors this season at 26 years old, after spending eight seasons in Serie Nacional, Cuba's national baseball system. He batted over .300 in seven of those years and was thrice an All-Star outfielder.
One would think that the obvious difference between the two international stars is Cespedes' power hitting, as the Cuban's physical makeup is more noticeably stout and burly, whereas Suzuki's is more lithe and lean.
While Cespedes certainly has the superior physical strength, their individual numbers are hard to compare in respective nations' baseball leagues. True, Cespedes mashed a career-high 33 home runs in 90 games in 2010-2011.
But while Cespedes' best OPS season was in 2005-2006, when he posted a career high of 1.093, Suzuki's career-best in Japan was .999, which is still quite a lofty mark.
Both had the physical packages in their native countries that included the five tools of an all-around baseball player. Cespedes is clearly the stronger power hitter, while Suzuki is a better base stealer with better raw speed. Both excelled in the outfield as center fielders and had strong arms to keep baserunners at bay.
Thus, while there are some clear differences between Cespedes' and Suzuki's careers in their native baseball leagues, they both came to MLB to pursue their baseball dreams.
There are some striking similarities between their games that made them each hot free-agent commodity. They came to the U.S. at similar ages, with similar experiences at the international level, having both played in the World Baseball Classic. Both are true national idols in their respective countries.
Will Cespedes be able to follow in Suzuki's footsteps, finding immediate success this season with the Athletics, on his way to a potential Rookie of the Year campaign?
Cespedes got off to a torrid start to 2012, hitting three home runs in the first four games of the season, igniting Cespedes fever and building the foundation for an impressive first season in MLB. But can he keep it up the way that Suzuki did in 2001, on his way to winning both the Rookie of the Year and MVP awards?
Likely not. Most definitely not.
Cespedes is not the refined, staid talent that Suzuki was when he entered the American League. There are more holes in Cespedes' game—and his swing—that will prevent him from putting up a top-tier performance, especially over 162 games.
In Cuba, the baseball season is over 60 games shorter, so Cespedes' conditioning will come into play later during the dog days of summer. Further, will his body be able to adjust to the traveling conditions, playing on the road, in different time zones, for six grueling months?
These are questions that will be answered throughout the course of Cespedes' hyped rookie season. Under the watchful eye of nearly the entire Caribbean community, he will answer questions to the trailing media, do interviews and make community appearances.
It will be a welcome challenge, one that the Cuban export will fully embrace—he has so far demonstrated warm enthusiasm toward this opportunity in the majors, just like Suzuki did 11 years ago.
Yes, their paths may be different—they are from different socioeconomic backgrounds, different eras and different cultures. But their journeys to embark on the American dream through baseball are the same.
It's unlikely that Cespedes will attain the unprecedented accomplishments that Suzuki did in 2001. But if he achieves half of that—a Rookie of the Year award—Cespedes will surely consider this season a success.
Maybe the two of them can compare notes this weekend.