Ohio State Football 2012: 5 Things We've Learned so Far This Spring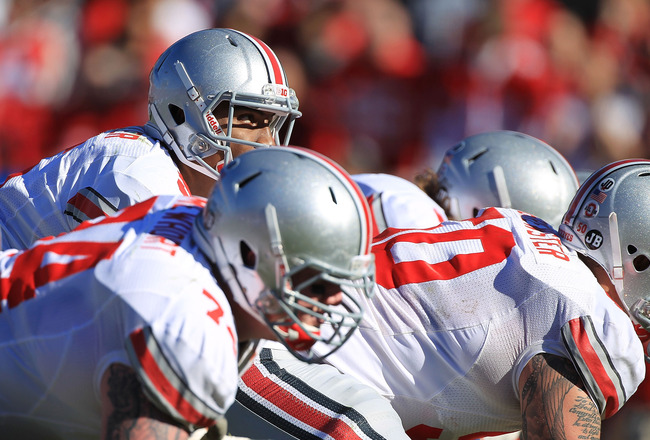 Scott Halleran/Getty Images
Spring came early this year in the Midwest, but in college football circles, things are beginning to wind down. On the banks of the Olentangy, amidst the a new sheriff in town, Urban Meyer is finally getting a chance to size up his new team, and he has been honest as the day is long with his assessments.
The program is certainly coming off a year that it would like to forget, and everyone on the team, and those who follow the scarlet and gray, are excited about where the Buckeye ship is sailing into the horizon.
So, as THE Ohio State University gets ready to put on a show this coming Saturday in which we'll have a lot more answers (or even more questions), we pause to reflect on what we know thus far of the 2012 version of the Ohio State Buckeyes.
No. 1: There Is a Lack of Playmakers on Offense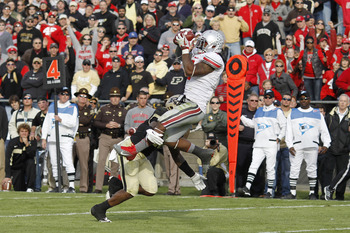 Ohio State's Jordan Hall
Joe Robbins/Getty Images
Urban Meyer has been very critical of the lack of playmakers on the current roster, especially on offense. But isn't this THE Ohio State University?
Yes, and you have to wonder if Meyer is sandbagging a bit, or if this is the same old drum you hear beat when a new coach takes over a program and is quick to utter several "woe is me" statements.
But then again, when you look at the play of the offense last year—Braxton Miller excluded—you can see where the former Florida coach is coming from.
Not one single receiver stepped up last year with the absence of Devier Posey, and the running backs—though deep—were not the stable of supreme thoroughbreds that you would typically expect to don the Buckeye leaves on the helmets.
The guy that best fits this mold because of his experience and talent has got to be running back Jordan Hall. The problem is he's not exactly sitting at the same lunch table of a Percy Harvin.
So, there's a lot of praise being heaped on Braxton Miller, but that might be where it ends until, hopefully, somebody emerges in the fall.
No. 2: Urban Meyer Simply Doesn't Care What Others Think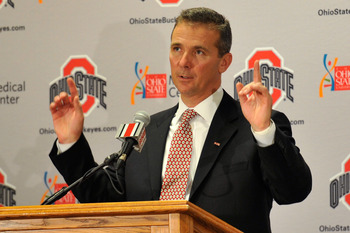 Jamie Sabau/Getty Images
After watching press conferences that didn't provide a complete answer on anything under Jim Tressel, it takes a bit to get used to how honest and forthright Urban Meyer is—sometimes even to a fault.
Meyer has been attacked in the media by colleagues and members of the media and has slung the stones right back without hesitation. He has also described some of his players without caring about political correctness and has challenged reporters with a confident demeanor during interviews.
Florida and SEC fans know this already, but Ohio State followers along with their Big Ten brethren are finding out very quickly that the only thing that Urban Meyer cares about on the football field is winning. Perception is cast aside.
That's great in the fact that kids get an honest assessment, but it is going to continue to provide many scribes and college football writers who follow the program to have plenty of things to write about like the wedgies that Urban Meyer and Brett Bielema exchanged during recruiting battles.
And that was just the start. There have been barbs exchanged between the Michigan administration, along with a purple jersey incident, and then, the Sporting News criticism—just to name a few.
Under Jim Tressel, the only news that came out during spring was what color of sweater vest he would pull over his head for the spring game. No more.
If we've seen this many fireworks before the season even starts, one can only imagine how things will explode throughout the schedule of real games. You gotta believe that if the wins pile up, nobody in and around the program will care.
That includes Urban Meyer.
No. 3: John Simon Is a Beat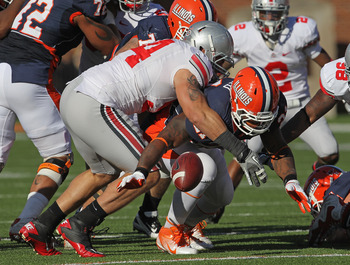 Jonathan Daniel/Getty Images
Remember the brutally honest assessment that Meyer makes about his players in the media? Well, in defensive lineman John Simon's case, that's not such a bad thing.
If there's one shiny object that the new coaching staff has been very consistent about flashing before the media, it's been the praise that has been heaped upon the 6' 2", 260-pound soon to be senior.
Urban Meyer has even gone as far as to compare his work ethic and competition level to—gasp—Tim Tebow.
Of course, this is nothing new to Ohio State fans. Simon has had his HEMI motor going since day one on campus and has become a crowd favorite for his tireless pursuit of the football. All of Buckeye Nation has seen Simon's work ethic pay off in an improved physique and continued trajectory of performance on the field.
In a world in which coaches hold praise back for kids, Simon has already been named a de-facto captain, and the entire conference should be ready to see the man-child disrupting opposing offensive backfields this fall.
And being a captain, everyone is ready to do "what Simon says."
No. 4: Mickey Marotti Is Reshaping Bodies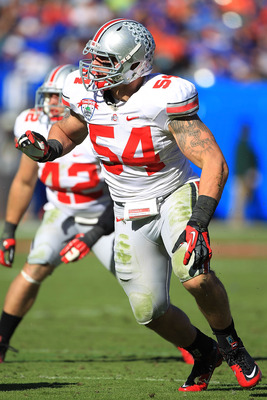 Scott Halleran/Getty Images
Yes, that's John Simon again...but for a totally different reason. He's not only an animal on the field, but is a workhorse in the weight room as well. Who knew?
Simon, though, is not the only Ohio State player who's spending time reworking his body. The amount of weight that has been shed by Jonathan Hankins is well chronicled, but there the entire offensive and defensive line has gotten leaner and meaner. All to get in shape to run the vaunted Urban Meyer spread.
Who can we attribute this re-sculpting to? Why none other than the man that Meyer said was his best staff hire of all—assistant athletic director of football sports performance Mickey Marotti.
If you don't know Marotti, then we'll give you some cliff notes. Marotti uses a hybrid of techniques to get the student-athletes in shape. There's power-lifting, dietitians on board, aerobics and even combat drills (yes, that's not a typo).
It all has resulted in more accountability, stronger work ethic, and most of all, body-changing results—at least when you ask the players and coaches.
Of course, the true test comes in the fall, but right now, at least from what is being read, the Ohio State machine appears to be more dynamic in the physical specimen category.
Let the experiments in the football lab begin.
No. 5: The Buy in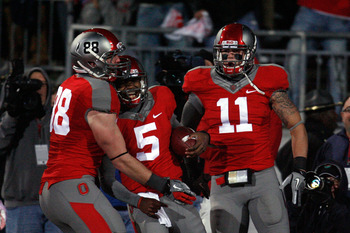 Kirk Irwin/Getty Images
Remember when Rich Rodriguez took over the Michigan program, and there was dissension in the ranks?
Some players transferred (to Ohio State even in the case of Justin Boren) or quit, the alumni and former players entered into fractured relationships, and Rodriguez' former employer, West Virginia, was ready to turn the musket that its mascot carries on him.
We've heard little of that at Ohio State—in fact just the opposite.
The players are saying all the right things from the workout regimens to the spread-attack being put together to the competitiveness that is being ingrained in everyone from top to bottom. Excitement is abounding.
Urban is a winner—he always has been from his days at Bowling Green to his last monumental stop at Florida. Certainly, the name and success precedes him and that helps, but the way things are going and how they are perceived is resulting in everyone drinking the Urban Meyer Kool-Aid.
Let's just hope that the Kool-Aid is as sweet at the end of November as it is now in Central Ohio.
Keep Reading

Ohio State Football: Like this team?