Ranking and Grading Top Potential Name Changes for the New Orleans Hornets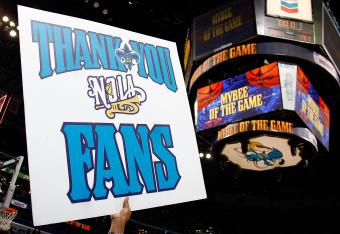 Chris Graythen/Getty Images
With New Orleans Saints owner Tom Benson agreeing to buy the New Orleans Hornets for just $338 million, it means that things are going to be changing, in a positive way, for the future of the franchise.
The most exciting part of all of this is that Benson reportedly wants to change the name and logo of the New Orleans franchise, which means it's time to start trying to figure out which name change would suit them best.
While I'm sure that I didn't come up with the most creative or original names, here are the top ten possible name changes that I think make the most sense for the soon-to-be former New Orleans Hornets:
10. New Orleans Bounty Hunters
This one is obviously a terrible attempt at a joke, as it's referencing the bounty scandal of the Saints. Who knows, though? Maybe if the Hornets actually played with the intensity of having a bounty on other players, they wouldn't be one of the worst teams in the NBA. I'm just saying.
Grade -- D+
9. New Orleans SuperSonics
This one most likely won't happen, as it would set New Orleans up for failure, based on the fact that they would be taking this name from the Thunder, who were formerly known as the Seattle SuperSonics. It does however have a nice flow to it, as the New Orleans SuperSonics could take a nice, fresh spin on the franchise history. The only problem is this name doesn't represent anything in the city of New Orleans, and that's why it's a stretch to think that it will actually be their next name.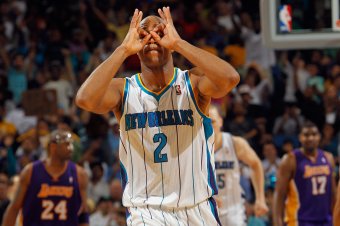 Chris Graythen/Getty Images
Grade -- C-
8. New Orleans Haze
The New Orleans Haze certainly has a nice flow, as it rolls of the tongue with ease, but there's no doubt that the word "haze" certainly has negative connotations that could backfire on the franchise. I can just hear the drug references now, which I'm sure is something that New Orleans doesn't want associated with their franchise.
Grade -- C
7. New Orleans Buccaneers
This one is pretty obvious, but it's just a blatant rip-off of the name of the franchise when they were a part of the ABA. The New Orleans Buccaneers were only a charter member of the ABA and that's most likely why this name won't become a reality for the new future of New Orleans as a franchise, which is probably for the best.
Grade -- C
6. New Orleans Beat
The New Orleans Beat has a certain ring to it, as it references the solidified jazz background of the city of New Orleans. I'm not sure that it has quite the "flash" that the Hornets' new owner is looking for, though. It certainly sounds interesting, but it's not necessarily an upgrade from the current Hornets moniker.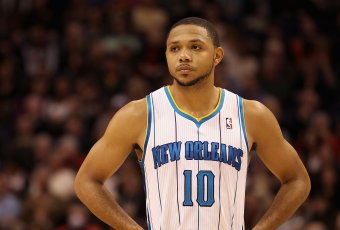 Christian Petersen/Getty Images
Grade - C+
5. New Orleans Angels
This name could work, as it's a solid name that, in some ways, references the way that the New Orleans community rallied around one another to help during the catastrophe of Hurricane Katrina. One of the only reasons why this name wouldn't work is because it might be a little too generic for the liking of the owner, as it's not a major upgrade over the current Hornets name.
Grade - C+
4. New Orleans Big Easy
Here's a name that the Hornets should seriously consider, as it gives a respectful nod to the history of the city and it also would be an interesting way to try and market the team. The "Big Easy" would certainly be difficult to match with a mascot, new jerseys and a logo. The Oklahoma City Thunder did it, so why can't New Orleans?
Grade - B-
3. New Orleans Pirates
The New Orleans Pirates would certainly be an interesting choice to go with, as it references the good old ABA days, when New Orleans was known as the Buccaneers. Changing to the Pirates would be a nice switch from their current situation, while also being a nice nod to the history of the city of New Orleans.
Which name should New Orleans go with?
Grade - B+
2. New Orleans Gators
This one might be a little too generic to actually see it come to fruition, but I think it might actually be one of the best. It not only is something that is somewhat specific to the New Orleans area, it also provides New Orleans with some great opportunities moving forward with a new logo/mascot/jersey combination. Who knows if this will be a reality, but I certainly think it has potential.
Grade - A-
1. New Orleans Knights
Here's the possible name change that I think has the most potential, as it not only references the "nightlife" that exists and helps New Orleans thrive, it also gives them a solid direction to move forward regarding a mascot, logos and new jerseys. Going with the Knights would be a great way to move the franchise forward in a positive direction, rather than trying to stick with something that's a little too "recycled."
Grade -- A+
What do you think New Orleans should change their name to? Unload your great ideas in the comment section below.
This article is
What is the duplicate article?
Why is this article offensive?
Where is this article plagiarized from?
Why is this article poorly edited?

New Orleans Pelicans: Like this team?