Iowa Football Spring Game: Live News, Analysis and Results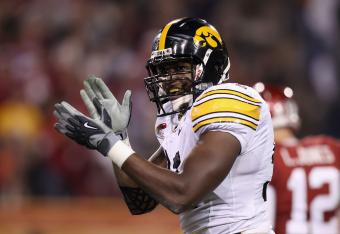 Christian Petersen/Getty Images
Hello.
Welcome to Bleacher Report's live analysis of the Iowa Spring...uhhh...Game.
As Hawkeye fans are well aware, Kirk Ferentz doesn't actually have a spring game. Rather, it is more of an open practice.
For those that have ever attended a spring game, basically, the starters go against the starters, the back-ups go against the back-ups and they are put in situations.
There are no drives, there is no scoring.
For that matter, both the quarterbacks and running backs are in red jerseys, so the major contact comes at the line of scrimmage between the offensive and defensive linemen.
Despite a worry of severe weather, the temperature in Iowa City is a perfect 59 degrees.
Scroll down for updates from throughout the "game."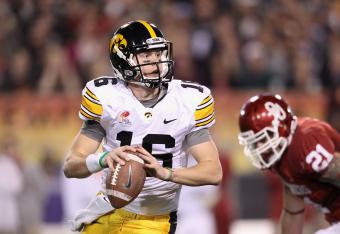 Duzey catch No. 2.
Sokol back on the field. Almost picked by Castillo for the second time.
And that's the end of the spring scrimmage.
Iowa has three practices left before the official end of the spring season.
Stay tuned for an article highlighting the winners and loser of Iowa spring practice.
Shumpert just had a catch followed by pre-snap movement. He is having an up-and-down day.
JVB was just picked off by B.J. Lowery. He is having a solid day. Overall, the secondary—both the starters and backups—have looked very good.
In fact, if one position group has shined more than any other, I would say it's been the secondary.
The defensive line hasn't been as bad as expected, but I'm not going to get unrealistic hopes in that respect.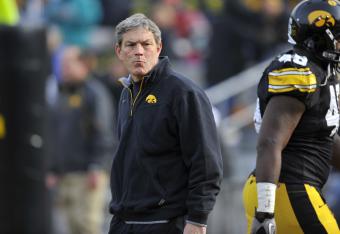 Shumpert, nice catch—third on the day I think—followed by a fumble. He will get an earful for that.
Rudock with moxie, but also a bit skittish. Just took off when he still had time in the pocket.
Rudock picked off by Brian Kroll or Torrey Campbell (both are No. 22).
There have been a number of turnovers over last few plays.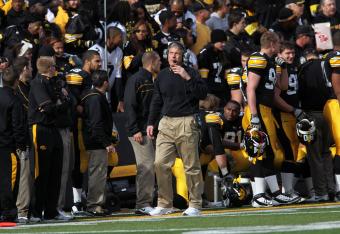 CB Gavin Smith just had a nice read and tackle on a screen. He is having a good showing.
Damon Bullock just took one to the house. 84 yards. I don't think he was touched. Good burst and nice job by the line opening the hole.
Fumble on exchange between Sokol and De'Andre Johnson. That is second fumble involving Johnson. It's impossible to say if this one was on him, but he was in on the play.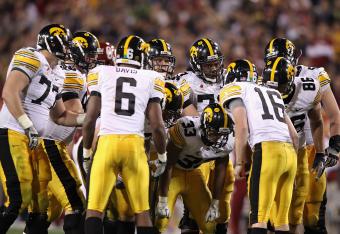 JVB just overthrew Don Shumpert on a skinny post. One step too short, but it is good to see Shumpert getting in the action and getting off the line and open.
Redshirt freshman tight end Jake Duzey just got his first touch. He is another big body.
Nico Law with another big hit.
Speaking of Law, he just recovered a fumble. The fumble was from the hands of De'Andre Johnson. Maybe that is why he can't climb up the depth chart. The fumble was forced by Gavin Smith.
Overall, receivers have been meh.
KMM just dropped a tough catch in the corner of the end zone. Again, it was a tough catch, but if you're a receiver, your job is to catch everything you can touch.
On the bright side, James Morris is lining up against CJ Fed. There is not a player in the Big Ten that will be able to line up against Fiedorowicz.
CB Jordan Lomax made a nice play on a jump ball.
Both Wienke and Mullings have gotten one solid punt off each.
Gaglione continues to get a nice push on the strong side. He is going against Brett Van Sloten.
JVB just had a bomb to Don Shumpert. Stood in the pocket and delivered a nice pass.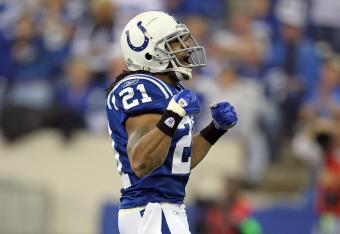 Another huge hit by Nico Law.
De-capped Damon Bullock.
Bob Sanders Version 2.0?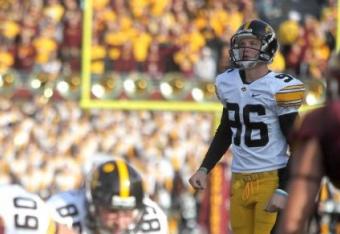 Second team in on goal line.
I really like De'Andre Johnson. He reminds me of Freddy Russel. Small, but tree trunk legs, runs low to the ground, get yards. I don't know why he can't climb up that depth chart.
Rudock just ran for the TD. He tried to run over Greg Castillo. Obviously, in a game, you want to see him go down, but it's good to see that moxie.
That said, Rudock is a twig. He needs to learn to slide.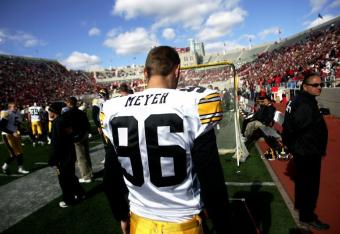 Going into situational drills.
Starting with goal line.
0-for-3 thus far.
Just threw one up for CJ Fed at back of end zone. CJ dropped it. Tough catch, but as they say, if you can touch it, you've got to catch it.
0-for-4. Field goal unit on.
Three points for Meyer on the chip shot.
Marshall Koehn and Trent Mossbrucker got kicks as well. Six more points.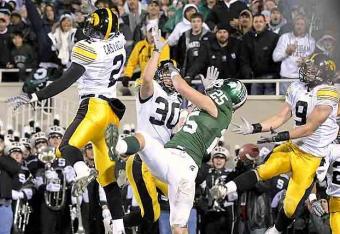 Sokol picked off by Greg Castillo.
He threw the ball into a crowd. Bad throw.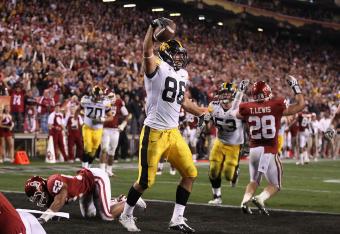 JVB back in, going to no huddle.
Two of last four plays have gone to CJ Fed. The guy is huge.
All quarterbacks have done a good job spreading the ball around.
The reality is that McNutt is gone and his production will be impossible to replace. However, there are a good number of players out there that can pick up the pieces. In order to maximize those players, the ball will have to get spread around.
Sokol in running the no huddle. Very quick release. Maybe quicker than it needs to be, but he is made for this up-tempo O.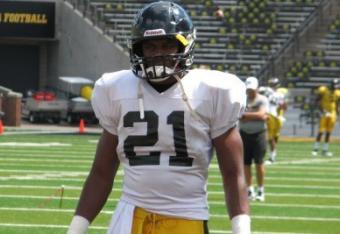 SS Nico Law just popped De'Andre Johnson. I am as excited to see Law get out there as I have been for any player in a long while.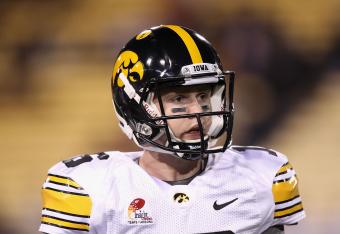 JVB back in the game.
Just "sacked" twice in a row off a delayed blitz.
Play No. 3: open set. All-out blitz. JVB red it and got it off to Zach Derby.
Play No. 4: out of gun. Attempted screen off a cover-2. Pass got tipped.
Rudock in for his first action.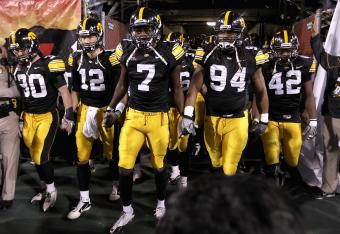 Now, we're getting into some scrimmaging.
JVB started, but Sokol, not Rudock, came in second.
Joe Gaglione at strong-side end, has done a nice—and surprising—job maintaining leverage.
Offense having more success running at weak side.
De'Andre Johnson just broke a big run over the weak side.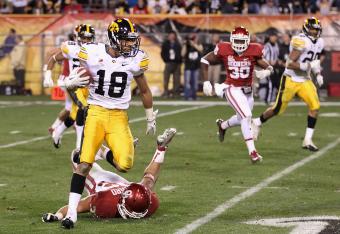 KMM, Micah Hyde and B.J. Lowery are all working on punt returns.
I wasn't a big fan of Hyde on returns last year. He is great with the ball in his hands, but wasn't decisive enough while the ball was in the air.
Just heard via Twitter universe that there have been five dropped passes so far, including warm ups. This was and has been a huge problem for Iowa.
Wienke and Mullings are both punting and punting well, averaging in the 45 YPP area.
There has never been any question regarding Mullings' ability to launch the ball. The issue has been his ability to get it off quickly.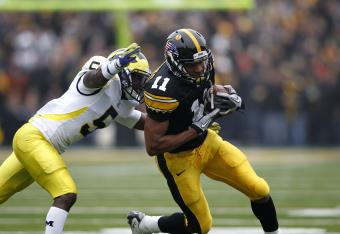 Keenan Davis is, in fact, practicing.
Kevonte Martin-Manley is the No. 2. Greg Davis and WR coach Eric Campbell have talked him up a good deal this spring.
Davis talked of using KMM a good deal in the slot. He is shorter and looks like an ideal slot receiver. Presumably, Davis will look to get the ball in his hands in space. Look for some tunnel screens this year.
Would love for Don Shumpert to break through and become a solid third option and go-to outside receiver.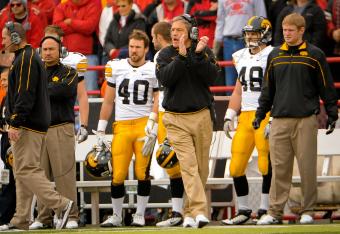 Matt Tobin, who spent most of 2011 as the left guard, is working out with the tackles. At 6'6", he has the size.
Phil Parker, the new defensive coordinator and former defensive backs coach, is spending the majority of his time with the linebackers.
Head coach Kirk Ferentz is, not surprisingly, spending a large amount of his time with the O-line.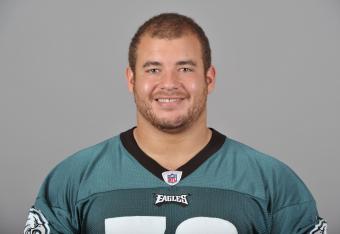 LB Jim Poggi is not in uniform.
By the way, former Hawk offensive lineman Julian Vandervelde is doing commentary for the Big Ten Network. He was/is a great Hawkeye and an outstanding representative of the university (and the state, for that matter).
John Wienke is warming up with the quarterbacks though all indications are that he is now a full-time punter.
As for the quarterbacks, Greg Davis is working out with them. JVB is obvious No. 1. It seems Rudock is the No. 2 with JUCO-transfer Cody Sokol working out as No. 3. We'll see how the No. 2 plays out through the summer.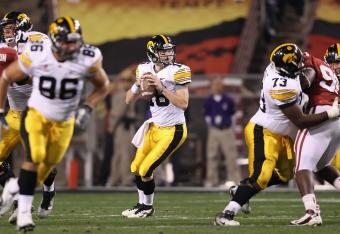 On offense, I'm most looking forward to seeing how the offensive line does, and what wrinkles new OC Greg Davis has brought to Iowa City.
There has been a lot of chatter about quickening the tempo of the offensive, getting extremely creative with the tight ends (yay!) and a lot of shotgun looks and running out of the gun.
Speaking of the tight ends, word is the Hawk TEs and particularly junior CJ Fed are in for a huge season. I can believe it. Look for CJ to have a year like McNutt had last season. Maybe not that impressive, but pretty good.
I don't expect many changes on D, but in recent interviews Phil Parker has been talking about pressing up his corners and dropping an 8th man into the box.
I'll believe it when I see it as Kirk Ferentz is still the head coach, but the tight coverage by the corners might be necessary to give the young D-line a chance.
Speaking of which, the average weight of Iowa's starting D-lineman: 267.67 pounds.
Usually, the defense has a big advantage by this point in the spring.
It has gone against the offense for 3 weeks and knows what the offense will play out of every set. If the offense is moving the ball easily at this point, that is not a sign regarding how good the O is, but an omen regarding how much work the D has.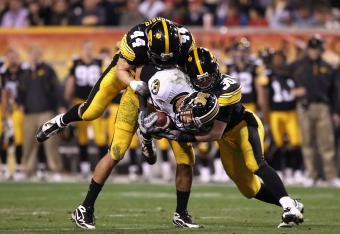 Defensive Depth Chart:
LE: Joe Gaglione/ Mike Hardy
DT: Darian Cooper/ Dean Tsopanides
DT: Steve Bigach/ Louis Trinca-Pasat
RE: Riley McMinn/ Melvin Spears
OLB: Christian Kirksey/ Travis Perry
MLB: James Morris/ Quinton Alston
WLB: Anthony Hitchens/ Marcus Collins OR Cole Fisher
CB: BJ Lowery/ Jordan Lomax
CB: Micah Hyde/ Greg Castillo
FS: Tanner Miller/ John Lowdermilk OR Jack Swanson
SS: Nico Law/ Tom Donatell OR Colin Sleeper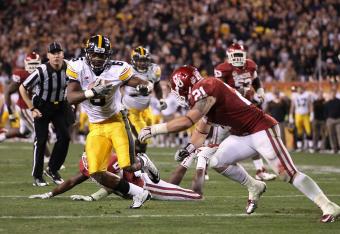 Notable scratches/injuries:
WR Keenan Davis is supposedly out with a tweaked ankle, but he is on the field and is not in a red jersey. My guess is he won't participate in any drills.
DT Carl Davis is out and has been out for spring practices.
DL Dominic Alvis has been limited as he is recovering from a torn ACL. He will not and has not been involved in contact drills.
DL Casey McMillan has just been ruled out for today.
All of those injuries on the line hurt. That is a lot of practice time that those players desperately need.
As previously mentioned, all red jersey players are not hit.
This list includes all QBs and tailbacks. Also, FB Brad Rogers and WR Steven Staggs are wearing red jerseys.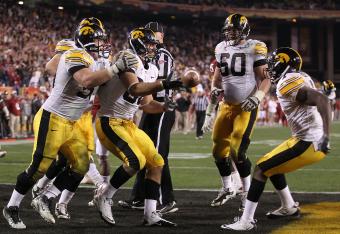 QB: James Vandenberg/ Jake Rudock
RB: Damon Bullock/ De'Andre Johnson
FB: Brad Rogers/ Jonathan Gimm
SE: Kevonte Martin-Manley/ Don Shumpert
WR: Steven Staggs/Jordan Cotton
TE: CJ Fiedorowicz/ Zach Derby
LT: Brandon Scherff/ Andrew Donnal
LG: Matt Tobin/Drew Clark
C: James Ferentz/ Conor Boffeli/ Eric Simmons
RG: Austin Blythe OR Conor Boffeli/ Jordan Walsh
RT: Brett Van Sloten/ Nolan MacMillan
This article is
What is the duplicate article?
Why is this article offensive?
Where is this article plagiarized from?
Why is this article poorly edited?

Iowa Hawkeyes Football: Like this team?