2012 NFL Draft: Should Vontaze Burfict Be on the Cowboys' Radar?
April 17, 2012
Christian Petersen/Getty Images
The 2012 NFL draft is now less than two weeks away and 32 franchises will make decisions that will impact their success and failures for years to come. While it's easy to be intrigued by either a can't-miss prospect, a combine riser or a Division II prospect, there is always that one player that captivates football fans purely based on a type of talent rarely seen.
It's as comparable to being close to the fine line between genius and insanity. When this type of player makes a play it's often followed by "Did he just do that?" On the other hand, it's hardly a surprise when the same player finds themselves at the center of continued controversy. 
The player that comes to mind for me is Vontaze Burfict. The 6'3", 245-pound linebacker out of Arizona State has gone from a highly-regarded prospect to a virtual afterthought over the past few months. After a disappointing junior season, a poor combine showing, and "disastrous" pre-draft interviews with teams, Burfict's stock has severely plummeted.
ProFootballTalk recently reported that Burfict hasn't had any pre-draft visits and is getting iced by NFL teams. But for all the negativity that currently surrounds the linebacker, I want to focus on the facets of his game that make him an intriguing prospect for the Cowboys.
Athletic Ability
With Burfict, it all comes down to focus. If you go back and watch his game footage, you can see the difference in his game when he's focused and when he's playing off pure emotion. You can see the Ray Lewis comparison, and at times he reminds you of Patrick Willis to an extent. What stands out the most is his pursuit of the runner.
He has rare instincts, an explosiveness to his game, and the ability to play all three downs. His propensity for delivering the big hit also adds an element to his game that keeps offenses aware.
Run Support/Technique
His overall athleticism makes him a nightmare for opposing runners. He thrives on engaging with blockers, shedding and then running through the ball-carrier. Burfict is powerful and has long arms that make it difficult for runners to slip his tackles. At times he will go for the highlight hit versus the sure tackle, but it was easy to sense that opponents would avoid his side of the field. 
Pass Defense
As is the case with his abilities against the rush, his athleticism allows him to be effective in both man and zone coverage. Burfict shows good ability in covering both running backs and tight ends, and displayed solid change-of-direction skills. Still raw in areas, at times he may over-rely on his athleticism versus technique, but NFL coaching will help polish that part of his game.
Intangibles
It's hard to ignore what Burfict can bring in this department. Attitude, nastiness and intimidation are some words that come to mind. His ability to deliver a blow and lay the lumber at crucial moments can lead to momentum changes that affect the outcomes of games.
The Cowboys have lacked this element to their defense for years, and at times I think it's what they needed. The key for Burfict is to strike that perfect balance between utilizing those intangibles while not hurting the team with costly penalties.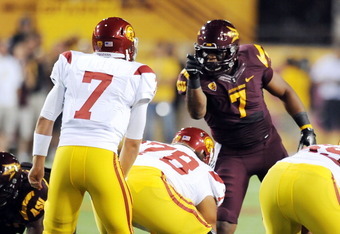 Norm Hall/Getty Images
Vontaze Burfict is one of the most intimidating linebacker prospects to come out in a long time. His nasty attitude and knack for the big hit have made him more than just a player to watch. But NFL teams, like the Cowboys, should be cautious when assessing his mental makeup.
There have been players like Burfict that dominate the college level and then enter the NFL feeling that their natural talent will more than compensate for the character issues accompanying them. For a player like Burfict, the light bulb will either switch on, or he will become just another sad tale of wasted talent and potential.
The Cowboys need to ask themselves if a player like Burfict should even be on their radar at the right stage of the draft. Despite possessing numerous red flags, Burfict is an extremely talented and gifted player. If he can play focused and at the level he knows he's capable of, the Cowboys could easily have a difference maker in the making.
Vontaze Burfict is that classic boom-or-bust player. As is the case with any player in this category, it comes down to whether the risks outweigh the potential rewards. It's a question only the Cowboys can answer.