NBA Playoffs 2012: Previewing and Predicting the Eastern Conference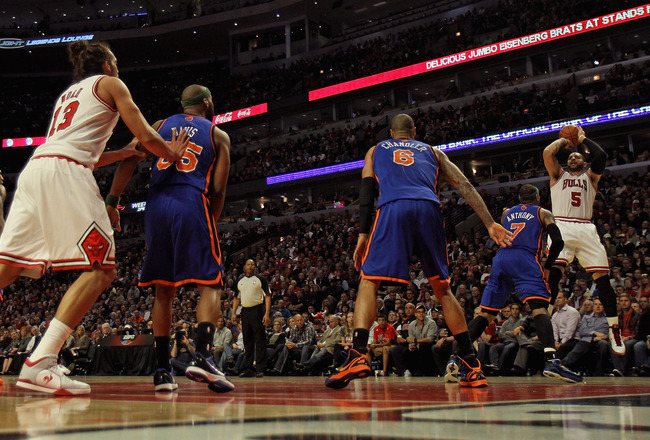 Jonathan Daniel/Getty Images
This is a very premature breakdown of who is actually making the NBA playoffs in the Eastern Conference.
I will use my prediction prowess to analyze the entire Eastern Conference playoffs. I will hold off previewing the Western Conference playoffs because the playoff picture is more uncertain out west.
Unfortunately, the Charlotte Bobcats were not able to qualify for the NCAA tournament, much less the NBA playoffs. Kentucky was not able to parlay their national championship run into a playoff berth.
Note: This is based off current standings. Milwaukee is the only team not mathematically eliminated which is outside of the playoff picture.

No. 1 Chicago Bulls vs. No. 8 Philadelphia 76ers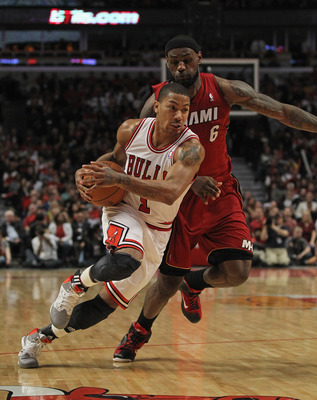 Jonathan Daniel/Getty Images
The Philadelphia 76ers can beat the Chicago Bulls. All they have to do is play the SAT defense on Derrick Rose. Then, Rose will never pass.
All joking aside, this will be a defensive struggle throughout the series. Philadelphia and Chicago are the top two defensive teams in the league right now.
Whoever wins the battle between Andre Iguodala and Luol Deng should give their respective team the upper hand. Derrick Rose's level of rustiness will be another crucial factor in how long this series will be.
I expect Chicago to ultimately prevail, but Philly will take one game on account of their SAT defense.
Prediction: Bulls in five

No. 4 Indiana Pacers vs. No. 5 Atlanta Hawks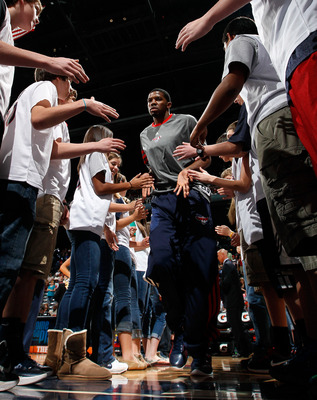 Kevin C. Cox/Getty Images
This series will be another knockdown, drag-it-out affair where the only thing scoring in triple digits is the average fan attendance of these teams. I have been to both the wonderful cities of Indianapolis and Atlanta, so nothing personal to the fans.
These two teams are fairly similar in terms of personnel. There are some battles which will be key to determine who will win this series.
Pacers SF Danny Granger must be able to outduel Joe Johnson on the perimeter. Defensive stopper Paul George will see to that by slowing down Johnson. Josh Smith and David West will have a pivotal matchup.
Hawks C Zaza Pachulia will have to use his intensity to contain All-Star C Roy Hibbert. Pacers guards Darren Collison and George Hill vs. Hawks guards Jeff Teague and Kirk Heinrich is a critical matchup.
But, this series mainly hinges on if Hawks big man Al Horford returns from his shoulder injury in time for the playoffs. If Horford can return 100 percent, then the Hawks have a strong chance of winning. Otherwise, the Pacers will win to set up a rematch with the Chicago Bulls.
Prediction: Pacers in seven
No. 3 Boston Celtics vs. No. 6 Orlando Magic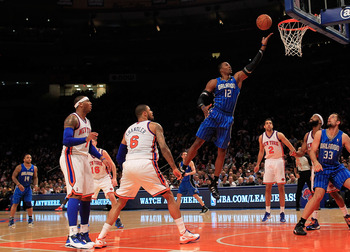 Chris Trotman/Getty Images
This Celtics-Magic series is a battle we have seen before. Both Boston and Orlando are top five defensively. On the flip side, they're in the bottom half offensively.
Dwight Howard is the obvious lynchpin to this series. If he is not healthy, then the Magic will be swept. If he is healthy, then the Magic have a chance of winning this series.
Regardless of Howard's health, the Magic must be able to knock down outside shots to give Howard more space in the post. Howard must also make his free throws, which have been abysmal this year. Expect the Celtics to use a litany of post players to utilize the "Fight Dwight" strategy of getting him to the free-throw line.
Since Dwight Howard's back injury seems serious, it's safe to say the Celtics will win this series handily.
Prediction: Celtics in four

No. 2 Miami Heat vs. No. 7 New York Knicks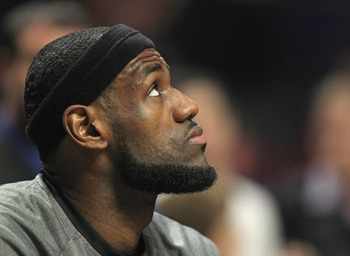 Jonathan Daniel/Getty Images
This is the marquee series everyone will focus on. That's by far the easiest prediction of this article. But, predicting the series itself will not be easy.
New York has enjoyed a resurgence thanks to improved defensive play under coach Mike Woodson. Woodson's offense is more suited to Carmelo Anthony's skill set than Mike D'Antoni's.
The results of this coaching change have shown. However, will Amar'e Stoudemire's eventual return complicate the recent surge by clogging up the paint?
Miami is fading as badly as their best player's hairline. Charles Barkley said it best when he stated LeBron James and Dwyane Wade are simply tired.
The Heat seem to be reverting back to the ways which caused them to struggle last season. It appears like LeBron and Wade are just alternating on isolation plays with the other players standing around. Miami just seems like an undersized team which can't score in the half-court.
In spite of all these factors, I expect the Heat to win.
Pace is a crucial factor in determining who wins this series. If the Heat can speed up the tempo, it can very well be a sweep. If the Knicks are able to slow down the game, they can actually win this series.
Judging from a prestigious playing career of my own, rebounding is a critical factor of controlling the pace of the game.
Given the Knicks have a size advantage, they'll be able to control the glass. However, Miami's pressure defense will force enough turnovers to ultimately win the series.
Prediction: Heat in seven
No. 1 Chicago Bulls vs. No. 4 Indiana Pacers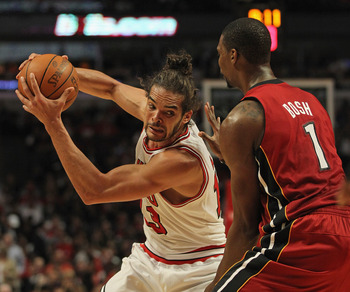 Jonathan Daniel/Getty Images
This is a very special rivalry which was refueled when Derrick Rose took exception to the Pacers celebrating in the United Center after a victory over the Bulls.
Historically, this rivalry goes back to the 1990s. I remember, as a kid, watching Michael Jordan do battle with Reggie Miller on NBC in the Eastern Conference finals.
The Pacers have significantly improved since their first-round playoff exit against Chicago last year.
Acquisitions David West, George Hill and Leandro Barbosa have improved the team's overall depth. Each of the returning players have also improved.
As for Chicago, their upgrade of Rip Hamilton over Keith Bogans has not yet quite come to fruition. However, the Bulls still possess the best record in the NBA.
In spite of Indiana's tremendous improvement, they will only win two games this time around. Maybe next year they'll lose 4-3 against Chicago in the Eastern Conference Finals.
Prediction: Bulls in six
No. 2 Miami Heat vs. No. 3 Boston Celtics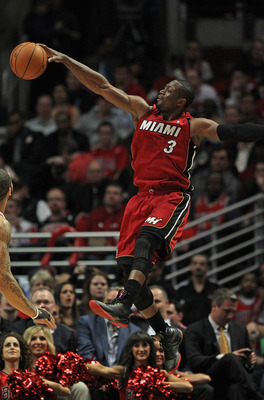 Jonathan Daniel/Getty Images
The Boston Celtics' major layoff will actually hurt them in this instance. Doc Rivers will have to negotiate between maintaining the team's rhythm and their health.
I would argue rhythm is more important than health for Boston because their defensive rotations must be precise against a slashing team like Miami. They will have to execute on offense against a tremendous defense in Miami.
Miami will have all the momentum in this series, due to their emotional victory over the Knicks. They are just too fast for the Celtics to keep up. The Heat's speed will present problems for Ray Allen and Paul Pierce.
To be fair, Kevin Garnett is a psychological nightmare for the fake Chris Bosh (scroll down to read it). Expect the parquet floor to witness one home victory in their futile effort to beat the Heat.
Prediction: Heat in five

No. 1 Chicago Bulls vs. No. 2 Miami Heat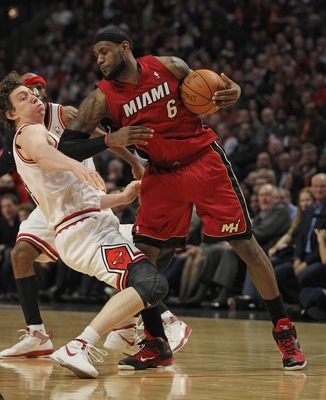 Jonathan Daniel/Getty Images
The NBA might as well have skipped the first two rounds to get to this point. The Heat and the Bulls are significantly better than the rest of the conference.
Derrick Rose should knock off all the rust at this point. He needs to be able to score efficiently against the Heat. LeBron James will likely be the man to check him.
Rip Hamilton and Luol Deng will have to contain Dwyane Wade and LeBron James, respectively.
Last time they met, the LeBronification of the Heat cost them the game, as the Bulls won in OT. The Bulls' bench is far superior to that of the Heat. Joakim Noah and Carlos Boozer have the advantage down low.
The determining factor as to who will win this series lies in the performance of the role players. Mike Miller and Chris Bosh must sufficiently knock down shots to spread the floor for LeBron and Wade. The Bulls bench must be able to hold the fort.
When it's all said and done, the Chicago Bulls will overcome the Miami Heat based on their better team chemistry. Tom Thibodeau will show why he is one of the best coaches in the NBA.
Prediction: Bulls in seven
Conclusion
Looking at the playoffs was a far cry in November, when the season was about to be cancelled. I am glad the owners and the players overcame certain hurdles to give us another season of pro basketball.
No. Watching Kentucky play does not count as pro basketball.
Come to think about it, nothing has really changed in the NBA. Every single team who made the playoffs last year in the East are set to make it this year. Hopefully, the playoffs will be as exciting as it ever has been.
I am a tad disappointed in myself that I don't foresee any major upsets from the Eastern Conference. Just enjoy the video if you are distraught over my predictions.
Follow me on Twitter and become a fan.
Thanks for reading!
Keep Reading