2012 NFL Mock Draft: Where We Stand as Pro Days Wrap Up
Christian Petersen/Getty Images

We're two weeks away from the most exciting Thursday next to the start of the season, the start of Thursday Night Football or Thanksgiving dinner. It's finally draft weekend and no offense to the other major sports, but it's hard to deny the spectacle that draws so many into the NFL Draft.
Maybe it's because, in other sports, unless they are special, once-in-a-lifetime talent, they will spend the beginning of their careers buried in a minor league system. Maybe it's due to the extreme popularity of American football in our culture that we get to watch these players perform for three to four years—sometimes even longer—before they reach the big time that makes this event so enthralling.
Although this is my first mock, I've waited until after the combine and the majority of individual pro days play out before I put it together. Although the first three picks are pretty much set in stone, there's much that is still up in the air.
Begin Slideshow

»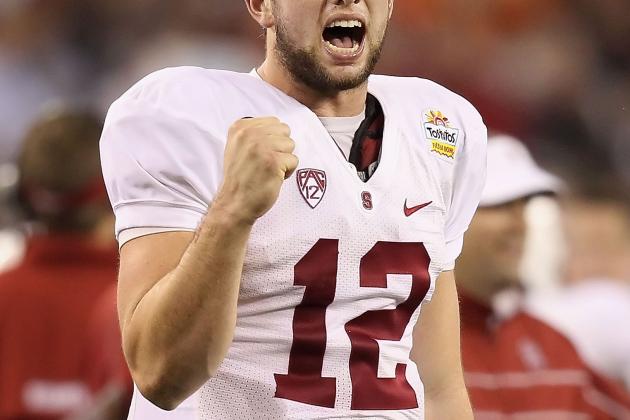 Christian Petersen/Getty Images

Andrew Luck, QB, Stanford
The best QB prospect since Peyton Manning is ready to start his NFL career and he'll do so the same way Manning did in 1998, with the Indianapolis Colts.
This hasn't changed since the beginning of the season and it won't change now.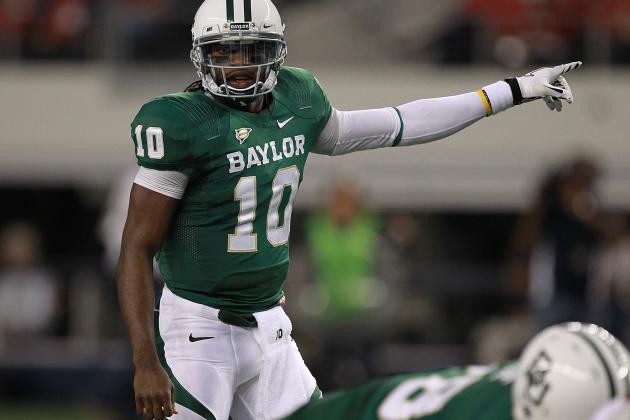 Ronald Martinez/Getty Images

Robert Griffin III, QB, Baylor
Daniel Snyder can't seem to go one offseason without making some noise. However, this season it may actually pay off in the long run.
It's more or less decided that Redskins brass is going with Griffin as the second overall pick and they firmly believe that he can be their QB of the future. I tend to agree with them.
Griffin is an athletic and talented player who should grow into Mike Shanahan's system over time. Fans shouldn't expect a Cam Newton-esque explosion in his rookie year—though I wouldn't be surprised if he did—but he'll be able to do enough with his arm and feet to keep them in games.
On a side note: Donovan McNabb, you are a bitter, bitter old man.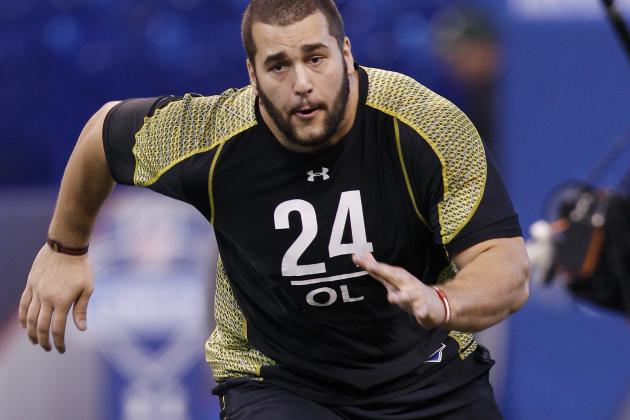 Joe Robbins/Getty Images

Matt Kalil, OT, USC
With the third overall pick, the Vikings have a prime choice of a number of great prospects to fill a myriad of needs. The most glaring, however, is improving the protection around newcomer Christian Ponder and finding him the time to make plays.
Kalil fills that need perfectly as the most polished tackle in the draft this season—as he should, considering his outstanding football pedigree. Just ask his brother, Ryan, the highest-paid center in the league.
The Vikings could go a couple different ways with this pick, but the holes in their offensive line need to be filled before Ponder can improve.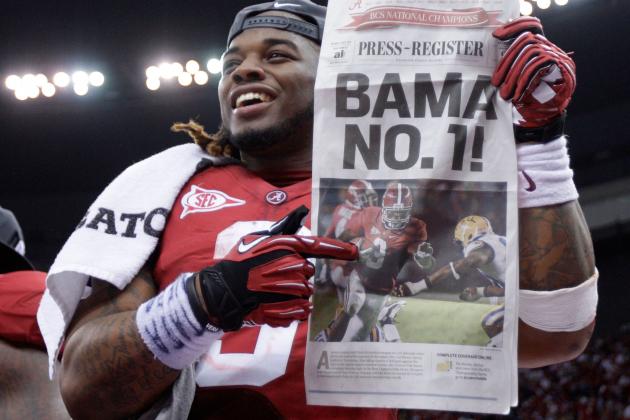 Andy Lyons/Getty Images

Trent Richardson, RB, Alabama
There has been speculation that the Browns have yet to dial down a decision on their first pick, but Richardson is truly a no-brainer in this situation.
After losing Peyton Hillis, the Browns are left with bits and pieces in the backfield. Richardson will immediately make an impact in Cleveland's organization and will relieve pressure on Colt McCoy from having to do everything himself.
I could see them taking a couple other prospects here based on need, but those needs can be shored up later in the draft. Richardson is too good a player to pass on here.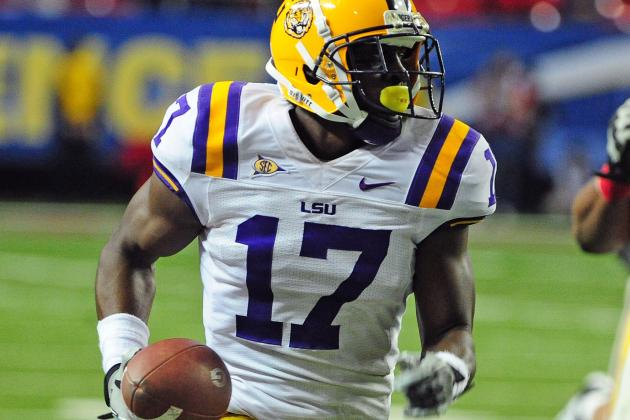 Scott Cunningham/Getty Images

Morris Claiborne, CB, LSU
This is where the waters get cloudy and it's harder to predict which direction teams are going to head in. The Buccaneers could go anywhere with this pick, but it's clear that their defense needs help, especially against the pass.
Aqib Talib hasn't been the player he was expected to be and Ronde Barber is only getting older. Claiborne had a great pro day at LSU and has the size, speed and skills to excel on the next level.
I know that's cliche, but it's true. The NFL is becoming harder and harder for defenses to make plays in the passing game and it's requiring a new breed of defensive backs.
Claiborne should be the No. 5 pick, unless, of course, a trade happens.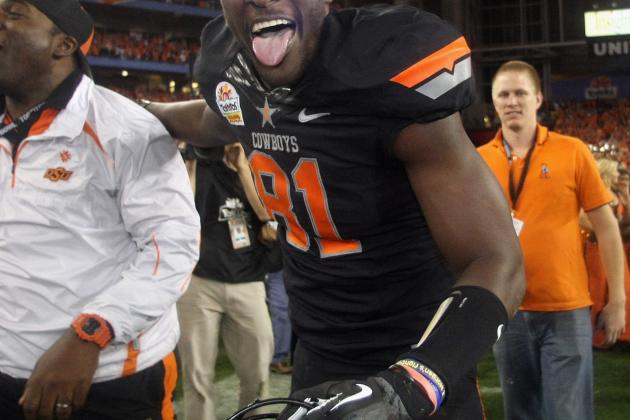 Donald Miralle/Getty Images

Justin Blackmon, WR, Oklahoma State
The Rams have been entertaining the idea of trading back up with Cleveland, especially since they have visited with Trent Richardson, but it seems more probable that they will end up staying put and taking the best receiver in the draft.
Blackmon gives Sam Bradford a huge weapon on the outside that has the strength to make big plays in traffic and the speed to be a burner down the sideline.
He also has the character flaws that have come to plague some of the talented prospects each year, but don't worry, the worst that should happen is he becomes just another diva wideout in mold of Terrell Owens, Brandon Marshall or Chad Johnson.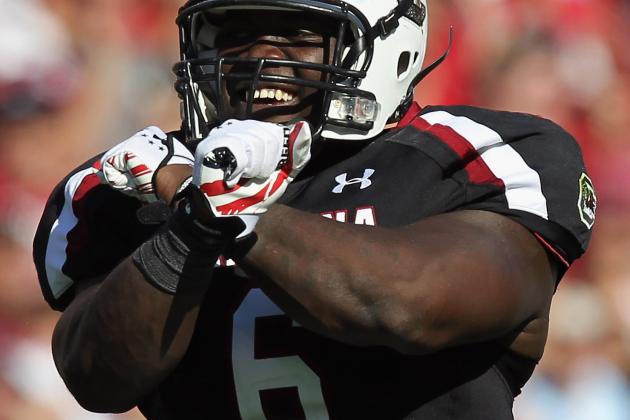 Streeter Lecka/Getty Images

Melvin Ingram, DE/OLB, South Carolina
The Jaguars need to drastically improve their pass rush and what better way than to draft a player who's athletic enough to play at end and linebacker and strong enough to clog the middle if needed?
Ingram was a big name coming out of high school and has only gotten bigger coming out of college.
The Jaguars are still going to need time to develop Blaine Gabbert into a better starting QB, but if the defense can improve, at least he'll have more opportunities to win.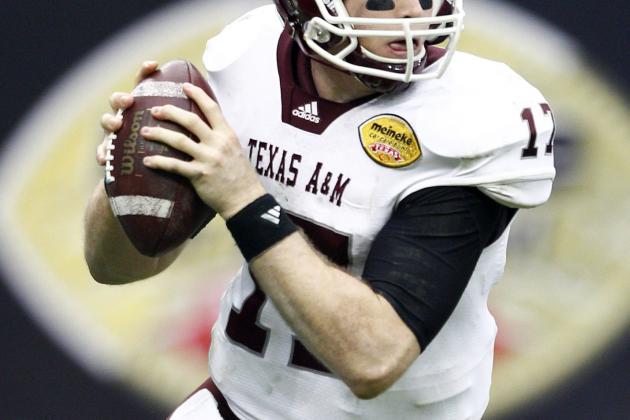 Bob Levey/Getty Images

Ryan Tannehill, QB, Texas A&M
The Dolphins have had more recent misses on franchise QBs than hits and probably still miss the Marino days, but this year may change all that.
With the eighth pick, the Dolphins have a few different spots they could work with, but because of OC Mike Sherman's familiarity with Tannehill during his time with the Aggies, it seems the Fins are willing to take another stab at a franchise signal-caller.
Behind Luck and Griffin, there are differing opinions on where to rank the remaining crop of QB prospects, but Tannehill looks to be the guy after performing well at his pro day workout.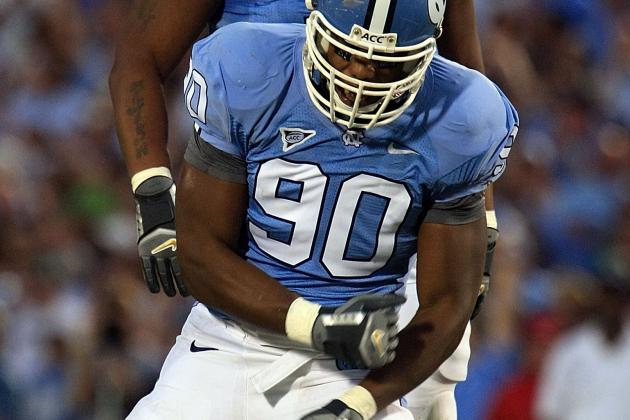 Scott Halleran/Getty Images

Quinton Coples, DE, North Carolina
Character and off-the-field issues aside, Coples has the talent and raw skills to do well at the next level. The question is whether or not he has the motor and drive to perform at 100 percent of his abilities.
Regardless of the concerns, Coples seems to be a top-flight talent that can step in quickly and be a disruptive force for Carolina's front seven. With 24 sacks over his career as a Tar Heel, he has a nose for the ball and enjoys getting to the QB.
Carolina will probably be shoring up their defense all over the field in this year's draft and there doesn't seem a better place to start than with this young man.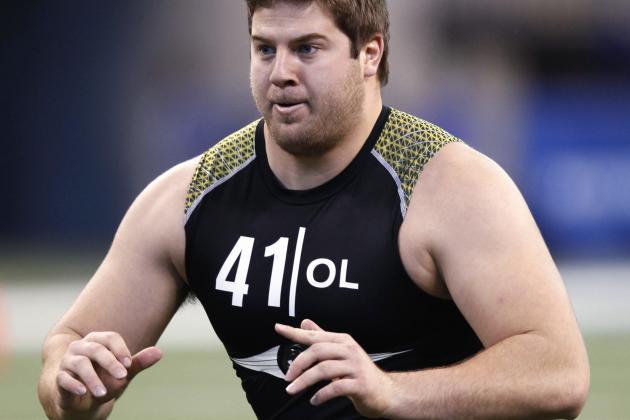 Joe Robbins/Getty Images

Riley Reiff, OT, Iowa
Buffalo made big acquisitions this offseason to shore up their defense and add some power to their pass rush. It seems like their goal was achieved making Mario Williams the highest-paid defensive player in the NFL.
The biggest need for them now is to strengthen their offensive line and can do so with Reiff. Behind Kalil, he appears the most technically ready to play immediately in the NFL.
I could see them going defense again with Kuechly or even offensively to give Ryan Fitzpatrick more usable weapons in the passing game, such as Michael Floyd.
However, with the need on the line as big as it is, this pick is too good to pass up in favor of another player.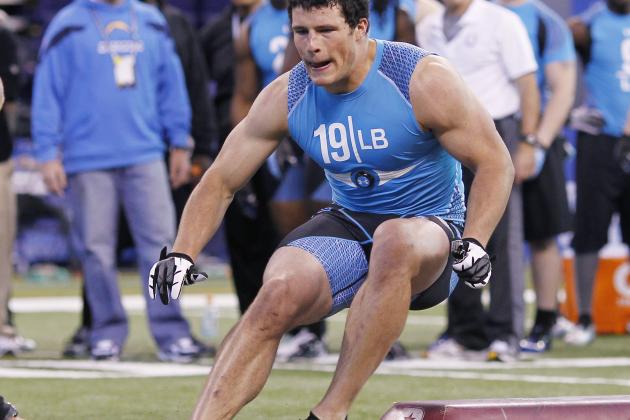 Joe Robbins/Getty Images

Luke Kuechly, LB, Boston College
I believe in drafting the best player available in a situation like this where the Chiefs have built a strong, young core of players and shouldn't reach for a player of need. Kuechly comes off of one of the most productive college careers for a linebacker ever and would be hard to pass up.
Kansas City could look to grab a lineman either on the offensive or defensive side with this pick as well.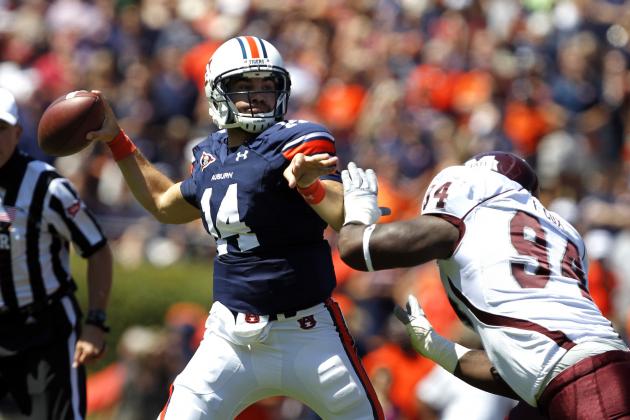 Butch Dill/Getty Images

Fletcher Cox, DT, Mississippi State
Seattle needs to bring in help at linebacker, but with Kuechly going the pick before, they'll gladly settle for possibly the best defensive tackle in the draft.
In a division that is can be considered run-heavy, Pete Carroll will be happy to have an athletic playmaker clogging up the middle of his defensive line. He may not be nearly as big as some of the other tackles, but his ability to rush the passer will be an added bonus.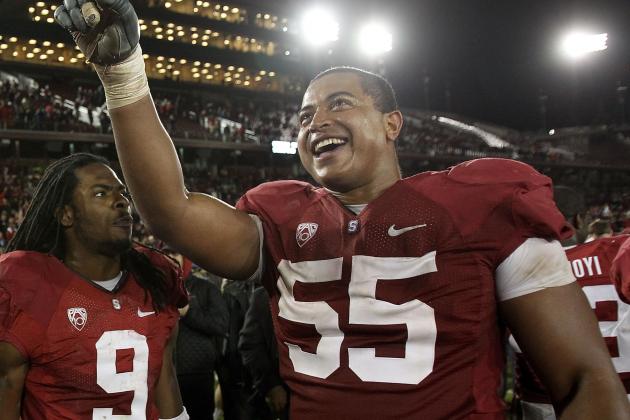 Ezra Shaw/Getty Images

Jonathan Martin, OT, Stanford
Arizona can blame most of its poor offense on its skill players, but when your offensive line gives up 54 sacks, it's hard to cover up that glaring weakness.
Arizona will have to decide whether to take the experienced, technically sound player in Martin or the raw, naturally talented Mike Adams from Ohio State. When it comes time to head to the podium, though, I believe experience will win out.
Martin should be able to step in and start immediately and the Cardinals desperately need him to do so.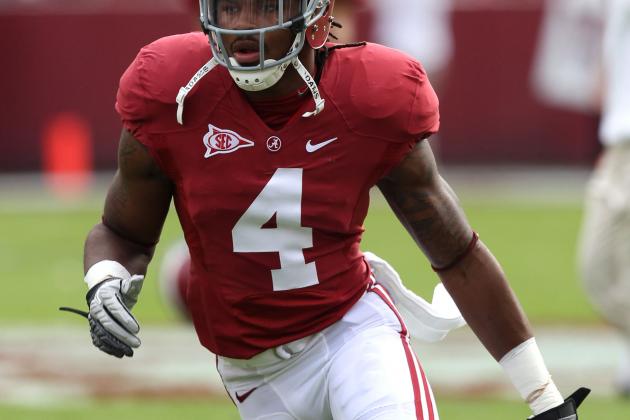 Mike Zarrilli/Getty Images

Mark Barron, S, Alabama
America's Team is solid on offense and their defense is slowly getting there. Nobody can deny DeMarcus Ware's abilities to rush the passer and he is complemented by the rest of the front seven.
They continued to rebuild their weak secondary into this offseason and when the chance to draft the best safety prospect this season comes up, they'll be jumping at it.
With his former teammate Dre Kirkpatrick still on the board, Dallas still might turn his way or look to add depth on the line, but a talented, true safety may be hard to pass on.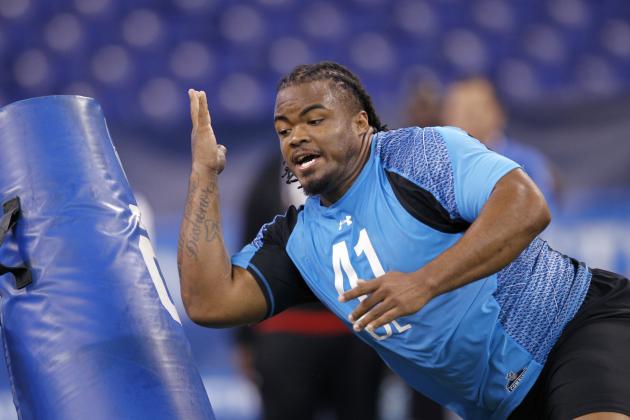 Joe Robbins/Getty Images

Dontari Poe, DT, Memphis
Yes, I know, I'm going to get flamed for dropping him this far and below Fletcher Cox, but in no way is it a knock against Poe. He's a stout, massive force that will be a fixture for years to come. It has more to do with how the ball rolled so far in this mock.
In Poe, Philly is going to have a space-eater in the middle of their defensive front. At almost 350 pounds, he has the size and, judging by his 44 reps at the bench, he has the the strength to take on double-teams and win those battles.
He should easily help create opportunities for newly-acquired DeMeco Ryans and fellow lineman Jason Babin to make big plays, if he hasn't already done so himself.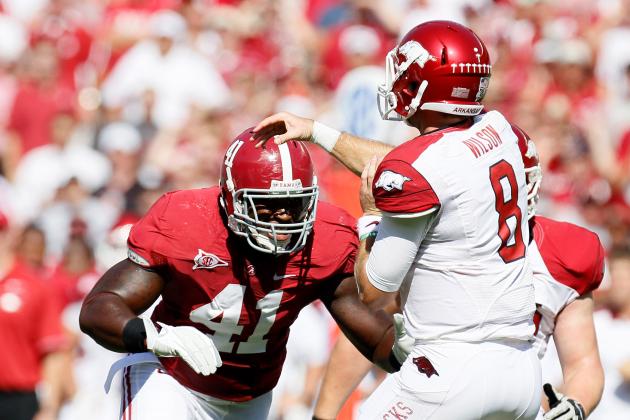 Kevin C. Cox/Getty Images

Courtney Upshaw, LB, Alabama
The Jets need to start looking at replacements for the eventual departure of Bart Scott and they should find one in Upshaw.
Some believe he's better suited at end, but he'll have time to grow into the linebacker position, especially in the system employed by Rex Ryan and New York.
There's a chance they may go offense with this pick—possibly Notre Dame's WR Michael Floyd—but Rex will find it hard not to go with a tough, defensive player to install in his blitz-heavy schemes.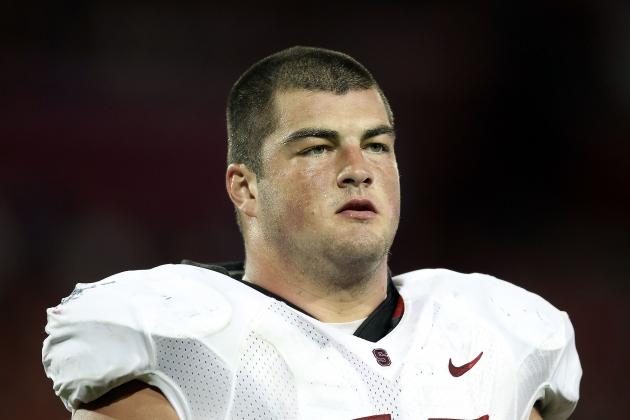 Christian Petersen/Getty Images

David DeCastro, OG, Stanford
With the free-agent pickup Terence Newman, the Bengals can save from having to draft a corner and grab DeCastro, who can be a solid force on their offensive line.
He should help improve the Bengals' running game, opening up better opportunities for Andy Dalton and A.J. Green to do what they do best: make big plays.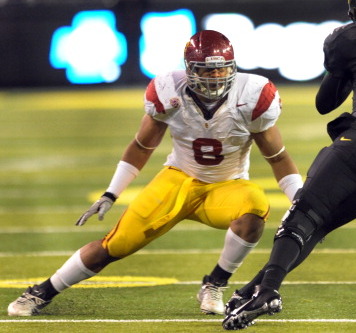 Steve Dykes/Getty Images

Nick Perry, DE/LB, USC
This might get called for being a huge reach considering Whitney Mercilus and other ends on the board, but Perry might be the better pick.
The Chargers need help rushing the QB and playing defense in general. Perry gives them somebody they can play at end or outside linebacker and he can get to the QB.
Although they also have needs on the offensive line, the Bolts now face Peyton Manning twice a year in Denver and they desperately need to find ways to get to the QB if they expect not to lose anymore ground in the suddenly improving AFC West.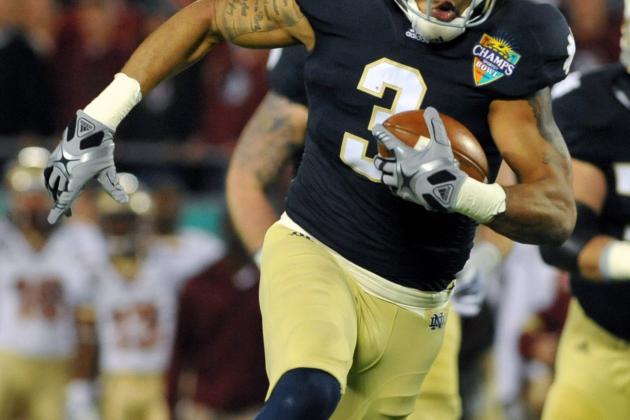 Al Messerschmidt/Getty Images

Michael Floyd, WR, Notre Dame
It's hard to imagine Floyd dropping down the draft this far, since many teams draft based on potential talent more so than actual need, but the receiver drought ends at No. 19 with Chicago adding another weapon to Jay Cutler's arsenal.
It seems like a pattern, but Floyd is another talented prospect with character problems off the field. The Bears should have no problem corralling him and utilizing his ability to make the tough catches look easy.
Some are comparing him to Larry Fitzgerald. If he could reach that type of plateau with Brandon Marshall on the other side, Chicago could suddenly have the firepower to compete with Detroit and Green Bay.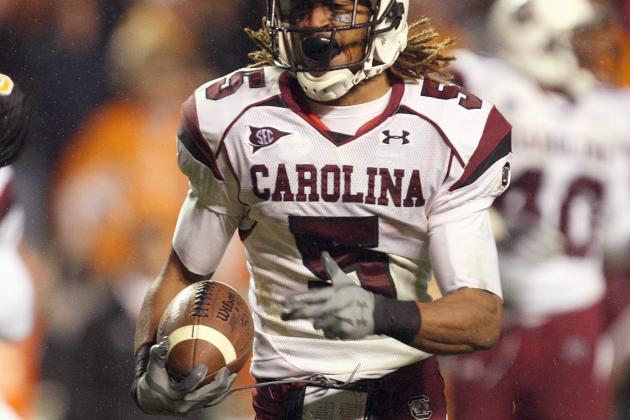 Streeter Lecka/Getty Images

Stephon Gilmore, CB, South Carolina
Losing one of your best covermen in Cortland Finnegan doesn't help; drafting somebody who could step in and help replace him will.
Gilmore has great playmaking abilities in the defensive backfield and unlike his contemporaries, he is free from the character issues that seem to be plaguing college prospects these days.
The control of power in the AFC South has shifted in only one season, but with Indianapolis and Jacksonville rebuilding, Tennessee will be competing with Matt Schaub and Houston for the division crown.
That being said, stopping the pass will be paramount.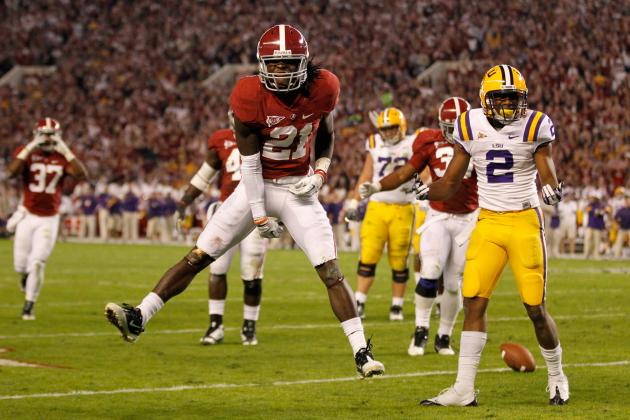 Streeter Lecka/Getty Images

Dre Kirkpatrick, CB, Alabama
Although they skipped a corner with their first pick, they will be pleasantly surprised when Kirkpatrick drops to them here.
He has character issues—regardless of if the drug charges were dropped—but the Bengals are one those teams that will take that chance based on his prospective talent.
Terence Newman has been signed, which will allow Kirkpatrick to be eased into the lineup as a nickel corner or in other packages, but depth is needed and the Bengals start building that here.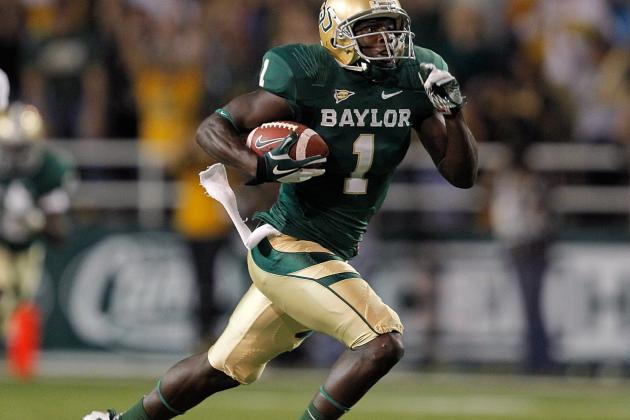 Sarah Glenn/Getty Images

Kendall Wright, WR, Baylor
With their second pick in the first round, courtesy of the Falcons, the Browns will probably go with another skill position player.
Wright gives the Browns a weapon opposite Greg Little and has the speed to burn defenses. He may not have quite the hands as some of the other prospects, but he'll open up the field and give McCoy a player capable of doing damage after the catch.
With Richardson and now Wright, the Browns are slowly building an offense that could compete with the AFC North powers in Baltimore and Pittsburgh.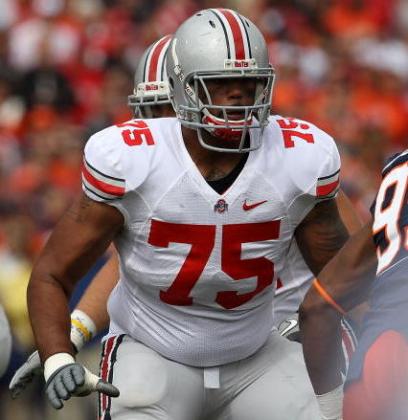 Jonathan Daniel/Getty Images

Mike Adams, OT, Ohio State
It's hard to believe, but for the first time in a long time, the Lions don't actually have too many glaring needs or holes to fill. However, they can add a talented big man to their offensive front.
Adams may not have the technical soundness to his game, but he has the raw, natural talent to perform exceptionally in the NFL.
The Lions could go with a halfback here due to the rash of injuries they've had with recent draft picks, but continually improving and adding depth to their offensive line will help keep Matt Stafford on his feet and open holes for whoever he's handing it off to.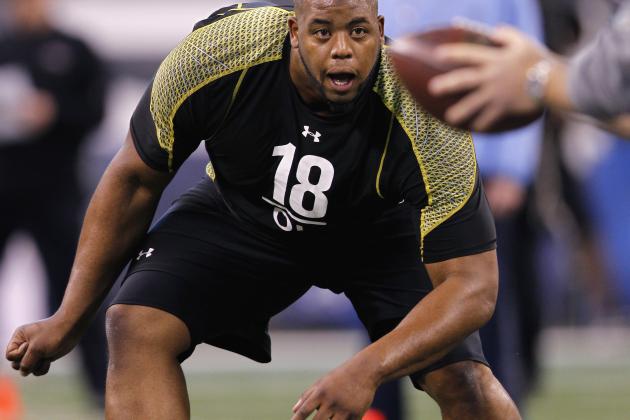 Joe Robbins/Getty Images

Cordy Glenn, OL, Georgia
Pittsburgh needs to bring youth to their offensive line and Glenn can do just that. His abilities to play all over the line at tackle, guard and center, wherever he's needed, will help the Steelers immensely.
Last season, Ben Roethlisberger struggled to stay on his feet and faced heavy pressure most of the time. Playing in the same division as the Ravens obviously didn't help in that regard.
Glenn will add much needed depth, but he'll be given every chance to start right away and should find himself a "cushy" spot on the offensive line during training camp.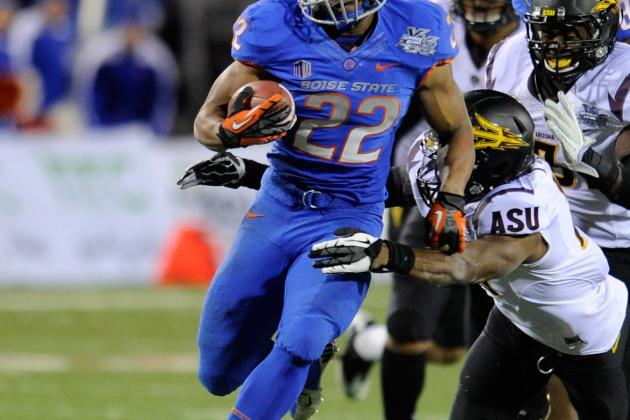 Ethan Miller/Getty Images

Doug Martin, RB, Boise State
It seems that there's a consensus belief that the Broncos are going to shore up their defense with their first pick, but I'm taking a leap here and I believe they'll pick up a running back who can add a weapon for Peyton Manning.
The running game in Denver has been poor the past couple seasons and Martin gives them a solid body that can gain tough yards and also break free for big plays. This pick could be between Martin and David Wilson from Virginia Tech; either one would work well.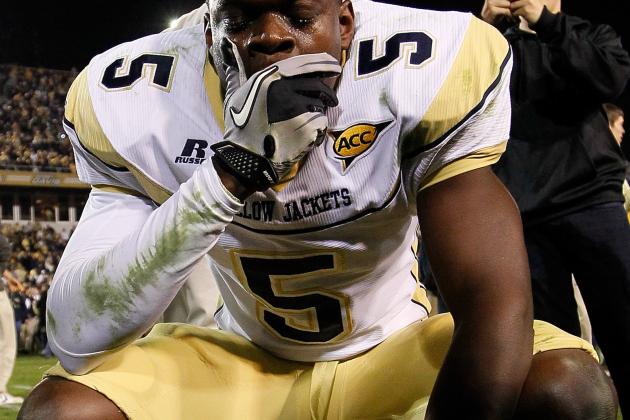 Kevin C. Cox/Getty Images

Stephen Hill, WR, Georgia Tech
The Texans have become the team to beat in the AFC South with the departure of Peyton Manning from the Colts. Don't expect them to slow down anytime soon.
Their objective here is to find a complement to perennial Pro Bowl WR Andre Johnson so he isn't stuck doing everything by himself. Kevin Walter and Jacoby Jones haven't shown enough to take the second spot, so Hill should push them for the starting spot.
He ran a 4.36-second 40-yard dash at Georgia Tech's Pro Day, which means he has the speed to burn defenses. However, it's his abilities after the catch that make him scary. Playing in the triple-option didn't help his exposure, but he made the most of his opportunities, posting a whopping 29.3 yards per catch his junior season.
He may not be quite as dominant as another former Georgia Tech receiver, but his abilities speak volumes and he'd make the Texans offense even more dangerous than it already is.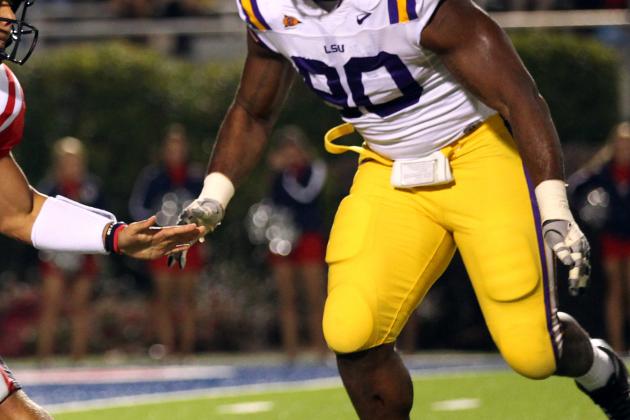 Joe Murphy/Getty Images

Michael Brockers, DT, LSU
If history has shown us anything, Bill Belichick believes in the theory that stocking his roster full of later-round fliers will return long-term success, so there's a good chance that he'll trade away this selection for a number of late-rounders.
Brockers is going to drop based on inexperience, but he has the raw talent that Belichick loves to mold. He could also learn a lot from playing with Vince Wilfork.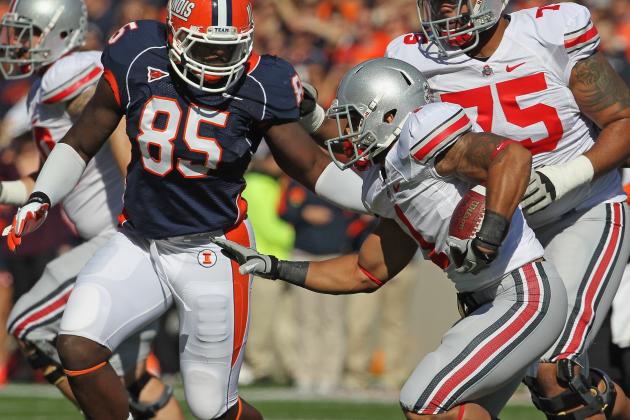 Jonathan Daniel/Getty Images

Whitney Mercilus, DE, Illinois
Mercilus is inexperienced, but in his short time as a starter, he recorded 16 sacks in 2011. He's a work in progress, but he's a great project for Mike McCarthy and the Packers.
The Packers need to strengthen the pass rush and improve their defense overall. As the worst passing defensive team in 2011, they struggled to keep up with Eli Manning and the Giants in the playoffs.
Mercilus won't immediately improve it himself, but if the Packers bring in other pieces, they could find themselves near the top of the NFL again next season.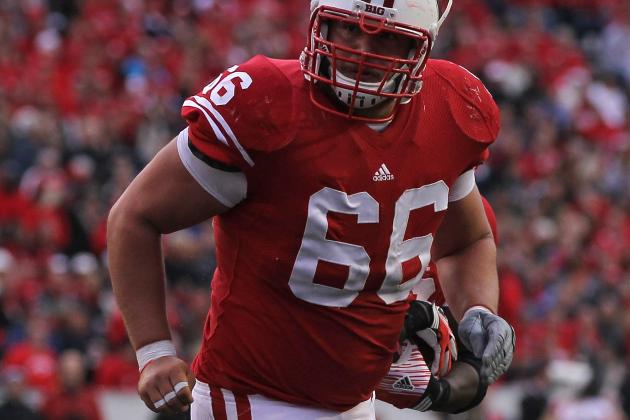 Jonathan Daniel/Getty Images

Peter Konz, C, Wisconsin
The Ravens are relatively free of any holes or glaring needs this offseason, but what they are battling is age. Both on their offense and defense, they are beginning to witness the changing of the guard.
Konz will be used primarily as the future center as Matt Birk moves closer to retirement, but he could be used at other spots on the line if needed for now.
They obviously could bring in much-needed youth on the defense, even if Ray Lewis continues to defy the odds and turn his head away from retirement. They could either bring in Dont'a Hightower or reach for a safety, but Konz seems to be the safest pick.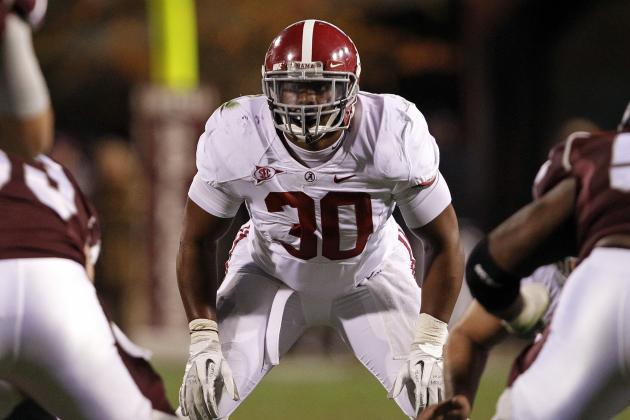 Butch Dill/Getty Images

Dont'a Hightower, LB, Alabama
San Francisco is another team that doesn't have any immediate needs, so they have the luxury of drafting whomever they feel will best benefit their team regardless of position.
Some say that they possibly will go offensive line, but with Hightower still on the board, the 49ers could reach down and grab an athletic linebacker with a nose for the ball.
There have been opinions ranking him higher then his fellow Tide linebacker, Courtney Upshaw, and some might see this as a steal.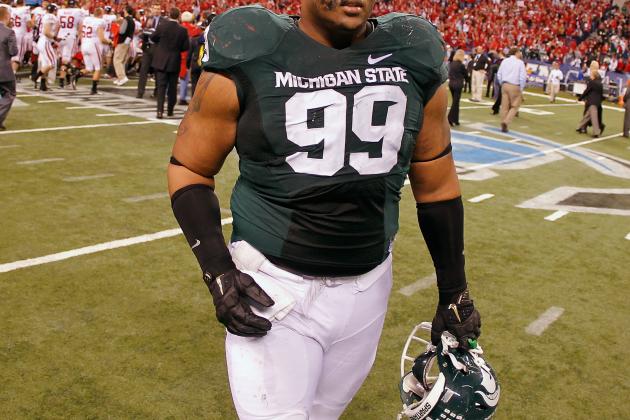 Gregory Shamus/Getty Images

Jerel Worthy, DT, Michigan State
After the Patriots most likely trade away their first first-rounder, they'll look at their defensive line and take the best player available.
There's a chance that Worthy may be gone by this point, but if he falls this far, they'll be happy to take him. He's an athletic player for a tackle and has a knack for rushing the passer.
He could learn a lot from the veterans on the team and Belichick would have a solid body to throw in multiple packages.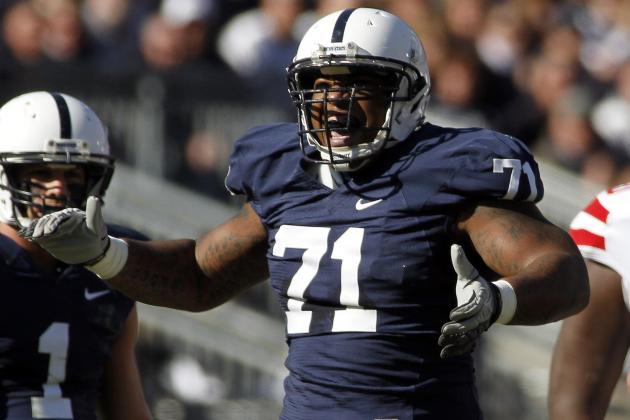 Justin K. Aller/Getty Images

Devon Still, DT, Penn State
The defending Super Bowl champions have one of the most dominant defensive lines in the NFL and with three Pro Bowl-caliber ends, they have plenty of room to play with.
There's a chance they'll trade one of those ends away—most likely Osi Umenyiora—but Still will add youth and depth in the middle of the line.
They may reach for a linebacker or there's even a chance Coby Fleener could hear his name called here because of uncertainty at the tight end position.