Derrick Rose Should Back Up C.J. Watson for the Rest of the Season
April 14, 2012
Jonathan Daniel/Getty Images
Prior this season, Derrick Rose had only missed a total of six games with the highest number being four back in 2009-2010.
This season, Rose has missed 23 games, but Chicago has proven resilient as they have gone 16-7 without him.
Rose's most recent extended stint lasted 12 games. Since his return, the rust has been obvious.
With the current season drawing to a close and the Bulls virtually wrapping up the top seed in the Eastern Conference with their overtime victory against the Miami Heat, the question on how to handle Rose for the rest of the season still lingers.
Rose definitely needs to continue to play if he is to get back into game shape by the time the postseason starts. However, given the nature of his injuries, Tom Thibodeau and company certainly don't want to tax him and risk further injury.
One only has to look at the last three games to see where the concern comes from.
When the Bulls took on Heat at the United Center, Rose only played 25 minutes. Part of that was because C.J. Watson was playing very well. The other part of it probably stems from the fact that when Rose returned against the New York Knicks on April 8, he played 39 minutes and tweaked his ankle, forcing him to sit out the rematch just two days later.
Since the Bulls' playoff positioning is pretty secure, the team does have some flexibility on how to proceed.
Seeing as how Rose looks as healed as he's going to be, the solution lies much farther in limiting his minutes. Rose should back up C.J. Watson for the remaining seven games.
To some, this may sound ludicrous, but the rationale here is sounder than it seems.
At this point, there are two big factors to consider: team chemistry and Rose's game conditioning.
Rose has played in only two of the last 14 games, and Watson has held down starting duties in his absence.
The Bulls have grown quite used to the offensive style of play with Watson at the helm and seem to thrive on it at times.
Keeping Watson in the starting role for remainder of the season gives the Bulls the best chance at finishing strong and possibly securing the No. 1 overall seed in the process.
Putting Rose in a reserve role still gives him the opportunity to log a decent amount of minutes to get his game legs back, and it does so without Rose being the liability that he was in that Miami contest.
There's also a bit of a strategic edge there as well seeing as how Rose would playing against other teams' reserves, a task opponents probably would not be ready for.
This is something Rose may not be too opposed to. Rose told ESPN.com regarding Tom Thibedeau's decision to bench him, "I'm fine, man. Anything to win. Where he felt that lineup was going to win the game, it won the game, and I can't complain about anything."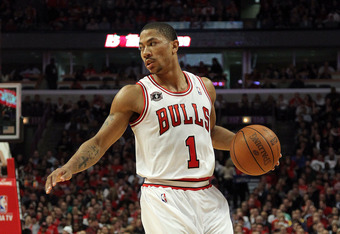 Mike Ehrmann/Getty Images
Rose understands that the most important thing is winning, and it seems like he is willing to sacrifice floor time if that means the Bulls can come out victorious.
Thibodeau is a fiercely loyal coach who may continue to start Rose and just limit his playing time. But given the personnel adjustments he's had to make all season long, switching Rose and Watson is not as far-fetched as it seems.
By making this move, Rose will be back to regular form, and Watson will have a logged some very beneficial playing time by the time the playoffs arrive.
It would be a bold pronouncement to make, but definitely one that can have far reaching results for a team that is looking to reclaim its past prominence.