2012 NFL Draft: 3 Players the Miami Dolphins Should Consider in the First Round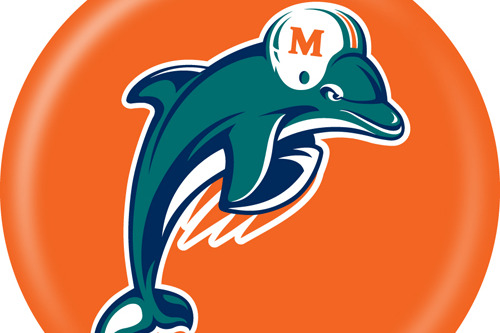 The Miami Dolphins have the No. 8 pick in this year's NFL draft. This puts them in a decent position to improve their team by picking up one of the best players available.
But who will that player be?
Do they aim to draft a quarterback who can lead them back to their winning ways? Or perhaps a dominant offensive lineman? What about a wide receiver now that Brandon Marshall is no longer with them?
The Dolphins have choices, so let's look at three players who could make an immediate impact on a team that is looking to improve on last season's 6-10 record.
Begin Slideshow

»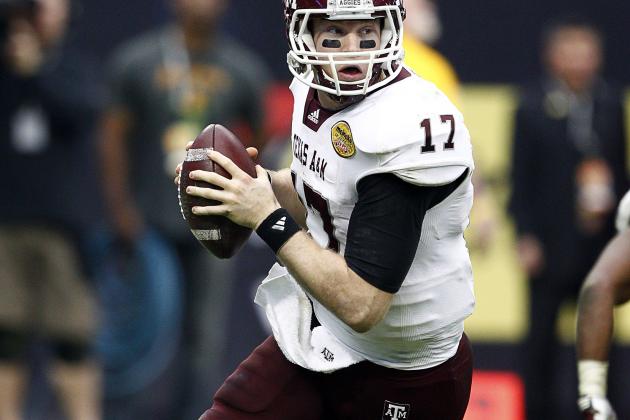 Bob Levey/Getty Images

At one point, the Dolphins seemed to be in the race to sign this year's biggest free agent, Peyton Manning. But that dream quickly faded away as the veteran Manning sealed the deal with Denver.
And with Chad Henne now playing for the Jaguars, the Dolphin's quarterback position is—for the moment—held by Matt Moore.
But is Moore the man who can become the franchise quarterback that the Dolphins have been crying out for since the days of Dan Marino? Or do they use their No. 8 pick in this year's draft to grab someone who they feel can do a better job than Moore?
And that someone could very well be Texas A&M's Ryan Tannehill.
Widely scouted as the third best passer in this year's class behind Andrew Luck and RG3, Tannehill has all the skills necessary to become a great QB in the NFL.
He also has the advantage of playing under Dolphin's new offensive coordinator Mike Sherman in college, so that familiarity could pay dividends.
He has good size at just under 6'4" and has decent speed. His short game is more accurate than his deep ball, but he is very accurate, and should make all the throws that an NFL quarterback needs to make.
Many feel that Tannehill is something of a work in progress. He only started his first game as QB in 2010, leaving many questioning whether he can step in straight away and make a positive difference.
There is no doubting Tannehill's ability, and if he is still available when the Dolphins are on the clock, they would be well served to snap him up.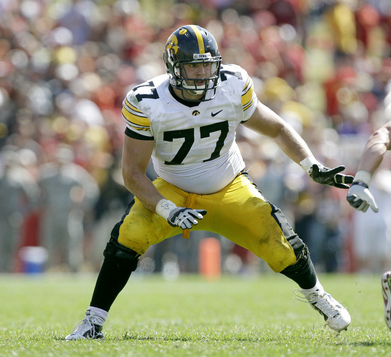 If Tannehill is off the board by the time the Dolphins are up, they might start looking at players who can give quarterback Matt Moore some much needed protection.
And that man could be Iowa's Riley Reiff.
Offensive tackle Reiff is well sized at 6'5" and 313 pounds, and he would fit in nicely against Dolphins left tackle Jake Long.
His production has been stellar; he's played every game for Iowa since 2009, and has above average speed along with good strength and athleticism.
He is equally skilled at pass protection and run-blocking, and is a reliable, durable player who has steered pretty clear of injuries.
Perhaps one of the things that has Reiff so highly coveted is his mean streak. He plays with a tenacity that often finds opposing defenders staring up at the sky. He can get downfield well, leading the way for his running back.
Reiff would be a good fit in Miami. Behind Matt Kalil, he is probably the best offensive lineman in the draft, and there's a good chance he'll be available at the No. 8 spot.
Scott Halleran/Getty Images

Coples, one of the top defensive lineman in the draft, could be another player is the Dolphins might consider in the first round.
The 6'5", 284-pound defensive end out of North Carolina has remained largely injury free, playing all 39 games between 2009 and 2011.
Coples has good speed once he gets going, and he has shown a versatility to play at either end or tackle. He had a good showing at the Senior Bowl, and demonstrated his quick initial speed alongside his agility.
As a pass-rusher, he has the ability to get to the quarterback, utilizing lots of different moves to keep offensive linemen on their toes. He is a strong, athletic defensive end, with a motor that just seems to keep on running.
Against the run, he shows quick feet and uses his upper body strength well when engaging blocks.
Surprisingly, his senior year was not quite as well received as his efforts as a junior, and at times his commitment to the play was questioned. He has the natural skills to dominate opponents, and at times this was lacking from his play.
Having said that, Coples is one of this year's elite defensive players, and would definitely add value to the Dolphins' defensive line.