Matt Bonner, Manu Ginobili Will Spark San Antonio Spurs to Another NBA Crown
April 14, 2012

Ronald Martinez/Getty Images
San Antonio Spurs coach Gregg Popovich is now the NBA's best coach in the aftermath of Phil Jackson's retirement. His ability to mold an incredibly well-disciplined unit while integrating new players into his rotation is unparalleled. That discipline shows itself in so many ways:
1. The Spurs have received only 29 technical fouls, second in the NBA.
2. The Spurs allow only 18.7 free-throw attempts per game, second in the NBA.
3. The Spurs' assist-to-turnover ratio of 1.7 is second in the NBA.
4. The Spurs garner 76.4 percent of defensive rebound opportunities, leading the league by a wide margin.
San Antonio is such a smart, experienced, talented team and it shows up in the clutch.
Consider that the Spurs are 6-0 in tight road games decided by five points or less since Manu Ginobili's return to the lineup.  They have won at Detroit, at Los Angeles Clippers in overtime, at Utah, at New Orleans, at Sacramento and at Boston. In the five weeks Ginobili was out they were still a quite respectable 3-3 in such games but suffered overtime losses at Orlando Jan. 18 and at Dallas Jan. 29 that perhaps they might have won if he had been playing.  
Ginobili in his rejuvenated state is achieving career highs on a number of critical criteria. His 2.4 assist-to-turnover ratio, his penetration to the rim for 31 percent of his shots and his 73 percent conversion for baskets once he gets to the rim are all milestones. Fellow guard Tony Parker's 2.95 assist-to-turnover ratio is also his career best and evens second-year guard Gary Neal has jumped from 1.2 in his rookie year to a 1.91 assist-to-turnover ratio this season.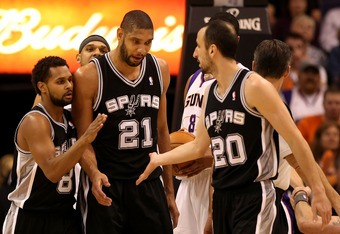 Christian Petersen/Getty Images
What most excites me is that the 34-year-old Ginobili will be well-rested for the playoffs; besides having missed five weeks he is also playing only 24 minutes per game. Look for that to rise to 32 or more in the playoffs for he has averaged 35 minutes per game in the playoffs across the past two seasons.
Ginobili and Parker's penetration capabilities are critical to the Spurs success. Not only do they set up Tim Duncan's offense in the low post, but most importantly they set up the Spurs' three-point shooters Matt Bonner and Neal. The Spurs are seventh in the NBA in number of three-point attempts, but more revealingly they are second in NBA with a wonderful 38.7 shooting percentage on three-point attempts. Ponder that 38.7 number for a moment; it equates to 58 percent shooting on conventional field-goal attempts.
Bonner has been the prime beneficiary of the Spurs' guards ability to penetrate and Popovich's strategic embrace of the three-point shot. Bonner's three-point attempts as a percentage of his total shot selection has risen strikingly:
41 percent of his shots in 2006/7 were three-pointers;
47 percent of his shots in 2007/8 were;
50 percent of his shots in 2008/9 were;
63 percent of his shots in 2009/10 were;
63 percent of his shots in 2010/11 were;
73 percent of his shots this season are three-point attempts.
This evolving shot selection is not only the change in Bonner's game. His assist-to-turnover ratio hovered at 1.0 in his first two years in San Antonio, grew to 2.0 in the three years thereafter and has climbed to 3.0 this season. Also, his 2.9 defensive rebounds per game is the second best of his six -year San Antonio career.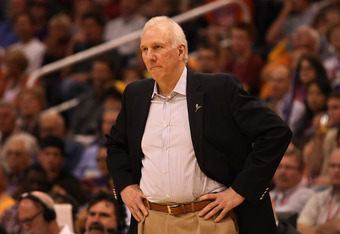 Christian Petersen/Getty Images
DeJuan Blair is also a good rebounding forward and Tiago Splitter has done nice job providing backup relief for Duncan.
In the interest of full disclosure, I have a Bonner rooting interest for he is a New Hampshire native and I have resided here for 36 years. Yet I believe any objective person would agree that excluding Bonner from the three-point shooting contest at the NBA All-Star weekend year after year is an injustice. Still, Bonner's 32.3 percent playoff career three-point shooting percent is quite disappointing compared to his 41.7 percent regular history. I look for him to hit several big shots this playoff season to validate his reputation as one of the best shooters in the game.
I mentioned "validating one's reputation" above and certainly unrestricted free-agent-to-be Boris Diaw should be one well-motivated Spur, for he is only 29 years old and is certainly going to be looking for a multiyear contract. Look for him to be a meaningful contributor, as might be Stephen Jackson. 
Finally, I want to pay homage to Tim Duncan, who is still excelling and playing 28.5 minutes per game. Any mention of Spurs and NBA championship assumes he will provide the proficiency and consistency he has contributed to the Spurs' previous championships.
The Mavs are defending champs, the Lakers, Heat and Bulls are aspiring ones, the Thunder seem poised for a run of championships and are a popular pick this year, but I look for San Antonio to win one more crown. Their poise sets them apart from the other clubs, including the Lakers now that they have cut ties with Derek Fisher. Some of the series might remind old-timers of the Yankees-Pirates 1960 World Series where the Yankees won three lopsided games but the Pirates won the four close ones.
The Spurs have suffered some blowouts, notably a 40-point defeat in Portland on the second game of a back-to-back. They lost other road games by 20 or more points to both Houston (again, the second game of a back-to-back) and to Miami. Coach Popovich knows that surrendering an individual contest  can help in ultimately winning a series. Look for him to guide them through these playoffs and cement his legacy as a Hall of Fame coach.