Predicting the Studs and Duds of the 2012 Stanley Cup Playoffs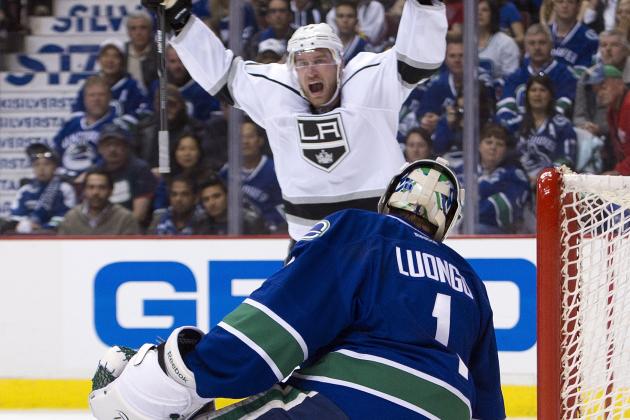 Rich Lam/Getty Images
A hero and a goat, born on the same play.
It's as much a rite of spring as the playoffs themselves: Every playoff team will have one stud and one dud. One player who shines in the spotlight, and one player who melts under the glare. One man who will never have to buy a drink in that town again, and one man who is no longer welcome at any bar in town. It's a playoff fact of life.
Here's a list of this year's studs and duds—one for each team. The list will move from the No. 1 seed to the No. 8 seed in each conference, beginning in the East. And that's because of alphabetical order, not because of geographical bias.
Begin Slideshow

»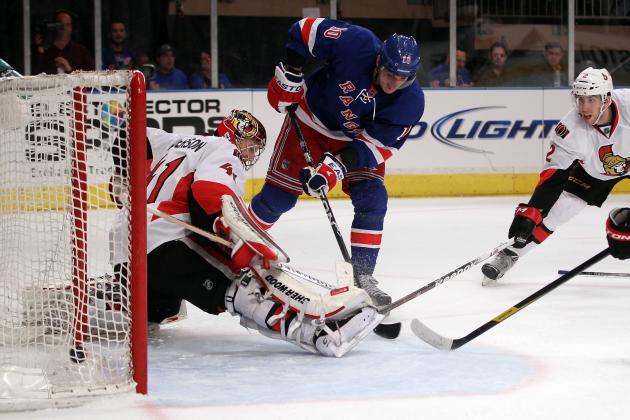 Bruce Bennett/Getty Images

The talented winger regained his scoring touch this year and finally found his comfort level with the Rangers. Last year he was New York's playoff goat, as he scored only one goal in the quarterfinal series against the Washington Capitals and misplayed the puck on the 2OT winner for the Caps in Game 4. But this year he will be a hero. Eastern Conference beware: "Gabby" can score in buckets.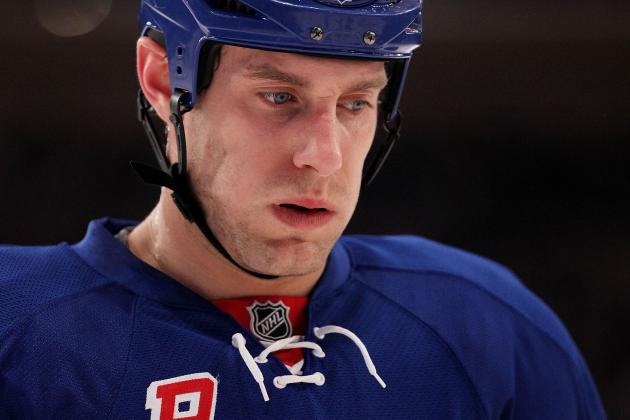 Nick Laham/Getty Images
Dan Girardi needs a break.
The anchor of New York's blue line is very physical and blocks a ton of shots. Both talents are extremely valuable in the playoffs, but all that abuse will take a toll on Dan Girardi's body. When you add those two factors to his lack of speed, he becomes a target to be exploited by the opponent. And this playoffs, he will be.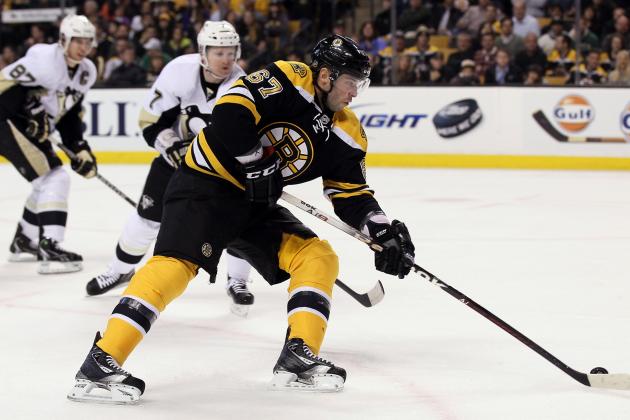 Elsa/Getty Images
Benoit Pouliot glides by another opponent.
The big, graceful skater creates plenty of space for himself. That's a luxury in the playoffs, when space on the ice is much harder to come by. Luckily for Boston, Pouliot has already had personal success against the Capitals in the playoffs. He will taste more of that in their quarterfinal series.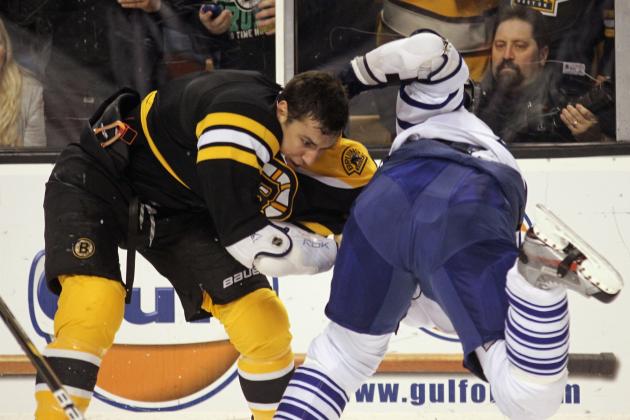 Bruce Bennett/Getty Images
Just another day at the office.
Last year in the playoffs, Milan Lucic was a terror. This year in the playoffs, he will be terrible. Opponents will be pushing back hard against the defending Stanley Cup champion Bruins, and they will be sure to target Lucic, Boston's biggest bully. Lucic will most definitely participate in the extracurricular activities, but this year it will be a distraction.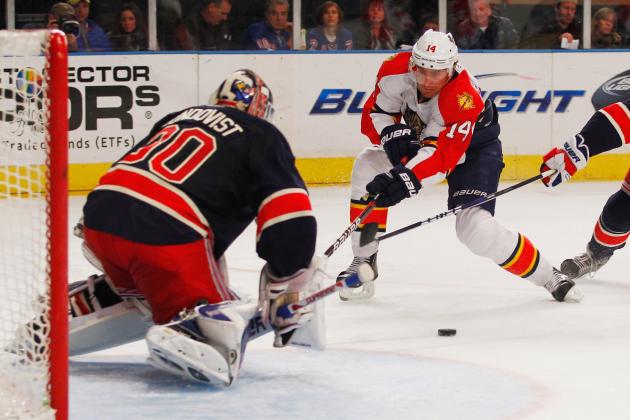 Mike Stobe/Getty Images
The sniper has his target in the cross hairs.
"Flash" had a career year for the Florida Panthers, flourishing as a first line forward and a power play specialist. As one of the few Panthers with playoff experience, Fleischmann must step up to give his team any chance of advancing. And he will.
Joel Auerbach/Getty Images
You get the idea.
Jose Theodore is far removed from winning the Vezina Trophy and achieving post season success. In each of his last two trips to the playoffs, he played a total of one game before he was benched in favor of the hotter goaltender. This postseason will be no different, as Scott Clemmensen should have started in goal to begin with.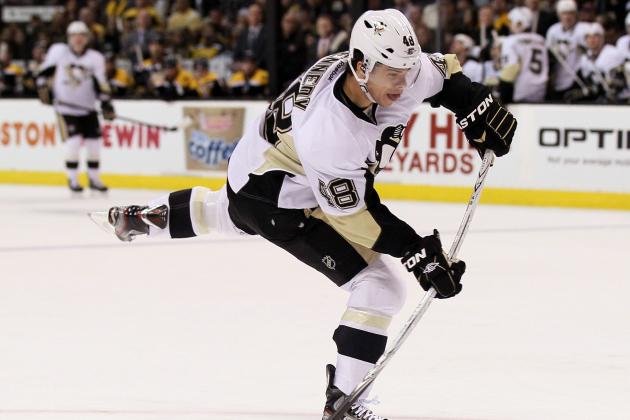 Elsa/Getty Images
Tyler Kennedy will bend to the task.
Tyler Kennedy is one of several current Pittsburgh Penguins that made back-to-back trips to the Stanley Cup Finals. He has never put up huge numbers in the playoffs, but he has always had a knack for scoring timely goals for the Pens by being in the right place at the right time. His opportunistic play will continue this postseason.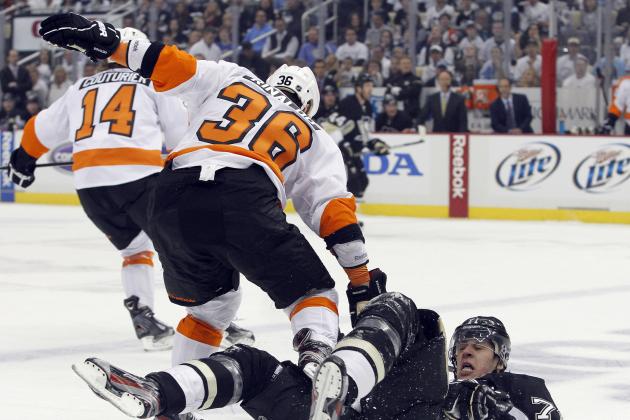 Justin K. Aller/Getty Images
Evgeni Malkin having another down game.
Evgeni Malkin had a career year this season, eclipsing the 50-goal mark for the first time. But "Geno" has had an up-and-down postseason career, and when he's down, so are the Penguins. It doesn't look good for Pittsburgh this postseason.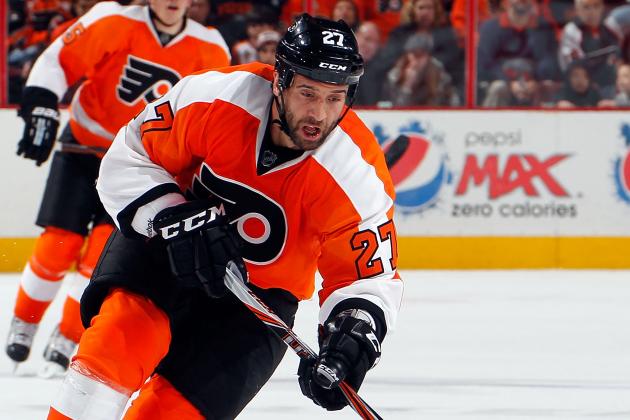 Paul Bereswill/Getty Images
Max Talbot is in the zone during the playoffs.
Max Talbot fit right in with his new team and registered career highs in goals, assists and points. He'll stay on a roll in the playoffs, where his style of play serves him well. He also has a habit of playing good hockey in the spring, as he already has a Stanley Cup-winning goal to his credit.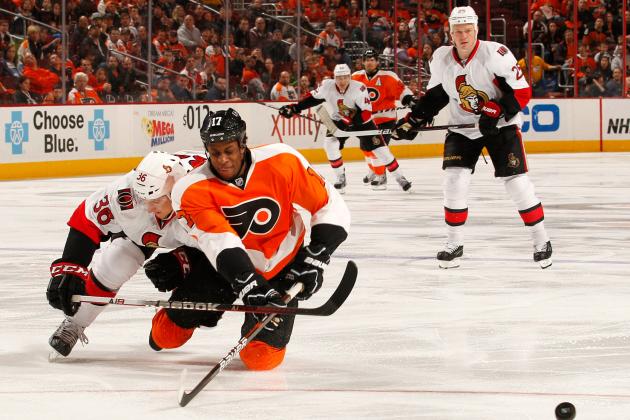 Rob Carr/Getty Images
Wayne Simmonds' playoff struggles may bring him to his knees.
Wayne Simmonds was acquired by the Philadelphia Flyers in the blockbuster trade that sent captain Mike Richards to the Los Angeles Kings. Simmonds is a skilled power forward who does have previous playoff experience. But his production slowed as the season drew to a close, and that trend will continue into the postseason.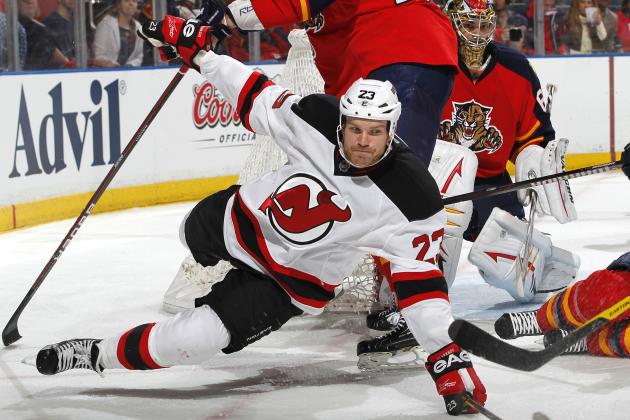 Joel Auerbach/Getty Images
Take a bow, David Clarkson
David Clarkson had such good offensive numbers this season that he almost made the league forget he was a tough guy. Clarkson's physicality and penchant for the dirty work are a perfect fit for the postseason, and he will have a field day.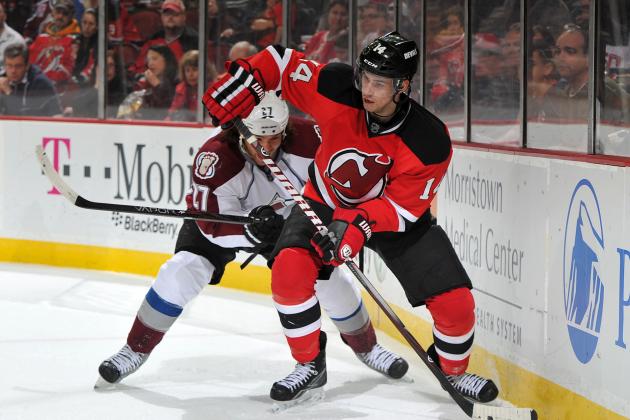 Christopher Pasatieri/Getty Images
Adam Henrique will look for his teammates to pick him up.
Adam Henrique had a huge rookie season for the Devils and may win the Calder trophy as a result. But the young center will not repeat that success in his first trip to the playoffs. New Jersey is so deep with playoff experience that they may not even notice.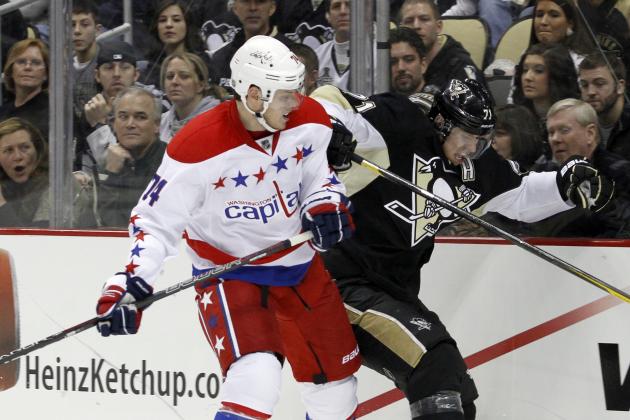 Justin K. Aller/Getty Images
John Carlson will get physical with his playoff adversaries.
John Carlson had a rough first half of the season, with more mistakes and breakdowns than he is accustomed to. But he was briefly separated from Karl Alzner, his longtime defensive partner, and told to focus on physicality. Both changes worked, and he is greatly improved. The emphasis on physical play will obviously help in the playoffs, and he has already shown in the past that he has the perfect amount of abrasiveness for the postseason. Carlson will be a stud without filling up the box score, although he's good at that, too.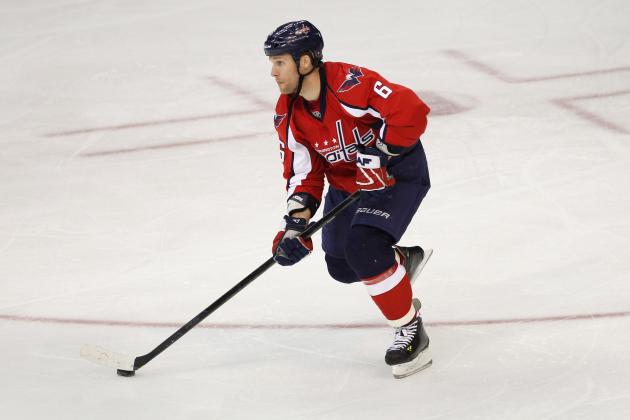 Rob Carr/Getty Images
Things haven't gone as smoothly for Dennis Wideman.
The Washington Capitals' smooth-skating, slick-passing defender has not been the same since he made his first appearance in the All-Star Game this season. Dennis Wideman can struggle on the defensive end, and he will have his hands full against the Bruins. Some offensive success would help him regain his confidence, but he won't have any of that either.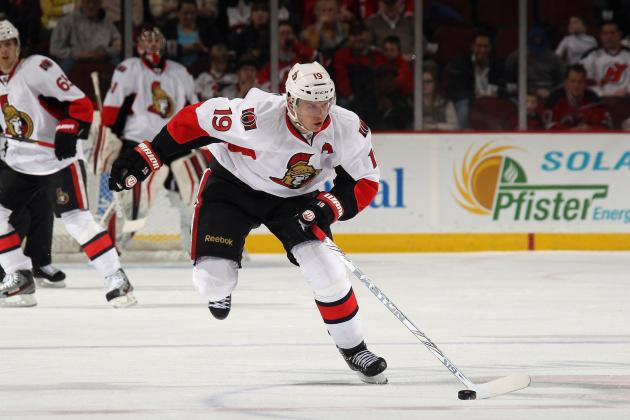 Bruce Bennett/Getty Images
Ottawa only has a chance if Spezza plays well.
The veteran is back in the playoffs after having his best season in four years. Ottawa's most reliable playmaker is the glue that holds this team's offense together. He also provides veteran leadership and valuable playoff experience. Spezza will do his best to help his team advance.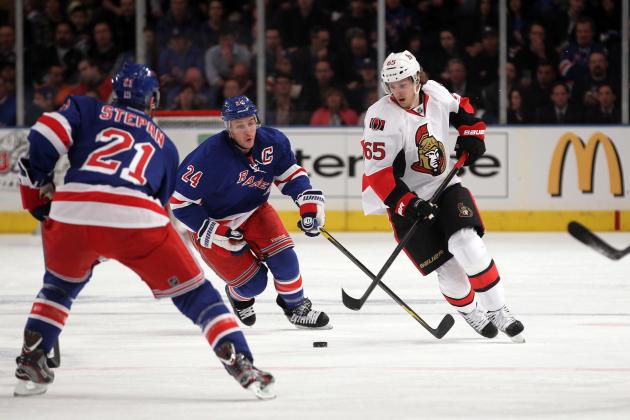 Bruce Bennett/Getty Images
Teams will focus their attention on the young Erik Karlsson.
The young Swedish defenseman was anointed the 2012 Norris Trophy winner well before the season had ended, despite being a defensive liability. Unfortunately for Karlsson, there is no better place to expose a defensive weakness than in the playoffs. Teams will exploit him early and often and will match lines to pit their biggest, strongest forwards against the smaller, less physical Karlsson. The playoffs aren't a very good place for Erik's free-wheeling offensive style, either. It will be a very painful spring for Karlsson. Luckily for him, it may be over quickly.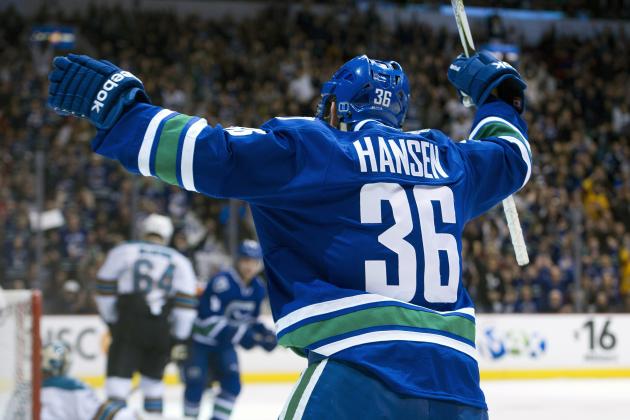 Rich Lam/Getty Images
Soon everyone will know this name and number.
With one Sedin on the shelf indefinitely and the other twin grabbing all the opponent's attention, Vancouver will need offense from unlikely sources. This is the perfect opportunity for the Danish winger. Much like Pouliot, Hansen's size and speed can create space for himself and his teammates, even when both are at a premium in the playoffs. This will be Hansen's breakout performance.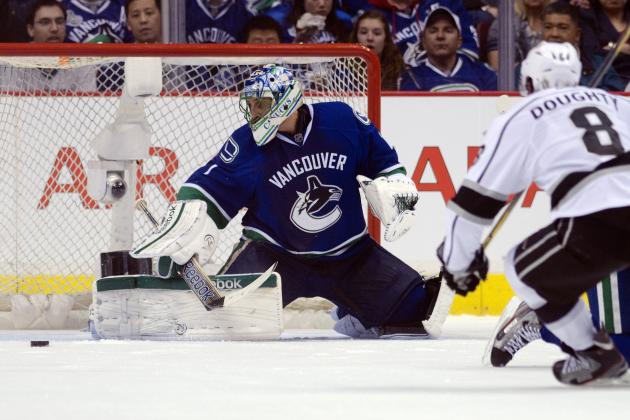 Rich Lam/Getty Images
Playoff success is just out of reach for Roberto Luongo.
Roberto Luongo's annual struggles in the playoffs are as much a part of spring as the change in the weather. The entire weight of this Cup-starved franchise rests almost solely on the shoulders of the 33-year-old netminder, and it affects him more and more each postseason. This year will be no different. Maybe Vancouver will finally realize that they can't win the Stanley Cup with Luongo in net.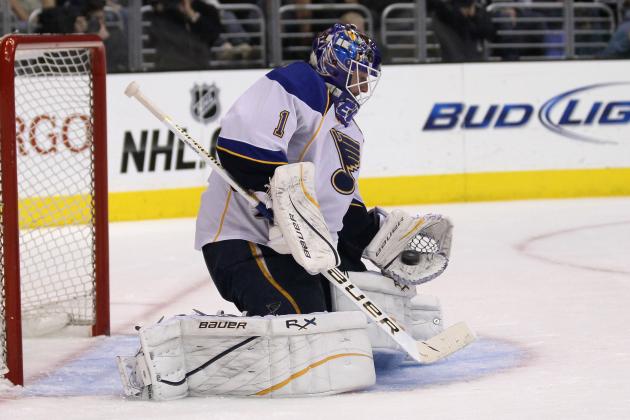 Stephen Dunn/Getty Images
St. Louis will catch a break by having Brian Elliott as a back-up plan.
Sometimes, a team's No. 1 goalie does not play well in the playoffs, even when he's a proven playoff performer like Jaroslav Halak. The teams that win in these situations are those with a goalie good enough to step in and fill the void. This year, that team is the St. Louis Blues, and that goalie is Brian Elliott. During the regular season, the former Ottawa Senators goalie started fewer games than Halak but actually put up better numbers. And that isn't easy to do.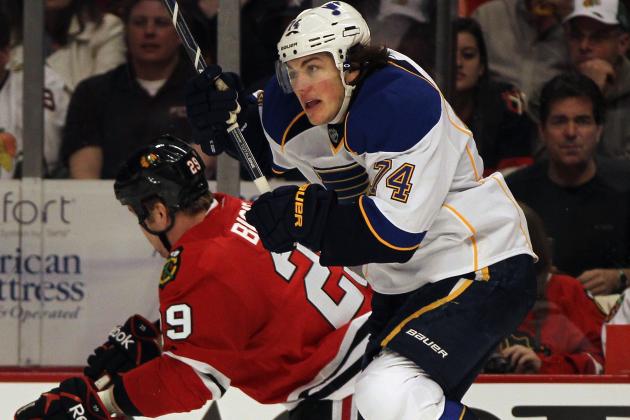 Jonathan Daniel/Getty Images
TJ Oshie will be slowd down this postseason.
T.J. Oshie has helped lead the charge of several good young players for the St. Louis Blues, and the group has finally made it to the playoffs. But Oshie's first trip to the postseason will not be a good one. T.J. is a streaky scorer, and he's about to go ice cold.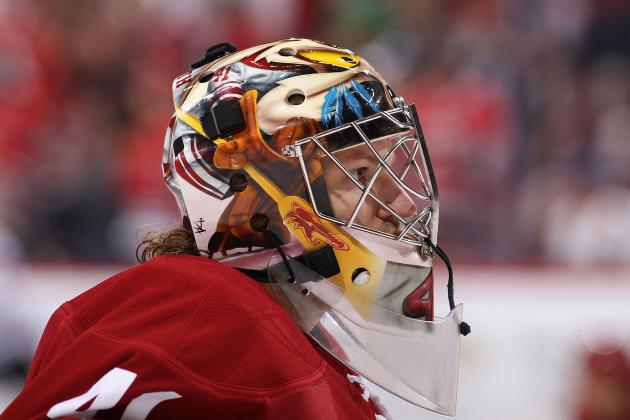 Christian Petersen/Getty Images
The man in the goofy mask.
Mike Smith moved to the Phoenix Coyotes to finally get a starting role, and he has taken full advantage. He registered three consecutive shutouts in the last week of the regular season, including a 54-save masterpiece on April 3. Smith got hot at exactly the right time for the Coyotes, and he'll stay that way.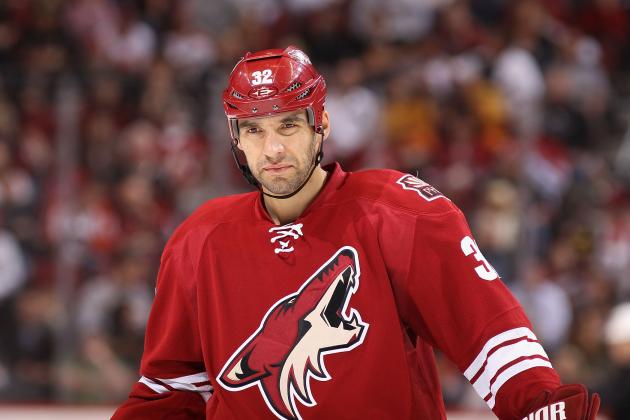 Christian Petersen/Getty Images
The glare of the playoffs can make a player squint.
A veteran of 37 playoffs games before this season began, Rozsival has had some postseason success in the past. But he has struggled his last three trips, including last year for the Coyotes. This year will be no different for the Czech defenseman.
Jonathan Daniel/Getty Images
Alexander Radulov provides the skills Nashville needs.
After a four-year absence from his NHL employer, Alexander Radulov has returned to the Predators just in time for the playoffs. In his short time back, the KHL's career goal scoring leader has shown that he can handle the physicality of the NHL, giving as well as he takes. His comfort in the intense atmosphere of the playoffs will allow him to relax and put his abundant offensive skills to good use. Radulov's stuffed stat sheet may be enough to take Nashville further in the playoffs than ever before.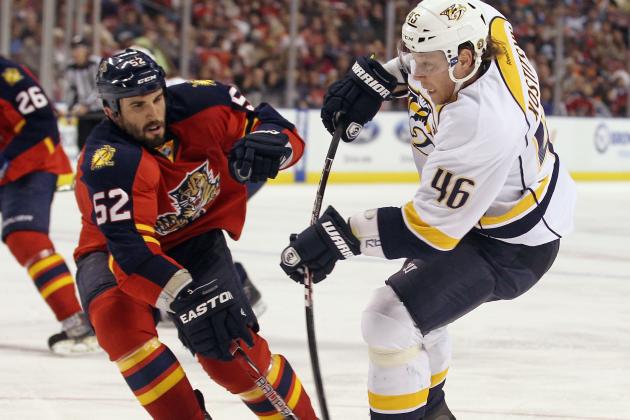 Bruce Bennett/Getty Images
Andrei Kostitsyn won't get many clear shots this spring.
Nashville picked up several players at this year's trade deadline, but Andrei Kostitsyn was the biggest risk. He's a talented but streaky goal scorer, and he won't get on a hot streak this postseason. Not even reuniting with his brother Sergei will help his performance.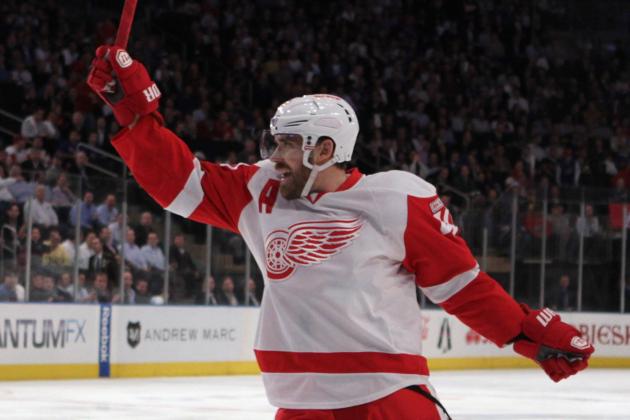 Bruce Bennett/Getty Images
Henrik Zetterberg, posing for his bronze statue.
The Swedish center had 99 career postseason points entering this season, averaging just under a point per game. His heroics even earned him a Conn Smythe Trophy as Playoff MVP. Zetterberg will be up to his old tricks this year.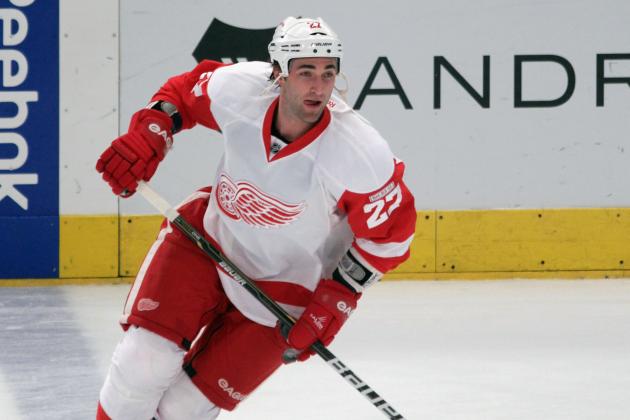 Bruce Bennett/Getty Images
Kyle Quincey's playoff fortunes won't turnaround this year.
Not every player on the Detroit Red Wings can play well in the playoffs. Kyle Quincey has been reunited with his original team but has yet to prove himself in the playoffs. Detroit will have to wait another year to see any postseason results from the 26-year-old Ontario native.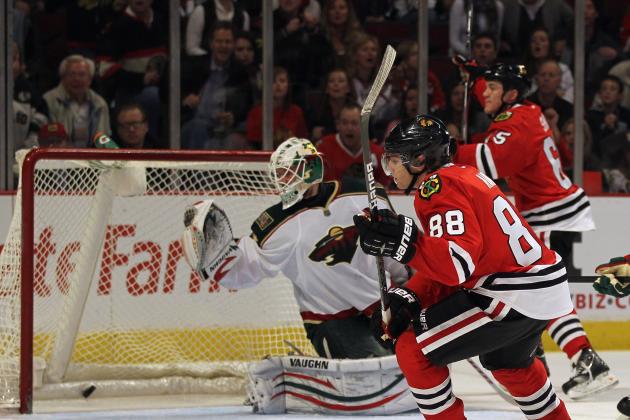 Jonathan Daniel/Getty Images
Kane has a knack for this in the playoffs.
To say the shifty center has had playoff success is an understatement. Like Max Talbot, Patrick Kane is among the select few players who have scored Stanley Cup-winning goals. Kane will once again shine this postseason.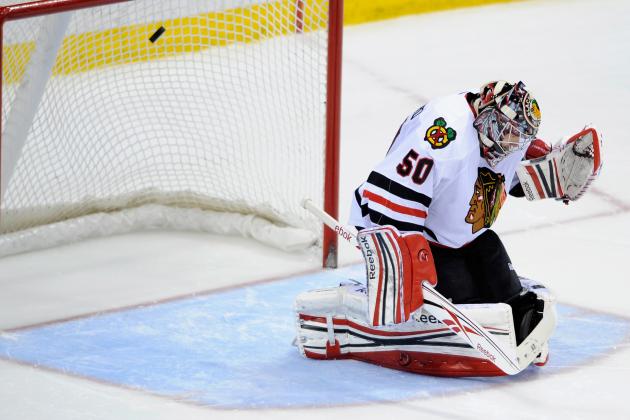 Hannah Foslien/Getty Images
Another opportunity eludes Corey Crawford.
After a maddeningly inconsistent regular season, the 28-year-old Montreal native has an opportunity to excel in the postseason and solidify the starting position once and for all. Crawford will miss his chance, and the Blackhawks will suffer an early exit because of it. Chicago will once again be wondering why they let go of Antti Niemi.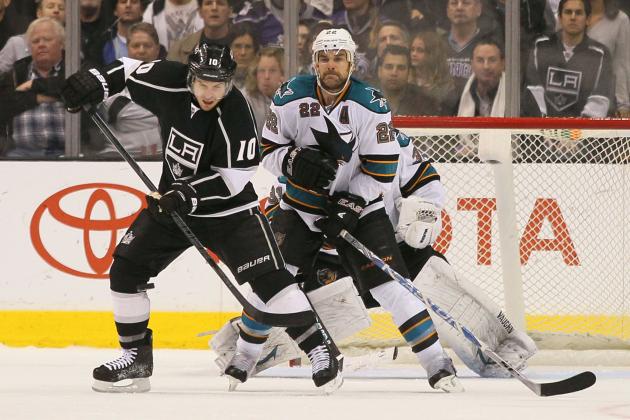 Victor Decolongon/Getty Images
Dan Boyle is always in the middle of the action.
The elder statesman of the San Jose Sharks, 35-year-old Dan Boyle may be the most important player on the team. His calmness and leadership on the blue line help steady his teammates, and he is a key component of the offense, especially the power play. Expect a string of solid, productive games from Boyle.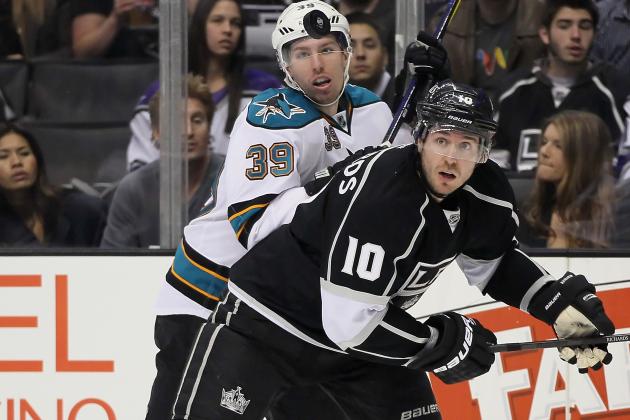 Jeff Gross/Getty Images
Playoff opponents will get physical with Logan Couture.
Much like Erik Karlsson, opponents will target Logan Couture with brute strength and aggressiveness to get him off his game. The Los Angeles Kings already laid the blueprint when the two teams played a home-and-home to complete the regular season. The talented but undersized center was crushed by a vicious hit in each game. Couture was held scoreless in the two games and did not respond physically. Neither did his teammates. Expect playoff opponents to do the same, and expect the same results.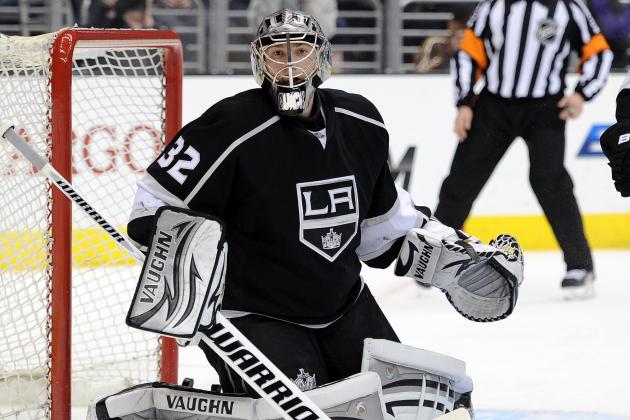 Harry How/Getty Images
Jonathan Quick sitting on his throne.
There are a few goalies in the 2012 NHL Playoffs that can steal one series. Jonathan Quick can steal two or three. And no goalie had a regular season that better prepared him for the playoffs than Jonathan Quick. He put up 10 shutouts to lead the NHL, yet his team was also shut out 10 times, and the Kings lost by a 1-0 score a staggering six times. It's safe to say that he's comfortable with the tight, low-scoring games that are commonplace in the playoffs.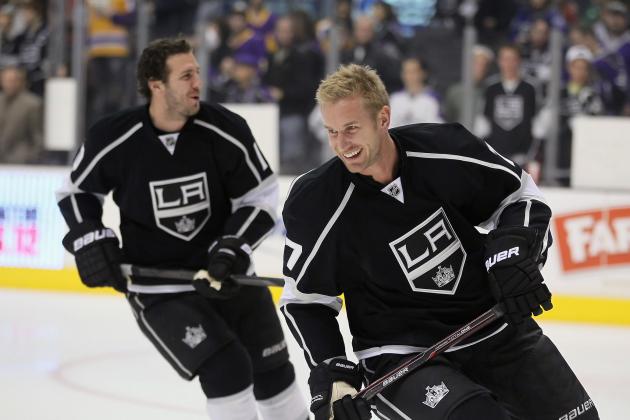 Jeff Gross/Getty Images
Reunited at last.
For Jeff Carter, it's been a long season. First, he was traded from the playoff-contending Philadelphia Flyers to the lottery-contending Columbus Blue Jackets to help breathe life into that moribund franchise. After injury issues and general dissatisfaction with his new location, he was shipped to Los Angeles to provide playoff experience for a postseason push. For the Kings, he'll provide the experience but not the statistics.