Dallas Cowboys Mock Draft: A Suggestion for How to Handle the Draft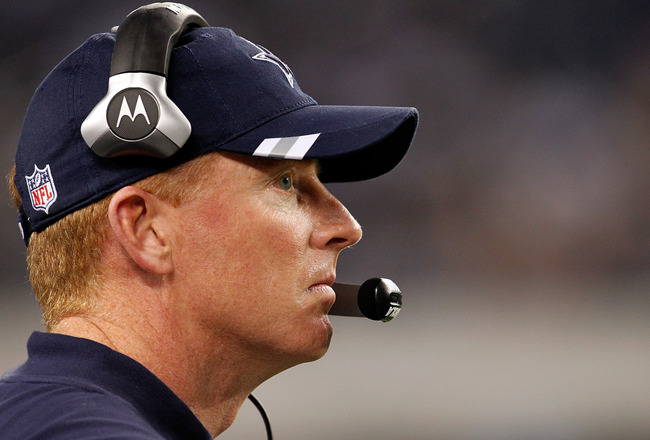 Tom Pennington/Getty Images
Sitting less than one week from the beginning of the 2012 NFL draft, mock drafts are everywhere, and after the first couple of picks, speculation begins to set in and opinions begin to vary. By the time you get to the 14th pick of the first round, where the Dallas Cowboys are currently slated to select their first player, it sounds like a roll call of possible options.
However, none of these mock drafters know at this point what the Cowboys will do with their pick, and it's likely that the Dallas brain trust has not yet decided for sure which direction they will go.
Further, with the majority of free agency concluded, it seems as though the last opportunity for significant addition to the roster for the upcoming year will take place over the seven rounds of this draft.
Having pondered the possibilities, and being a fan with vested interest in the Cowboys and an opinionated soul who would like to offer his take on the upcoming draft, I thought I'd take a stab at being the GM for Dallas during this period and tell you what I might argue for....
Move Down from No. 14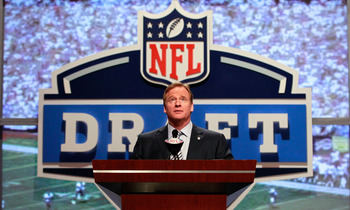 Chris Trotman/Getty Images
Mark Barron. Dre Kirkpatrick. Dontari Poe. David DeCastro. Peter Konz. Cordy Glenn. Fletcher Cox. Quinton Coples.
There might be another one or two players attached to the Cowboys in various mock drafts, but while the majority of them have Barron going to Dallas, there are a lot of players from a lot of positions being floated here. This means something else—namely that there are several positions Dallas could obviously improve in this draft.
So bear with me here. The draft will start with Andrew Luck and Robert Griffin III. Then some combination of Matt Kalil, Justin Blackmon, Morris Claiborne and Trent Richardson have been set apart as the next tier of players to potentially get drafted.
After that, there is no end of players who have been tabbed as the next few players to go. To use just one scenario of many, let's offer Melvin Ingram, Luke Kuechly, and Riley Reiff as three players who could go between Nos. 7-13.
Without being unreasonable, if just three names who are not in the group of players I listed at the beginning of this slide are drafted in those picks (Michael Floyd, Ryan Tannehill, Michael Brockers... I have several more we could consider), then fully half of the players in my list at the top would still be available at No. 14. If that's the case, why stay there?
Inevitably, players start sliding as other players are drafted earlier than expected. What if, after all the chatter about Ryan Tannehill, he makes it past Miami's pick at No. 8? At some point, a team will be willing to part with some additional picks to move up and get him. While I don't think it'll happen, RBs have been going later than in year's past, and Richardson could conceivably fall.
My point is, if you're a team with draft pick flexibility and have shown a willingness to wheel and deal (and Dallas is two for two here), then you might be able to find something.
Cincinnati, Cleveland and New England are all teams with multiple first-round picks and fourteen of the first 100 picks between them, and so have the ammunition to move up and grab a player easily.
The fact, ultimately, is that Dallas can still get an impact player at a position of need later in the first round than their current slot, and can definitely use another pick or two in this draft. Or next year's draft, if a team would like to give something tasty up in the 2013 draft.
First Three Picks: OL, DL, DB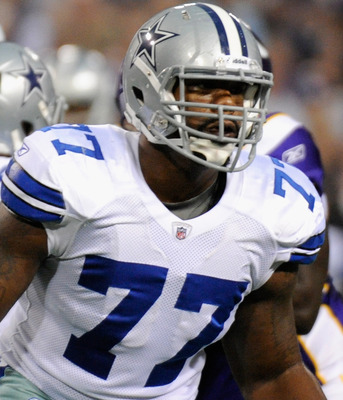 Hannah Foslien/Getty Images
Regardless of whether they trade down, my feeling is that by the time Dallas has made their first three picks, certain positions need to be addressed.
OL: The offensive line seems to get progressively less proven as you move inward. Last year's first-rounder, Tyron Smith, and Doug Free man the tackle spots. Free had a solid 2010 and was less impressive last year, and Smith is starting to come into his own.
There is no returning starter at guard, and only one starting spot for 2012 is likely locked up with Nate Livings.
At center, Phil Costa is playing somewhat out of position, and a pick at this position could help the guard position as well, as Costa would slide over and compete for a starting spot there.
DB: It was a big upgrade for the secondary, signing Brandon Carr in free agency to replace Terence Newman. Carr, Mike Jenkins, and Orlando Scandrick are a solid top three at cornerback. Brodney Pool was also signed in free agency at safety, Gerald Sensabaugh returns, and Barry Church may contend for playing time.
Quality depth is needed here, and a pick at either spot would be welcome.
DL: While Jay Ratliff has done a solid job holding down the middle of the defensive line, he is undersized and will be 31 at the start of the 2012 season. Kenyon Coleman and Marcus Spears may be released, and Dallas is hopeful Victor Butler can step up and challenge Jason Hatcher.
Taking a space-eater to play DT would allow Ratliff to move to DE, and again, potentially improve two positions at once.
What I would like to see by the time the third round ends is for each of these parts of my "wishlist" to be fulfilled, letting Dallas continue with its work in the later rounds. If they are able to trade down, they might have four picks in these three rounds to do this, but I digress. On to the later rounds...
Mid-Round Needs: Best Player Available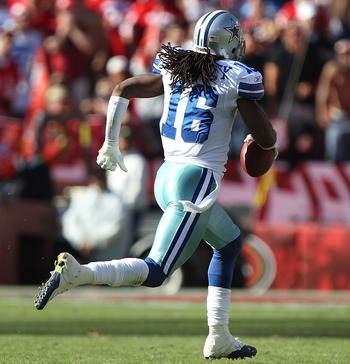 Jed Jacobsohn/Getty Images
At this point, there are certainly diamonds in the rough, or players that have begun to drop unexpectedly.
When looking at the three picks Dallas has in the fourth and fifth rounds, it will be important to remember that you are still looking for legitimate players to make this year's roster. This does not need to be the time to indulge Jerry Jones' go big or go home moment. Stay true to the draft board.
Keep in mind the following:
RB: DeMarco Murray was a lovely surprise in 2011, until the point he got injured. Felix Jones has proven at this point at his career that he is best suited for a platoon. Phillip Tanner has shown potential in limited action, but this is not a set 1-2-3 depth chart by any means. Get someone in there who could contend for playing time.
WR: After losing Laurent Robinson, this was probably a no-brainer to even the casual fan, but Jesse Holley is also still a free agent.
Therefore, two of Dallas' top five receivers from last year are not currently on the roster. That makes me think that the Cowboys intend to add at least one WR through the draft.
Special Teams: No one returned more than eight kicks or fifteen punts, and one of the players that performed the latter was Dez Bryant, who Dallas might want to remove from this duty to lessen his injury chances.
Which High-Risk Player to Take?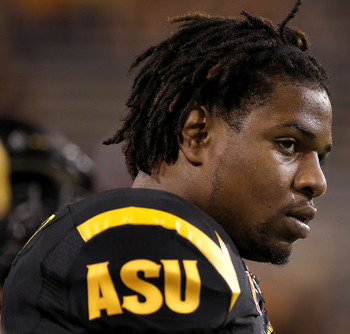 Christian Petersen/Getty Images
There are several teams that have traditionally been projected to take on the players that other teams simply won't touch. The high-risk/high-reward mentally has often been seen in Cincinnati and Oakland, but also seen in Dallas as well.
Sometimes it has worked, and sometimes it hasn't. Therefore, it won't surprise me to see such a player taken, but if it could be done on players sitting in the last two or three rounds, then the risk is minimized somewhat.
Or, if it comes to the point where a player's fall does make him too tempting to pass on earlier than that, make that the only high-risk pick of the draft and take another player at the same position already.
Also, consider the roster that Dallas already has before you "have" to take that player. Vontaze Burfict is a great example.
The LB corps in Big D already has DeMarcus Ware, Anthony Spencer, Sean Lee, Bruce Carter and Dan Connor leading it. Spencer is operating under the franchise tag and thus might only be in Dallas for 2012.
However, this has the look of a younger, solid group of players. Would adding Burfict help things? On the other hand, Cliff Harris has had more obvious issues, but he would not likely be the first CB added and joins a group in more of a transition.
So What Does This Look Like on Draft Day?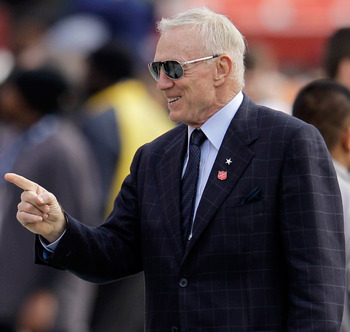 Rob Carr/Getty Images
Needless to say, when all is said and done, you can only take the players who are there when it's your turn, but from one somewhat humble perspective, these ideas could give the draft a certain look. It's all hypothetical, of course, but let's see how this plan of action might look:
1) Moving down: Dallas trades its No. 14 pick to Cleveland, who moves up to take a WR like Michael Floyd or Kendall Wright, or whoever they really want (I'll leave the Cleveland battle plan to a Browns fan). They give up their picks at Nos. 22, 37, and 118, and also take back Dallas' picks at Nos. 81 and 135.
Dallas now has two second-round picks, no third-rounder, two fourth-rounders in the middle of the round and their original fifth-, sixth- and seventh-rounders. I'll work from this preference, but it's obvious that there are innumerable permutations of draft-pick trading.
If that worked, depending on who was still on the board, I'd see if NE was willing to move up from No. 27. Another strong possibility is talking to Cincinnati about them moving up from either of their picks at Nos. 17 and 21. Based on the draft pick trade value chart, those trades might look like this:
Dallas gives up pick No. 14, Cincy gives up Nos. 17 and 83, netting Dallas an additional third-rounder.
Dallas gives up the pick at Nos. 14 and 152; Cincy gives up Nos. 21 and 53, giving Dallas two second-rounders while forfeiting its fifth-rounder.
But let's not overcomplicate this, and leave one trade-down as the framework from which to work. So what does this wheeling and dealing do for Dallas?
First Three Picks?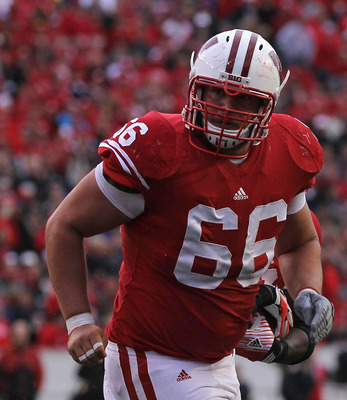 Jonathan Daniel/Getty Images
Well, based on my suggestion of the three greatest need areas, it ensures that Dallas addresses all of them earlier and gets a net group of potentially better players. It also takes into consideration that players Dallas was looking at already at No. 14 are still around when Dallas uses its new first-round pick.
Using the Cleveland scenario from the last slide, Dallas could see this in front of them:
No. 22: Using the pick acquired from Cleveland, Dallas takes either Cordy Glenn from Georgia or Peter Konz from Wisconsin. Both are players versatile enough to play two offensive line positions. Glenn could play either RG or RT, and Konz is a natural C who could also shift to guard.
The offensive line is significantly more talented as a result. If OL is not the priority yet, perhaps Michael Brockers (DT, LSU) or Quinton Coples (DE, North Carolina) has fallen a little down the board.
No. 37: Using the pick acquired from Cleveland, Dallas takes either Alfonzo Dennard from Nebraska or Jerel Worthy from Michigan State.
The former is the CB I suggested Dallas might look at when I wrote my earlier piece on secondary targets on draft day. The latter is a DT who already tops 300 pounds and could help lock down the center of the defensive line. Some draft projections suggest Konz may fall this far, also.
No. 45: With their original second-round pick, Dallas does one of the following to address whichever area remains from my "Big Three." If it's secondary, Dennard is my first choice, followed by Jayron Hosley from Virginia Tech, Brandon Boykin from Georgia or even (gulp) Janoris Jenkins from North Alabama via Florida.
This wouldn't exactly violate one of my other ideas, as I could show you when we get to the later rounds. If it's the defensive line, maybe Kendall Reyes from Connecticut or Alameda Ta'amu from Washington would suit. Ta'amu especially is huge DT to help fill the middle.
If it's still the offensive line waiting on a pick (my least favorite option), Kevin Zeitler from Wisconsin could fill an OG spot, or Ben Jones from Georgia could play C. I'd rather get the better OL prospects from those two schools, myself.
The Later Rounds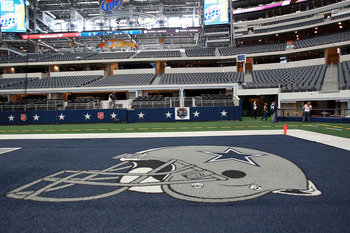 Ronald Martinez/Getty Images
If Dallas has made a trade that netted it an additional second-rounder, it likely lost its third-round pick and is waiting a while. But if so, it took three of the top 45 players, and hit its largest areas of need. Now what could the Cowboys potentially see with their remaining picks?
No. 113: WR Marvin Jones, California
No. 118: CB Cordell Judie, Texas A&M
No. 152: RB Chris Rainey, Florida
No. 186: S Justin Bethel, Presbyterian
No. 222: ILB Carmen Mussina, New Mexico
So that's one take on the 2012 draft of the Dallas Cowboys. For all of us fans, let's hope it brings multiple starters for years to come, whichever direction it ultimately goes in.
Keep Reading

Dallas Cowboys: Like this team?