NHL Playoffs: 5 Memorable Moments from Game 1 of the NY Rangers vs. Ottawa Sens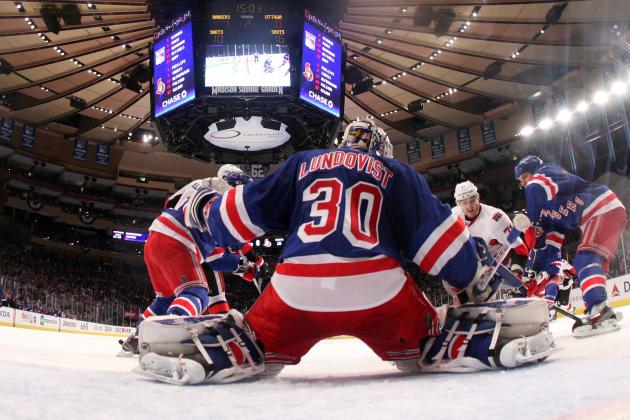 Bruce Bennett/Getty Images

So there obviously is no doubt that I am a huge fan of goal-camera pictures behind Henrik Lundqvist. No I am not obsessed with his back or even his butt-erfly, I just love the art that is the King with the famous roof of Madison Square Garden above.
In addition to this photo, Game 1 of the Rangers versus Senators series saw a dominant New York team come out and get big performances from their big players.
Here are five of the best moments from Game 1 to get you excited for Game 2 Saturday night.
Begin Slideshow

»
How fitting that the Captain gets the opening goal of the series at Madison Square Garden.
Memories briefly flashed of former Captain Chris Drury's clutch goal in last year's playoffs, but only for a moment. This is a new era, marked by intensity and persistence.
Callahan embodies this Rangers team, and it was almost scripted that he starts off the Rangers' postseason with a bang.
"Hey, hey, hey, hey, hey!"
There was a quiet anxiousness hovering over the Garden faithful last night after the game remained at 1-0 too long. Too many times Ranger fans are used to seeing the team maintain a one-goal lead all game only to give up a late score.
Not this time. Not this team.
Gaborik exhibited excellent patience and slid one under Senators goalie Craig Anderson late in the second period.
The nerves were extinguished and the scoring was about to be set ablaze.
Despite no one (especially Henrik Lundqvist) expecting it, Richards' goal proved to be the game winner.
For most of the contest it appeared as if Ryan Callahan's first-period goal would be enough. After laid-back defensive play in the third period, the Senators were able to come away with two weak goals.
Despite the Rangers allowing in a few pucks, Richards notching his first playoff goal with New York is a good sign for the Blueshirts.
Rangers fans were simply ecstatic last night when Brian Boyle notched the fourth goal for New York.
Yes, I said fourth goal for New York.
Most people were concerned about the offense for the Rangers in the playoffs. Who knows how Game 2 will go, but goals from Callahan, Gaborik, Richards and Boyle were a good start.
Ryan Callahan could have his own slideshow for his hits in Game 1.
It seemed almost every shift that Callahan flew—directly into a white jersey.
The crowd roared after a crunching hit on ex-Ranger Matt Gilroy, but thundered only moments later when the Captain stepped up and drilled Jesse Winchester in open ice.