NHL Playoffs 2012: 5 Key Takeaways for the New Jersey Devils Following Game 1
April 14, 2012

Joel Auerbach/Getty Images
Well, Game 1 is on the books. The New Jersey Devils beat the Florida Panthers 3-2 to take a lead in the last NHL playoff series to begin.
But this game was just the first in a number of battles, and you can bet the Devils are already preparing themselves for their second bout with the Cats. So what did they learn from tonight's win?
1. Starting Strong Works
The Devils came out strong in the first period and reaped immediate rewards. Patrik Elias notched his 41st career playoff goal 6:31 into the game with one of the nicest goals you'll see him score, weaving and deking until he found an opening.
Later in the period, Dainius Zubrus and Ryan Carter notched goals just 45 seconds apart. By the period's end, the Devils were winning by three and outshooting the Panthers 26-9.
Things got a lot more difficult after that, but if the Devils can continue to come out ready to play each night and, more importantly, keep creating scoring chances with high-energy, heads-up play, they may be able to put away the Panthers quickly without too much struggle.
2. Depth Players Can Share the Load
What was most noticeable about the Devils' scoring in the first? Well, for me at least, it was that Zach Parise and Ilya Kovalchuk had absolutely nothing to do with it. Both players—the team's two leading goal scorers—finished with zero points and minus-one ratings.
That's no knock on them; players can't score every game. But the fact that the Devils still netted three pucks is significant.
Sure, Elias had one, and he was as reliable a scorer as anyone on the team this year. But his was assisted by Dainius Zubrus and Bryce Salvador. Zubrus got the second, assisted by David Clarkson and Martin Brodeur, and Ryan Carter managed the third, despite less than seven minutes of ice time all game.
What tonight seemed to suggest is that the Panthers simply don't have the depth to withstand a constant onslaught from the Devils. All four lines looked good tonight, providing some good scoring chances, and that's going to be tiring to a less-equipped team.
3. Scoring Chances Will Present Themselves
The Panthers are a team good enough to make the playoffs, and you can be sure they're going to make adjustments for the rest of the series. But what the Devils saw tonight is that, given patience, they will find their chances.
Elias completely manufactured his goal by swerving and deking ever so slightly, drawing Jose Theodore to the ground before taking his shot. On the second goal, a pass from Brodeur made it all the way to Panthers' blue line uninterrupted before it was picked up by Clarkson, who quickly dished it off to Zubrus. The third goal just came from heads-up forechecking in the neutral zone.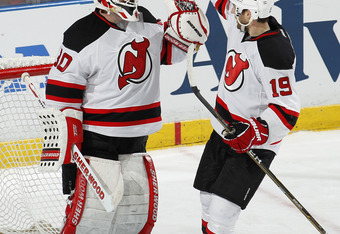 Joel Auerbach/Getty Images
Whatever comes—impatient goaltending, sloppy line changes or reckless passing—the Devils just need to be ready for it. If they can keep exploiting the exposed weaknesses while playing a steady (enough) defensive game, they'll win this series.
4. Special Teams Need Work
This past season, the Devils set the post-expansion record for best penalty kill with an 89.6 percent success rate. Tonight though, they allowed a goal on just three opportunities.
On the power play, the Devils started out strong—after their first two attempts, they were 1-for-2 with nine shots. But they finished 1-for-6 and never really had a particularly good PP opportunity after the goal.
During the regular season, the Devils had a run-of-the-mill power play (17.2 percent). But the Panthers had a miserable 79.5 percent PK, sixth worst in the league.
The Panthers averaged less than 10 penalty minutes per game during the regular season, so the Devils can't bank on too many six-power-play games. They'll need to become more efficient against one of the Panthers' weakest areas.
More importantly, though, the Devils need to make sure their PK is solid.
Florida had the seventh-best PP this year, and how the Panthers' PP unit matches up against the Devils' PK unit may very well decide the series. The Devils only gave up one PP goal tonight, and that's OK.
But if they want to win this series—and especially if they want to succeed beyond this series—they need to make sure their penalty kill is every bit as dangerous and reliable as it was during the regular season.
5. It's Probably Time to Take Sean Bergenheim Seriously
Last season, Sean Bergenheim had a coming-out party of sorts.
After five seasons of varying lengths with the Islanders, he played 80 games with the Lightning, managing a career high in points (29). In the postseason, he had one of the more improbable scoring runs in a while, netting nine goals and adding two assists in 16 games. On a team with Stamkos and Lecavalier, he was the second-leading goalscorer of the postseason (behind Martin St. Louis).
Then this year comes. He signed as a free agent with the Panthers and hit a career high in goals (17). So as a Devils fan, I'd hoped the defense would keep an eye out for him. This was not so.
Bergenheim opened the Panthers' scoring tonight in the second period. With a burst of speed, he went around Anton Volchenkov and cut in, quickly shooting the puck around Brodeur. He was able to achieve this because, rather than taking the body, Volchenkov just decided to try to push Bergenheim aside. It didn't work, and Volchenkov was way too slow to recover, and thus the shutout was lost.
Maybe—hopefully—it was just a reckless play by Volchenkov, a slip of the mind. But if it wasn't, this is something Peter DeBoer better be drilling into his D-men's heads. The Panthers are a beatable team, but that doesn't mean they should be taken lightly. As soon as the Devils get reckless, get sloppy, get comfortable, they'll begin to slip.
A lot of things went right for the Devils tonight, but it was far from a perfect game. With the knowledge they have now, hopefully they'll be able to have a few more three-goal periods without desperately trying to hold onto a one-goal lead in the dying minutes.