NHL Playoffs 2012: Eastern Conference Round One: Difference Makers
April 14, 2012

Bruce Bennett/Getty Images
There is no need to talk about players like Evgeni Malkin, Sidney Crosby, Alexander Ovechkin, Henrik Lundqvist or other elite fantasy players as we all know what to expect from those players. It's the second and third line players and sometimes even a fourth liner that makes the difference between winning in the playoffs and potentially your playoff hockey pool.
Boston Bruins – Brian Rolston – Rolston is an aging sniper who could have a Mark Recchi impact on the Bruins. Recchi played on the third line for Boston and scored five goals and 14 points in 25 games, including one game winner. This year the Bruins are hoping for something similar from Rolston. He is on the downswing of his career but the trade to Boston sparked his season.  In 49 games with the New York Islanders he scored just four goals and nine points, after the trade he scored 15 points in 21 games. Rolston took his point-per-game rate from 0.18 in New York to 0.71 with Boston. 
Florida Panthers – Tomas Kopecky – Kopecky has been a part of two Stanley Cup Championship teams over the past four post-seasons. Having won with both the Detroit Red Wings and Chicago Blackhawks, he played with some of the leagues top leaders in Nicklas Lidstrom, Marian Hossa, Jonathan Toews and Pavel Datsyuk. He brings that experience and knowledge to the Panthers. At 6'3" and 200 pounds he is a big two-way forward. Many were hoping for an offensive breakout this season but he is more of a checker with decent offensive skills. Kopecky does have good shot and you never know who will get hot for playoffs, think Johan Franzen a few years ago.  
New Jersey Devils – David Clarkson – Clarkson smashed his career highs for goals and points this season, scoring 30 goals and 46 points. All of the talk in Jersey is of Ilya Kovalchuk, Zach Parise and Adam Henrique but Clarkson finished third on the team for goals, just one behind Parise and seven behind Kovalchuk. However, Clarkson has failed to show the same offense in the playoffs as he has just two goals in 20 games over four NHL post seasons. Clarkson is an excellent sleeper pick in pools, especially ones that rewards goal scoring.
Bruce Bennett/Getty Images
New York Rangers – Carl Hagelin – Hagelin is the reigning fastest skater in the NHL but the question will be can he use that speed in the tight checking playoffs. He scored 14 goals and 38 points in 64 games as a rookie this season. He will eventually develop into a solid two-way player who scores 55-60 points a season. Hagelin will start the playoffs on the top line and shown some great chemistry with Brad Richards and Marian Gaborik. If he can stick on that line expect him to put up decent numbers this playoffs, and based on his assist last night on the Richards goal, he could be there a while.
Ottawa Senators – Kyle Turris – Turris is an extremely gifted offensive player who never found his way with the Phoenix Coyotes.  He was traded to Ottawa this season where he flourished.  Turris scored 12 goals and 29 points in 49 games as a Senator.  What little NHL playoff experience he does has he shined, scoring a goal and three points last year in four games.  Turris is playing with Erik Condra and Nick Foligno on the second line and they are really connecting.  Ottawa may not be in the playoffs long but expect production from Turris as evident by his assist last night. 
Philadelphia Flyers – Wayne Simmonds & Jakub Voracek – Both of these players were acquired this past off-season and both made immediate impacts.  Simmonds if a gritty, power forward who has a nice scoring touch.  He set career highs this season with 28 goals and 49 points.  In his previous two post-season he scored three goals and six points in 12 games with the Los Angeles Kings but should produce at a higher rate this post season.  Simmonds has great value in pools that rewards both goals and penalty minutes.  Voracek is another big, scoring winger who set career highs for goals this season for the Flyers.  He doesn't have a lot of playoff experience as he played for the Columbus Blue Jackets prior to the trade to Philly but he did score a big goal in overtime of game one against the Pittsburgh Penguins.  Both of these players will be 30 goal threats going forward and in these playoffs both will be impact players physically and on the score sheet.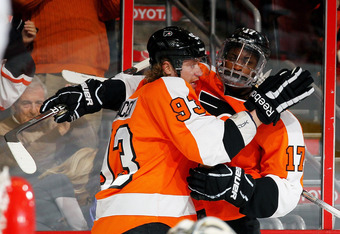 Al Bello/Getty Images
Pittsburgh Penguins – Steve Sullivan – Sullivan is exactly the kind of veteran player that teams rally around during the playoffs to win it all for.  He has played 969 NHL regular season games and scored 283 career goals along with 447 career points but has played in 45 playoff games and has never made it past the second round.  Sullivan has just 18 playoff points putting him at a 0.40 point-per-game rate, which is almost half of what his regular season rate is (0.75).  Sullivan won't be counted on to be the main offensive guy but is a great depth guy who will get you a point every two games.  Think Doug Weight back in 2005-2006 when the Carolina Hurricanes won the Cup and he scored 16 points in 23 games.
Washington Capitals – Jason Chimera – While providing secondary scoring for the Caps Chimera set career highs this season with 20 goals and 39 points.  Chimera follows the theme of this column, as many of these players are big, checking wingers who have a decent scoring touch.  He is 6-3 and 213 pounds and knows how to use all of it to his advantage.  Chimera's production is slightly better in playoffs (0.43) compared to his regular season (0.38) production, however he only has played in 23 playoff games. He is a little inconsistent with his scoring, so if he starts producing these playoffs you should look at picking him up as his points come in bunches.
 ----------------------------------------------------------------------------------------------------------------------------
Aaron Brouwer is the co-creator of www.fantasyhockeycoach.com.  FHC is a free fantasy hockey service that developed a ranking system combining post-lockout statistics, current factors and hockey knowledge. Email: brouwer@fantasyhockeycoach.com.