Tanard Jackson: New Redskins Safety Will Need to Play It Safe
April 13, 2012

Al Messerschmidt/Getty Images
The Washington Redskins already had a pair of players with two strikes against them.  Now they have a third.  
On Friday morning, the team announced the signing of safety Tanard Jackson, who was cut by the Tampa Bay Buccaneers.  In Tampa, Jackson was suspended twice for violating the league's substance abuse policy.  He'll now join Redskins tight end Fred Davis and left tackle Trent Williams as two-time offenders.  Testing positive a third time is grounds for an immediate one-year suspension from the NFL.
Jackson's release by the Bucs had nothing to do with dirty urine.  Instead, the team cited his "slow rehabilitation" from a shoulder injury.  But Jackson reportedly has a history of using marijuana.   
The Redskins may be gambling, but they appear willing to roll the dice, with a one-year deal that's likely packed with incentives.  Jackson is also a native of Silver Spring, Maryland, so he should have plenty of incentive to play hard for Washington.       
The signing reunites Jackson with former Bucs head coach Raheem Morris, who is now Washington's defensive backs coach.  Jackson also has ties to Redskins general manager Bruce Allen.  Allen drafted the former Syracuse star in the fourth round of the 2007 draft, when he was still serving as Tampa's GM.
Morris helped Jackson excel as Tampa's defensive backs coach in 2007 and 2008.  He even helped Jackson change positions from corner to free safety, before becoming head coach of the Bucs in 2009. But a suspension in '09 and another in 2010 thwarted Jackson's progress and the team sought to move on without him.  "In announcing the decision to cut Jackson this week, Bucs GM Mark Dominik said the team wasn't pleased with Jackson's growth on or off the field."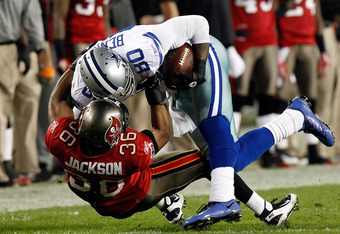 J. Meric/Getty Images
Jackson's fate was ultimately sealed when he failed an off-season physical.  That failure stems from a shoulder injury he suffered last year, which plagued his tackling production.  But according to ProFootballTalk, he is almost fully healed. 
Even NFL Network's Jason LaCanfora believes Jackson will be good to go in 2012.
"Tanard Jackson's deal with the Skins is for one year," tweeted LaCanfora. "Should be fully recovered from surgery soon."
Earlier this off-season, the Redskins released OJ Atogwe and let injury prone LaRon Landry walk in free agency.  Atogwe is still without a team, while Landry signed a one-year, $4 million deal with the New York Jets. 
Jackson may have a chance to win a starting job, but it will not be easy.  Washington's current safety group includes Brandon Meriweather, DeJon Gomes, Reed Doughty and University of Maryland alumnus Madieu Williams. Williams, who spent last season in San Francisco, was signed by Washington on April 10th.      
Jackson finished his career in Tampa with 10 interceptions and six fumble recoveries, but he'll have to prove he can stay clean in Washington.  
Like his former coach, Jackson was lucky to find work in the nation's capital, but it will be Raheem Morris' job to keep him out of trouble.