Bryce Harper: 25 Flamethrowers We Cannot Wait to Watch Him Face in MLB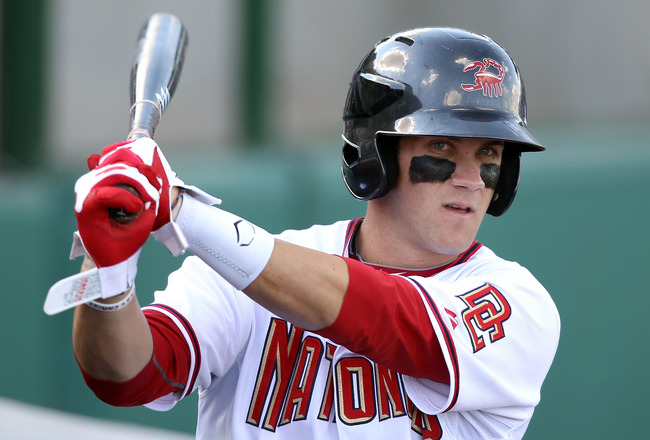 Christian Petersen/Getty Images
Bryce Harper has one of the fastest bats that many fans will ever see. His tremendous power to go along with his speed is the recipe for a lot of hits and long home runs. Throw in a flamethrower pitching to him and you have a matchup that will have everyone watching.
The excitement will grow furthermore next season when interleague games are mixed into the everyday schedule. With the possibility of facing any team in the majors at anytime, it opens up the whole league for potential matchups.
Harper will have an opportunity this season to take on the best teams in the American League East if he is called up by early June. The Nats have a stretch from June 8th-21st in which they face the Boston Red Sox, Toronto Blue Jays, New York Yankees and Tampa Bay Rays.
Some of the matchups will be all about the fastball, but others are about more than that. The delivery, the rest of the arsenal, when the matchup would happen in a ballgame... A lot goes into it but it all starts with the flamethrower on the mound.
Harper will be facing the best pitchers in the world, but which pitchers will we be most excited to see him face at the big league level? The first two are his teammates, so it's unlikely that we'll we get to witness that matchup anytime soon.
25. Stephen Strasburg and 24. Henry Rodriguez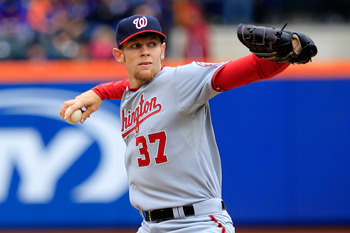 Chris Trotman/Getty Images
We can dream can't we?
Stephen Strasburg and Henry Rodriguez have two of the highest velocities in baseball, so it would be impossible to ignore them despite being Harper's teammates.
Henry Rodriguez led the league in 2011 with an average fastball velocity of 98.0 MPH and Strasburg leads the majors in 2012 thus far with an average fastball of 95.1 MPH.
It would be great to see these guys face Harper, but luckily for the Nats, they won't have to worry about that.
Maybe these two flamethrowers can get a few pitches into Harper during batting practice at some point.
23. Brandon Morrow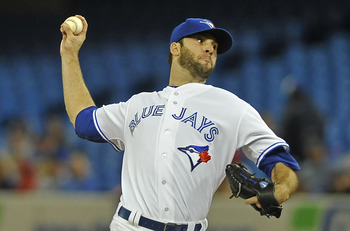 Brad White/Getty Images
Now the realistic matchups begin.
Brandon Morrow throws his fastball at 93.9 MPH on average and is one of the league's dominant pitchers. A matchup between Morrow and Harper could happen during their interleague series in Toronto from June 11th-13th.
22. David Price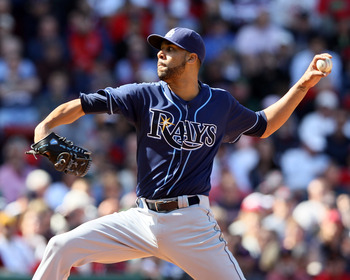 Elsa/Getty Images
The Nats will take on the Tampa Bay Rays from June 19th to June 21st. The Rays have a great young staff with live arms that can entertain some great at-bats with Harper.
David Price poses an interesting matchup to Harper, throwing a fastball 70.5 percent of the time at an average of 94.8 MPH.
21. Matt Moore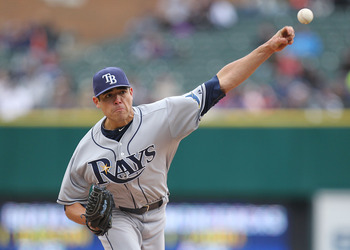 Gregory Shamus/Getty Images
The second flamethrower for Tampa Bay is youngster Matt Moore. Last season Moore's fastball averaged 95.7 MPH and has shown signs of dominance. If Harper is with the Nats then he will likely face at least one of the Rays' aces this season.
20. Zack Greinke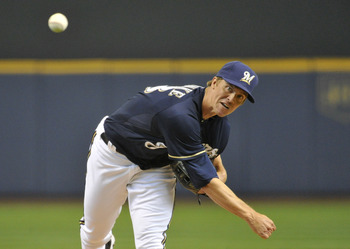 Brian Kersey/Getty Images
Zack Greinke is usually between 92 and 96 MPH but hits 97 occasionally. Greinke has an extreme advantage if he is pitching at home as his numbers are quite impressive in Milwaukee. He is a different pitcher on the road however.
Harper might get some balls to go against him at Nationals Park when they meet.
19. Yovani Gallardo
Jonathan Daniel/Getty Images
Yovani Gallardo is effectively wild and will keep Harper off his toes when they eventually meet. Another Brewers ace and another coin flip as to who wins.
18. Felix Hernandez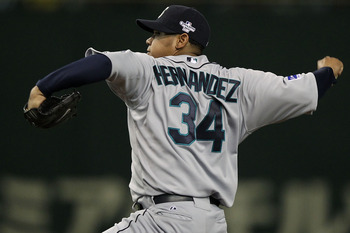 Chris McGrath/Getty Images
King Felix is one of the most entertaining pitchers to watch and has consistently been one of the best in the MLB. His average fastball is a bit less than the other pitchers on this list, averaging 93.3 MPH in 2011, but he can crank it up to triple digits every now and then.
17. Clayton Kershaw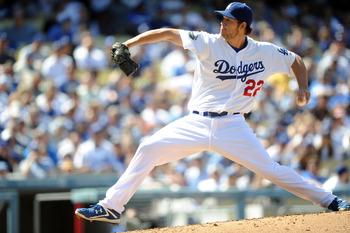 Harry How/Getty Images
Clayton Kershaw possess one of the most dominating curveballs in the league. His fastball compliments it well with an average velocity of 93.2 MPH. He runs it up to 96 at times and with his big curveball, it looks even faster for hitters.
The future of the Los Angeles Dodgers is Kershaw and a matchup with Harper would exhibit two young players with immense talent.
16. Daniel Bard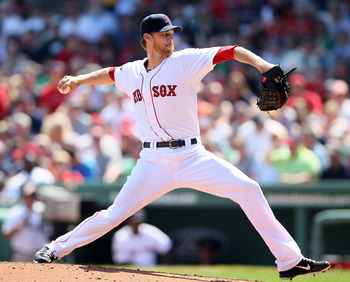 Elsa/Getty Images
The Boston Red Sox converted Daniel Bard to a starter this season. Before becoming a starter, however, Bard was clocked over 100 MPH. Bard might find his way back to the bullpen at some point throughout the season. Look for him to dial it up again if he does.
With the Nats facing the Red Sox in June, it is very likely that Harper gets his swings against Bard's straight fastball.
15. Neftali Feliz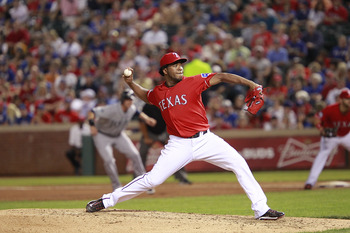 Rick Yeatts/Getty Images
Neftali Feliz was among the league leaders last season in average fastball velocity at 96.3 MPH.
He was the Texas Rangers' closer in 2011 and is now a member of the starting rotation. Nevertheless, he still throws hard and would produce a fascinating matchup against Harper.
14. Fernando Rodney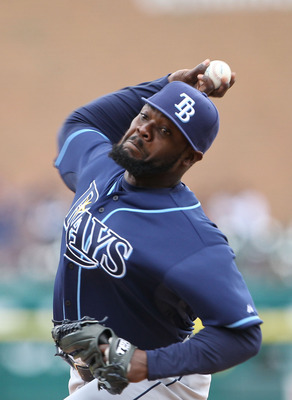 Leon Halip/Getty Images
The Rays' closer continues to impress as the season unfolds. Last season as a member of the Angels, Rodney averaged a blazing 95.5 MPH fastball.
Assuming the closer duties for the Rays means a meeting between the two would be a ninth inning showdown that will add additional hype to the matchup.
13. Jason Motte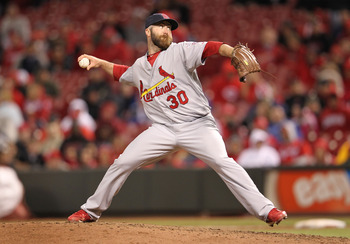 Andy Lyons/Getty Images
The St. Louis Cardinals' closer averaged 96.0 MPH on his fastball in 2011. If these two men are meeting this season it is going to be with the game on the line.
It would be a great matchup to see these two square off, especially in the ninth inning when one swing can determine the game.
12. Jeff Samardzija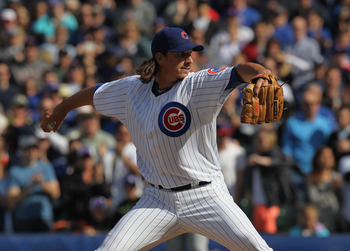 Jonathan Daniel/Getty Images
Chicago Cubs' starter Jeff Samardzija is finally making a name for himself.
Last season he threw his fastball on average at 95.1 MPH. He's dominating so far this season and is developing into a great pitcher.
11. Kenley Jansen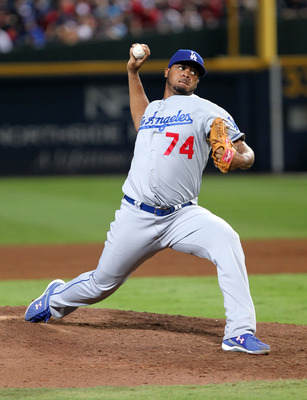 Joe Murphy/Getty Images
Los Angeles Dodgers' Kenley Jansen can easily hit 97 and has one of the best fastballs in the game.
He threw approximately 87 percent fastballs in 2011 and struck out hitters 44 percent of the time. It is pretty impressive when a hitter knows a fastball is coming and still can't hit it.
Harper versus Jansen will have interesting results, especially considering these two teams can meet in the playoffs
10. Matt Garza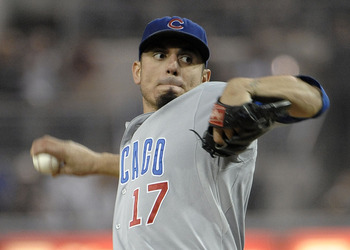 Denis Poroy/Getty Images
Matt Garza is dazzling in Chicago for the Cubs. A matchup in Wrigley Field between these two could certainly go either way.
Garza's fastball sits between 93-96 MPH but he can hit 98 on the radar gun.
9. Rubby De La Rosa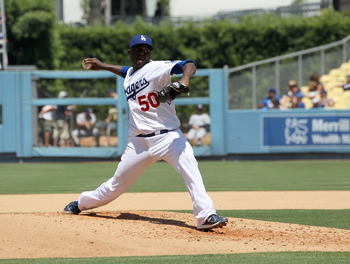 Stephen Dunn/Getty Images
Rubby De La Rosa will not be pitching for the Los Angeles Dodgers in 2012 due to Tommy John Surgery, but when he returns he will look to reclaim the velocity he had last season. His fastball averaged 96.0 MPH and would certainly make for a great matchup with Harper.
Many pitchers throw harder after Tommy John Surgery and if he does so as well then this showdown will become even better.
8. C.C. Sabathia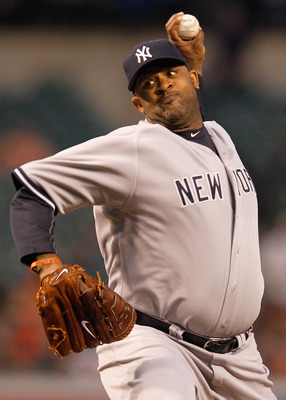 Rob Carr/Getty Images
Harper grew up a New York Yankees fan and openly rooted for the Yankees and C.C. Sabathia last season during the playoffs. He was excited to face Sabathia in the spring and after he struck out told reporters, "You know, it was pretty cool...hopefully I can get him next time."
The Yankees will be in D.C. June 15th-17th and many Nats fans will be hoping that Harper has been called up by then to see this matchup.
7. Jonny Venters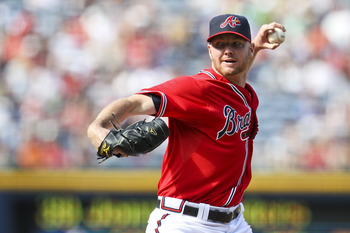 Daniel Shirey/Getty Images
Braves' set-up man Jonny Venters will see Harper quite a lot in the NL East.
Venters averaged a fastball velocity of 95.0 MPH in 2011. It will be interesting to see Harper's approach against his explosive fastball and a sharp slider. Venters is the first part of the hard throwing one-two punch in the Braves' bullpen.
6. Craig Kimbrel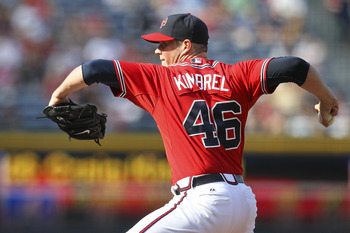 Daniel Shirey/Getty Images
Craig Kimbrel closes the games in Atlanta. If Harper fails against Venters in the eighth, he will have another attempt to succeed against Kimbrel in the ninth.
With an average fastball velocity of 96.2 MPH, Harper will have his work cut out for him.
5. Joel Hanrahan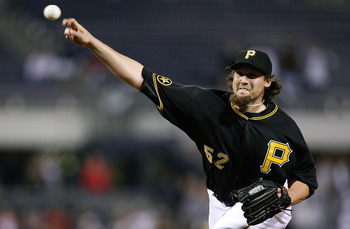 Jared Wickerham/Getty Images
The Pittsburgh Pirates closer has an average fastball of 97.1 MPH.
A fastball from his hand and off of Harper's bat might be hit a very long way.
4. Josh Johnson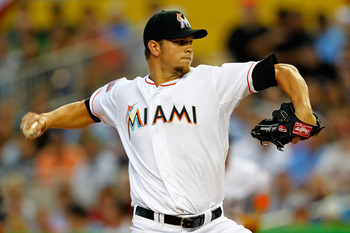 Mike Ehrmann/Getty Images
The Miami Marlins have their ace back and he's hitting 96 MPH again with his fastball. He averaged 94.6 MPH in 2010 and if he continues to throw with the velocity we're used to seeing, these two will have great battles in the NL East.
3. Bobby Parnell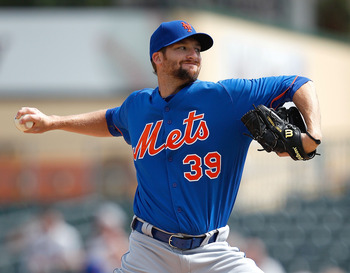 Sarah Glenn/Getty Images
Bobby Parnell will get a chance to face Harper more than a few times as a member of the Nats' division rival New York Mets. Parnell is one of the best flamethrowers in the game and his fastball averages out at 97.2 MPH.
2. Justin Verlander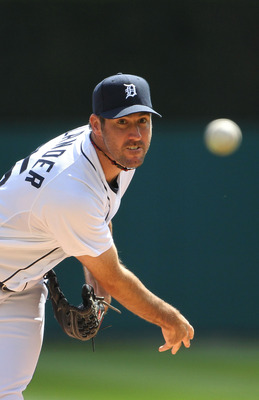 Leon Halip/Getty Images
Harper will be eased into Justin Verlander's fastball when they eventually meet. Verlander's fastball begins around 92 MPH in the first inning but as the game progresses he will dial it up to 100 on more than a few occasions.
Since 2009, Verlander leads the majors in average fastball velocity in the ninth inning at 96.1 MPH. A ninth inning showdown with Verlander throwing 100 MPH fastballs to Harper would turn more than a few heads.
What an at-bat that will be when it happens. The way these two teams have started, a World Series matchup is not out of the equation.
1. Aroldis Chapman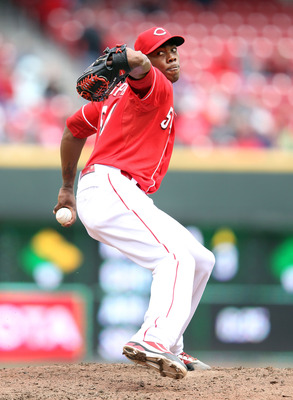 Andy Lyons/Getty Images
Aroldis Chapman vs. Bryce Harper should be a prime-time showdown.
Chapman holds the record for the fastest pitch ever recorded in MLB when he delivered a 105.1 MPH fastball to Tony Gwynn Jr in 2010. Last season, Chapman had the second highest average fastball at 97.9 MPH (second only to Harper's teammate Henry Rodriguez at 98.0) and is blazing through hitters again in 2012.
As Chapman continues to gain experience, he is leaving the rest of the MLB in shambles.
When Harper steps into the box against the lefty, Harper might want to start swinging before Chapman releases the ball. This is the matchup that all eyes will be on when Harper makes his debut in the majors.
Keep Reading

Washington Nationals: Like this team?