Jordan Brand Classic 2012: Shabazz Muhammad and Stars Who Must Shine
April 14, 2012

Jonathan Daniel/Getty Images
With most of the top players finally telling the world where they will take their talents next season, it is time to focus on what the Jordan Brand Classic can do for them. 
Sure, this is just an exhibition game that allows players to showcase how high they can jump, how much range they have with their shot and who has the flashiest dunks in their arsenal.
For the biggest names in this game, they have to put their best foot forward. You can't have a bad game in an exhibition, or else the questions about their ability will start in earnest. 
Here are the biggest stars who need to showcase their ability on Saturday night. 
Shabazz Muhammad, SF, Committed to UCLA
Muhammad shocked a lot of people by choosing to sign with UCLA. Now that all the fervor around his decision has died down, he needs to show the world why he was the most sought after recruit in the country. 
We have all seen the highlight packages where Muhammad seemingly leaps out of the gym. But that was against clearly inferior high-school competition. 
An exhibition game is not the best way to evaluate just how good or bad a player is going to be. Muhammad has to shine in this game to at least keep the spirits of a battered and bruised UCLA program high.
Nerlens Noel, C, Committed to Kentucky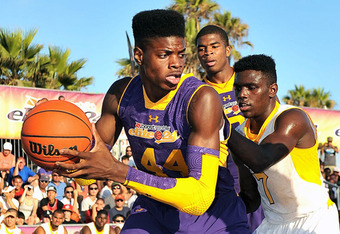 Like Muhammad, Noel made a spectacle out of his commitment to Kentucky. The difference is, Noel decided to shave the logo of his team into the back of his hair. 
All of that pomp and circumstance puts more pressure on him. He is going to be compared to the player he is (presumably) replacing: Anthony Davis, who has yet to officially declare for the NBA draft. 
Noel does have the advantage of playing with Muhammad's UCLA teammate and star point guard Kyle Anderson. He is going to be getting a lot of easy opportunities to showcase his dunking ability, which is his best offensive weapon since his shot still needs work. 
Tony Parker, C, Undecided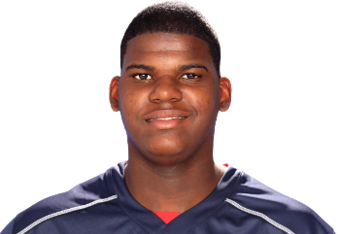 One of the few players who has yet to make a big announcement about where he is playing, Parker is starting to test the patience of the teams eagerly anticipating his decision. 
Even though he doesn't have the upside Noel does, there are certain areas of the game where Parker is better. The biggest advantage he has over the top center in the class is on offense. 
While Parker may not be as explosive, he does have a very good shot and the ability to post-up in the paint. He has to make his presence felt in this game in order to prove he is worth all the hype that has been surrounding him.