2012 NFL Draft: Pac-12 Players to Be Drafted in the First Round
April 13, 2012

Christian Petersen/Getty Images
The Pac-12 had a fantastic football season last year. They had three teams ranked in the top seven in the final AP Poll. Oregon beat Wisconsin in the Rose Bowl game, while Stanford barely lost to Oklahoma in overtime by three points. USC was banned from any postseason play, but still played inspired football and beat Oregon in Eugene.
The players that made these teams so great (especially USC and Stanford) are leaving their respective schools, and will be drafted in the upcoming NFL Draft. These players will find great success after college and will become valuable players for the teams that draft them.
The first-round talent out of the Pac-12 is especially good this year starting with the first-overall pick  coming out of the conference. 
Team: Indianapolis Colts
1. Andrew Luck, QB Stanford
Andrew Luck will be the first pick in the NFL draft by the Indianapolis Colts. Jim Irsay and the Colts have made it very clear that Luck will be the guy who will replace Peyton Manning as the face of the franchise. Luck possesses all the intangibles to be a fantastic quarterback for a long time, such as leadership ability and a terrific football IQ. He is also a darn good passer.
In his last year at Stanford, he completed 71 percent of his passes for 3500+ yards and 37 touchdowns.  He is NFL ready and will make a great impact for the Colts.
Team: Minnesota Vikings
3. Matt Kalil, OT USC
Matt Kalil has the right genes to become a fantastic athlete. His brother currently plays in the NFL and his father was also a pro football player. To top it all off, his mother was Miss California. It reminds me of the Matthews Family where it seems like every male in the family tree had played in the NFL at some point in time.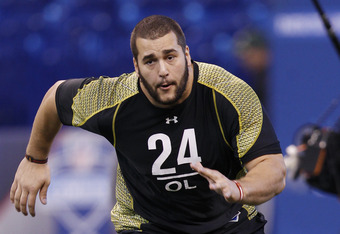 Joe Robbins/Getty Images
He has a big body that he uses to great effectiveness when run blocking. He uses his amazing strength to drive lineman back and knock them to the ground. When it comes to pass blocking, he uses his hands and strength to push players to the outside.  He has good speed which allows him to  come off the ball and get to his blocking assignment quickly. 
Team: Cincinnati Bengals (via Seattle Seahawks)
12. David DeCastro
This is the Seahawks pick that they traded with the Cincinnati Bengals. The Bengals wanted to trade up to make sure they drafted the stud guard, David DeCastro.
DeCastro is going to be one of the best guards to play the game. He is an excellent run blocker in all types of run plays. He is very good at pulling and quickly reaches the second level of defenders, and has the ability to take on multiple defenders. He is rarely beaten off the snap and is not susceptible to the swim move or an initial pass rush. He will immediately fill a hole at guard for any team that drafts him.
Team: Seattle Seahawks (via Cincinnati Bengals)
21. Nick Perry
Nick Perry has developed good play recognition skills during his time at USC. He uses his speed to chase down offensive players at all angles and constantly gets low on the line, and gets under the offensive linemen's pads.
He works extremely hard in his pass rush to collapse the pocket on the quarterback and does not quit on plays. While he is not the ideal size to play on the defensive line, he does have the ability to be a hybrid lineman/linebacker.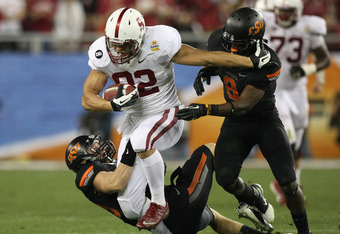 Donald Miralle/Getty Images
What's really impressive about Perry is his vertical jump of 38.5 inches, and he also has a 10-yard dash time of 1.57 seconds. His vertical jump rivals that of some receivers. 
Team: New York Giants
32. Coby Fleener
People questioned his value in the first round and made him one of the first picks in the second round. That changed after his pro day at Stanford. His biggest knock was his speed which he did not showcase at the combine. People thought that he was going to be slow, but he proved scouts wrong during pro day. He ran a mid-4.4 40-yard dash and had a vertical jump of 37 inches.
Fleener is more of a pass-catching tight end than a blocking one. He does do a good job of sealing the edge and does not shy away from his responsibilities as a tight end.
He is a very reliable pass catcher who has soft hands and uses his 6'6" frame to present a big target to quarterbacks. He has good timing when it comes to jump balls and has good catching range. He can play both the receiver position and tight end because he is such a gifted athlete.