Jackie Robinson Day: Baseball Celebrates a Pioneer, but Should Strive for More
April 13, 2012

Stephen Dunn/Getty Images
Sunday marks the 65th anniversary of Jackie Robinson breaking baseball's racial barriers by becoming the first African-American man to play in the major leagues. In commemorating the occasion, baseball will show how much the sport treasures its past.
Showing appreciation for the game's rich history results in some special moments during the present day. There might be no better example of this than every April 15 when baseball pays tribute to Jackie Robinson.
For the fifth consecutive season, players will take the field wearing Robinson's No. 42, which was retired by MLB 15 years ago.
Ken Griffey, Jr. came up with the idea of paying tribute to Robinson while he played for the Cincinnati Reds. Soon, plenty of others joined in.
Some fans think the gesture of wearing Robinson's number has worn out its novelty. And I'll admit it might be a little bit much for every player on the field to be wearing No. 42, rather than the handful who really want to pay tribute. (Originally, Bud Selig's idea was for each team to select one player to wear the number.)
Besides, who wants to be the guy that doesn't honor Robinson? It's a little bit tricky that way.
Chris Trotman/Getty Images
But that's really besides the point. The idea is to honor one of baseball's pioneers. 
(While MLB is at it, Larry Doby, the first black player in the American League, and Frank Robinson, baseball's first black manager, should be honored, too.) 
It's gratifying to see players acknowledge Robinson's contribution to the game and to the culture at large. (You just hope that most, if not all, of those players appreciate what the gesture truly means. My guess is that they do.) 
If even one person turns to someone next to him or her, whether it's at the ballpark or while watching on TV, and asks why so many guys are wearing No. 42, or why No. 42 is one of the retired numbers put up at the ballpark, then it's most certainly something worth doing. 
Wearing Robinson's jersey also provides a reminder of the struggles he fought through to play baseball. That shouldn't ever be overlooked or forgotten.
We should remember that what we now take for granted wasn't always so. We should remember a time when it wasn't easy for certain people to play a game that seems accessible to everyone now. We should remember the insults and attacks Robinson had to endure. We should remember that he turned the other cheek, as Branch Rickey asked him to do when signing Robinson.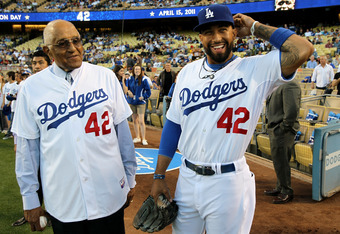 Stephen Dunn/Getty Images
Players wearing No. 42 is also a reminder of how few African-Americans are currently playing the sport. Not just in the major leagues, but at all levels.
Perhaps that's one reason why the idea to have one player on a team wear the number didn't work out. Teams without African-American players may have felt they didn't have a suitable representative. (That is purely speculation on my part.)
Ultimately, that serves to remind us that regardless of how much progress has been made since Apr. 15, 1947, there is still work that can be done. (Although I'm sure Robinson would smile if he knew that a black man, Magic Johnson, would someday become one of the principal owners of the Dodgers.) 
Sunday should inspire everyone involved with baseball to keep trying to advance the game and our culture, just as Robinson did 65 years ago.