Bobby Petrino and College Football's Most Shocking Firings and Resignations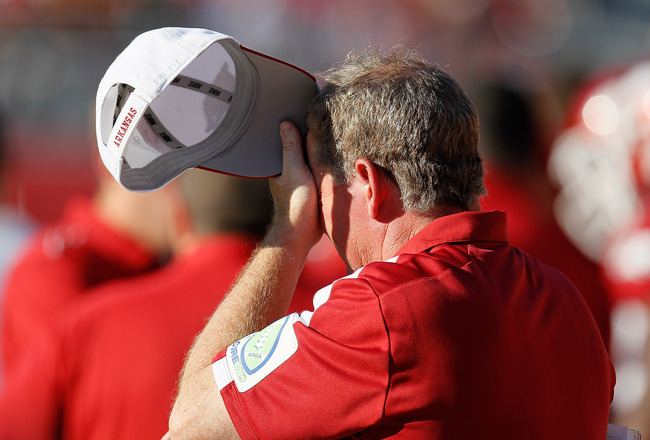 Kevin C. Cox/Getty Images
Bobby Petrino's recent dismissal will stand as among one of the most shocking firings in college football history.
The story of Petrino's wild ride to ruin is so unbelievable it could only happen in a soap opera. Petrino got into a motorcycle accident with a 25-year-old woman riding with him. He was having an affair with said woman, and he had given her a job in the athletic department without disclosing his relationship with her. Oh, and he gave her $20,000 for some undisclosed reason.
But as crazy as Petrino's fall from grace has been, he's not alone in college football history. These other coaches had to resign or were fired for reasons other than not being able to win football games.
Who are they? Read on.
Gary Barnett, Colorado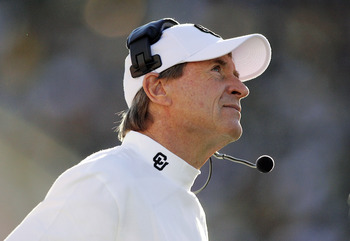 Brian Bahr/Getty Images
Like several coaches on this list, Gary Barnett lasted much longer at his job that he should have.
First off, there was the allegations of Colorado using X-rated recruiting to entice players to come. Then there was the Katie Hnida scandal in which she said that she had been raped while playing as a placekicker for the Buffaloes.
Barnett's response to this was...less than classy. Judge for yourself:
"It was obvious Katie was not very good. She was awful. You know what guys do? They respect your ability. You can be 90 years old, but if you can go out and play, they'll respect you. Katie was not only a girl, she was terrible. OK? There's no other way to say it. She couldn't kick the ball through the uprights."
He was suspended but not fired for this. Amazingly, it took another year, an unsigned letter to CU President Hank Brown, allegations of various NCAA and financial improprieties and accusations of witness tampering to finally force Colorado to fire Barnett.
Pat Dye, Auburn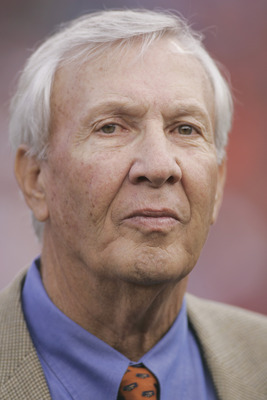 Chris Graythen/Getty Images
While Pat Dye never won a national championship while at Auburn, he still built a winning program at Auburn. He was such a part of the Tiger program that the field at Jordan-Hare Stadium bares his name.
But nothing could have prepared Auburn for Eric Ramsey.
Ramsey, who said that he was angry over acts of racial discrimination at Auburn, recorded tapes of phone calls with his coaches and with a booster named Bill "Corkey" Frost. These tapes provided proof that Ramsey received improper benefits from Frost and that head coach and AD Pat Dye knew about it.
And these tapes ended up in the hands of 60 Minutes.
Pat Dye was forced to resign, Auburn was hit hard by the NCAA and Eric Ramsey's name is cursed in Auburn to this day.
Barry Switzer, Oklahoma
Stephen Dunn/Getty Images
Barry Switzer ran one of the successful programs in the 1970s and '80s. The Sooners won three national championships under Switzer and finished in the top five in both major polls nine times.
Switzer never really did run a clean program, but successful coaches like him get the benefit of the doubt.
That is, until Sooner Charles Thompson was arrested for selling cocaine to undercover FBI agents. Switzer didn't have any choice but resign after that.
Butch Davis, North Carolina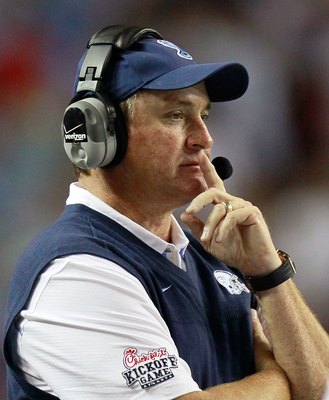 Kevin C. Cox/Getty Images
The fact that Butch Davis was fired isn't that shocking. Davis was deeply mired in "Agent-gate" as well as an academic cheating scandal.
No, it's the timing that makes this firing stand out.
After all, the Agent-gate scandal broke all the way back in October of 2010 when Greg Little, Marvin Austin and Robert Quinn were banned from playing in the NCAA for taking gifts from NFL agents.
Davis wasn't fired until July 27, 2011, just after ACC Media Days and shortly before the opening of fall camp. His firing was the right decision, but the Tar Heels should have dropped Davis and picked up a new coach at the end of the 2010 season.
Jim Tressel, Ohio State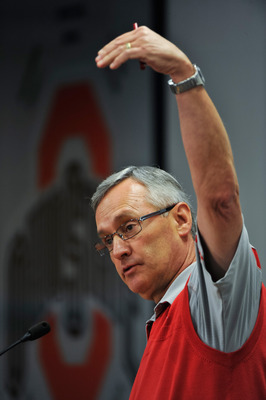 Jamie Sabau/Getty Images
If any one administration tried their hardest to keep a coach after a major screwup, it was Ohio State trying to keep Jim Tressel.
Tressel's certainly not the first coach to have players trade memorabilia for money or tattoos, and he's also not the first to turn a blind eye to it.
But Tressel hid what he knew his players were doing almost all season, and when confronted with that fact at the end of the season, he hid his knowledge of the incident so that he could convince the NCAA to let Terrelle Pryor et al. play in the Sugar Bowl.
Ohio State stood behind the Sweater-Vest as long as they could, even when the full truth of the matter was out. Only when it became clear that the NCAA was likely going to ban Tressel from coaching for a few seasons, and that they'd also come down harder on the program if they didn't let Tressel go, did the university part ways with him.
Paul "Bear" Bryant, Alabama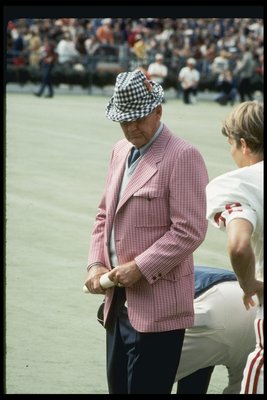 Getty Images/Getty Images
Unlike several of the other coaches on this list, Paul "Bear" Bryant left coaching on his own terms and without the taint of scandal.
"Bear" Bryant is the best coach college football has ever seen. In 25 years at Alabama, Bryant won six national championships. Some of those title claims may be a bit dubious (1973 for example...), but the quality of his coaching is beyond question.
After losing to Auburn 23-22 on November 27th, 1982, "Bear" Bryant abruptly announced his retirement. He had just won a national championship only three years earlier, and I'm sure no one in the Alabama administration had ever considered letting Bryant go.
But Bryant knew his own limitations and his own mortality. He told reporters after his retirement announcement that he would "probably croak in a week."
Only four weeks later, Bryant had a major heart attack. On January 26, 1983, just less than a month after his final game against Auburn, Bryant was gone.
Woody Hayes, Ohio State
There are certain things that even the most successful coaches can't get away with.
Punching a member of the opposing team is one of them.
That's exactly what legendary head coach Woody Hayes did to Clemson's Charlie Bauman after Bauman picked off a pass from Ohio State's Art Schlichter during the 1978 Gator Bowl.
Bauman ran out of bounds on the Ohio State sideline, and Woody Hayes lost control of himself and took a swing at Bauman. Afterwards he refused to calm down and had to be dragged off of the field by one of his assistants.
AD Hugh Hindman gave Hayes the chance to resign after the game. Given that chance, Hayes said, "I'm not going to resign. That would make it too easy for you. You had better go ahead and fire me."
The next day after consulting with Ohio State President Harold L. Enarson, Hindman fired Hayes. Really, he didn't have a choice.
Woody Hayes had already struck his own players as well as a cameraman in the stomach. But assaulting a member of the opposing team, even for a legend in his prime in the more forgiving time of the 1970s, was unforgivable.
Joe Paterno, Penn State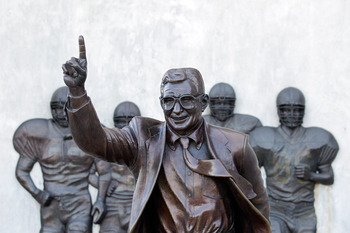 Rob Carr/Getty Images
Out of all the stories on this list, this one is by far the most tragic.
Joe Paterno is the kind of college football coach we'll never see again. He got his start at Penn State all the back in 1966. During this time he built Penn State into a football powerhouse. Paterno would win two national championships, finish ranked in the top 25 of at least one major poll 35 of his 46 seasons and would coach some of the game's finest.
But more than that, JoePa was known for running a clean program. Penn State was one of only two programs (BYU is the other...) that have both won a national title and never been on NCAA probation. It seemed that you could win at the highest levels of college football and keep everything above board at Penn State.
Then, the Jerry Sandusky scandal happened.
With the revelations that Sandusky allegedly sexually abused boys at Penn State, together with the disappointing news that JoePa at least had been told of at least one incident and had done nothing more than inform his superiors, forever tarnished Paterno's once sparkling reputation. Paterno was unceremoniously dismissed after 45 years of service.
After his firing, age finally caught up with JoePa. He died shortly after the college football season ended on January 22, 2012 after succumbing to lung cancer.
This is a sad story for all those caught up in it. For Joe Paterno's family, the thousands of players he coached over the years and the millions of Penn State and even college football fans have lost an exceptional man and coach.
But there's also the lost innocence of those boys victimized by Sandusky's actions and who were also let down by Paterno not doing enough to put an end to it.
Any way you cut it, this will go down in history as perhaps the greatest tragedy in college football history.
Keep Reading