NBA Mock Draft 2012: Predicting First Round Picks and Draft Order
April 17, 2012

Ronald Martinez/Getty Images
The 2012 NBA draft lottery will take place next month.
Which team will land the top pick? Will it be the 7-53 Charlotte Bobcats, the 15-46 Washington Wizards, or will some other team come out of nowhere to steal the show?
Here's a prediction of how the first round draft order might turn out and where the top colleges stars will land in June's draft.
1. Detroit Pistons: Anthony Davis, Kentucky
Detroit defies the odds by winning the lottery as well as the Anthony Davis sweepstakes.
College basketball's player of the year, Davis is the perfect addition to the Pistons' weak frontcourt. He and fellow big man Greg Monroe could lead the team back to respectability in no time.
2. Washington Wizards: Thomas Robinson, Kansas
Robinson just might be the best player in this draft. He led the Jayhawks to the national title game earlier this month and who knows what he will do once he reaches the next level.   
3. Charlotte Bobcats: Michael Kidd-Gilchrist, Kentucky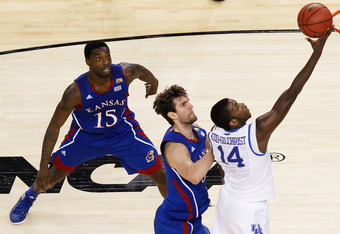 Chris Graythen/Getty Images
The Bobcats fail to bring Anthony Davis to town, but get the chance to grab his Wildcat teammate Kidd-Gilchrist.
Michael Jordan's club gets its hands on an outstanding defender to build around. 
4. New Orleans Hornets: Andre Drummond, Connecticut
Back in 1992, the Hornets (then in Charlotte) drafted a superstar center in Alonzo Mourning. Now, 20 years later, they select another gifted big man in Drummond.
Will Drummond's NBA career ever match Zo's? It's too early to tell, but he does have a boatload of potential.  
5. Sacramento Kings: Brad Beal, Florida
Beal had a great freshman year and should go on to be a big star in Sac-Town teaming with DeMarcus Cousins and company.
6. Toronto Raptors: Harrison Barnes, North Carolina
Barnes could develop into one of the NBA's better scorers. He, along with Andrea Bargnani, DeMar DeRozan and Jonas Valanciunas could make the Raptors a playoff team in the near future.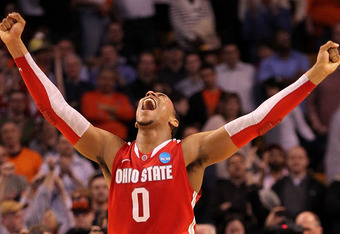 Jim Rogash/Getty Images
7. Cleveland Cavaliers: Jared Sullinger, Ohio State
The Cavs already have a young star in Kyrie Irving and could get another one in Sullinger.
Sullinger isn't as athletic as Blake Griffin, but he can put together a nice career playing for his homestate team.  

8. Portland Trail Blazers: Tyler Zeller, North Carolina
With Greg Oden not working out, the Blazers pick up a solid big man in Zeller. He may never turn out to be a Hall of Famer, but he gives the team much-needed size.
9. Utah Jazz: Jeremy Lamb, Connecticut
Lamb became the top scorer for UConn this year, averaging nearly 18 points per game. Because of his shooting ability, Utah's 2-guard spot would receive an instant boost. 
10. New Orleans Hornets: Damian Lillard, Weber State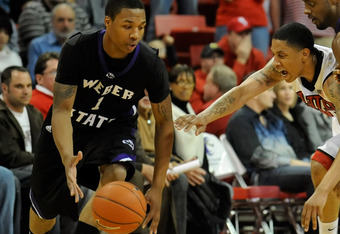 Ethan Miller/Getty Images
Adding Drummond and Lillard, the Hornets come away with two talented youngsters to build around.
Lillard could go a long way in helping fans forget about Chris Paul.
11. Portland Trail Blazers: Austin Rivers, Duke
A great isolation player, Rivers may be better suited for the NBA than college ball. He has the skills to help get Portland back in the playoffs. 
12. Milwaukee Bucks: Meyers Leonard, Illinois
With Andrew Bogut traded to Golden State, the Bucks could find a decent center replacement in Leonard.
13. Phoenix Suns: Perry Jones, Baylor
In Jones, the Suns would land a player with tremendous upside. A top-five talent, don't be surprised to see him become the steal of this draft.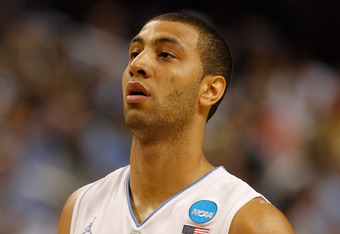 Streeter Lecka/Getty Images
14. Utah Jazz: Kendall Marshall, North Carolina
Marshall will probably never be on the same level as former Jazz point guards John Stockton and Deron Williams. However, the UNC product can become a top-tier floor general at the next level.  
15. Houston Rockets: Terrence Jones, Kentucky
The 6'8" Jones is a versatile player who could eventually start at small forward for the Rockets.
16. Philadelphia 76ers: John Henson, North Carolina
A superb shot-blocker, Henson would be a great addition to Philly's roster.
17. New Jersey Nets: Tony Wroten, Washington
If Deron Williams chooses to leave this summer as a free agent, Wroten could step in and fill the void at the point.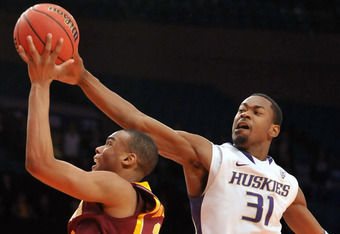 Jason Szenes/Getty Images
18. Denver Nuggets: Terrence Ross, Washington
Ross gives Denver a terrific scorer off the bench. With this Huskies star on the roster, the Nuggets could have a chance to reach the postseason in 2013.  
19. Houston Rockets: Arnett Moultrie, Mississippi State
Extremely athletic, Moultrie can play the 5 and would be a nice fit alongside Luis Scola in Houston.  
20. Atlanta Hawks: Moe Harkless, St. John's
Harkless isn't one of the most well-known prospects in the draft, but he's worthy of being a first-round selection.
You might see this Big East Rookie of the Year starting at small forward in Atlanta really soon.

21. Boston Celtics:  Doron Lamb, Kentucky 
Jamie Squire/Getty Images
Lamb can light it up from downtown and could eventually replace Ray Allen in Boston. He was pretty impressive in Kentucky's amazing title run this year.
22. Orlando Magic: Andrew Nicholson, St. Bonaventure 
Nicholson brings a nice inside-outside game to the table and could be a reliable backup down in Orlando.  
23. Memphis Grizzlies: Dion Waiters, Syracuse
Shooting guard O.J. Mayo might leave Memphis this summer as a free agent. That said, Waiters could step in and take over the sixth man role.
24. Boston Celtics: Royce White, Iowa State
White is the kind of big man a lot of teams covet. He can score, rebound and dish the rock. Anthony Mason 2.0?   
25. Indiana Pacers: Marquis Teague, Kentucky
What a year for Teague. First, he wins a national championship and then he gets drafted by his hometown team.
26. Cleveland Cavaliers: Jeffery Taylor, Vanderbilt
Taylor can certainly play some defense and his perimeter game has improved. He would be a good addition for Cleveland.
27. Golden State Warriors: Draymond Green, Michigan State
Green, the 2012 Big Ten Player of the Year, would provide Mark Jackson's squad with some defense off the bench.

28. Miami Heat: Fab Melo, Syracuse
Miami doesn't need another star player with the trio of LeBron James, Dwyane Wade and Chris Bosh.
What the team really needs is help at the center spot, and that's what Melo would bring.  
29. Oklahoma City Thunder: Festus Ezeli, Vanderbilt

Ezeli gives OKC size, rebounding and shot-blocking. He could be a pretty good backup for starting center Kendrick Perkins.

30. Chicago Bulls: John Jenkins, Vanderbilt
The Bulls have been looking for a quality shooting guard to play alongside Derrick Rose in the backcourt. The sharp-shooting Jenkins could be that guy.