2012 All-NBA Team: Predicting the First-, Second- and Third-Team Rosters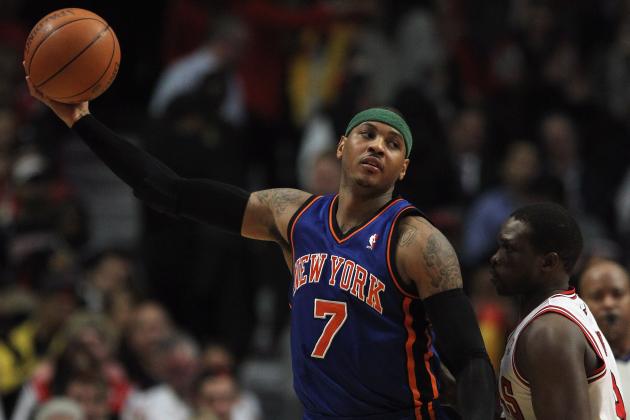 Jonathan Daniel/Getty Images

The All-NBA teams have become something like a league report card for the stars of NBA. When a player is left off, it's kind of like a slap in the face to everything he is supposed to be to the league. Take Carmelo Anthony's absence from any All-NBA roster last year, for example.
Fans were not only surprised that his teammate Amar'e Stoudemire received a bid in the All-NBA second team, but were shocked that Anthony's impact on the Knicks was taken so mildly, as it should have been. Anthony did not really deserve a mention over LeBron James, Dirk Nowitzki or LaMarcus Aldridge because of his influence over the Denver Nuggets or lack thereof with the Knicks last year.
This year's roster will look a lot different than last year's and there will be some shakeups in each of the first-, second- and third-team rosters that may come as shocks to the average fans.
Begin Slideshow

»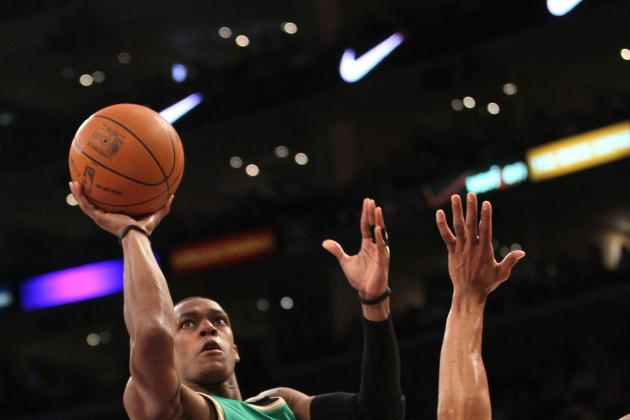 Stephen Dunn/Getty Images

Rajon Rondo is almost too easy for the All-NBA first-team spot. Being a victim of a single-game moment has absolutely nothing to do with it, as Rondo has not just been excellent in a single game.
Rondo is leading the Boston Celtics to true contention and even though Kevin Garnett's movement to the center position has a lot to do with Boston's success after the All-Star break, Rondo has been fueling the Celtics' engine since the beginning of the season.
Through trade rumors that sent him everywhere but Timbuktu, Rondo has been playing his heart out for a franchise that whose desire to keep him on board has been questionable.
Harry How/Getty Images

Kobe Bryant is still the shooting guard headlining the All-NBA first team. It's not necessarily because of the lack of greatness at the position, even though that plays a small part in the decision.
However, watching Bryant play through injuries and participate in 40-plus-point clinics is second to none. Bryant has been amazingly clutch this season as well, as if we ever forgot that he was the league's active clutch king.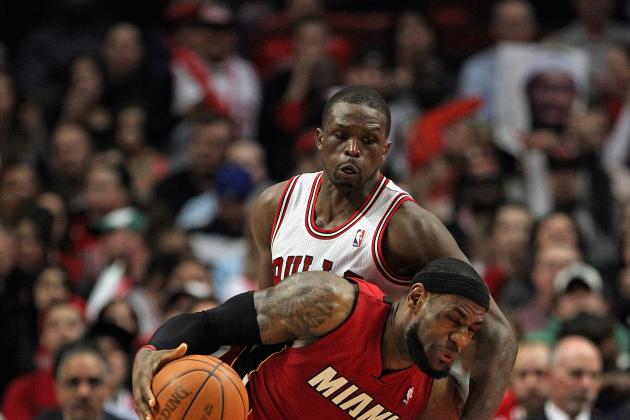 Jonathan Daniel/Getty Images

LeBron James will not be moved, so put away your analyst hat for a moment and recognize why. As much as fans may want to debate James' relevance and ranking in the league, there is no debating that he is the most important player on one of the most dangerous franchises in the country.
James is the best forward in the game with a menacing combination of power, size, speed and playmaking ability. He has been the organization's leader for the entire season, with the regression and injuries of Dwyane Wade.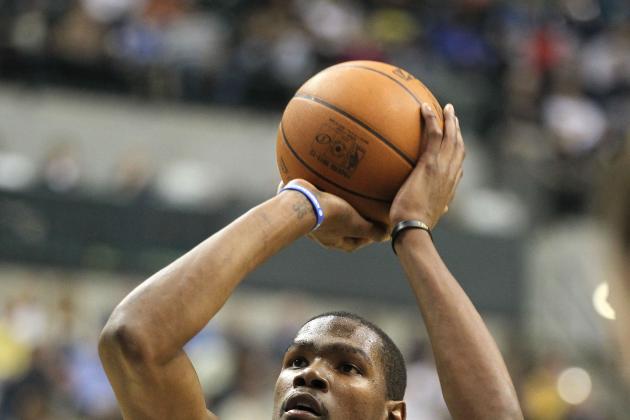 Andy Lyons/Getty Images

Kevin Durant has improved his game in the offseason, and is arguably climbing the MVP race while James is metaphorically falling behind in the ranks. Durant's shine has yet to dim, even in the light of Russell Westbrook's deadly emergence as the second-most important point guard in the league.
Yes, the second.
Durant and Westbrook can coexist, which magnifies Durant's leadership capabilities over such a young and sometimes immature franchise. Durant is the top dog in the only franchise predicted to dethrone the Miami Heat.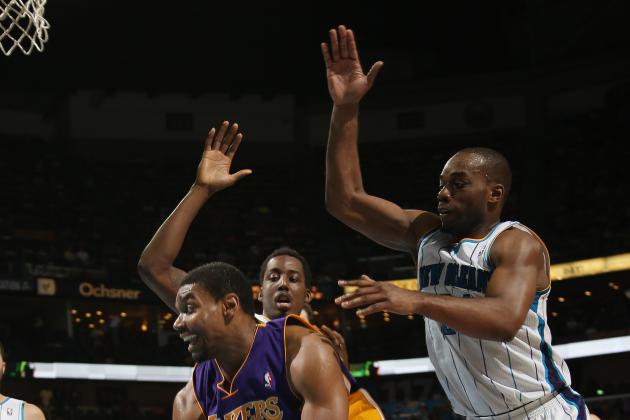 Chris Graythen/Getty Images

Dwight Howard is no longer coasting in the All-NBA first team and not just because of his early season antics and back-and-forth correspondence with Orlando Magic's front office.
Andrew Bynum has officially booted Howard out of this position because of his consistency as the Lakers center, his influence over the franchise's success and the how deep into contention the Lakers are. Orlando is not a real threat to anyone, even with Howard beaming off in the starting lineup, but Bynum could most definitely be the Lakers' X-factor.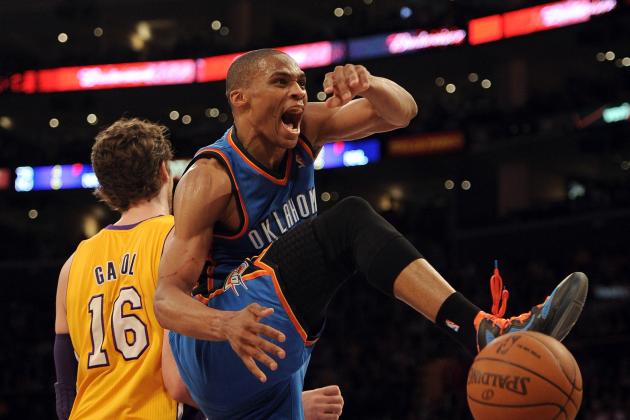 Harry How/Getty Images

Sure, you thought Derrick Rose would definitely be covering the All-NBA second team's guard position.
Not at all. Rose has been very inefficient and almost invaluable to the Chicago Bulls, while it is painfully clear that OKC needs Westbrook almost as much as they have needed Durant's stroke.
Westbrook has been a Rose-like player that still manages to have more influence over the ball's rotation to his other teammates. He is not your conventional point guard, but he exhausts the possibilities of his athleticism and his shooter's mentality. Westbrook creates a mismatch almost every night.
Whether or not he takes full advantage is solely in his hands.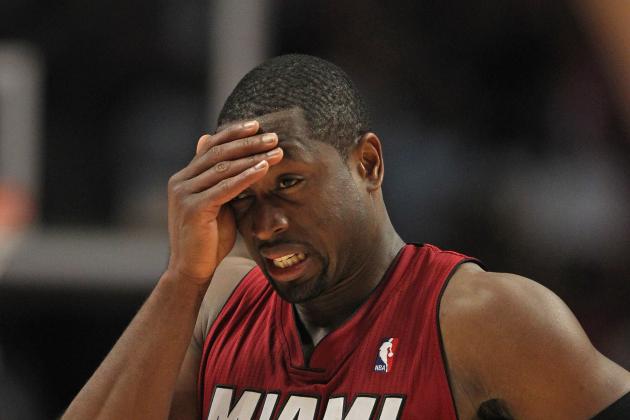 Jonathan Daniel/Getty Images

Dwyane Wade has not been that much of a rebel this season. He has sort of faded into LeBron's background and often disappeared altogether. Still, there is no doubting that his contributions to the Miami Heat cannot pale in comparison to any other franchise's 2-man—with the exception of Kobe, that is.
Wade is still a huge threat in the league and has played second best at the position all season. His injuries have dampened his involvement, but the postseason is truly where everyone expects him to go full throttle.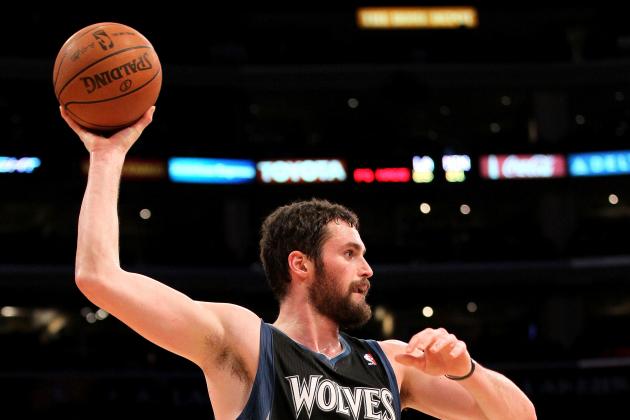 Stephen Dunn/Getty Images

Kevin Love has evolved and has kept up the buzz left over from last season, when everyone was realizing how great this man's potential was. Love is the cornerstone of Minnesota's franchise and the most Larry Bird-like player that the game has had since.
With a full head of steam from both the now-injured Love and the inactive Ricky Rubio, Minnesota could have made a beautifully scripted playoff chase. They might have been tossed out of the postseason by the first round, but the combination would have made the series a tough win for most franchises in the league.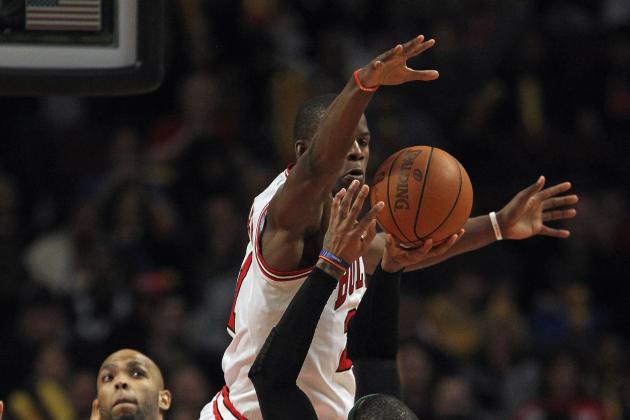 Jonathan Daniel/Getty Images

Carmelo Anthony's move to the power forward position was undoubtedly the best move for the New York Knicks. Too bad it had to come at the expense of injuries to both Jeremy Lin and Amar'e Stoudemire. Anthony has propelled himself in forward rankings and should expect not to be shunned this season for the likes of Stoudemire.
Anthony has heightened the way he plays defense and has become more powerful in the Knicks offense since Coach D'Antoni's exit. Call it a fluke if you want, but it's really coach Mike Woodson exhausting Melo's potential while two very important fractions of New York's game plan are benched by injury.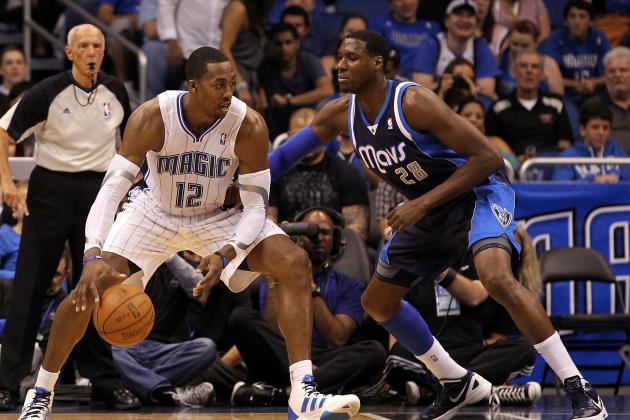 Sam Greenwood/Getty Images

This is where Dwight Howard comes in, at a place he's barely used to: second best. With Andrew Bynum snagging the No. 1 ranking at the center position, it's only fair that Howard comes in at a close second.
No matter how much drama Howard dragged a franchise through, he still deserves to be acknowledged as a monster in the low post who can draw contact like no other. He is hacked repeatedly because of how strong he is and how his size and talent forces players to guard him.
Next year may be Howard's moment back in the spotlight, but people have gotten so sick of talking about him that he's almost forgotten, unless it's for some tart rumor or embarrassing press conference.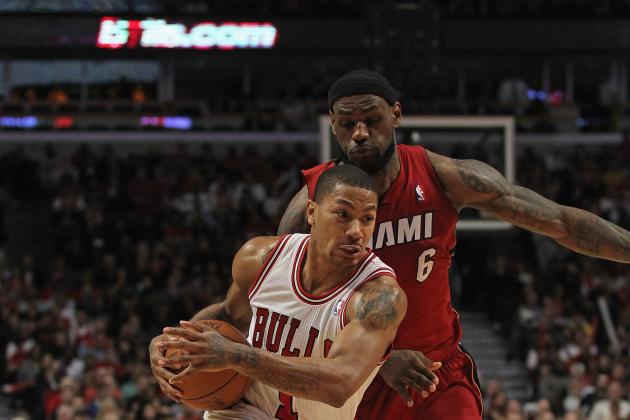 Jonathan Daniel/Getty Images

Derrick Rose is here by default. He's such a great player that it would be a shame to nix him from the rankings, but way too congratulatory to put him up higher than either Russell Westbrook or Rajon Rondo.
Both have proven themselves in Derrick Rose's absence from the top and have seemingly pushed him all the way to No. 3—possibly even No. 5—in the league, behind both Deron Williams and Chris Paul.
Rose's potential catapults him to being mentioned as an All-NBA'er, but he has to do a lot more after his fruitless return from the bench to retrieve the top spot. The playoffs may be the way to do it. However, if the Chicago Bulls get trumped by any of the Eastern Conference franchises, it will be on Rose's shoulders to explain why he failed again.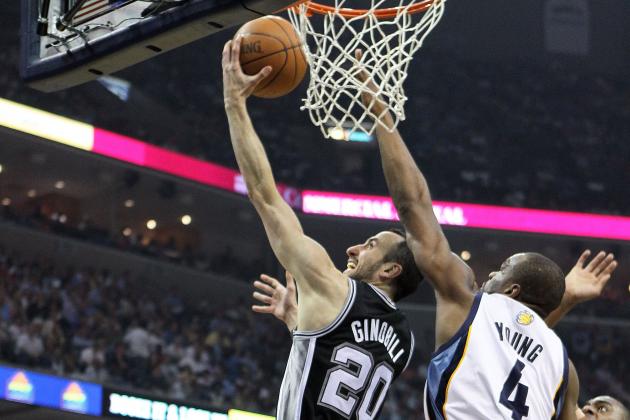 Andy Lyons/Getty Images

San Antonio's X-factor, Manu Ginobili deserves the spot because of how much control he has over the Spurs' hopes of contention. What amazes fans about him is that no matter how far up there in age he gets, he has the ability to refine the edges of his game to allow himself to become equally as deadly.
For example, the scoring responsibilities have been slightly taken off of his shoulders.
That's no problem for Ginobili, though, as his defense and facilitation have taken center stage. He has always wiggled his way into being one of the biggest problems for teams facing the Spurs because of his shot selection, ball-handling, court vision, etc.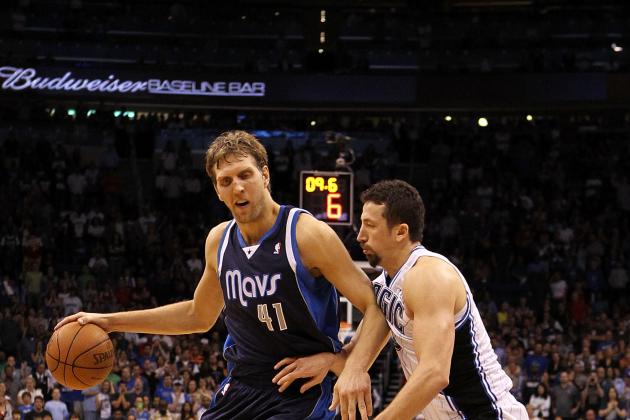 Sam Greenwood/Getty Images

Dirk Nowitzki may not be in headlines this season, as the Dallas Mavericks have undoubtedly been on a backslide out of contention. Still, his no-trade clause says everything about his role in Cuban's heart and on his hardwood.
Nowitzki is the team's undisputed leader in scoring and consistency. He is unmoved, at least in front of the media, about the recent troubles in Dallas, such as Lamar Odom's short-lived career move as a Maverick. Nowitzki's latest shooting struggles are not precursors to what the future holds for Dirk, as his stroke is not often fleeting.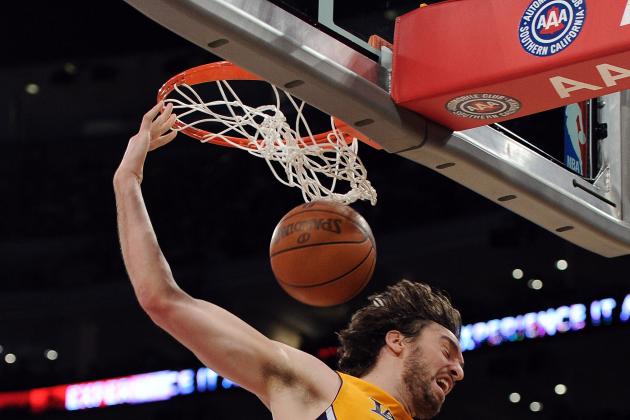 Harry How/Getty Images

Pau Gasol may not be the strongest-hearted player in the league, but he is definitely an offensive accomplishment the Los Angeles Lakers can brag about. Gasol's game has always been primarily about scoring, while his defense, shown against Blake Griffin more than once, has yet to become a strong suit.
Even though Gasol has become a poster boy, thanks to a brief bout with the Clippers, he is still detrimental to any playoff run the Lakers are attempting to construct. His emotions are the only thing that makes him a wild card in the postseason.
L.A. needs him at his best and so does the league, because no one can take another display like last year's playoffs.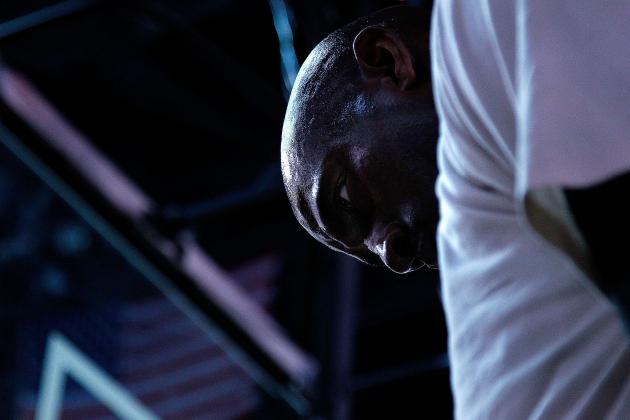 Mike Ehrmann/Getty Images

Kevin Garnett's forward-turned-devastating center role with the Boston Celtics is the best thing to happen to the veteran's career besides a championship. Everyone had counted him out because he was rarely showing the spurts of youth that he did in last year's playoffs.
The Celtics as a whole were looking old and worn out in need of a roster blow up to even land a solid postseason seed. Now, with Garnett playing as Boston's center and Rondo playing his A-game virtually every night, the Celtics are picking them up and putting them down as they have faced some tough Eastern Conference competition.
No one sees them coming out of the east in front of the Knicks, the Bulls or the Heat, but they are definitely a scary first-round matchup.
Garnett has helped instill the fear.