Why Coaching, Not LeBron James, is to Blame for Miami Heat's Meltdown
April 13, 2012

Marc Serota/Getty Images
LeBron James isn't the sole reason the Miami Heat team is currently struggling.
In fact, his play might be the last of Miami's concern at this time.
Following the Heat's loss to the Bulls on Thursday night, James said the loss resulted in "one of the worst feelings I've had in the regular season this year," (via Andrew Seligman, Associated Press).
Miami is now 5-6 over its last 11 games dating back to March 25.
There haven't been crippling injuries. The Heat have lost games to Oklahoma City, Boston, Memphis and Chicago over that span, all playoff-bound teams.
Just because LeBron is the most prominent figure in the Heat locker room doesn't mean he's always to blame when something goes wrong in South Beach.
James has averaged 30.1 points on 51 percent shooting in April, but Miami is just 3-4 this month.
James is also shooting well from behind the arc this month (40.7 percent), but for some reason, he continues to draw scrutiny that should be aimed in another direction.
At what point do we start pointing the finger at the head coach? Welcome into the picture, Erik Spoelstra.
This is the same man who didn't exactly inspire confidence once upon a time among the Miami fanbase.
Remember that?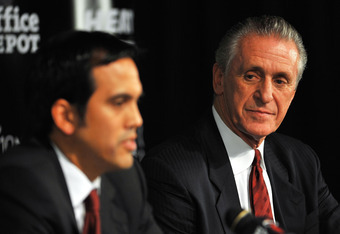 Doug Benc/Getty Images
No less than one full season ago, speculation was swirling around Spoelstra's job status as many speculated Pat Riley could be in line to take control of the team.
David Thorpe on ESPN's TrueHoop was asked if Spoelstra would keep his job just after the Heat lost to the Mavericks in the 2011 finals:
But I don't expect Erik Spoelstra to keep his job.

I wouldn't fire him. But I suspect they'll think they can't afford to wait another year to figure out if he's the right guy for them.

If he is fired, he'll be employed again very quickly. I think he's a terrific young coach, and he'll get better and better.
Well, Spoelstra kept his job and he finds himself in a similar situation this time around.
No, his job isn't thought to be in danger, but many are questioning exactly what he's been doing of late.
He's changed up the rotations, his substitution pattern has been fluid, and it appears Spoelstra is still searching for the right group of guys to deploy on a nightly basis.
Isn't it a little late in the season to be doing that?
Things happen and coaches have to adjust—I get that. But this isn't a team that has suffered an injury to a key contributor or something completely unforeseen. This is just a group that's faltering at the wrong time.
It's not easy, but nobody said it was supposed to be.
Spoelstra has to get through to two marquee players and that's certainly no easy task.
He's got to figure out the best possible lineup to utilize on a team that doesn't have a lot of size on the inside, and that's another challenge.
But at what point does he stop getting a pass in all of this?
We're typically very quick to point fingers at the head coach when something isn't going well, but for some reason, the narrative around the Miami Heat is centered around one of its superstars.
Sure, LeBron's name might have more punch in the headlines, but he's not the one to blame for this current skid.
There should be more eyes looking right at Erik Spoelstra.
If James is in the conversation as to why this team is struggling, Spoelstra certainly should be as well.