NFL Draft 2012: Ranking Top Prospects at Every Position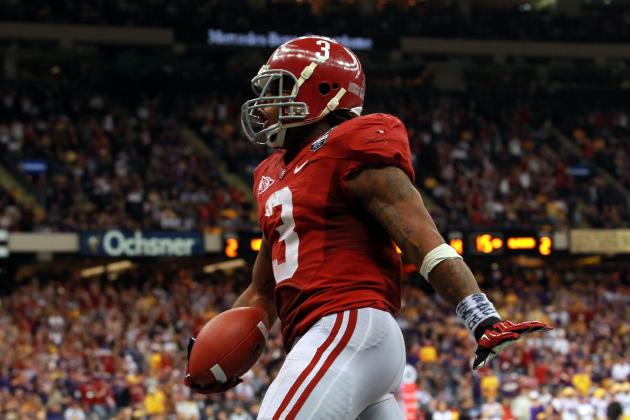 Ronald Martinez/Getty Images

With the 2012 NFL draft rapidly approaching (nine days and counting), teams are in the final stages of finalizing the best players at each position.
Teams have watched countless hours of film, traveled to pro days and brought in potential prospects for interviews. While opinions can still change on certain players in the next week, for the most part, teams are pretty set with who the best of the best are.
We're pretty set with who we believe the top prospects in the 2012 NFL draft are as well, and today we'll rank each position's best players.
Begin Slideshow

»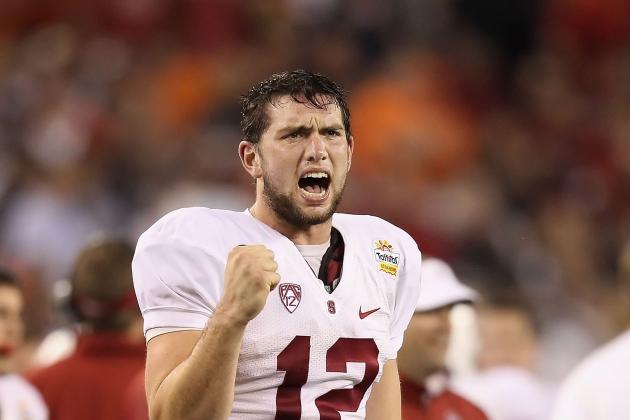 Christian Petersen/Getty Images

Quarterback is the crown-jewel position of the NFL, and this year's draft class has plenty of power in the top prospects.
1. Andrew Luck, Stanford
Luck has it all, and not only is he the top quarterback prospect, he's also the best overall prospect available this year. He'll start from day one and likely be the savior of the Indianapolis Colts.
No rookie will have more pressure on him this year thanks for having to follow the incredible career of Peyton Manning. With that said, Luck looks every bit ready to tackle this gigantic burden and lead the Colts back to glory.
2. Robert Griffin III, Baylor
While many people want to compare Griffin and Cam Newton as prospects, the truth is that Griffin is coming out as a far superior passer than Newton. That fact should truly scare teams.
Griffin has one of the strongest arms and the accuracy to go along with it. His ability to make plays outside the pocket makes him extremely lethal in the open field too.
Look for Griffin to cement himself as one of the best young quarterbacks in the NFL instantly.
3. Brandon Weeden, Oklahoma State
Age is the only thing keeping Weeden out of the first round. To me, it's crazy. If Weeden can give you seven or more years of quality starting play at the most important position on the field, then he is definitely worth drafting early.
However, NFL teams don't see it that way, so despite having a rather polished game for a college player, Weeden will likely wait to hear his name called.
4. Ryan Tannehill, Texas A&M
Where age is hurting Weeden, potential is helping Tannehill find his way into the top 10 picks of the 2012 NFL draft.
Thanks to his elite athleticism, arm strength and footwork in the pocket, Tannehill's inexperience at the quarterback position is getting overlooked. If a team develops him correctly, it could end up with the biggest steal in the draft.
5. Kirk Cousins, Michigan State
While Cousins may not have the athleticism, arm strength or natural talent of the quarterbacks listed above, he does have the I'll-do-whatever-it-takes attitude.
Much like Andy Dalton of the 2011 NFL draft, Cousins looks like a player that will become a winner extremely early in his career.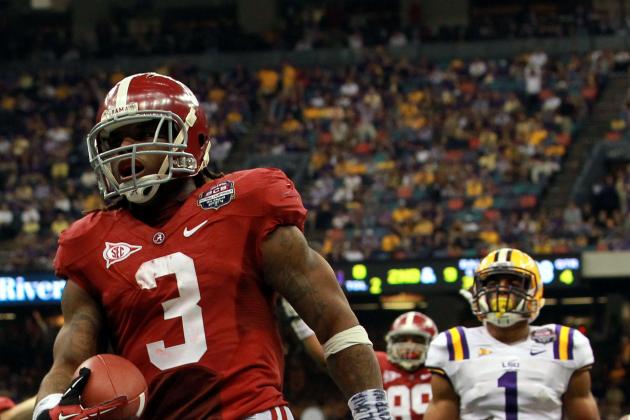 Ronald Martinez/Getty Images

While the running back position has changed greatly in the NFL over the past few years, this group of prospects is one of the deepest in recent memory, as all of the top players look capable of being the top running back for whoever drafts them.
1. Trent Richardson, Alabama
What makes Richardson such an intriguing prospect is that he is as complete of a running back as you could ever want coming out of college.
Not only is he powerful, but he also has the speed to get to the edge and pick up yards. He can break tackles, catch out of the backfield and isn't afraid to block when asked to. He's everything a team could ever want at running back, and he'll likely be finding his way to the Pro Bowl early in his career.
2. Lamar Miller, Miami (Fla.)
While Richardson is the most complete back available this year, Miller really isn't too far behind. In fact, if Miller had more experience at the college level, he might even be considered on par with Richardson.
What Miller still needs to improve is his blocking and receiving. Other than that, Miller has all the tools you want in an NFL running back.
3. Doug Martin, Boise State
Martin has slowly been creeping up teams' boards over the past months thanks to his stellar all-around game. He may not be as quick as Miller or as powerful as Richardson, but he consistently does everything well.
It's unlikely that he'll hear his name called in the first round, but as a potential full-time starter, Martin will be an absolute steal if he makes it past the 32nd pick.
4. David Wilson, Virginia Tech
Wilson's biggest attribute is his speed, as he is generally the fastest player on the field, regardless of position. If a defender gets in a foot race with Wilson, it's likely that he'll lose, and lose badly.
Even though Wilson is known as a speedster, he can also bring a little power to his game when needed. He has a chance to become a productive player early in his career.
5. Chris Polk, Washington
Even though Polk had a less-than-stellar offseason, he is still one of the highest-ranked running backs in this year's draft. When you watch Polk on tape, you see great patience as he picks apart a defense.
Polk will take some time to learn his offense and get acquainted with his offensive line, but once he does that, he should become quite the player in the NFL.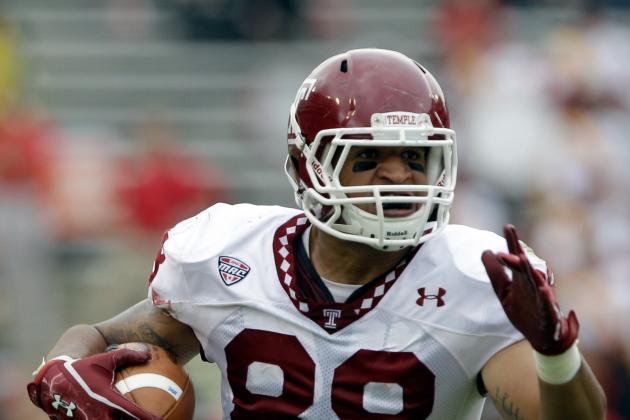 Rob Carr/Getty Images

Fullback is becoming less and less of an important position in the NFL, but these following players should all still get drafted.
1. Evan Rodriguez, Temple
Rodriguez reminds many of a poor man's Aaron Hernandez thanks to his athleticism and ability as a receiver.
He should be able to contribute and help an offense in numerous ways early in his career.
2. Bradie Ewing, Wisconsin
While Rodriguez is more of an athletic prospect, Ewing is more of a traditional fullback. He loves to get out in the open field and hit defenders.
He gained great experience as a fullback at Wisconsin and should complement a backfield nicely in the NFL.
3. Devon Ramsay, North Carolina
Ramsay needs more time to develop than the other fullback prospects, but he could also have the highest ceiling of all the players.
He is still learning to get low, keep his hands up and stick to his man. Once he does that, he could become one of the top blocking fullbacks in the league.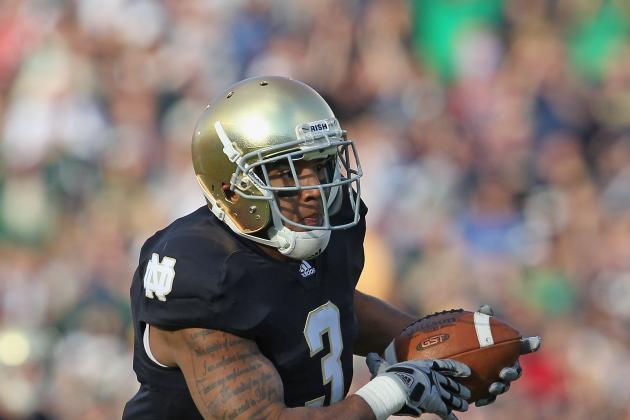 Jonathan Daniel/Getty Images

There are quite a few receiver prospects who will be able to come in from day one and contribute in a big way. While there isn't quite the star power of A.J. Green or Julio Jones, there is still plenty of talent to choose from.
1. Michael Floyd, Notre Dame
Despite some character concerns, Floyd is the most NFL-ready receiver in this year's draft.
He has the ability to win on all levels of the field. His ability to locate the football while it's in the air and make plays after the catch is also elite.
As long as Floyd can keep his head on straight, he has the chance to be the best receiver in this class.
2. Kendall Wright, Baylor
Even though he had a poor 40-yard dash at the NFL Scouting Combine, Wright is still one of the top receiver prospects coming out of college.
The truth is that Wright plays much faster on an actual field than his 40-yard dash may suggest. He is one of the top vertical threats available, but he is also physical enough to make plays all over the field.
Look for Wright to make a huge impact from day one in the NFL.
3. Justin Blackmon, Oklahoma State
While Blackmon does everything well, he doesn't do anything "elite," and that is why he is ranked much lower than many might think.
There is no doubt that Blackmon will be able to contribute early in his career, but he doesn't have the potential to become a top receiver in the league like Floyd and Wright do. He may put up better numbers at the start of his career, but down the road he'll get passed by other receivers in this draft class.
4. Stephen Hill, Georgia Tech
One word to describe Hill as a prospect is "raw." Playing in a triple-option offense in college will do that to a receiver.
However, Hill is a freakish athletic specimen who can come in and stretch the field right away for a team. Once he polishes his route-running ability, he has the potential to become a top receiver in the league.
5. Rueben Randle, LSU
Nothing beats consistency in the NFL, and few receivers have had a career as consistent as Randle had at LSU.
Even without much quarterback play around him, Randle produced and produced while in college. While he may not be the most athletic or most physical receiver available, he has proven to be able to produce consistently.
That is something that can't be taught, and Randle is good enough to continue to produce in the NFL.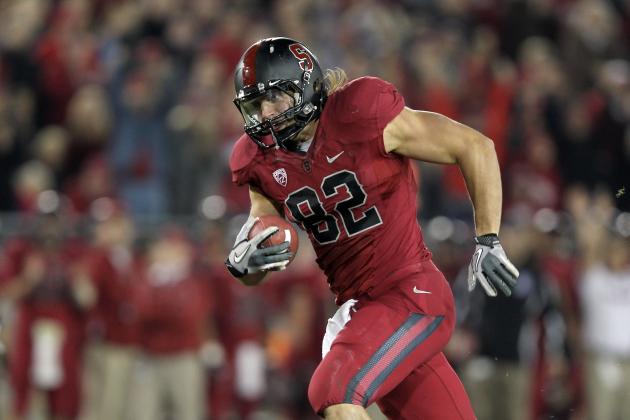 Ezra Shaw/Getty Images

This is one of the weakest groups of tight ends in recent memory, but the top prospects all have a chance of becoming Pro Bowl players in their career.
1. Coby Fleener, Stanford
As solid of a tight end as you could want coming out of college, there simply isn't much that Fleener can't do right now.
He isn't overly athletic, but he has great hands, the ability to get down the seam and can block when needed. He's the type of tight end that never has to come off the field, and those are the best kind.
2. Dwayne Allen, Clemson
Allen has the potential to become the biggest offensive threat out of the tight ends thanks to his combination of athleticism and ability to make plays on the football.
While he needs to improve as a blocker, he should be able to be used in a variety of situations by whichever team drafts him.
3. Orson Charles, Georgia
Charles started the pre-draft process as the top tight end on many draft boards, but after struggling to separate himself from Fleener and Allen, he now finds himself as the third-best prospect.
Charles is still the most athletic of the bunch and could end up having a role similar to Aaron Hernandez for the New England Patriots. He'll consistently create mismatches in the NFL and should put up some solid statistics early on.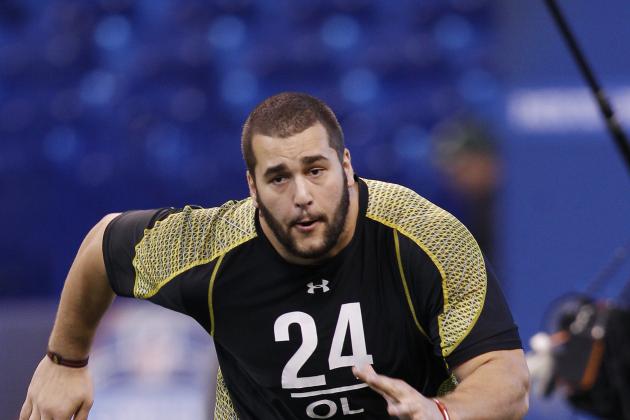 Joe Robbins/Getty Images

This group of offensive tackles has numerous prospects who could eventually turn into Pro Bowl tackles.
1. Matt Kalil, USC
To be honest, Kalil is miles ahead of the other tackle prospects available. He's simply that good.
From day one, Kalil will likely be one of the top tackles in the league, and he could potentially fight for a Pro Bowl spot his first year in the NFL.
He's going to be an extremely special player in this league.
2. Riley Reiff, Iowa
While Reiff isn't the most athletic tackle prospect, he is a solid athlete who possesses plus footwork and strength.
He can anchor against the bull rush and is long enough to get contact on speed rushers. While he may start his career on the right side of the line, he should eventually become a left tackle and succeed at that position.
3. Jonathan Martin, Stanford
Martin is a wild card for many because he still needs to fill out his frame and develop as an overall prospect.
However, once he does that, he could end up producing at a similar rate as Kalil. Unfortunately, he'll need to work to get to that level, and that is something that can't be guaranteed.
4. Mike Adams, Ohio State
Despite Adams being a mammoth of a human being, he surprised nearly everyone with his lack of overall strength at the combine.
Adams is most likely best suited as a right tackle, but his size should make him a quality lineman in both the run and pass game.
5. Mitchell Schwartz, California
Schwartz may not be the most well-known prospect, but the truth is that this kid can absolutely play.
He's another tackle who may be best suited for the right side of the line, but he could end up having a similar career to Bryan Bulaga of the Green Bay Packers. He's athletic and physical and could anchor the right side of the line for many years.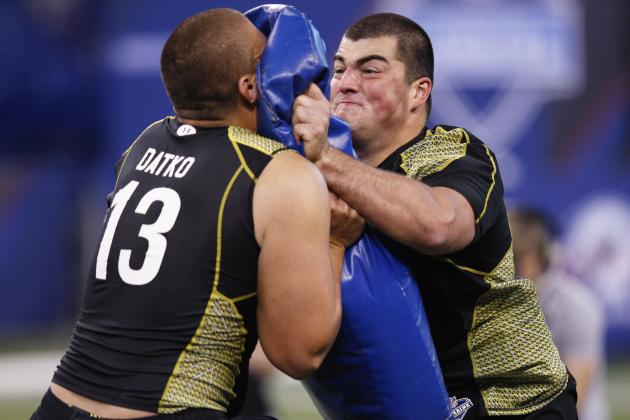 Joe Robbins/Getty Images

With offensive guard having more and more value in today's game, it's likely that none of the top guard prospects will be available in the middle of the second round.
1. David DeCastro, Stanford
This kid is an absolute stud. He's got it all.
If you're looking for the perfect guard prospect, DeCastro is your man. He should fight for a Pro Bowl roster spot from day one in the league.
2. Cordy Glenn, Georgia
Some may believe that Glenn is better suited as a tackle prospect, but that simply isn't true. Glenn lacks the foot quickness to win in space against quicker defensive lineman.
However, playing in tight spaces like guards do, Glenn is quite the player. He is physical, can create space and is athletic enough to get out into the open field and find a man.
As long as the team that drafts Glenn drafts him as a future guard, it should have a top player on its roster for a long time.
3. Kevin Zeitler, Wisconsin
Zeitler's name is one that you will start hearing more and more of as the draft gets closer and closer.
He was a valuable asset to one of the top offensive lines in the college game, and as a pure run-blocker, there might not be anyone better.
Zeitler will need to improve as a pass-blocker, but the natural abilities are all there for him to do that.
4. Amini Silatolu, Midwestern State
A small-school prospect with an NFL game, Silatolu may take a year or two to fully develop, but once he does, watch out.
Technique is the biggest issue for him, but proper coaching should fix that issue quickly. Right now, Silatolu will be one of the best run-blocking guards in the league once he is drafted.
Unfortunately, his inability to protect the quarterback could keep him off the field for a while until he develops.
5. Kelechi Osemele, Iowa State
Osemele is another raw prospect who will need to develop before being thrown into an NFL starting lineup.
There are some concerns surrounding Osemele during his time at Iowa State with injuries, but if he is healthy, he could develop into a quality starting offensive guard.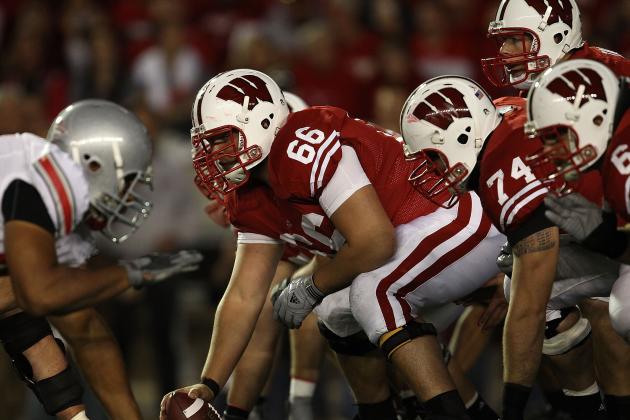 Jonathan Daniel/Getty Images

Center is a position for the intelligent and wise, so it's rare to see a center straight out of college make a huge impact. However, the top prospect has the potential to make an impact early in his career.
1. Peter Konz, Wisconsin
Konz is a little oversized for his position, but despite his extra height, he does a fantastic job at bending and taking on defenders.
He also has the ability to find a player in open space and stick to his man when blocking up the field. Combine his overall skills with his intelligence and experience and you have quite the center prospect who could sneak into the first round of the draft.
2. Ben Jones, Georgia
Jones is going to take some time to develop, but his athleticism will be intriguing to many NFL teams.
He is physical at the line of scrimmage and displays a violent snap off the line of scrimmage, which allows him to dominate at the point of attack.
He'll need to work at understanding the game, but he could become a starting-caliber center in the league early in his career.
3. David Molk, Michigan
As an undersized center, Molk is going to need to add weight to his frame before he does any damage in the NFL.
If he is able to do that, he has the athleticism to excel in a run-oriented offense. He isn't overly aggressive, but if he can get into space, he is an extremely effective player.
He'll need to be paired up with the right offense to be effective in the NFL.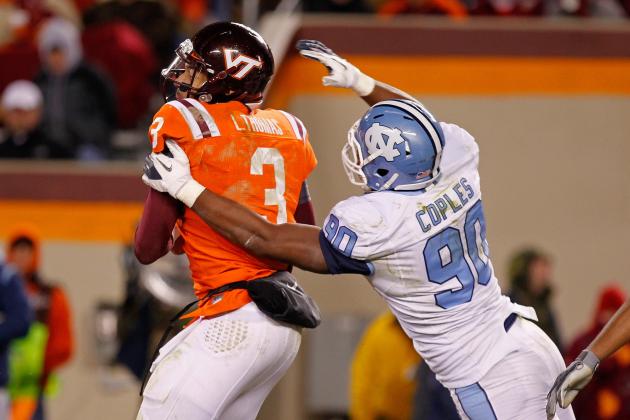 Geoff Burke/Getty Images

"Potential" is the key word when describing this year's defensive end prospects. There is a ton of it, and only time will tell if these players can develop into top players.
1. Quinton Coples, North Carolina
The biggest knock on Coples is his lack of motivation while in college. However, when you look at his overall athletic ability and what he can bring to a team, he is fully deserving of a top pick in the 2012 NFL draft.
Of all the defensive ends, Coples is the only one who could be considered an elite pass-rusher early in his career. He already has numerous moves to get after the quarterback to go along with speed and power.
As long as Coples can keep his head motivated, he could turn into an elite player as a rookie.
2. Fletcher Cox, Mississippi State
Cox could really make this list as a defensive end or a defensive tackle, but I believe he is better suited as an end in the NFL.
Thanks to his premier athleticism, Cox should be able to contribute against both the run and pass early in his career. He's still raw and needs to play lower and get stronger, but he should still develop into a starting defensive end in the league.
3. Cam Johnson, Virginia
While Johnson may not enter the league as a productive pass-rusher, he has all the other tools you want in a defensive lineman.
Johnson can play against the run and successfully drop into coverage. The potential is there for Johnson to become a pass-rusher with time, and if that ever happens, he could end up being the most complete defensive end in the draft.
4. Andre Branch, Clemson
Branch is an ideal fit in a 4-3 defense, where his initial burst off the line of scrimmage will allow him to get after the quarterback off the edge.
There is a ton of potential to Branch's game, most of it untapped, but it is still there for a team to tap into. If Branch ever reaches his full potential, he will become a scary player for an offense to defend.
5. Whitney Mercilus, Illinois
It's possible that Mercilus will make a switch to outside linebacker in a 3-4 defense, but right now he'll stay as one of the top defensive end prospects in the draft.
Mercilus has all the tools to become quite the pass-rusher in the NFL. He has the speed, athleticism and power to consistently get into the backfield.
There is plenty of room for improvement in the rest of his game, but Mercilus could become a special sack artist early in his career.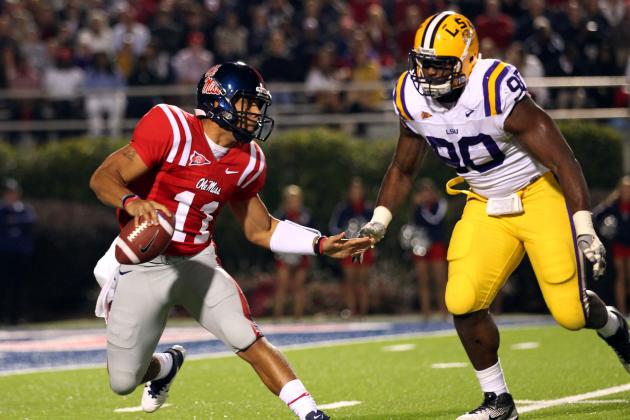 Joe Murphy/Getty Images

There is a lot to like about this year's defensive tackles, as there is a good mix of potential and talent that is ready for the NFL.
1. Dontari Poe, Memphis
Athleticism reigns supreme in Poe, and while he is still an extremely raw prospect, his ceiling is ridiculously high. Many have speculated that if Poe reaches his full potential, he could become a similar player to Haloti Ngata of the Baltimore Ravens.
However, Poe has never gone up against elite opponents during college, and it still needs to be seen whether he can keep up with the demands of the NFL. If he can, he could become an extremely special player from this draft class.
2. Michael Brockers, LSU
Brockers is another raw prospect who will take time to develop. However, he can already make a huge impact against the run and should also develop into a pass-rusher.
Had Brockers decided to stay in school for another year, he could have ended up as a top pick in the 2013 NFL draft. However, teams will still take a chance on him because of his huge upside and ability to potentially become a game-changer in the NFL.
3. Devon Still, Penn State
While Brockers and Poe need to develop, Still is an NFL-ready prospect.
He'll need to be kept motivated, but as long as he can do that, he should be able to produce early on in his career. What is most impressive about Still's game is his ability to track the football and make plays in the open field.
For such a large player, it is a truly unique aspect to his game.
4. Jerel Worthy, Michigan State
Worthy is either going to turn into a great defensive tackle in the NFL or be a complete bust. There isn't really any middle ground that Worthy can fall on.
He displays a great burst off the line of scrimmage, which allows him to penetrate and get into the backfield. If he stays motivated and on track, he should become quite the disruptive player in the league.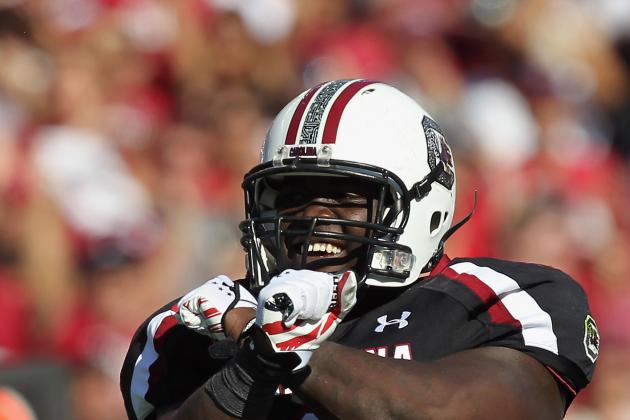 Streeter Lecka/Getty Images

While this group of outside linebackers doesn't have a Von Miller or Aldon Smith, it does have quality pass-rushers who can make an impact from day one.
1. Melvin Ingram, South Carolina
The best of the bunch is Ingram thanks to his combination of size and athleticism. These two aspects of Ingram's game make him a highly coveted prospect.
Ingram is already loaded with numerous moves to rush the quarterback, and when you combine those with his natural feel for the game, you have quite the player on your hands.
There is room for development with Ingram in regards to his run defense, but he should contribute instantly as a pass-rusher upon entering the league.
2. Courtney Upshaw, Alabama
Upshaw is the most complete outside linebacker available, as there isn't much that lacks in his game.
While he isn't the best at rushing the quarterback, he still can make an impact in this part of the game. He is solid against the run and can drop back into coverage, so there won't be many times when Upshaw will need to come off the field.
His sideline-to-sideline abilities make him an interesting 3-4 inside linebacker prospect, but I believe the team that ultimately drafts him will keep him at outside linebacker.
3. Nick Perry, USC
The player that Perry reminds me the most of coming out of college is Clay Matthews.
Perry is raw and one-dimensional right now, but he has quite the motor on him and never gives up in his pursuit of the quarterback. He may take time to get a full understanding of the NFL game and learn some more pass-rushing moves.
However, he should be able to get pressure on the quarterback from day one and make an impact as a pure pass-rusher.
4. Shea McClellin, Boise State
As of late, McClellin has been rising up draft boards, and he could find his way into the first round come the actual draft.
There is an explosiveness to McClellin's game that makes him an intriguing prospect. When you combine that with his motor and will to succeed, you have a young player just waiting to make a huge impact in the league.
McClellin is the type of kid that you never want to bet against. In fact, when all is said and done, he could end up as the best outside linebacker of the bunch.
5. Bruce Irvin, West Virginia
There is still a large part of Irvin's game that needs to grow, but as a player who can pin his ears back and go after the quarterback, Irvin may be the best.
With putting pressure on the quarterback becoming more and more crucial in today's game, a player like Irvin who can only pass rush will make a lot of sense to a lot of teams.
While he may not be drafted in the first round, it shouldn't be long after that before he is taken.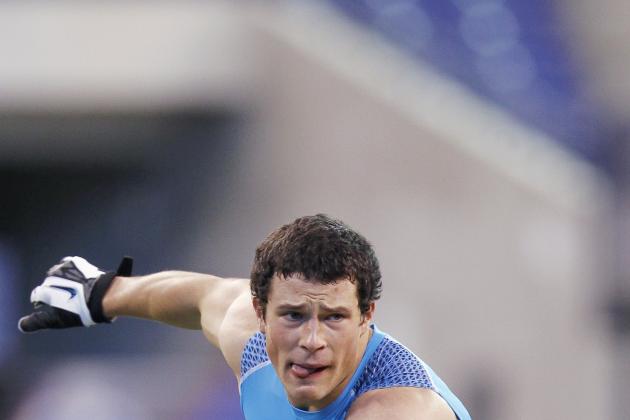 Joe Robbins/Getty Images

While there aren't many first-round prospects at middle linebacker this year, there are quality players throughout the draft at this position.
1. Luke Kuechly, Boston College
People continue to doubt that Kuechly will make a good pro player, but considering his extremely elite instincts, combined with his surprising athleticism, he looks like a potential All-Pro player.
He is a pure tackler who can make plays anywhere on the field. He has shown the ability to be a playmaker once the ball is in his hands, and he can drop back in coverage and play the pass.
There might not be a safer pick in the entire draft this year.
2. Dont'a Hightower, Alabama
While Hightower isn't the most athletic middle linebacker you'll ever see on the field, he displays plus instincts and has a great understanding of his role on defense.
He'll be one of the top linebackers against the run early on in his career, and because of his overall intelligence, he could also surprise some people as a straight blitzer on third downs.
Chances are good that Hightower will be an exceptional NFL player for many years.
3. Mychal Kendricks, California
What I absolutely love about Kendricks is the violence with which he plays the game. He is always aggressive and always looking to make the big hit.
While that sometimes gets him in trouble, it also makes him an extremely dangerous player. Kendricks also has great range when playing against the run. There is still some struggle with coverage for Kendricks, which is the biggest hole in his game.
However, the team that drafts him will get a solid player who leaves everything he has on the field.
4. James-Michael Johnson, Nevada
Johnson has the type of demeanor that just screams middle linebacker in the NFL. He has swagger and is ultra-competitive.
Those traits will come in handy during Johnson's career, as he is an underdog at his position. He'll have to fight for every opportunity, but he should be successful and eventually land a starting gig.
5. Bobby Wagner, Utah State
Wagner is another smaller-school prospect who can hit like a ton of bricks. On top of that, Wagner shows some natural fluidity in his hips to be able to drop into coverage in the NFL.
He struggles to change directions, which could ultimately limit him in the NFL, but his positives far outweigh his negatives, and he should make an impact somewhere on defense early on in his career.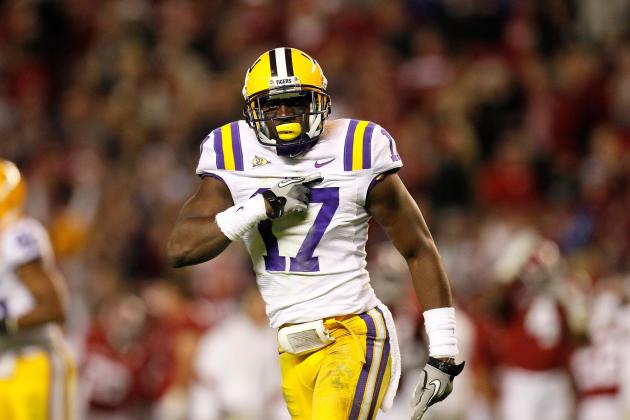 Kevin C. Cox/Getty Images

Cornerback is easily the deepest position in the draft, as teams will be able to find quality players extremely late in the draft.
1. Morris Claiborne, LSU
While Claiborne may not be quite the playmaker that former teammate Patrick Peterson was coming out of LSU, he is much better in coverage than Peterson was.
Claiborne is a true shutdown cornerback who can get physical at the line of scrimmage, as well as drop back into coverage, turn his hips and run with the receiver. He also has great ball skills and the ability to locate the football and cause the turnover.
He's easily the best cornerback prospect in his draft.
2. Dre Kirkpatrick, Alabama
While some might see Kirkpatrick switching from cornerback to free safety, I'm not one of those people.
Even with his size and physicality, Kirkpatrick can excel as a cornerback in the NFL. There are still areas that Kirkpatrick can improve, such as his footwork and sticking with his man downfield, but he is a violent tackler who can make plays.
Kirkpatrick will be a starting cornerback in this league for a long, long time.
3. Stephon Gilmore, South Carolina
Gilmore is still raw in some areas of his game, specifically his footwork, but his natural abilities make him an intriguing prospect.
He is a plus tackler who can press at the line of scrimmage but also has the ability to turn and run with receivers. There is a quickness to his game that often gets overlooked, but that quickness allows him to recover and make plays on the football.
Gilmore isn't quite in the same league as Kirkpatrick or Claiborne, but he still has what it takes to start in the NFL.
4. Janoris Jenkins, North Alabama
Had Jenkins never gotten in trouble at the University of Florida, it's likely that he would be considered the best cornerback prospect in this year's draft.
However, because of major character issues, Jenkins is now looking at a possible draft-day slide that could keep him out of the first two rounds. If that happens, whoever drafts him will be getting an absolute steal.
Jenkins is a true student of the game, and as long as he checks out mentally, he has all the tools to be an extremely effective cornerback in the league.
5. Josh Robinson, Central Florida
It's highly unlikely that Robinson will get drafted in the first round due to the need to develop as a prospect, but there is still a lot to like about his game.
He is an ultra-fast cornerback who displayed good balance and footwork throughout his college career. While he isn't overly physical, he does enough at the line of scrimmage to get his man off his route.
It will take some time for Robinson to make a full impact in the league, but he has great potential and a high ceiling.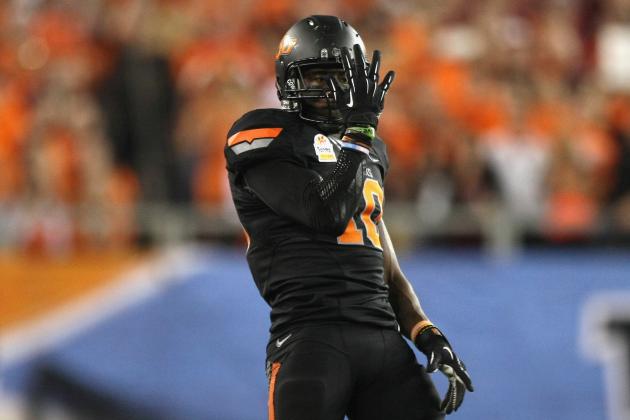 Donald Miralle/Getty Images

This is one of the weakest safety classes in recent history, and free safety is even weaker than strong safety.
1. Markelle Martin, Oklahoma State
Martin looks like the only free safety who will be ready to make an impact in his first year in the league.
While he isn't overly instinctive, he does possess all the other qualities teams look for in a free safety. He is extremely athletic with some natural coverage abilities, as well as speed and quickness.
2. Brandon Taylor, LSU
Injuries are the big question surrounding Taylor, as he missed some time two years ago due to a leg injury. However, he looked to be almost back to full strength during the 2011 season.
When healthy, Taylor displays natural coverage ability plus some pop when he hits opposing players. He may never make a huge impact on his team, but Taylor has the tools to eventually become a decent starting free safety.
3. Aaron Henry, Wisconsin
Henry is one of my favorite "sleeper" picks thanks to his size and athleticism. He isn't afraid to hit and can easily drop into coverage.
What hurts Henry the most is that he just doesn't seem to have a great understanding of his responsibilities and the game as a whole. If he can figure things out, Henry could end up being one of the better safeties in this draft.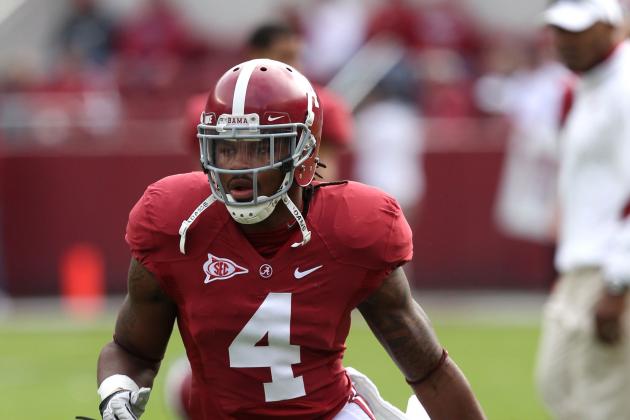 Mike Zarrilli/Getty Images

Strong safety is a little better prospect-wise than free safety, but it is still one of the weakest positions in the draft.
1. Mark Barron, Alabama
Barron will likely hear his name called in the first round and could even hear it called before the 20th pick.
He'll never be able to play the "center field" position at safety, but he should still have major success in the NFL. He is great against the run, can blitz and does well in coverage as long as the play is in front of him.
It won't take long for Barron to separate himself from every other safety drafted this year.
2. Harrison Smith, Notre Dame
When you watch Smith play, all you can see is a football player. Despite not being the most athletic or physical prospect, Smith has a great understanding of his role on the field and is capable of doing what is necessary to succeed.
He has plus instincts with some natural coverage abilities to where he could become a playmaker early in his career.
3. George Iloka, Boise State
Iloka and Smith are extremely close as far as prospects go, but Smith gets the nod because of his plus instincts.
With that said, Iloka is no slouch of a player. He is a bigger prospect for the safety position, but he has some natural athleticism and plays much quicker than he looks.
He isn't afraid to get physical with opponents, and his overall skill set makes him look like a potential starter in the NFL.