2012 NBA Draft: 10 NBA Draft Prospects You May Not Know
Ethan Miller/Getty Images
Damian Lillard: Oakland, CA native has all the raw talent.
Yes, the NFL draft gets all the attention. Why shouldn't it? It's a three day spectacle that has pundits and fans alike going ga-ga for months. Average Joe's pour over data and statistics of players they have never heard of from schools they have never heard of. They read dozens and dozens of mock drafts. On draft day, if ESPN's Mel Kiper Jr. says on television the sixth round offensive guard from Southeast Missouri State is a solid pick, then it is time to text your buddy that your team just got a steal. Because if Kiper says it is true, it must be.
Let us be honest though, unless you are the most hardcore of hardcore college football fans, or do not have a day job, you do not have time to familiarize yourself with the draft pool past the first few rounds.
This is why the NBA draft has always been the best and most fun draft. It is only two rounds long and takes one day to complete (I am looking at you NFL). What also makes it fun is that we usually know who the players are. There is rarely any of that "wait who did we just take" mantra that is associated with the NFL, NHL and MLB drafts.
The 2012 NBA draft is a little more than two months away. We have all heard of the big names. Kentucky's Anthony Davis and Michael Kidd-Gilchrist, Kansas' Thomas Robinson, and North Carolina's Harrison Barnes. We know who most of the players that will shake David Stern's hand are, but that does not mean there are not several players we may not know too much about.
These are 10 players you probably have not heard enough of, but you should know who they are. Why? These 10 have the talent to become very good players in the league one day. This is not a definitive top-10 list, but rather a look at 10 players not getting enough recognition.
Begin Slideshow

»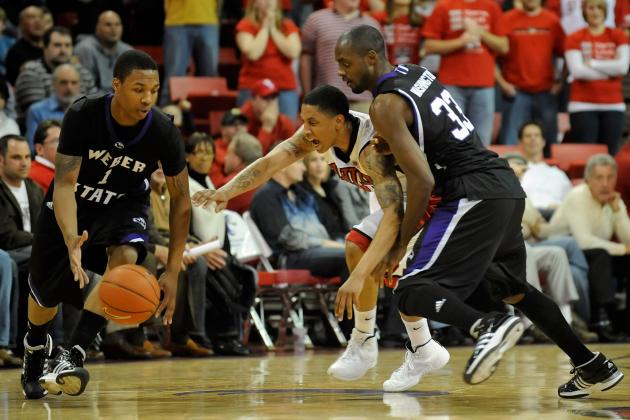 Ethan Miller/Getty Images
Weber State's Damian Lillard: A do-it-all pure scorer.
Weber State guard Damian Lillard has all the tools to become a top flight guard in the NBA. A native of Oakland, California, Lillard was under-recruited coming out of high school. He comes from a family full of athletes. His older brother, Houston, is the starting quarterback for the IFL's Tri-Cities Fever. Damian was only 5'11" his senior year at Oakland High, but he could always score against anybody. Lillard, with a chip on his shoulder, took his talents to Weber State out of the Big Sky Conference.
All the guard did is finish second in school history with 1,934 points. His 784 points and 94 three-pointers this past season were wildcat single-season records. He averaged 24.5 points per game, 5.0 rebounds per game and 4.0 assists per game, while shooting 46.7 percent from the floor and 40.9 percent from three.
Now at 6'2", Lillard is one of the most prolific scorers in this year's NBA draft. Lillard is not a true point guard however—which will be his position at the next level.
He needs to work on his decision-making, but he has the quickness and has good size for an NBA point guard. He does posses the ability to be a playmaker and make those around him better. Playing in the Big Sky Conference, Lillard did not always get the opportunity to shine against elite competition.
Lillard has the ability to pull up off the dribble and knock down jump shots, and also blow by defenders with his athleticism. Plays good on-the-ball defense and has good lateral quickness.
Lillard will not fall too far in the first round. If he is not taken in the top 10, he will not slip past the Phoenix Suns wherever they draft.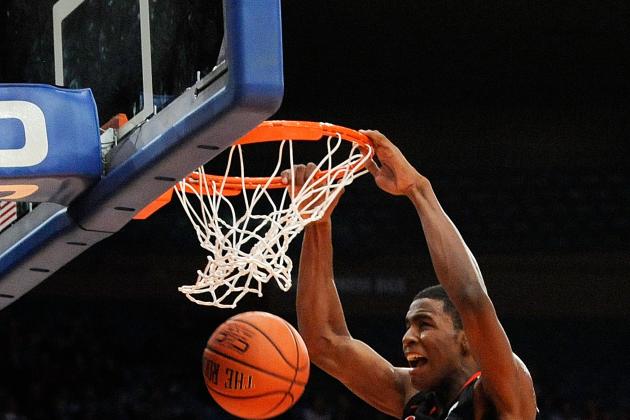 Patrick McDermott/Getty Images
Harkless has a game that is NBA ready.
Smooth. That is the best way to describe St. John's forward Moe Harkless. The forward enters the NBA draft after spending just one season in Queens. The New York City native is ready for primetime though. Overshadowed by some of the big name freshman in college basketball last season, Harkless took home the Big East freshman of the year award.
Harkless led the St. John's "Fresh Five" (the Johnnies started five freshman last season) during a rebuilding year for head coach Steve Lavin. He averaged 15.3 points and 8.3 rebounds per game. Harkless does everything well. He possesses a wide repertoire of offensive moves, being able to both put it on the floor and use both hands. Harkless is good off the dribble and possesses strong athleticism. Don't leave him open either—he will knock down the jumper.
Harkless is 6'8", but at just 215 pounds, he could benefit from putting on some added muscle. Harkless projects as a three/four at the next level. He will have to become a better perimeter shooter (only shot 20.2 percent from three last season), and needs to work on going to his left better. Anyone who watched him put 30 and 13 on Duke last season knows this kid has the game.
Harkless could have been a Top Five pick if he had stayed another year in college. He will still be a mid-first round pick this year.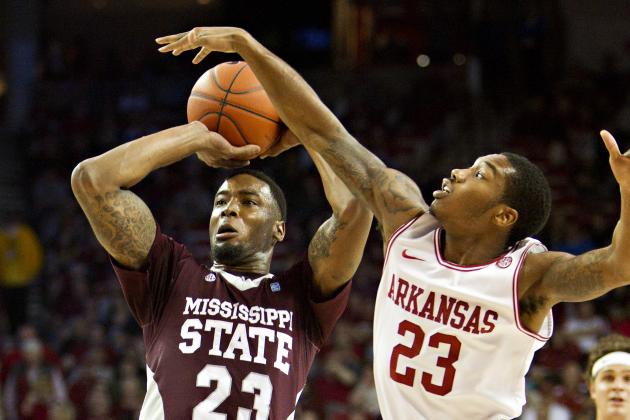 Wesley Hitt/Getty Images
Miss St. Forward Arnett Moultrie
Mississippi State junior forward Arnett Moultrie often gets overshadowed by some of the other forwards in the SEC. But Moultrie has talent, no doubt about it. Moultrie averaged 15.8 points per game and 10.6 rebounds per game his junior season.
The UTEP transfer is a very gifted athlete for someone his size (6'11"). Moultrie has tremendous leaping ability and is great in the open floor and on the receiving end of alley-oops. The Memphis native is good around the rim, possessing good hands and put-back ability. He is also a surprisingly good free throw shooter, hitting 78.0 percent from the line his junior season.
Strangely enough, for someone his size and with his athleticism, Moultrie does not block many shots. He never averaged more than 0.9 blocks a game during his three seasons with the Bulldogs. He needs to get stronger in the NBA, which could help him in the swat department. Moultrie is an active defender though and has very strong rebounding instincts.
Moultrie will be drafted in the first round, probably a mid-late first round selection.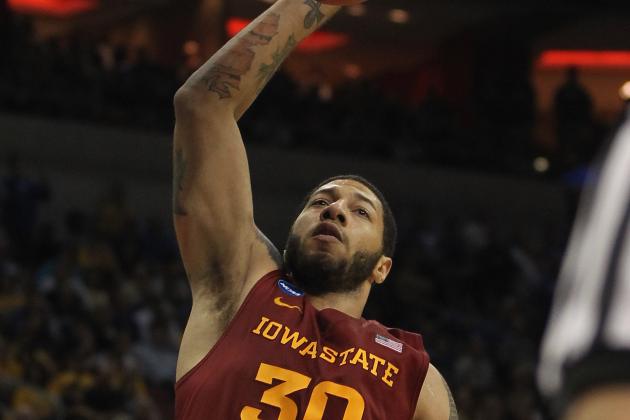 Jonathan Daniel/Getty Images
Iowa State's Royce White.
There is not a more unique and versatile talent in the NBA draft than Iowa State forward Royce White. The Minnesota native only played one year of college basketball. White committed to his home state school Minnesota out of high school in 2009, but legal issues prevented White from ever suiting up. He ended up quitting the team and transferring to Iowa State.
The talent cannot be denied. At 6'8"and weighing over 270 pounds, White averaged 13.1 points, 9.2 rebounds and 5.1 assists per game last season, leading the Cyclones back to the NCAA tournament. White combines incredible strength and athleticism for someone his size. Cyclone's head coach Fred Hoiberg, a former NBA player, allowed White to be the primary ball-handler for the team.
White is somewhat turnover prone and needs to improve his jump shot. Because of his unique skill-set and versatility, White will have the ability to play the 3 and the 4 at the next level. He will be limited as a defender against taller power forwards at the next level.
White projects as a late first round draft pick.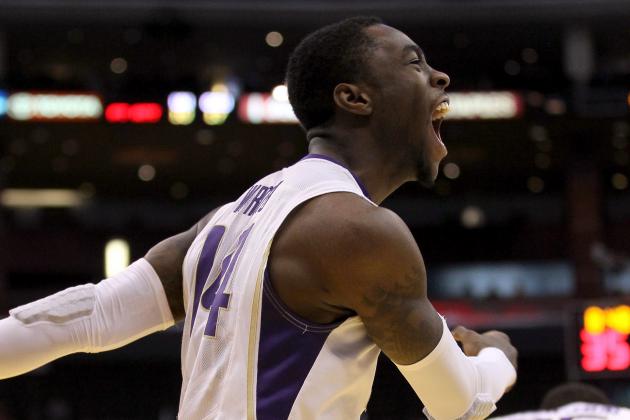 Stephen Dunn/Getty Images
Washington's Tony Wroten Jr.
Tony Wroten Jr. leaves Washington after his freshman year, but he has an NBA skill-set and has a fairly polished game for a 19-year-old. Wroten is a super athletic lefty combo guard who uses his tremendous athleticism to blow by defenders and finish around the rim.
Wroten averaged 16.7 points and 5.0 rebounds a game for the Huskies. In a down year for the Pac-12, Wroten and fellow freshman stud Terrance Ross helped Washington win the Pac-12 regular season title. The Huskies were bounced in the quarterfinal round of their conference tournament and did not get an invite to the big dance.
Wroten has tremendous court vision for a combo guard. At 6'5", he will likely be a 2-guard at the next level. He can play the point, but averaged 3.8 turnovers his only season at Washington. For the most part though, Wroten plays a very controlled game and lets the game come to him. Has great body control and has the ability to use both hands.
Wroten needs to work on his jump shot when he has a hand in his face. He only shot 16.1 percent from three last season.
Wroten could have benefited from another year in college, and will likely need some time to adjust to the NBA game. He will not blow by defenders like he was able to in college, and needs to work on moving without the ball. The Seattle native should be a late first rounder.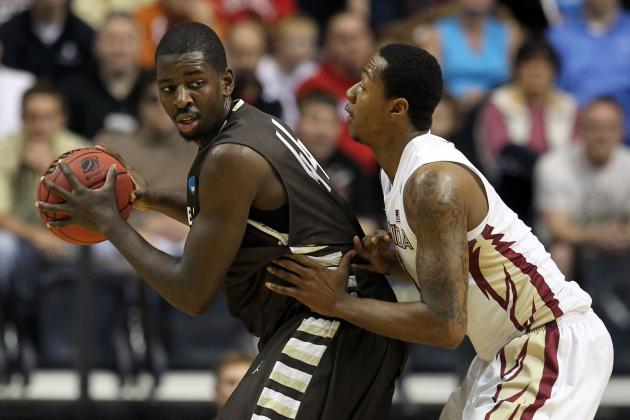 Jamie Squire/Getty Images
St. Bonaventure's Andrew Nicholson.
St. Bonaventure's Andrew Nicholson is an intriguing prospect. He is a versatile forward, who at 6'9" has a good inside/outside game. Nicholson has tremendous length, which allows him to play much bigger than 6'9".
The senior averaged 18.4 points and 8.5 rebounds per game last season, leading St. Bonaventure to an Atlantic-10 Championship and NCAA tournament berth. Nicholson always had a good stroke on his jumper, but it was not until this past season that he emerged as a very good shooter, hitting 23 of 53 three pointers taken.
Nicholson also has a tremendous basketball IQ and can play in any offense because of it. His skill set has improved every season in college, and there is still plenty of upside here.
Nicholson should sneak in the late first round.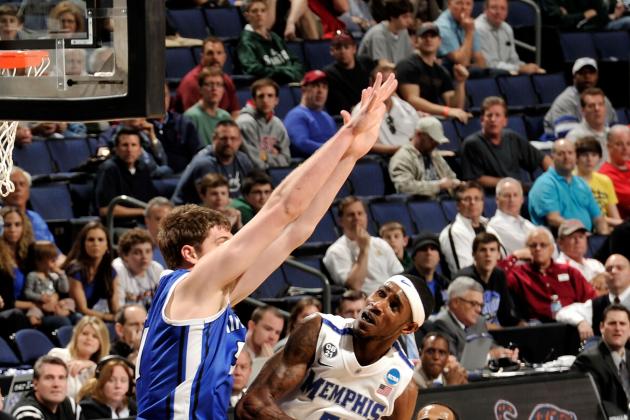 Jamie Sabau/Getty Images
Memphis Guard Will Barton.
Will Barton leaves Memphis after his sophomore season, and made some tremendous strides from his freshman to sophomore year. Barton struggled mightily with his shot selection and decision-making his freshman year. The Baltimore native made tremendous improvements his sophomore year.
Barton has the size, strength and athleticism to play in the NBA. At 6'6" he projects to be a classic wing player. He averaged 18.1 points and 8.1 rebounds per game as he guided the Tigers to an NCAA tournament berth last season.
As mentioned before, Barton's shot selection improved mightily from his freshman to sophomore year. After shooting 42.8 percent from the floor his freshman season, Barton improved to 50.9 percent last season. He also improved from long range—hitting 26.5 percent his freshman year and 34.6 percent last season.
Barton is a great open court player and loves to attack the basket. Defensively, his quickness and athleticism translates very well to the NBA. Barton will need to put on more muscle, however, if he wants to match up with some of the more physical wing players in the NBA. Barton also is a tremendous rebounder for someone his size.
There is still plenty of upside here. If given time to develop Barton could become a very good NBA wing. He will be drafted somewhere in the second round.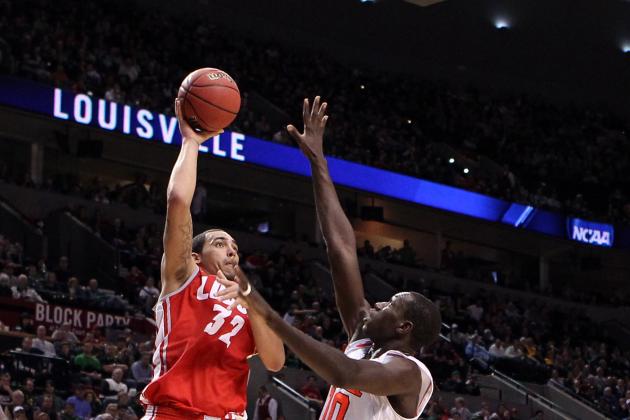 Jed Jacobsohn/Getty Images
New Mexico's Drew Gordon
New Mexico senior forward Drew Gordon enters the NBA draft after winning the Mountain West Conference most valuable player award, and leading the Lobos to the conference title. The UCLA transfer averaged 13.4 points and 10.9 rebounds per game his senior season.
Gordon had a great NCAA tournament this past season. He had 21 points and 14 rebounds against Louisville in a third round loss. Gordon is a good finisher around the rim, and has above average athleticism. He is a good defender but not a big time shot-blocker. Gordon's biggest strength is his rebounding. He is great at boxing out and getting position.
At 6'9" and weighing close to 250 pounds, Gordon has the size to be a power forward in the NBA. He still has not developed into a huge offensive threat, and questions remain about how much more potential he has.
Gordon should get drafted in the second round of the draft. He will probably never develop into a big time scorer, but can be a solid NBA player because he is a hard worker and because of his ability to rebound and defend.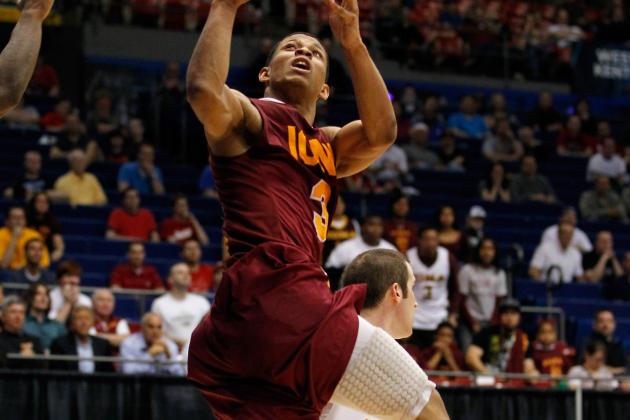 Gregory Shamus/Getty Images
Iona's Scott Machado
The last time we saw Iona senior guard Scott Machado, his Gaels were in the process of blowing the biggest lead in NCAA tournament history to BYU. With the epic defeat in his rear-view mirror, the Queens native enters the NBA draft and projects as a mid to late second rounder.
Machado is one of the best pure point guards in this year's draft class. Machado was one of the best facilitators in the country last season (thanks to new head coach Tim Cluess and his up and down style), averaging 9.9 assists per game. He has tremendous court vision and knows how to make the players around him better. Machado has tremendous quickness and one of the best first steps of anyone in this draft class. Machado is also a good shooter. He shot 40.4 percent from three during his senior year, and has averaged more than 10 points per game his last three seasons.
Machado falls short in the half court offense, where he is less dynamic. He is also a sub-par defender, which is not good considering his size. Machado needs to improve his lateral quickness on defense, where he often gets beat off the dribble.
Machado will have a chance to make an NBA team that needs a backup point guard. He has good instincts and is a very good passer. He would be good coming off the bench in spurts, given his quickness and ability to facilitate. He has the ability to become a solid NBA point guard if put into the right system. Hey, Ramon Sessions was the 56th pick back in 2007.
Eric Francis/Getty Images
Virginia's Mike Scott
Virginia senior forward Mike Scott is one of the older players in this year's NBA draft. Scott was granted a medical redshirt his senior season due to an ankle injury. 23 years old now, Scott averaged 18.1 points and 8.4 rebounds per game this past season. He proved that his injuries are a thing of the past.
Scott is very polished on offense and can score both away from the basket and in the post. Scott can use both hands very well, and is an above average jump shooter while possessing a decent right handed hook. He can move without the ball and is good at establishing post position.
Scott shot 80.0 percent from the free throw line last season, which is very good for someone 6'8". Scott has continued to develop his offensive game, and he still has potential and room to improve. At 23, his body already has a fairly good build and it helps both offensively and defensively.
If drafted, Scott will be a mid-to-late second round pick, and could make a good team very happy because he is a hard worker, good defender, and does enough offensively to keep defenses honest.
Who else are some of the more underrated draft prospects this season?