2012 NHL Free Agents: Ranking Most Overlooked Studs
April 13, 2012
Tom Szczerbowski/Getty Images
The 2012 NHL free-agent class features several high-end players, including Devils captain and play-making left winger Zach Parise, Predators assistant captain and shutdown defenseman Ryan Suter and Capitals sniper and left winger Alexander Semin. 
The drop-off after these impact players is pretty significant.  There are a few second-line forwards, top four defensemen and players with potential.  However, there are several other under-the-radar players that teams might be able to sign for a relatively low price to add scoring depth or some grit to their lineups.
Kyle Wellwood (Center)

Wellwood battled some nagging injuries last season with the San José Sharks and signed with the freshly relocated Winnipeg Jets before the start of the 2011-2012 season.  The 28-year-old started his career in Toronto, where he scored more than 40 points on two occasions.  He also scored 32 goals in two seasons with Vancouver before his shortened stint with the Sharks. 
Wellwood scored 18 times and recorded 29 assists for 47 points (a career high) last season with the Jets, averaging just under 15 minutes per game.  He fits for teams looking to add some scoring depth down the middle and/or a proven third-line center.  In addition to decent scoring stats, Wellwood has finished with a negative plus/minus rating only once in his eight-year career.

Jason Garrison (Defenseman)

Relatively unknown to casual hockey fans before the 2011-2012 season, Garrison exploded for 16 goals and 33 points with the Florida Panthers this season, more than tripling his goal production from the previous season.  Garrison has good size (6'2", 220 lbs) and averages over 23 minutes of ice time for the Panthers.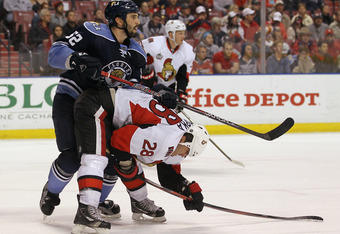 Bruce Bennett/Getty Images
He played much of the season paired with NHL All-Star Brian Campbell, complimenting the speedy offensive-defenseman very well and showing he has legitimate top-four defensman skills.  Teams looking to add a little offense from the blue line might pursue Garrison this summer if he chooses not to re-sign with the team who took a chance on the undrafted University of Minnesota-Duluth product.
Taylor Pyatt (Left Wing)
After a successful career with the Sudbury Wolves of the Ontario Hockey League, the New York Islanders selected Pyatt with the eighth overall selection in the 1999 NHL entry draft.  Pyatt has scored 10 or more goals in eight of his 12 NHL seasons, and he scored 23 with the Canucks in '06-'07.
He had a subpar season with the Coyotes, scoring nine goals, adding 10 assists and finishing minus-four, but did he battle some injuries late in the season, which might have been a factor in his lack of production.  Teams looking to take a chance on the 30-year-old with the potential to score 15 to 20 goals might send Pyatt an offer.
Arron Asham (Right Wing)

Asham has battled several lengthy injuries in his past two seasons with Pittsburgh, but he played a big role on the team's fourth line when healthy.  The 34-year-old is near the end of his NHL career, but he can still scrap with the league's best.  He's scored 10 or more goals four times in his career, most recently with the Flyers in '09-'10.
If he can stay healthy, Asham still has the skill and work ethic to be a fourth-line grinder for most NHL teams.  Teams looking to add a little grit and intimidation to their lineup might consider Asham this summer.
None of these players will make a huge impact on an NHL team, but they can provide good depth at a relatively low cost.