Every football fan has seen it countless times. The wide receiver in the slot runs a slant route, makes the catch and goes down anticipating the inevitable defender approaching. He'll pop up, content with the eight or 10-yard gain, and line up for the next play.
Victor Cruz is not your typical wide receiver. He is not the type of player who settles, or accepts anything less than great. If he did, he probably would have quit a long time ago.
As a star athlete at Paterson Catholic High School, he failed to receive one scholarship from a Division-I school. He did receive offers from the University of Massachusetts and Delaware however he was unable to achieve a high enough grade on his exams to qualify for an NCAA scholarship.
Cruz grew up in Paterson's Fourth Ward, a community notorious for misfortune. He could have easily taken his high school trophies and impressive accolades and followed the downtrodden path that so many before him had taken, filled with food stamps and minimum wage jobs.
Don Brown, the head coach at UMass saw potential in the young wide receiver although there were concerns about not only his relatively small size (5'9'' 165 lbs.) but also his capabilities in the classroom. With Brown's help Cruz was admitted into Maine's Bridgeton Academy, a one-year postgraduate school that accepts student-athletes in need of academic improvement and athletic maturation.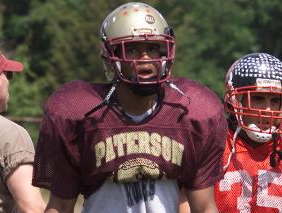 By the fall of 2005, Cruz had attained the necessary test scores and he stood on the sidelines at UMass as a redshirt freshman.
However Cruz continued to struggle academically. For the second time in a year Cruz was kicked out of college, losing the scholarship that he had worked his whole life to obtain.
"It was too embarrassing," Cruz told Bill Pennington of the New York Times. "If I went out, then people would see me and they'd ask, 'What are you doing here?' The neighborhood thought I was off doing great things at UMass, and I'd have to tell them the truth. That was humbling."
In the spring of 2007, while Cruz was back in New Jersey taking online courses to boost his grades in an attempt to regain admission to UMass, he got a phone call from his brother that changed his life.
Cruz's father had died at age 50 while rumors of suicide circulated. His dad worked for 30 years as a firefighter and succeeded in keeping Cruz away from the temptations of Paterson's ubiquitous criminal lifestyles. Serving as one of Victor's greatest inspirations he constantly reminded him that football could be his ticket out, his salvation.
See this is the part of the story where 99 percent of us give up. This is where the typical receiver catches the short pass and hits the turf. This is where Cruz is different.
Cruz was given another chance to play football, but not before a lengthy lecture from the associate dean at UMass. He went on to make a name for himself in his final two seasons catching 130 passes for nearly 2,000 yards although concerns regarding his speed and size kept him from being selected in the NFL draft.
We all know where the story goes from here. Cruz got a tryout with the Giants and impressed coaches and scouts enough to secure a roster spot. A year later, the receiver set the Giants' single-season receiving record with over 1,500 yards.
One of this season's most memorable plays came in Week 16 versus the Jets with their playoff hopes on the line. The Giants, down 7-3, were pinned on their own one-yard line facing a daunting 3rd-and-10.
Manning dropped back and quickly fired to find Cruz for a 10-yard gain. The average receiver, satisfied with the gain, hits the turf and gets ready for a new set of downs. Not Victor Cruz. Cruz broke one tackle, broke two tackles, and 99 yards later he had tied an NFL record; catching his breath before breaking out in the salsa dance that he's made famous.
Unbelievable? Yes. Impossible? Not for Cruz. Cruz was brought into this world pinned on his own one-yard line. He's been facing 3rd-and-longs his entire life.
That unforgettable touchdown epitomized the journey that Cruz has taken to where he is today. He has become a source of inspiration for football fans, his family, and all those who are less fortunate.
Perhaps his father said it best with a piece of advice that he gave his son many years back.
"Never settle for anything less than greatness."