2012 NFL Draft Predictions: Late-Round Steals Who Will Make an Immediate Impact
April 13, 2012

Chris Graythen/Getty Images
Just because a player goes in Round 1 doesn't mean he's going to make an immediate impact. By that same token, just because a player is selected in the later rounds doesn't mean he can't immediately contribute.
Take current Seattle Seahawks receiver Doug Baldwin, for example. Baldwin went undrafted in 2011, but was given an opportunity to play and took full advantage. He finished his rookie season as the Seahawks' leading receiver and has increased expectations going into 2012.
The following prospects are considered late-round selections; but if a guy like Baldwin can make such an impact despite going undrafted, the odds of these guys doing the same is that much greater.
Keith Tandy: CB, West Virginia
An underrated performer at his position, Keith Tandy presents great size for a cornerback at 5'10", 200 pounds. Unfortunately for Tandy, he's being overlooked because other cornerbacks—mainly those from the SEC—have earned more exposure.
Regardless, Tandy proved his production from 2009 through 2011 with 13 picks, 37 defended passes and 188 tackles for the Mountaineers. While Tandy does need to work on top speed and consistent body control, his field awareness and reliability as a tackler will get him on the field.
He'll likely begin as a dime cornerback against spread offenses and/or in strict passing situations, but Tandy has the potential to develop as a No. 2 corner with improved quickness. Tandy could also transition to safety with his size, instincts and knack for being around the ball.
Jeff Fuller: WR, Texas A&M
Although 2011 was a down year for Jeff Fuller, it was a disappointing campaign for Texas A&M in general. The Aggies had high expectations after a strong 2010 season, and Fuller had increased potential after gaining 1,066 yards on 72 catches and scoring 12 touchdowns.
The man possesses impressive size at 6'4" and 220 pounds and is a better route-runner than given credit for. As for 2011, it wasn't a terrible year. Fuller caught 70 passes for 828 yards and scored six times.
Provided that Fuller works at changing directions quicker and becoming a more willing run-blocker, his rookie impact will be impressive. Fuller has solid top-speed and can get good yards after the catch, but improved acceleration at the snap is needed.
Still, Fuller's capability to stretch a defense and dominate as a blocker makes him a great late-round selection.
Brett Roy: DE/DT, Nevada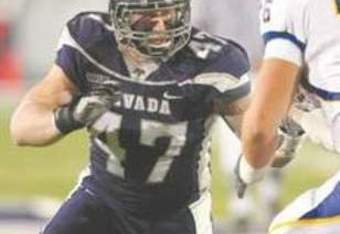 If there's one thing a franchise can count on with Nevada's Brett Roy, it's improved consistency and persistence. Every year for the Wolfpack, Roy produced more and more with impressive numbers.
Between 2010 and 2011, Roy combined for 115 tackles, 33 tackles for loss, 18 sacks and nine passes broken up. A constant menace in the backfield, Roy quickly reads and reacts fast to developing plays and is polished at the basic fundamentals.
He obviously comes in undersized for a defensive tackle at 6'3" and 275 pounds, and Roy does need to get more explosive. Nonetheless, he's an aggressive defender that maintains lateral balance and control to make plays all over the field.
A potentially versatile prospect, Roy can contribute as a defensive tackle in strict passing situations while developing as a defensive end early on.
Nate Potter: OT, Boise State
One of the more underrated offensive tackles in the draft, Nate Potter was part of an offensive line at Boise State that allowed just 31 sacks of quarterback Kellen Moore over the past four seasons.
Additionally, Moore was sacked just 18 times from 2009 to 2011, when Potter was arguably the best man protecting the pocket. He possesses ideal size for an NFL tackle with good athleticism and lateral control.
That said, Potter does need to work at initial quickness and strength. His solid foundation of experience and consistent production, though, bodes well for upgrading a team's offensive line.
Also, the Broncos averaged 172 rushing yards per game last season, so his run-blocking skill set goes overlooked and only makes Potter a more appealing addition for the 2012 season.
John Rozum on Twitter.