NBA Power Rankings: Streaking Boston Celtics Surge into Top 10
April 13, 2012

Stephen Dunn/Getty Images
The Boston Celtics have gone from a team that most were advocating should be blown apart before the trade deadline to a legitimate championship contender over the span of the last month.
As a result, the team has moved up several spots in the latest batch of NBA power rankings.
Kevin Garnett's move to the starting center position, Paul Pierce's hot shooting from behind the arc and Rajon Rondo asserting himself as an elite point guard have all played a big part in that turnaround. 
Will it be enough for the Celtics to make a deep playoff surge? The club has moved up to inside the top 10, and nobody is doubting what Boston is capable of doing now.
1. Chicago Bulls, 45-14
It's hard to argue against any other team having more impressive depth than Chicago considering how the team has fared this year.
Derrick Rose's health has been the subject of conversation, but it's the second unit that should be the difference-maker in the postseason.
2. Oklahoma City Thunder, 42-16
Oklahoma City doesn't look as infallible as the team had previously, but it's better to get the kinks out before the playoffs start.
Neither Kevin Durant nor Russell Westbrook can afford poor shooting nights if this group is going to fire on all cylinders.
3. Miami Heat, 40-17
There's no question it's been a rough stretch for Miami, but that doesn't mean we should be overlooking the talent in South Beach.
This is a club that remains very dangerous in a seven-game series regardless of the opposition.
4. San Antonio Spurs, 41-16
San Antonio is a beatable team, but another club has to play near-perfect basketball in order to outlast the effort the Spurs put forth on a nightly basis.
Another incredibly deep team, the one thing the Spurs will have to worry about moving forward is a definitive lack of size beneath the rim.
5. Los Angeles Lakers, 37-22
Remember when Bill Simmons predicted the Lakers would wind up in the lottery? That hasn't exactly happened.
Kobe Bryant is still a force to be feared, but the play of Pau Gasol and Andrew Bynum will be critical for Los Angeles' hopes of advancing far in the postseason.
6. Boston Celtics, 34-24
It wasn't very long ago that almost everyone wrote off the Celtics, but this veteran group is coming together at the right time.
Playing their best basketball of the season, moving to a smaller lineup with Kevin Garnett at center has really paid huge dividends.
7. Los Angeles Clippers, 36-23
It wasn't all that long ago that the Clippers were seemingly falling apart at the seams, but times have definitely changed.
Nick Young's arrival hasn't done much to boost the team, but Chris Paul is carrying this team and is a legitimate MVP candidate in his first season in Los Angeles.
8. Memphis Grizzlies, 34-24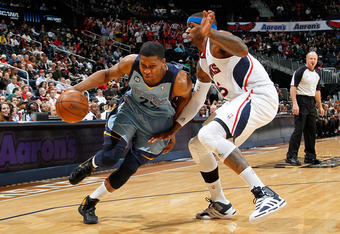 Kevin C. Cox/Getty Images
Memphis was the team that nobody wanted to face in last year's playoffs, and it's shaping up to be the same case in 2012.
Zach Randolph is knocking off the rust after missing extended time, and there is a lot to like about what the Grizzlies are doing at both ends of the floor.
9. Atlanta Hawks, 34-24
It's incredible how well the Hawks have fared without Al Horford for most of the season, and Josh Smith isn't getting nearly enough credit.
He's putting up All-NBA team numbers with averages of 18.9 points, 9.7 rebounds, 1.4 steals and 1.8 blocks.
10. Indiana Pacers, 36-22
Indiana has been an inconsistent team this season, but the Pacers have exceeded expectations and are successfully building on the encouraging effort we saw last year.
The team still needs another piece to make a legitimate push, but Indiana is going to give the opposition an absolute dog fight in every game they play in the playoffs.
11. New York York Knicks, 30-28
There aren't enough good things to say about the type of basketball the Knicks have played under Mike Woodson.
Carmelo Anthony is averaging 32.4 points per game in April while shooting better than 50 percent from the floor, and it's not a surprise the Knicks are rising in the rankings as a result.
12. Orlando Magic, 34-24
Dwight Howard's absence from the lineup has shown us all exactly what the Magic would look like without Superman in the middle.
Bottom line: it isn't pretty. Expect another early postseason exit from Orlando.
13. Dallas Mavericks, 33-26
The Mavericks made a lot of changes in the offseason, and there seems to be very little hope of Dallas repeating as champions this year.
The Lamar Odom experiment has grabbed most of the headlines, but Dirk Nowitzki just doesn't have enough help on this team as it's currently constructed.
14. Philadelphia 76ers, 31-27
It sure seems like a long, long time ago that the Sixers were sitting atop rankings and looking like the most surprising team of the 2011-12 season.
Philadelphia is going to have a tough time in the playoffs, where star power usually wins out in a seven-game series.
15. Houston Rockets, 32-26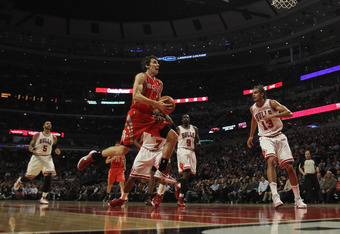 Jonathan Daniel/Getty Images
Kevin McHale has this team playing impressive basketball given the injuries to Kyle Lowry and Kevin Martin.
Although Lowry is now back in the fold, the real story has been Goran Dragic, who has made a name for himself as a starting point guard in this league heading into free agency this offseason.
16. Denver Nuggets, 32-26
Give credit where it's due: general manager Masai Ujiri knew his team wasn't winning a title with Nene, so he took a gamble JaVale McGee while freeing up a large sum of the team's payroll. 
The Nuggets really have something in rookie Kenneth Faried, and there is good reason to believe a core of Danilo Gallinari, Ty Lawson and Faried will be a fun one to build around going forward.
17. Phoenix Suns, 30-28
Steve Nash's level of play this season has been incredibly fun to watch, but the Suns remain on the outside looking in at the playoffs.
It's going to take an extraordinary finish to the year to make it into the postseason, but Phoenix looks much better than it did at the start of the year.
18. Utah Jazz, 31-28
The Jazz continue to surprise with their impressive play this year, but injuries may be catching up to this young squad.
Devin Harris has been playing really well of late, and the fantastic seasons from Paul Millsap and Al Jefferson should not be taken for granted.
19. Milwaukee Bucks, 28-30
Milwaukee had hopes of securing a spot in the postseason, but it's going to be an uphill battle after losing to the Knicks on Wednesday.
Brandon Jennings and Monta Ellis are still figuring out how to balance the backcourt, but the real issuefor the Bucks is the lack of size on their roster against competition with more length.
20. Portland Trail Blazers, 28-31
The "tanking" effort isn't going so well as the Trail Blazers have turned up the effort under interim coach Kaleb Canales.
However, the news that LaMarcus Aldridge will be out for the remainder of the season won't help this team finish on a high note.
21. Minnesota Timberwolves, 25-35
The Timberwolves are just 4-15 since Ricky Rubio tore his ACL in March.
As if that doesn't hurt enough, Kevin Love is out indefinitely after suffering a concussion and his brilliant season is now in jeopardy.
22. Toronto Raptors, 20-39
Toronto is a team playing for the future, but Dwane Casey has his Raptors playing basketball the right way.
With Jonas Valanciunas coming over next season and a high draft pick in a loaded 2012 class, the Raptors could be a very different team in 2012-13.
23. Detroit Pistons, 22-36
Joe Dumars drafts really well, but the cumbersome contracts of Ben Gordon and Charlie Villanueva are major problems to deal with in the offseason.
There is a good chance the Pistons will use its amnesty clause on one, but finding a trade partner for the other will be more than tough unless Detroit takes back an equally bad contract.
24. Golden State Warriors, 22-36
Mark Jackson guaranteed that his Warriors would make the postseason this year, but that was before Stephen Curry's ankle woes and the Monta Ellis trade.
This team doesn't have financial flexibility moving forward, so this is the group that Dubs fans should get used to seeing on the floor.
25. Sacramento Kings, 19-40
There is talent on this roster, so why is the team's overall record so lackluster? Perimeter defense.
Until the Kings learn to communicate on the defensive end of the floor, it won't matter what they do on offense.
Chris Chambers/Getty Images
26. New Jersey Nets, 21-38
It's going to take a plan that nobody knows about for Deron Williams to realistically entertain the notion of singing a long-term deal with the Nets.
It's been an injury-plagued year for the Brooklyn-bound ballers, and the best story surrounding this team has been the play of D-League call-up Gerald Green.
27. New Orleans Hornets, 16-42
The Hornets are 3-2 with Eric Gordon in the lineup, but the problem is that he's been limited to just five games to date all season.
New Orleans just doesn't have the depth to overcome injuries, and all of the key contributors on the roster have missed various amounts of time this year due to some type of ailment.
28. Cleveland Cavaliers, 19-37
Cleveland's season has really gone south after fighting for a postseason spot early in the year, and injuries to Kyrie Irving and Anderson Varejao are big reasons as to why that's the case.
Lester Hudson has given Cavs fans a reason to get excited as the season ends, and with plenty of future draft picks, the team's future should be much brighter.
29. Washington Wizards, 14-44
It's been a tougher season for the Wizards than most could have imagined. Bottom line, this is a team that needs a lot of help.
A coaching change, major trades and a lack of depth is a lot to overcome for a young team. It doesn't help that Andray Blatche and Rashard Lewis have been nothing short of useless all season long. 
30. Charlotte Bobcats, 7-50
Charlotte's record really speaks for itself.
The Bobcats have a monumental amount of work to do before anyone can believe that they are on the right track.