Fantasy Football 2012: The Pros and Cons of the Top 10 Fantasy Football Picks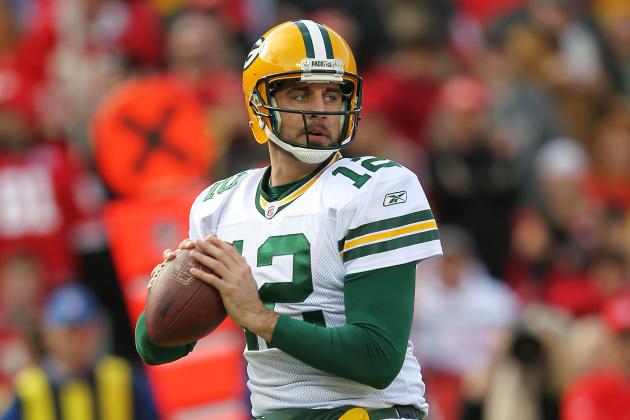 Jamie Squire/Getty Images

There is no such thing as a sure thing.
Between injuries, contract issues and overall bad play, no player is immune from being tagged with the most unpleasant of fantasy distinctions: the bust.
When drafting your fantasy football team, you must—like most all other rational people do—weigh the pros and cons regarding each player you're thinking of selecting. While ultimately, most of the players mentioned in this slideshow will give you what you expect, there is still a measure of risk with every pick.
So, let's zero in on the top 10 picks to target in fantasy and weigh each player's pros and cons.
Begin Slideshow

»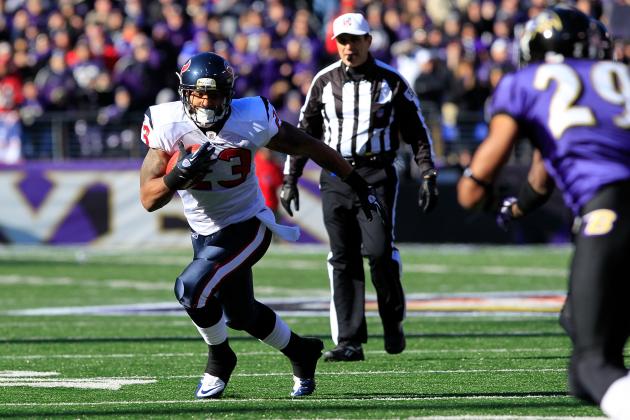 Chris Trotman/Getty Images

What's to like: For two straight years, Foster has been a steady force behind the Texans offense and has been arguably fantasy's number one running back. At 26, Foster should be primed to hit his peak.
What's not to like: Between his nagging hamstring injuries last year and Ben Tate also on the squad to eat into his carries, Foster has the chance to disappoint.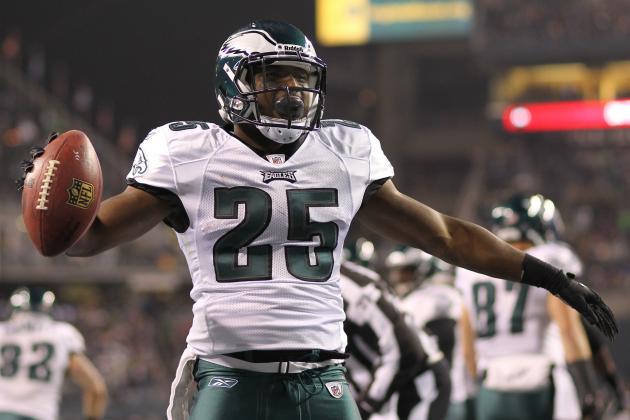 Otto Greule Jr/Getty Images

What's to like: After smashing career highs in rushing (1,309 rushing yards) and total touchdowns (20) while blossoming into a complete back, McCoy looks primed to keep it up for years.
What's not to like: Admittedly, not a lot. If you want to nitpick, the Eagles have a so-so offensive line and if Michael Vick struggles or gets hurt, you can see teams stack the box to contain McCoy.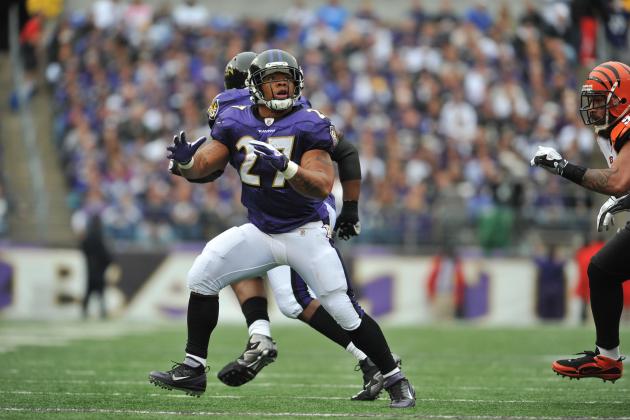 Larry French/Getty Images

What's to like: As the game's preeminent dual-purpose back, Rice has the ability to run the ball just as well as catching the ball. With Joe Flacco and the passing game being inconsistent, the offense will once again run through Rice.
What's not to like: There is talk that Rice is not happy about being placed with the franchise tag and may decide to holdout. Considering what Chris Johnson did for his owners last year when placed in the same predicament, this could have "disaster" written all over it.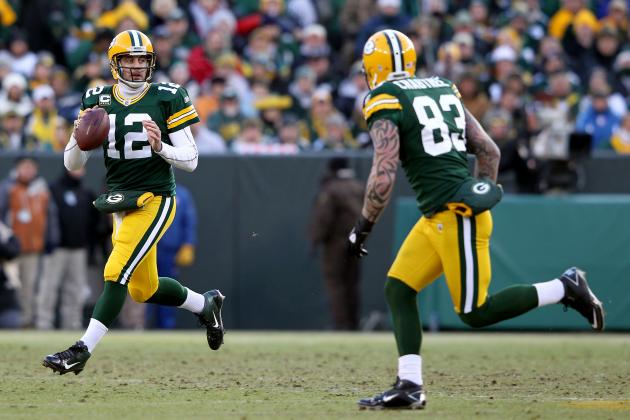 Jamie Squire/Getty Images

What's to like: After posting career numbers in passing yards (4,643) and touchdowns (45) in 2011, Rodgers seems poised to build off it as he enters his prime.
What's not to like: Not a lot to complain about here. Perhaps the worst thing is if the Packers again flirt with greatness and sew up the playoffs early, Rodgers could find himself sitting at the end of the season, which could always affect fantasy playoffs.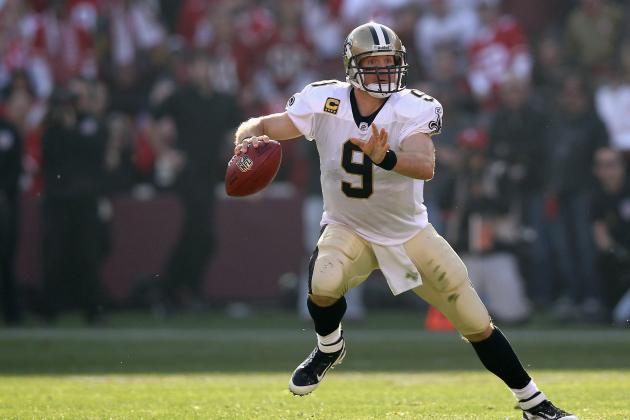 Ezra Shaw/Getty Images

What's to like: How about starting with the fact that Brees is coming off a season in which he passed for an NFL record 5,476 yards in a single season to go with 46 touchdowns? With the high-octane Saints offense nearly intact, Brees should be able to put up similar numbers.
What's not to like: Taking Bounty Gate into account, how will the Saints respond to a yet-to-be-named interim coach? If the controversy follows Brees and the Saints everywhere they go, then it could take its toll on him mentally.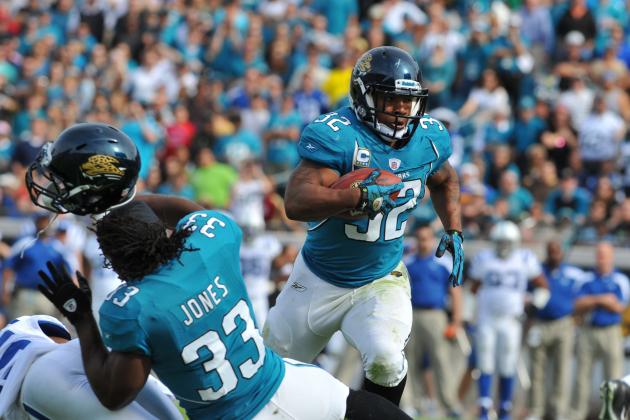 Al Messerschmidt/Getty Images

What's to like: There may be no more consistent, dependable and reliable running back in the NFL than Jones-Drew. He is among the top five to 10 running backs seemingly every year, while routinely rushing for over 1,300 yards and scoring close to 10 touchdowns.
What's not to like: At some point, carrying the load for the Jags has to be taxing. As the only weapon in Jacksonville, expect to see a lot of attention paid to Jones-Drew with teams daring Blaine Gabbert to beat them.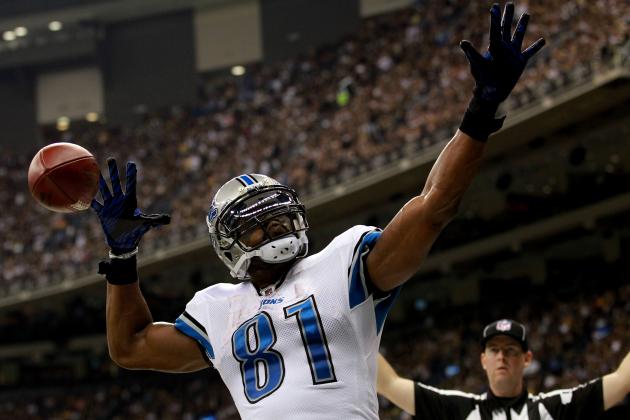 Ronald Martinez/Getty Images

What's to like: With him and Matt Stafford finally developing a consistent rapport, Johnson obliterated career highs in receiving yards (1,681) and touchdowns (16), while emphatically making his claim as the NFL's best receiver.
What's not to like: With the Lions still having yet another unstable running back situation, expect more teams to key in on Johnson while double and triple teaming him on most occasions.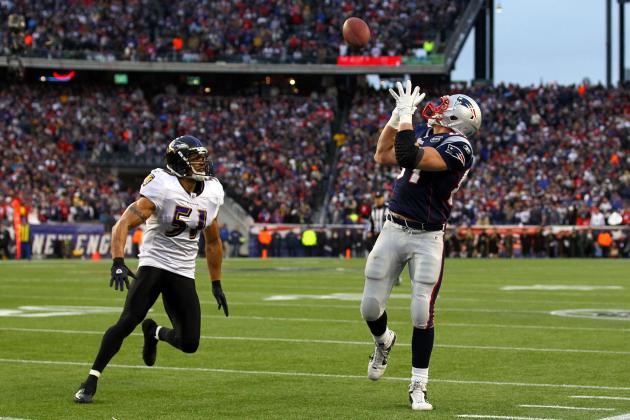 Al Bello/Getty Images

What's to like: Gronkowski shattered the mold on how tight ends are used in the NFL and put up numbers that rival No. 1 receiver numbers with 1,327 receiving yards and 17 touchdowns.
What's not to like: After shocking the NFL last year, more teams will be geared up to stop Gronkowski. Expecting a similar season in 2012 is just unrealistic.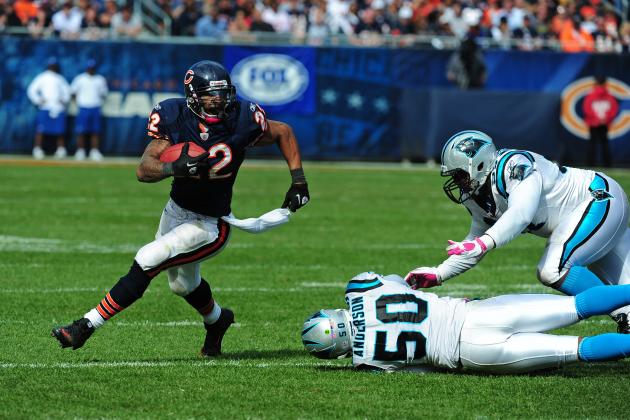 Scott Cunningham/Getty Images

What's to like: Forte is another dual-threat running back just about to hit his prime. Aside from a knee injury that sidelined for the last four games, Forte has always been durable, reliable and, most of all, productive.
What's not to like: With the Bears signing free agent Michael Bush, thus cutting into Forte's reps, and with him still without a contract, the situation in Chicago could become toxic.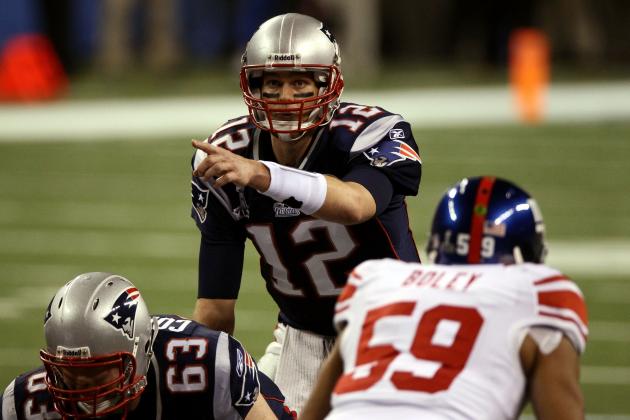 Win McNamee/Getty Images

What's to like: With 12 years under his belt, you've come to expect the same consistency and greatness from Brady. Considering how explosive the offense in New England has remained over the years, why would this year be any different?
What's not to like: The one thing that could scare off people is the fact that Brady is no spring chicken (34) and father time could play tricks on him at any moment.
Follow me on Twitter @Stacdemon