WWE Extreme Rules: 10 Prematurely Bold Predictions for Chicago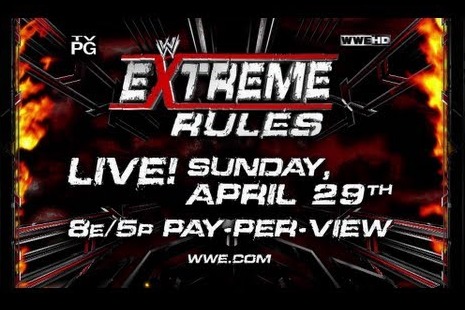 We're just over two weeks away from Extreme Rules 2012 and the card looks to be shaping up nicely already.
We have two huge matches confirmed, but others are still very much up in the air and we could see any number of bouts finalised over the 16 days.
While I realise a lot can (and will) happen between now and April 29, the following slideshow will list 10 Bold Predictions for this year's event, ranking (what I perceive to be) the least to most important.
Enjoy folks!
And please feel free to leave any thoughts and/or suggestions in the comments section below!
Begin Slideshow

»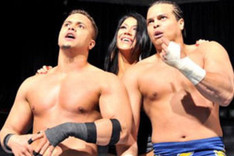 How many times have we heard about the impending revival of WWE's tag team division?
Well, as much as I like the Colons 2.0 (Epico, Primo, and, most importantly, Rosa Mendes), these two are not the answer to making tag team wrestling relevant again.
The tag division currently comprises of essentially 3 teams; E&P, The Usos and Kofi Kingston & R-Truth - and while any combination of the three could theoretically compete at Extreme Rules, they probably won't.
The fact is that fans just aren't interested in heels that aren't over, facing off against good guys who are equally over.
If they're lucky, the tag champs may get an Extreme Rules payday via competing in another pre-show dark match, but even that looks decidedly unlikely when they can't even get a slot on free-view TV.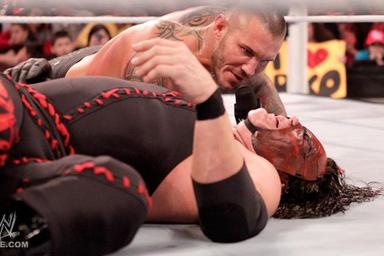 Now I know Randy Orton has his detractors (and I used to be one of them), but this guy has been great for the WWE in the past 12 months.
R.K.O. has put on clinic after clinic with multiple opponents including CM Punk, Christian and Mark Henry. He even cleanly jobbed to put others over when necessary.
As much as I have (sort of) enjoyed the Kane-Orton rivalry, the steam of this feud now seems to be running out quickly, and with things tied at 1 in terms of matches won, this will essentially be the decider at Extreme Rules.
Look for an added stipulation of Falls Count Anywhere or Last Man Standing to be added to the match in the next couple of weeks, but none of this will affect the final outcome of an Orton victory.
Purely for his loyal service in recent times, I would actually like to see Orton thrust back into the main-event scene after Extreme Rules, but it would also be nice to see the revival of some unresolved issues with matches against either Daniel Bryan and/or Chris Jericho.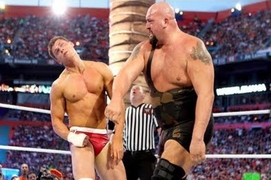 Well, it would appear that this feud is still going, and even though it's not been made official yet, this WrestleMania rematch is sure to take place two weeks from Sunday.
I genuinely didn't think Cody Rhodes would drop the title so convincingly at 'Mania, but as far as I'm concerned him moving from the mid-card to main event scene cannot come soon enough.
Post-WrestleMania, we have seen the tables turned on this feud, with Show now embarrassing the former Dashing One on a regular basis.
At Extreme Rules, watch for the World's Largest Athlete to put the final nail in the coffin of the Rhodes' Intercontinental Title challenge.
Because of Show's "finisher," The Weapon of Mass Destruction (honestly, it pained me to type that out as I absolutely hate referring to what is essentially an illegal punch in such ridiculous terms - sorry, rant over), I can see this bout being made into either a Boxing or Last Man Standing match, playing right into the hands of the champion.
I genuinely hope Rhodes loses again at Extreme Rules so that we can see him really move on to bigger and better things and potentially challenge for either Wwrld title.
As for the Big Show, it's time for him to put a younger heel over, so a feud with Damien Sandow or Drew McIntyre would be absolutely fine by me in the coming months.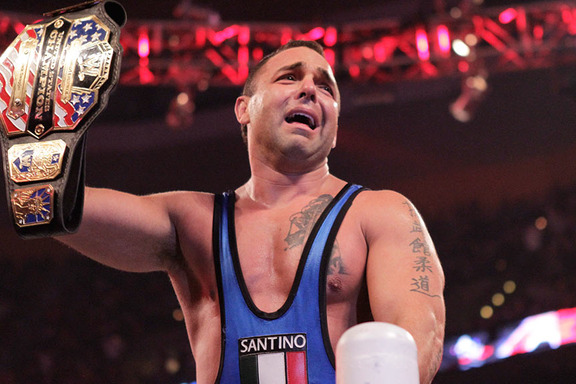 Santino Marella may well be my favourite full-time superstar on the current WWE roster.
He's so over with the fans it is unbelievable, and I would love nothing more than to see him hold onto his U.S. Title for a long time as the ultimate underdog champion.
He can put on great matches (as proven at Elimination Chamber) and has a unique in-ring style that appeals across the board.
Anyway, I do see Mr. Marella in line for a punishment for captaining Team Teddy at WrestleMania, so we could well see a Fatal Four Way, Lumberjack or Handicap Match at Extreme Rules where the Italian is forced to defend his title against one of/a combination of, Dolph Ziggler, Jack Swagger, David Otunga and/or the Miz.
With a little help from new best friend Brodus Clay, expect Santino to overcome the odds at Extreme Rules and continue his reign as United States Champion, much to the chagrin of Big Johnny.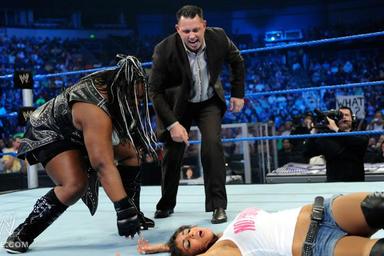 For quite some time now, we have speculated as to when the Divas division will see a returning star resurface to save the day.
Kharma, Layla, Trish Stratus and Lita's names have all been bandied around for what seems like an eternity, but instead we have been left disappointed with pushes for the likes of Alicia Fox and The Bella Twins (oh, and Maria Whatsherface).
I can't be the only one who's getting really bored of seeing the same old garbage from the WWE's female contingent.
There are some really talented "Divas" (hate that word) on the current roster, so it is now time for Creative to step up and throw a real spanner in the works for Beth Phoenix, who currently dominates the lacklustre division.
After seeing her at WrestleMania Axxess, it would appear that Layla is the most likely returnee at the present time, so I say she gets back in and challenges Phoenix for that title ASAP.
Even if they need to put on some kind of Battle Royal at Extreme Rules to determine a new challenger for the Glamazon, let's have a returning face Diva win and really spice things up.
P.S.: When Kharma returns, I greatly hope we see a revival of the old Women's Championship and not that stupid pink "Divas" belt - it's just really poor.
One of the two matches made official so far, Daniel Bryan vs. Sheamus for the World Heavyweight Championship, will be 2 out of 3 Falls at Extreme Rules.
Originally, I had thought to boldly predict the American Dragon to pick up the first fall, then subsequently lose the match - but I have now revised this assumption.
I honestly don't know who will pick up the first fall in this bout, but definitely see D-Bry getting caught off guard again to cost him the match.
My thoughts are that Bryan may well score a sneaky pin at some point in the match, over-celebrate, then get Brogue Kicked a-la-WrestleMania to once again lose to the Celtic Warrior.
This is the kind of comedy victory that doesn't make Bryan appear weak, but by the same token keeps Sheamus as a strong and dominant champion.
I can also see A.J. making some kind of appearance in this match, perhaps even contributing towards Bryan winning a fall, but then being blamed for his loss despite playing no part in it.
Yes, Yes, Yes!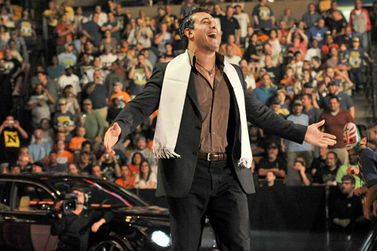 With it being 2 out of 3 falls, Sheamus-Bryan is going to be no 18-second squash this time around.
Expect to see a gruelling 25-minute-plus epic between two of the company's best workers to really make it up to fans who expected their WrestleMania match to steal the show.
I have already predicted Sheamus to retain, so I fully expect Alberto Del Rio to appear at the end of the World Heavyweight Championship match to further torment a worn-down Celtic Warrior, and subsequently set up a feud between the two over the coming weeks.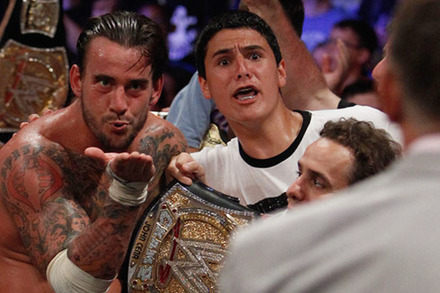 I'm not going to lie. I would love to see Chris Jericho have one last run with the WWE Title.
But to be honest, it's just not going to happen.
I boldly predicted wins for Y2J at the Royal Rumble and Elimination Chamber (wrongly) and have now all but given up hope of the Ayatollah of Rock and Rollah ever being "the Man" in the company again.
In Chicago, the odds are essentially stacked in Jericho's favour, as we all know how Vince McMahon loves to screw people in their hometowns, but this time I just can't see it happening.
The build-up to the event is sure to see Jericho continue to dominate Punk, but we've seen this formula a million times before and it's just too easy to see the face ultimately triumphing in the end.
Jericho's band, Fozzy, has gigs lined up in the U.K. again in June, so I would expect a short hiatus for him after Extreme Rules before returning around the time of Summerslam, with Punk possibly moving on to feud with Brock Lesnar or Lord Tensai in his absence.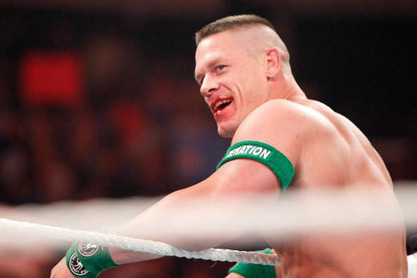 Let's get old school.
Is it just me who instantly thought First Blood Match after seeing Brock Lesnar bust John Cena open on last Monday's Raw?
Honestly, I cannot remember the last time I saw this stipulation used in a WWE ring, but it would be a shocker.
I know the PG Era is effectively still in session, but we are seeing a lot more adult content in recent weeks (from cursing to heavy violence and blood) and now could be the time to really usher in a new age of WWE programming.
While I am not suggesting we go back to the bad-old-days of heavy blading, a bit of the old crimson mask can really sell a bout, and, to be honest, I was taken aback on Monday at seeing the state of Cena's face (kayfabe or not).
As bold predictions go, this is a biggie. But if it happens, you heard it here first, folks.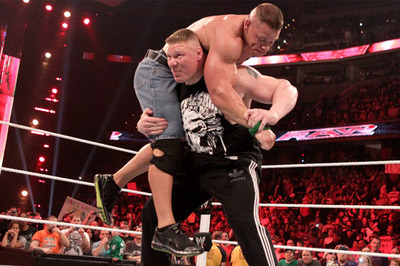 Yes, I realise that Cena is the bona-fide face of the WWE, but there is absolutely no way that Brock Lesnar has returned to job to a children's entertainer.
While losing on two consecutive pay-per-views to part-time superstars seems ridiculous, I honestly believe a loss to Lesnar could well be the best thing to happen to John Cena.
Let's face it, the Leader of Cenation will never turn heel. It just won't happen.
But a tweak of character is already appearing thanks to The Rock, and the more brutal side of Cena definitely showed last Monday night on Raw after being bloodied at the hands of the Next Big Thing.
I can see "Fruity Pebbles" becoming increasingly frustrated after a loss to the Brock at Extreme Rules and subsequently a far more aggressive and determined character going forward into the summer (culminating in an intense match with Undertaker/Rock at WrestleMania 29).
We all know Lesnar is only back on a sporadic basis, but it would come as no shock to me to see the former UFC star move on to feud over the WWE title over the summer with CM Punk (both Paul Heyman guys), and instantly take his place at the very top of the company which made his name over a decade ago.