Bobcats vs. Heat: TV Schedule, Live Stream, Spread Info and More
April 13, 2012

Mike Ehrmann/Getty Images
The Charlotte Bobcats (7-50) are in very real danger of having the worst season in the history of the NBA, and a motivated Miami Heat (40-17) team will be looking to send a message on Friday night.
After losing to the Chicago Bulls despite a sub-par effort from Derrick Rose on Thursday, Miami should be anxious to show that there is still plenty to like about this championship-caliber club.
It's going to be extraordinarily tough for the Bobcats to keep up defensively with the Heat, and if there were ever a time for Miami to get back on track, it's against Charlotte on Friday.
LeBron James, Dwyane Wade and Chris Bosh all present serious matchup problems for a youthful Bobcats team that doesn't have a ton of talent on the roster.
Where: AmericanAirlines Arena — Miami, Fla.

When: Friday, April 13, 7:30 p.m. ET

Watch: SSO-CHA (Bobcats), Sun Sports (Heat)

Live Stream: NBA League Pass

Listen: WAXY 790 (Miami), WFNZ 610 (Charlotte)

Betting Line: Not available, according to Bovada.lv at 7:30 a.m. on 4/13

Key Injuries: Corey Maggette (Achilles), Eduardo Najera (face), Tyrus Thomas (knee), Bismack Biyombo (ankle)
What They're Saying
LeBron James was not happy after Miami lost its second straight game by the score of 96-86 in overtime to the Bulls on Thursday.
In a game that many felt the Heat would be well-served to win, Miami came out with a flat effort in extra time and Chicago was able to pull away with the win.
James didn't hold back when discussing exactly how he felt following the game (via Ira Winderman of the Sun-Sentinel).
"This is one of the worst feelings for a regular-season game I've had this year," a downcast LeBron James said by his locker as he stared blankly at the floor, disconsolate.
Erik Spoelstra echoed James' frustration.
"It hurts," Spoelstra said. "So there will not be an easy road. Right now, we're dealing with the hard road."
Miami has to turn it around against a struggling Charlotte squad on Friday to get the momentum moving in the right direction.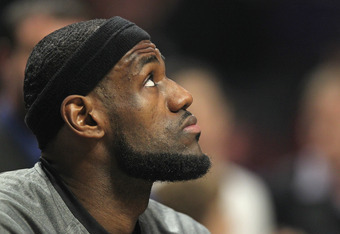 Jonathan Daniel/Getty Images
Most Important Player to Watch: LeBron James, SF, Miami Heat
It might seem obvious for some to peg James as the key player, but he's going to have to come with an incredibly strong effort on Friday.
With the Bobcats losing Corey Maggette (Achilles) for the season on Thursday, Charlotte will likely use a combination of players in the attempt to slow James down.
Despite back-to-back efforts of at least 30 points from James, the Heat have lost two straight, and Miami can't afford to lose to Charlotte if the club wants to escape media scrutiny and remove itself from underneath the microscope.
Key Matchup: Mario Chalmers vs. D.J. Augustin
Augustin recently dealt with a bout of knee tendinitis, but after taking three games off he's back in the fold and contributing for his team.
Since returning, Augustin is averaging 14.5 points and 8.0 assists per game. Chalmers, who is a solid on-ball defender, must look to slow down Augustin to prevent the Bobcats from ever getting into the flow of the game at the offensive end.
It will also be important for Chalmers to contribute offensively, because that is an area where he's struggled of late.
Despite an 18-point outing against the Celtics on Tuesday, Chalmers followed it up with just four points and three assists in 28 minutes against Derrick Rose and the Bulls on Thursday.
Prediction
Heat 105, Bobcats 80