AFC South Weekly Recap: What Did We Learn This Week?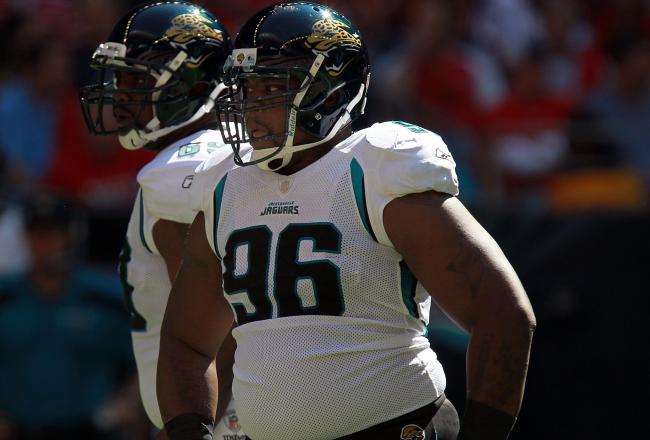 Pot Roast had a rough week.
Ronald Martinez/Getty Images
Welcome to "What Did We Learn This Week?" Each week I'll struggle not to make a dated Craig Kilborn reference.
The draft continues to approach with all the rapidity of a glacier. Each day we are inundated with a pile of new mock drafts. What passes for news two weeks before the draft is a draftnik flopping the imaginary order of players based on what he had for breakfast. There's not much actually happening, but there were a few interesting stories that merit further commentary.
Terrance Knighton was injured in a night club
This is probably the only thing that really "happened" this week. We still don't know much about Knighton's injury. I've resisted speculating on the story because I don't feel like we have enough information.
We don't know what the altercation was about or who started it. We don't know if Knighton is a victim or a perpetrator. We have a few statements from his agent, which hold precisely no value. We don't how much time he will miss.
I'm not interested in moralizing his situation, because for all we know the dude was just minding his own business. In many ways, the Knighton story is indicative of this pre-draft dead zone. Something happened. We don't know what. We don't know why. We don't know what it means. Knighton is a good young player and is expected to recover. That's what we know.
Peyton Manning is classy
Here's a show-stopper. Phil B. Wilson's account of Manning's phone call to him is very cool. Peyton Manning made every effort to be "the good guy" on his way out of town.
I don't know how much of the way things ended between Manning and Irsay is real and how much is spin by Manning, but I do know that he has left deep shoes for Andrew Luck to fill. It's not about his accomplishments on the field. Luck may be able to match those, who knows? What he will struggle to emulate is the complete and total mastery that Manning has had over the entire city of Indianapolis.
The Jaguars look for married players
This is my favorite story of the week. Apparently, this philosophy is part of Mike Mularkey's influence. The way they treated the players' wives during the free agency visits was pure class. I can tell you right now, that if I were being pursued by multiple companies, and one of them showed attention to and consideration for my wife, I would sign with them in a heartbeat.
The NFL has changed
I've been in lots of big dust-ups this week with readers advocating dead philosophies of football based around archaic and foolish notions of "run the ball and stop the run."
Fans, the NFL has changed.
Greg Cosell pointed it out. Teams don't value running backs any more. The new base NFL defense is really the nickle. It's a passing league, and it has been for a long time. If you can't pass the ball in the NFL you can't win. The league has been this way for the vast majority of its history. The "dead ball" era of the 1970s shaped many people's ideas of the way football games are won, but that era is the exception not the rule. Games are won and lost in the air.
This article is
What is the duplicate article?
Why is this article offensive?
Where is this article plagiarized from?
Why is this article poorly edited?