10 Ways 2012 NFL Draft Prospects Should Spend Their First Paycheck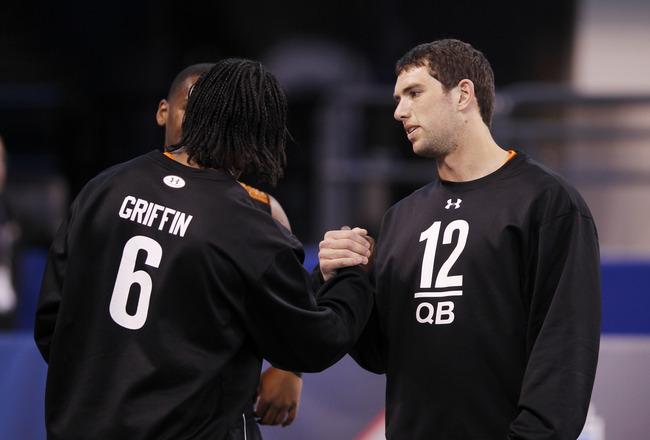 Joe Robbins/Getty Images
Andrew Luck and Robert Griffin III are bound to cash in big in the NFL, but what should they spend that first paycheck on?
Every draft prospect gets wide-eyed when they realize they're about to become an NFL player. All the glitz, glamor and fame is exciting to think about. Sure, it's going to take a lot of hard work and effort to make it big, but that first year still pays handsomely.
In the first five slides of this piece, we'll take a look at the potential top five picks in the draft and note a specific item they should purchase during their first NFL season. A bit of a lighthearted jab at what their season holds in store for them.
Then, in the remaining slides, we'll look at the top five ways every player should spend their paycheck. A taste of reality examining how the players should look to treat themselves as well as the people who supported them up to this point.
1. Andrew Luck Should Invest in a Massage Therapist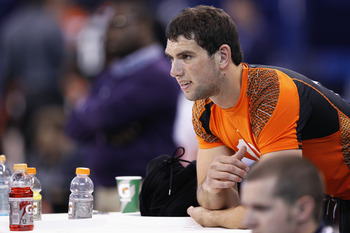 Joe Robbins/Getty Images
As the potential successor to Peyton Manning in Indianapolis, Stanford QB Andrew Luck is going to need one heck of a massage therapist to relieve all the stress on those shoulders.
Not only does Luck have the added stress of possibly being the No.1 overall pick, but he faces the stiff task of matching Manning's success in a Colts uniform. With no proven veteran on the roster, Luck could very well be expected to play a good chunk of the 2012 season.
Luck will need to find some way to stay calm even if things go bad in his first year with Indy.
2. Robert Griffin III Should Buy a Big Sock Drawer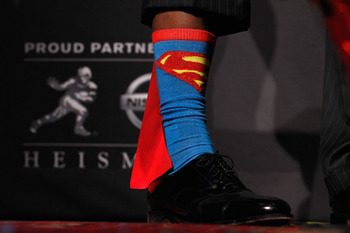 Jeff Zelevansky/Getty Images
Baylor QB Robert Griffin III could be on the verge of a new fashion trend in the NFL with his unique array of socks. Griffin unveiled his signature Superman socks at the 2011 Heisman Trophy presentation, and they were an immediate hit.
If these socks help him play well during the 2012 season, then he should invest in more of them along with a big sock drawer. As a potential fit in Washington, Griffin could see a lot of playing time next season behind veteran QB Rex Grossman.
His socks may be silly, but don't mistake this young man's determination and drive on the field.
3. Matt Kalil Should Buy a Hot Tub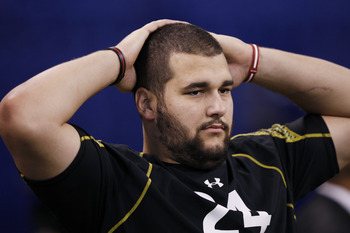 Joe Robbins/Getty Images
It looks like USC offensive tackle Matt Kalil may be on his way to the Minnesota Vikings, and if that's the case then he should definitely invest in a hot tub to soothe those aching muscles after battling some menacing defenses in the NFC North.
In Chicago, Kalil better hope defensive end Julius Peppers stays on the right side of the Bears defense or he'll be in for a long day. In Detroit, Kalil faces an even bigger challenge in keeping Cliff Avril and Ndamukong Suh out of the backfield. Then, in Green Bay, Kalil could find himself face-to-face with beastly linebacker Clay Matthews.
With such aggressive defenses, the NFC North is a tough place to play as an offensive lineman.
4. Trent Richardson Should Invest in a Number of Foot Products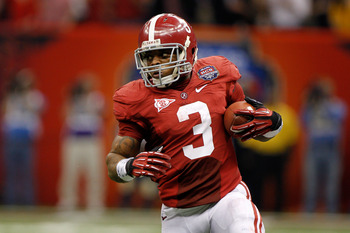 Chris Graythen/Getty Images
If Alabama running back Trent Richardson goes to the Cleveland Browns at the No. 3 pick, then he's going to need to invest in a number of foot products with all the running he's going to be doing.
Foot baths, insoles, comfy socks and basically anything that's going to keep his feet from swelling up before the season is over.
With Peyton Hillis gone, Richardson will have to step up immediately in the Browns' offense. Richardson has shown he's a durable player not afraid to bang inside, but all those carries have to take a toll on him eventually.
Richardson is going to be QB Colt McCoy's best friend next season.
5. Morris Claiborne Should Buy Some PF Flyers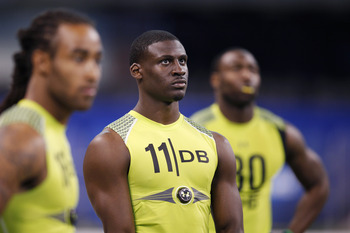 Joe Robbins/Getty Images
LSU cornerback Morris Claiborne is going to need some PF Flyers to keep up with some explosive offenses in the NFC South if he's taken by the Tampa Bay Buccaneers. The Carolina Panthers, Atlanta Falcons and New Orleans Saints love to throw the ball.
Claiborne should get a lot of practice defending receivers when he steps on the practice field and sees Vincent Jackson across from him. Covering one of the NFL's most dangerous deep threats will certainly benefit his development as a DB.
Coming home to the Superdome won't be so pleasant if Drew Brees burns Claiborne downfield when the Bucs meet the Saints in 2012.
5. Buy a New Wardrobe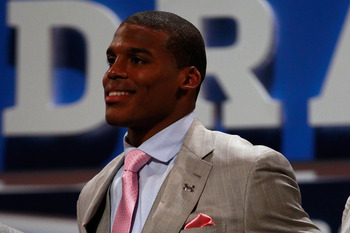 Chris Trotman/Getty Images
Now that you're an NFL player, it's time to find yourself a spiffy new look. Workout gear and tennis shoes all year round are a thing of the past.
We'll all get a glimpse of some snazzy suits when these rookies take the stage in New York, but let's hope that's not the only day they get all dressed up. A designer suit for draft day is a must, but these young men should buy themselves an array of suits with their first paycheck.
As a member of the NFL, these players represent the organization and their respective teams. When the occasion calls for a professional look, these players should oblige.
4. New Ride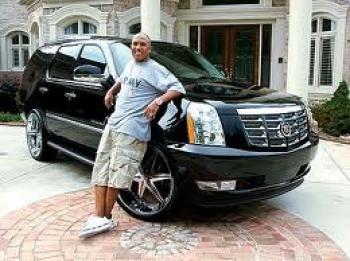 Photo courtesy of imaginelifestyles.com
When players aren't riding in the team bus, they're going to need a way to get around town. Something big and shiny preferably.
Some draft prospects may have been blessed enough to have their own wheels before the NFL, but chances are those wheels were a hand-me-down. Upgrading to a brand new ride is a fulfilling experience for a rookie.There are also some players who have never had a car in their whole life.
A new ride is just one of the many toys a rookie will enjoy dropping a good part of his first paycheck on.
3. Your First Place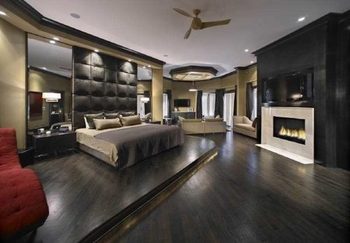 Photo courtesy of curbed.com
Many of these rookie prospects have been living at home with mom and dad for a good chunk of their lives, with the exception of their college careers, of course. Finally having the opportunity to afford your own place is huge for a young man.
All those two-a-days, summer workouts and countless hours on the practice field leading up to this have finally paid off, and it's only natural for a player to want his own place. During the season, these rookies won't be spending a whole lot of time in their new cribs with all the traveling taking place, but in the offseason they'll need a place to recover.
2. Give Back to the Community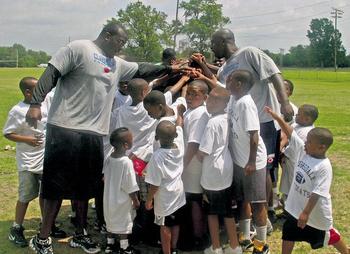 Photo courtesy of Troy Clark/ Clarksdale Press Register
There's no better way to share your hard earned reward as a player than to give back to the community. It's always important for players to remember where they come from and not let the fame and money get to their heads.
Donating some of that big check to a local charity is definitely something every rookie should consider. I realize that a majority of NFL players already spend time with their local community, but giving just a little more in your first year can be extremely humbling.
1. A New Home for Mom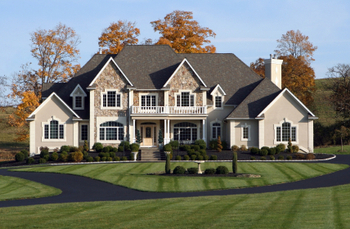 Photo courtesy of allmandlaw.com
Buying your mother a brand new home is like an unwritten law in the rookie handbook. It's tradition for players to take care of the women who took care of them their entire lives.
Be it a mother, a father, an aunt, a grandma or whoever. The people who sacrificed their time to take these young players to practice and games during their Pop Warner and high school days deserve some appreciation.
What better way to show your thanks than to buy that person a new home?
Hall of Famer Deion Sanders recalled his first purchase in an interview with New York Magazine:
"When I was 7, I told my mama I was going to make a lot of money and she was never going to have to work another day in her life,"

"Mama got a million-dollar crib, a Mercedes Benz, and the rest is history."
Keep Reading