MLB Power Rankings: Grading Each Team's Big Acquisition Performance so Far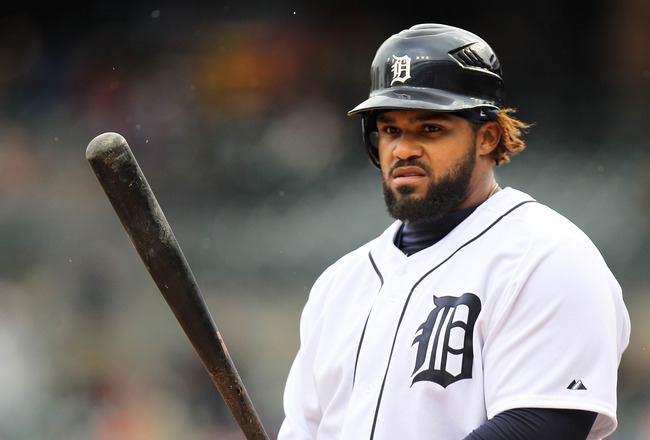 Gregory Shamus/Getty Images
After a big signing, everyone's first question is, "Are they going to perform or are they going to flop?"
Even though it is still too early to answer this question, first impressions still do mean a lot.
So here it is, every team's big offseason acquisition, graded, ranked and served to you.
Note: I left out the Atlanta Braves and Chicago White Sox due to no acquired starter in the 2011-2012 offseason.
Minnesota: Josh Willingham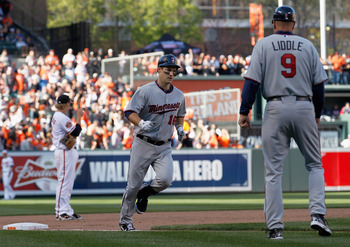 Rob Carr/Getty Images
Josh Willingham was brought on as power-hitting outfielder to replace Michael Cuddyer, and did he bring the power or what?
With four home runs in the Minnesota Twins' first six games, he leads all of MLB currently.
Stat Line: .409 AVG / .458 OBP / 1.000 SLG / 5 R / 4 HR / 7 RBI
Grade: A+
Tampa Bay: Carlos Pena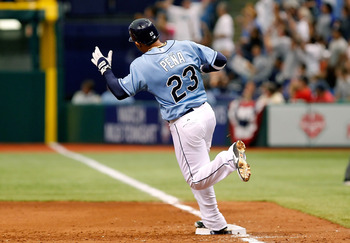 J. Meric/Getty Images
Carlos Pena was brought back to Tampa Bay on a $7.25 million one-year deal to add some power into the anemic Tampa Bay offense.
He showed the Rays front office didn't make a mistake, hitting a grand slam in his first game back, and currently accounts for one-third of the runs driven in by the team.
Stat Line: .429 AVG / .556 OBP / .905 SLG / 5 R / 4 BB / 3 HR / 8 RBI
Grade: A+
Oakland: Yoenis Cespedes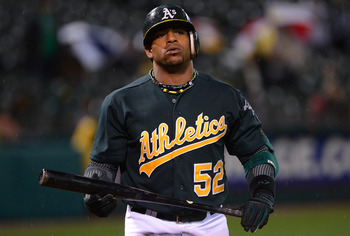 Thearon W. Henderson/Getty Images
When Yoenis Cespedes rumors started to buzz, people weren't convinced that he was major league-ready.
He has now silenced his critics, showing that his power isn't fluke. If he can continue his success, Billy Beane is going to look like even more of a genius signing Cespedes to a team-friendly $36 million, four-year deal.
Stat Line: .273 AVG / .429 OBP / .773 SLG / 5 R / 3 HR / 7 RBI
Grade: A
Colorado: Michael Cuddyer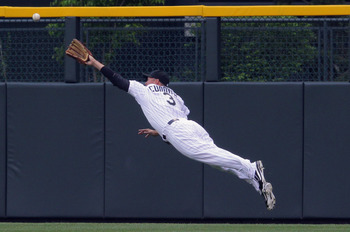 Doug Pensinger/Getty Images
Michael Cuddyer, an average hitter who has above-average power, is absolutely destroying the ball with the Colorado Rockies.
He is currently the center of the Rockies defense and has already mashed five doubles. That's almost one double a game!
Cuddyer is currently about 20 miles high in the Mile High City.
Stat Line: .375 AVG / .400 OBP / .708 SLG / 3 R / 5 2B / 1 HR / 4 RBI
Grade: A
St. Louis: Carlos Beltran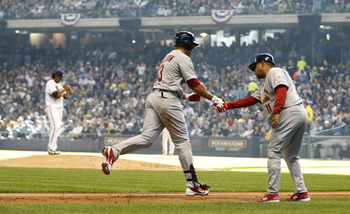 Mike McGinnis/Getty Images
Brought in to help recover some offense after Albert Pujols left, Carlos Beltran is settling in nicely, hitting three home runs during opening week.
I bet that helps with the separation pains of losing Pujols.
Stat Line: .320 AVG / .393 OBP / .680 SLG / 5 R / 3 HR / 4 RBI
Grade: A
San Francisco: Melky Cabrera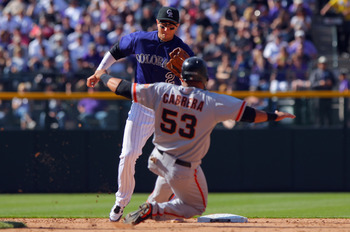 Doug Pensinger/Getty Images
Melky Cabrera surprised everyone last year by having an all-star caliber season with Kansas City. San Francisco believed he was just getting started and acquired him for Jonathan Sanchez over the offseason.
Only 27 years old, he is considered just entering his prime.
Stat Line: .385 AVG / .429 OBP / .615 SLG / 6 R / 1 HR / 5 RBI
Grade: A
Detroit: Prince Fielder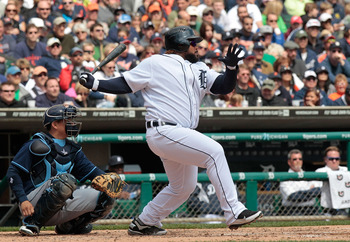 Leon Halip/Getty Images
Now Prince Fielder's stats are super impressive like the last five players, but he is doing the most important job in the Tigers lineup—protect Miguel Cabrera.
Cabrera is seeing more pitches to hit, and pitchers now have to choose between Fielder or Cabrera—not the easiest choice in the world.
Stat Line: .364 AVG / .423 OBP / .636 SLG / 6 R / 2 HR / 4 RBI
Grade: A
New York Mets: Frank Francisco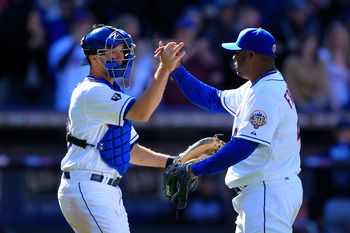 Chris Trotman/Getty Images
I don't know when Frank Francisco changed his name to Francisco Rodriguez, but it seems to be working for him.
After dismal years with Texas and Toronto, Francisco is starting out strong in 2012.
Stat Line: 0.00 ERA / 0.67 WHIP / 4 SO / 3 SV / 3 SVO
Grade: A-
Washington: Gio Gonzalez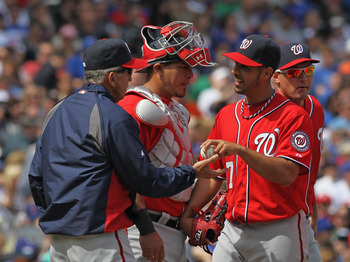 Jonathan Daniel/Getty Images
Gio Gonzalez has pitched two good starts, but has received two no-decisions for his efforts.
Gonzalez is reaping the benefits of his transfer to the National League, striking out 13 in 10.2 innings pitched—six of whom were pitchers.
Stat Line: 3.38 ERA / 1.13 WHIP / 10.2 IP / 13 SO / .214 BAA
Grade: B+
Baltimore: Wei-Yin Chen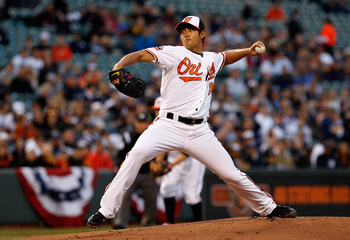 Rob Carr/Getty Images
Who?
Wei-Yin Chen is a Taiwanese pitcher the Orioles signed to improve their starting rotation.
First impressions of the pitcher seem good and an improvement over Jeremy Guthrie.
Stat Line: 3.18 ERA / 1.41 WHIP/ 5.2 IP / 6 SO
Grade: B
Kansas City: Jonathan Sanchez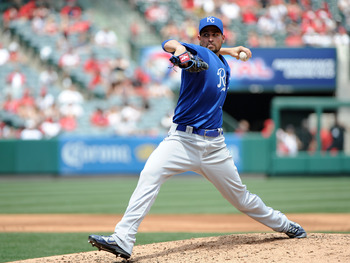 Harry How/Getty Images
Jonathan Sanchez looked good in blue for the first time, striking out four in five innings to give the Royals a win.
Sanchez came over in the Melky Cabrera deal, and it may not look like Kansas City got the better half, but Kansas City is short on quality starters.
Stat Line: 3.60 ERA / 1.40 WHIP / 5.0 IP / 4 SO / .200 BAA
Grade: B
Chicago Cubs: David Dejesus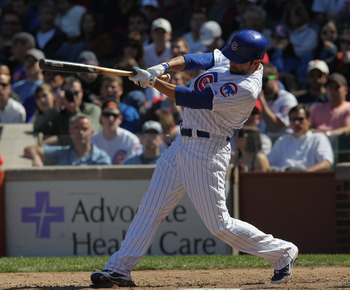 Jonathan Daniel/Getty Images
This longtime Kansas City Royal is trying out his new legs on the north side of Chicago—and they seem to be moving pretty well.
Stat Line: .318 AVG / .444 OBP / .364 SLG / 7 R / 4 BB
Grade: B
Miami: Jose Reyes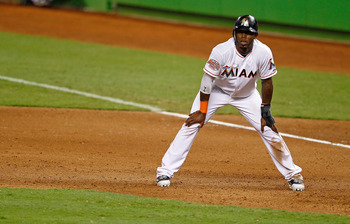 Mike Ehrmann/Getty Images
For $106 million over six years, I hope Jose Reyes does better than how he is performing now. Reyes has two steals, but was also caught twice and also only has scored one run despite having over 30 at-bats.
Stat Line: .233 AVG / .233 OBP / .367 SLG / 1 3B / 2 SB / 2 CS
Grade: C+
Seattle: Jesus Montero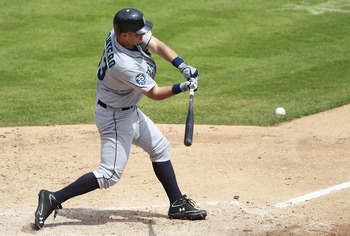 Rick Yeatts/Getty Images
The Mariners parted ways with Michael Pineda only because their offense was lacking so much. Jesus Montero was their answer, and while the average is here, he needs to find some power in Seattle to be worth acquiring him.
Stat Line: .280 AVG / .259 OBP / .280 SLG / 2 RBI
Grade: C
Los Angeles Dodgers: Chris Capuano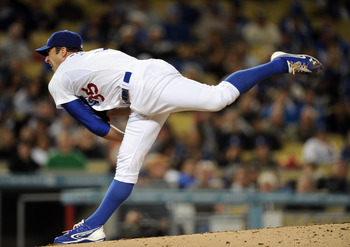 Harry How/Getty Images
The Dodgers took a chance on Chris Capuano, hoping he will return to his 2005 form, when he won 18 games for the Milwaukee Brewers.
Derailed by injuries following Tommy John surgery, Capuano did not record a win for three years in the minors before breaking out slightly with the New York Mets last year.
Stat Line: 5.40 ERA / 1.30 WHIP / 10.0 IP / 11 SO / .216 BAA
Grade: C
Philadelphia: Ty Wigginton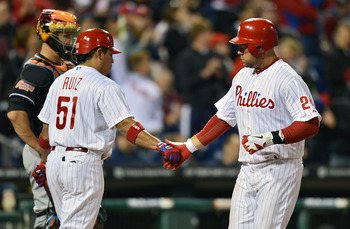 Drew Hallowell/Getty Images
Ty Wigginton is no Ryan Howard, and he has proved that everyday he has played.
He has scored every time he has been on-base, though, this season. That's nice.
Stat Line: .167 AVG / .231 OBP / .417 SLG / 3 R / 1 HR / 1 RBI
Grade: C-
Arizona: Jason Kubel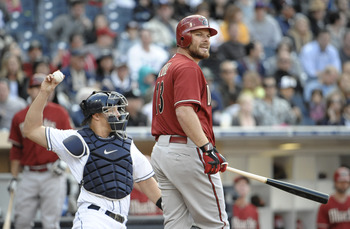 Denis Poroy/Getty Images
The other Twins outfielder that left this offseason, he is not experiencing the same success Michael Cuddyer is having in Colorado.
He is in middle of his prime and could have a similar season to his 2009 season, where he drove in over 100 runs and even got some MVP votes.
Stat Line: .211 AVG / .286 OBP / .263 SLG / 0 R / 2 RBI
Grade: C-
Los Angeles Angels: Albert Pujols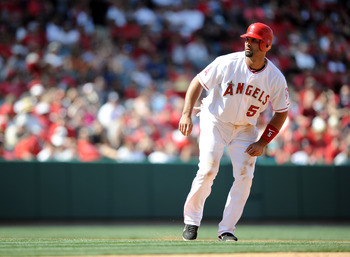 Harry How/Getty Images
Albert Pujols was supposed to make the Angels the most feared teams in baseball, yet he is playing like Vernon Wells 2.0.
Actually he's playing worse than Vernon Wells right now with one less RBI and two less total bases.
Stat Line: .217 AVG / .308 OBP / .304 SLG / 0 HR / 2 RBI
Grade: C-
Toronto: Sergio Santos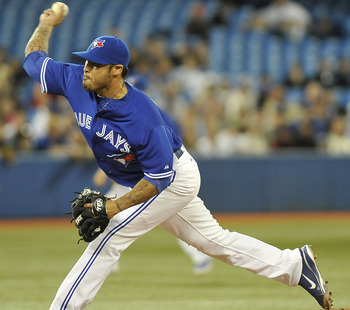 Brad White/Getty Images
Sergio Santos has not started 2012 well at all.
He missed his first save opportunity by a technicality and then proceeded to blow two saves in a row.
He made up for it slightly by saving his most recent appearance, but that's too little, too late.
Stat Line: 12.00 ERA / 2.33 WHIP / 1 SV / 3 SVO / .273 BAA
Grade: D+
San Diego: Yonder Alonso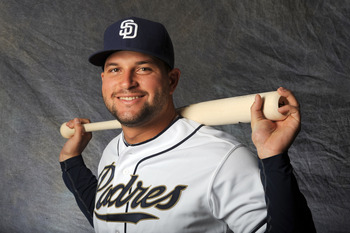 Rich Pilling/Getty Images
Blocked by Joey Votto all these years, I can see why Cincinnati opted to trade away Yonder Alonso and sign Votto to an extension.
Stat Line: .190 AVG / .308 OBP / .190 SLG / 0 R / 0 HR / 1 RBI
Grade: D
Milwaukee: Aramis Ramirez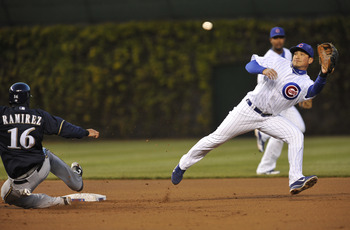 David Banks/Getty Images
He has only two hits, but those two hits drove in five runs and were both doubles.
But considering his stat line, I had no choice but to lower his mark. Thank god Ryan Braun won his appeal.
Stat Line: .091 AVG / .192 OBP / .182 SLG / 0 HR / 5 RBI
Grade: D
Cincinnati: Mat Latos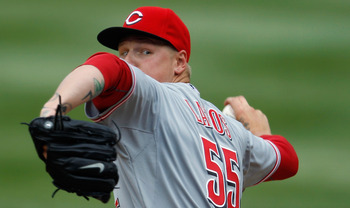 Rob Carr/Getty Images
The other half of the Yonder Alonso trade isn't doing so hot either.
Mat Latos has been lit up for six runs over only 9.2 innings and has as many walks as strikeouts. So who do you think is winning this trade so far?
Stat Line: 5.59 ERA / 1.76 WHIP / 5 BB / 5 SO / .300 BAA
Grade: D
Texas: Yu Darvish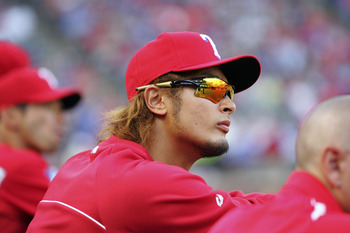 Rick Yeatts/Getty Images
Yu Darvish was not greeted kindly by fellow Japanese star Ichiro Suzuki and his Mariners.
Yu got destroyed for five runs on eight hits and somehow got the win due to an insane amount of run support. I don't think I could find another pitcher that was worse than Yu during opening week (pun intended).
Stat Line: 7.94 ERA / 2.12 WHIP / 4 BB / 5 SO / .320 BAA
Grade: D-
Indians: Casey Kotchman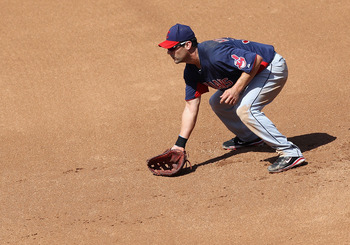 Christian Petersen/Getty Images
If you're going to play this bad, don't play at all. I don't even know why they are still playing him.
Worst part is that he sucks at fielding too.
Stat Line: .095 AVG / .095 OBP / .095 SLG / 0 R / 2 SO
Grade: D-
Houston: Jed Lowrie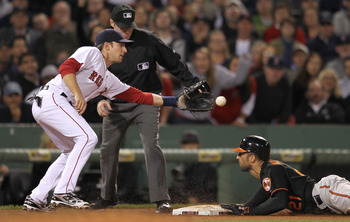 Jim Rogash/Getty Images
Jed Lowrie sprained his thumb right before opening day. Currently rehabbing in the minors, he should return within the week.
Stat Line: N/A
Grade: F
New York Yankees: Michael Pineda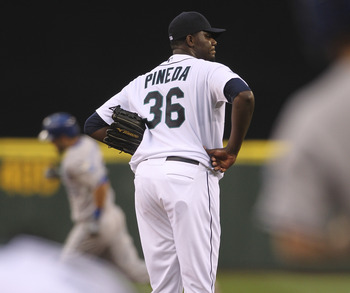 Otto Greule Jr/Getty Images
Michael Pineda lost velocity on his fastball and got injured right before opening day.

Stat Line: N/A
Grade: F
Pittsburgh: AJ Burnett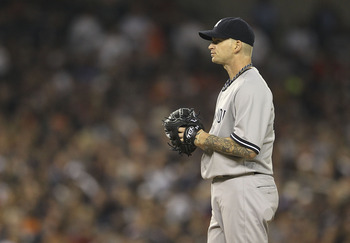 Leon Halip/Getty Images
He pissed off Yankee fans till they all hated them—he's not starting off so well with Pittsburgh fans either.
Well, at least Pittsburgh has Sid the Kid back from injury.

Stat Line: N/A
Grade: F
Boston: Andrew Bailey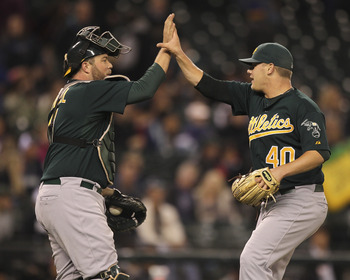 Otto Greule Jr/Getty Images
See you after the All-Star break, Mr. Bailey!

Stat Line: N/A
Grade: F
Keep Reading