UFC on Fuel TV 2: Live Results and Analysis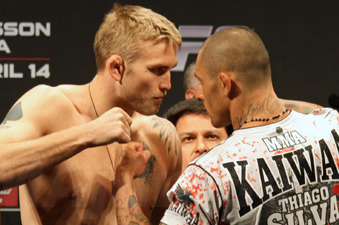 Alexander Gustafsson vs. Thiago Silva (MMAJunkie)

UFC on Fuel TV 2 marks not only the debut of the promotion in Stockholm, Sweden, but also the return of the Ultimate Fighting Championship to the airwaves after almost a month off from live fight-card action. And despite keeping their brand of MMA alive through The Ultimate Fighter: Live and The Ultimate Fighter: Brazil, fans just can't shake off their cravings for UFC action.
From the tale of the tape for Jason Young vs. Eric Wisely, to the opening minute of Reza Madadi and Yoislandy Izquierdo, further along to the co-headliner of Brian Stann vs. Alessio Sakara, and all the way to the main event of Alexander Gustafsson vs, Thiago Silva, fans can finally get their fill of UFC action in the way that it is supposed to be done. And in front of a raucous crowd at Stockholm's Ericsson Globe Arena, the event promises to be a treat for more than just the crowds at home.
It's been a long time, but live and direct from your computer screen with all the action taking place from Stockholm, Bleacher Report MMA is back with your most trustworthy results and analysis of UFC on Fuel TV 2: Gustafsson vs. Silva!
Gustafsson makes no excuses for going to the judges, and Silva makes no excuses for his performance, but neither has anything to really be ashamed of, as they both put on one hell of a performance. Many are questioning already if Gustafsson really is the next man to beat Jones in light of him putting on a spectacular performance. He looked more Dominick Cruz than Jon Jones to me tonight, which is bad if you are a Jones-type who mixes up footwork and attacks from angles that never seem to exist, but if Rashad Evans cannot and if Dan Henderson cannot, Gustafsson might be that guy.
The post-fight show has gotten underway and with that, we will wrap it up here at Bleacher Report MMA. Thank you all so much for being with us for the UFC on Fuel TV 2 festivities, and we will see you back here next week for UFC 145: Jones vs. Evans!
Third round starts off well for Silva but Gustafsson keeps on coming and keeps on moving forward. Gustafsson has outstruck Silva by over 40 strikes. Silva's right eye has seen better days, and we remind you that this is a three round bout because Silva replaced Antonio Rogerio Nogueira. In any event, the whole story of this fight has been the striking and the footwork of Gustafsson, and I'd say 30-27 Gustafsson.
Silva is no slouch, but again, we knew coming into this that he'd have to answer questions about his cage rust. We never had to answer many questions about if he'd be able to handle Gustafsson because he obviously would not have replaced Nogueira if he didn't think he'd be able to handle him.
After three rounds we have a unanimous decision. To nobody's surprise, all three judges score it in favor of your winner, Alexander Gustafsson!
Gustafsson spends the early part of round two avoiding a ground battle with Silva after throwing him down and keeping him at bay with his striking. Gustafsson doing a good job of maintaining his composure and not getting caught in a brawl with Silva, but let's not act like Silva's not doing anything. Watch this one from start to the finish of the second round and one can tell that Silva is hurting Gustafsson with everything he can.
Nevertheless, Gustafsson is throwing everything he can at Silva and seeing success in the process. I have it 20-18 for Gustafsson at this point in time. If Silva cannot knock Gustafsson out in round three or submit Gustafsson in round three, he's lost this fight.
The hometown hero is out to "Drop The World" with the colors of his homeland on his walkout and will be fighting in the blue and yellow spandex trunks for those of you looking to watch this one later.
No surprise that Gustafsson has the reach advantage, height advantage, and youth advantage on Silva.
Bruce Buffer says "It's TIME!" and we are ready to go here tonight!
Gustafsson gets announced as though he were a rockstar. Silva has insane staredown, and the trunks are apparently black on Silva.
Fight starts out hot and heavy, and Silva gets caught early by Gustafsson, who looks like he might look a Heavyweight right in his eyes. Both men eventually cool down with Silva missing shots and the commentary team is noting that Gustafsson is fighting akin to how Jon Jones fights in terms of using the jab. They also mention the cut on the bridge of the nose.
Both men going back and forth, albeit peppering one another, but overall it's tough to see how Gustafsson has not won this round with the damage he's done thus far.
10-9 Gustafsson at this point, and now the pressure is on Silva. We knew coming into this that cage rust was going to be a question, but if he cannot shake it off, Gustafsson will take this one effortlessly.
Papy Abedi vs. James Head re-airs.
Early in the first, Abedi takes Head down and passes into half-guard, but Head withstands the onslaught and mounts the pressure on Abedi before getting the back and scoring the rear-naked choke, which forces the tap from "Makambo".
Head finally gets his first UFC win while Abedi falls to 0-2 inside the Octagon.
Gustafsson vs. Silva is coming up next, and so many questions surround this fight from where I am sitting. Can Gustafsson's chin be touched by a guy like Silva? Did the weight cut have a worse adverse effect on Silva than he lets on? How will the crowd react to the battle that we are about to witness?
The time for speculation has ended and the time to throw down is now!
Silva is out first, it looks like he is in brown trunks, and despite the controversy that kept him out of action for most of last year, Silva is still seen by some as "The New Axe Murderer" a la Thiago's countryman, Wanderlei Silva.
Hot and heavy exchange starts off the first round and Stann drops Sakara with a loaded exchange and a big knee to the chin before controlling Sakarar on the ground and effective slamming Sakara's chin with ground-and-pound from inside Sakara's guard. Trust me when I tell you folks, you missed a good one if you missed this one, but at the same time, there's not a whole lot that you missed that I can put into words.
Stann shows class in the post-fight interview and welcomes whoever is next for him at 185. He lost big but he wants to come back bigger. Can't fault a man for that.
Brian Stann vs. Alessio Sakara is up next. Both men have their striking games and both men want to get back on the winning path, but will Stann try for a takedown? We will find out when this bout begins. Oh, and Stann has the two-inch reach advantage.
Can we rename this event "UFC on Fuel TV 2: Two-inch Reach Advantages"?
No?
Damn. Oh well.
Marc Goddard is our ref tonight. Black trunks for Stann, and white and black trunks for Sakara.
Siyar is in the red and white trunks, while Thiago is in the blue and white trunks.
Leon Roberts is our ref tonight.
First round sees both guys measure each other up but a short right hand lays Thiago out COLD, and Siyar gets the walk-off KO!
If you watch the replay, you will understand how one might reach "inside right forearm" and "standing inverted right hammer fist to the jaw" respectively. It looked more like a forearm to me in the replay, but a shorthand shot can look as such sometimes.
The time of the knockout is 42 seconds, about four seconds less than Marlon Moraes' win at XFC 17 last night...and if you didn't believe the hype around Siyar, you'd look ridiculous to not believe it now.
All three judges disagree with me as they give SIver the win, but I'll take it. Third round was close.
Siyar vs. Thiago is up next. Thiago has always been a guy who I thought was a great ground-gamer with underrated KO power, while Siyar is a guy who I'd like to have thought was something of the opposite as a great aggressive striker with underrated submission and grappling skills. The only question now is "Who will get their game off first?"
We will find out right now.
Thiago has two inches of reach in Siyar, but can he handle Siyar's aggressive style?
Nunes has done a good job of making Siver fight according to Nunes' game plan in the second, and the third round is where things gets tough as both are striking fast inside the clinch and from every visible angle. Nunes cuts Siver open with something, and slips after taking some body shots against the cage. Round ends with both going balls out, but it's tough to know if Siver won that round or not.
If I'm a judge, I might be quite incompetent, but I would also be thinking about that cut. Many men have won decisions partially due to their opponents getting cut open. If I am one of these judges, I might actually have Nunes winning 29-28.
I gave Nunes all but the first because he mixed it up and seemed to hurt Siver more in the last two rounds.
Siver's missing a few shots to start round two, and again Nunes lands his spinning back kick. Siver goes in for the takedown and again, Nunes defends it. Feint spinning back kick from Nunes leads to him eating a combination from Siver.
Nunes adjusting his cup, which stops the fight for a brief moment, but nonetheless, he fights on. Siver turns it up to end the round after landing heavily with a shot that rocks Nunes.
Better round for Nunes, and I have it all tied up 1-1, 19-19, and Nunes 10-9.
Reach, height and age go the way of Siver, and I figured Nunes might be more Black House than Nova Uniao these days. Kenny Johnson's cornering him tonight. Siver's in the white trunks while Nunes is in the black trunks with the white trim.
Siver getting the better of the striking on the feet, and Goldie mentions that Siver actually lost two pounds after weighing in at 147. Hard to tell how much Nunes is landing and even harder to tell exactly what the game plan is for Nunes, but it looks like the strikes that are landing for Siver are all having little to no adverse effect on Nunes. Leg kicks may not win fights, but effective striking does.
I would think maybe Nunes probably landed the more powerful shots and was more effective in the Muay Thai clinch than Siver was with his body shots. Nevertheless, 10-9 Siver.
Feint punch for the takedown from Maguire, who gets swept by Johnson, and Johnson looks for multiple submissions before Maguire gets back to his feet. Maguire stops the though of a knee to the head and gets another takedown but Johnson is working off of his back. UFC stats show that Maguire is out-landing Johnson on the ground and Johnson keeps trying for a kimura, but Maguire gets side control. Johnson still wants that kimura, but Maguire sees an opening for a counter and sinks in the armbar to force the tap!
Outstanding ground battle from both fighters, and a great win for Maguire, who unveiled his pink belt (yes, PINK belt) in Gypsy Jiu-Jitsu. Johnson is 3-3 in his last six in a W-L-W-L type of patter, while Maguire is 2-0 in the Octagon.
Who should Maguire and Pickett, our two winners thus far, get inside the Octagon next? Let us know in the comments section if you have a suggestion, also follow your boy on Twitter for more post-fight commentary!
Siver vs. Nunes is up next. Interesting of note is that both men have notable striking games and hard tough to handle for most guys on the ground. Not only that, but Siver is making his featherweight debut, while Nunes is looking for his first UFC finish. Nunes, as I understand, is not training with Nova Uniao these days, but he will look to bring something fierce to Siver for sure. Aside from that, Siver actually missed weight yesterday. It's unknown if he lost that extra pound or not, but if not, this fight could be difficult for Siver to contend with.
Maguire in the black trunks and getting outstruck so far by Johnson, who is in the blue trunks.
Maguire gets a takedown but Johnson getting tight with his closed guard, where he goes for two omoplata attempts. Maguire escapes both despite giving DaMarques the arm the first time. Eventually, Maguire passes into half-guard and works to pass into side control, which he does.
Mike Goldberg mentions WWE Hall-of-Famer Bret "The Hitman" Hart in explaining why Maguire wears pink for his fights. I didn't even notice before Maguire got the back of Johnson and controlled Johnson before the end of the round.
Who has it 10-8 Maguire? Not me. Still, dominance is dominance. 10-9 Maguire.
John Maguire vs. DaMarques Johnson si up next here at UFC on Fuel TV 2, and while he's coming off of that win over Clay Harvison, one has to think that Maguire's big edge plays right into the kryptonite of Johnson. Maguire was able to take Justin Edwards down in his last outing and control him with his Gypsy Jiu-Jitsu and it resulted in a strong win that I'm sure nobody is daring to call a "hometown decision". How does that relate to Johnson? Simply put, the performance that earned Maguire his win over Edwards is the type of game plan that has resulted in Johnson's losses to the likes of Amir Sadollah, Matt Riddle, and James Wilks in the sense of how dominant it can be against an opponent that can't find a way to shake it off.
Johnson does hold the reach edge and the height on Maguire, but the question is whether or not he can use it accurately.
Dana White's reaction is as follows:
"That was an awesome fight congrats to Picket and Page is tough as hell!!!!"
Not sure if the tweet will show on here if I post the embedded tweet, but nonetheless, Dana is impressed with both, as am I.
Pickett makes it known that he's not afraid to fight wherever the fight takes him in the post fight interview with Kenny Florian. Say what you will about both guys, but there's no doubt that both guys can deliver PPV quality action from start to finish regardless of which end of the card they are fighting. Spectacular performance from both, and a fantastic bout to kick us off here at "The Globe".
Frenetic pace carries itself in round two, where Page gets taken down but gets back up, only to get rocked and dropped by Pickett, who works beautifully from inside the guard but can't find that finish. Pickett tries to attack Page against the fence but Page works on top and holds Pickett up before getting back up. UFC stats show that Pickett is out-landing Page on the ground.
Pickett mounts the pressure with his striking to force a sprawl that looks more along the lines of Page getting dropped. Page give up his back for a rear-naked choke. Hard to tell from this angle whether Pickett's gotten it or not but the ref steps in to stop the fight, and Page taps out to secure the second round submission win!
Aggression from both men early with Pickett winding up on top before Page gets up. Pickett responds with some strikes from Page, who slips before we leave the first minute and gets a takedown.
Pickett gets up and secures a takedown, and the crowd has not gotten restless yet. Pickett tries for an outside switch but Page traps the arm and contains Pickett in the full guard. Ground and pound from inside the guard, followed by some elbows, though nothing has Page in any danger of being stopped.
Both stand back up and trade in spurts, but PIckett gets a takedown and swings to welcome Page back up before taking him down again.
Frenetic pace all throughout round one, which ends on a a 10-9 round, a clear round for Pickett, who showed activeness on the ground, even despite being inside the guard for most of the fight on the ground.
Pickett has four years of age and two inches of reach on "The Angel of Death", and Pickett's last fight was only five months ago. Will it make a difference? We will find out tonight for sure.
Pickett is in the blue trunks, while Page is in the red trunks. I'm not going to butcher the referee's name.
Page is better than he's looked against Bowles and Demetrious Johnson, as he does know how to make his opponents dig deep to find a win. You all will recall that many actually had it one round apiece before Johnson submitted Page, and Bowles was just Bowles when he beat Page in the same round, at the exact same time, and by the exact same submission hold at UFC on Versus 3.
The same goes for Pickett, who found an unsuccessful debut in the form of his UFC 138 bout with Renan "Barao" Pegado, though that sting healed somewhat with the Fight of The Night bonus that he and Barao earned that night.
Ladies and gentlemen, we are LIVE and in living color for the event that sold out in less than one hour, and as this opener appear on the screen, we welcome you to UFC on Fuel TV 2 on Bleacher Report MMA!
We have an action-packed card for you all today as Alexander Gustafsson faces Thiago Silva, Brian Stann faces Alessio Sakara, Siyar Bahadurzada debuts against Paulo Thiago, John Maguire faces DaMarques Johnson, Diego Nunes welcomes Dennis Siver to the UFC featherweight division, and Brad Pickett does battle with one Damacio Page!
Page and Pickett will kick this card off after this commercial break. Key for Pickett might be to get Page on the ground, make him feel as uncomfortable as possible and submit him, but don't sleep on his striking. They don't call him "One-Punch" for nothing. As for Page, he's coming off of a layoff after losing to Brian Bowles and may do well to try and establish his aggression early.
This article is
What is the duplicate article?
Why is this article offensive?
Where is this article plagiarized from?
Why is this article poorly edited?