The Most Overrated NFL Player at Each Position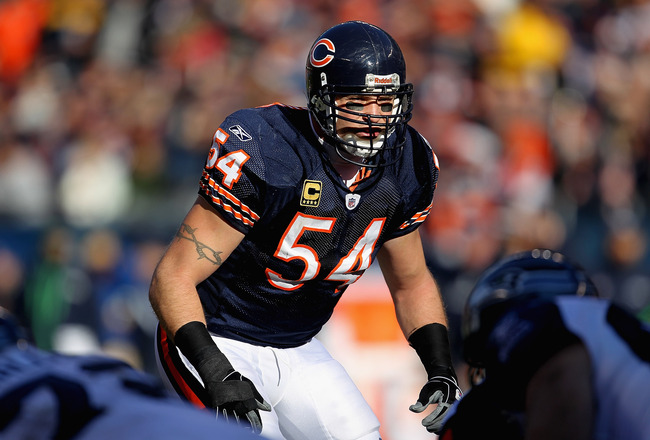 Jonathan Daniel/Getty Images
Overrate: [oh-ver-reyt]
Verb (used with an object)
To rate or appraise too highly; overestimate: I think you overrate their political influence. (From dictionary.com)
In order for a player to be overrated, he must first be placed in high esteem by one or more (usually more) people.
There are certain criteria a player must meet to be properly deemed "overrated," and he cannot be labeled as such based purely on opinion—there must be proof of overratedness. (So I make up words. Big whoop. Wanna fight about it?)
You're going to disagree with at least one player on this list—of that I can assure you.
But I can also assure you that I have spent hours researching years of numbers in preparing for this list, and although you may not agree, every name you will read does, in fact, belong to an overrated player.
Let us not waste any more time with semantics and proceed with the list, yes?
I give you the most overrated NFL player at each position. Enjoy.
Quarterback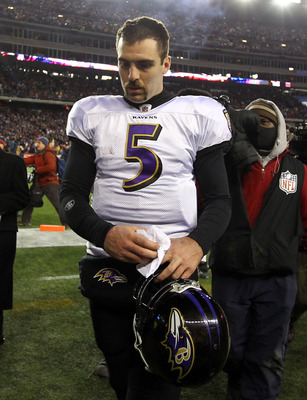 Al Bello/Getty Images
Joe Flacco, Baltimore Ravens
Flacco would never have made this list if not for his recent comments to WNST 1570 in Baltimore in which he stated that he believes he's the best quarterback in the league:
I assume everybody thinks they're a top-five quarterback. I mean, I think I'm the best. I don't think I'm top five, I think I'm the best. I don't think I'd be very successful at my job if I didn't feel that way. I mean, c'mon. That's not really too tough of a question.
Joe is actually right; it's not that tough a question. The only problem being, of course, that he got the answer wrong.
As stated by B/R Correspondent Cooper Allen, the Ravens would be better off with a number of different NFL quarterbacks.
The statistics just do not add up to Flacco being the best, or even close to the best.
Wide Receiver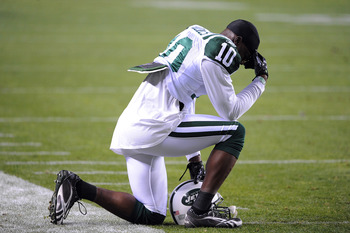 Garrett Ellwood/Getty Images
Santonio Holmes, New York Jets
The way he runs his mouth on the field, you would think Santonio were a 100-catch per year receiver.
He is not.
In fact, Holmes' career high for catches in a season was in 2009 with Pittsburgh, in which he hauled in 79 receptions for 1,248 yards and five touchdowns.
He has averaged 56 receptions per year throughout his career, yet he is being paid as a true No. 1 receiver would be (No. 8 for receivers in average annual salary).
His diva-like behavior aside, Holmes is not as good as he thinks he is. You may argue that he hasn't had the best of quarterback play to help him out, and you'd be right. However, he was out-performed last year by many receivers who have similar quarterback situations.
Namely Larry Fitzgerald.
Even Fitz's teammate, No. 3 receiver Early Doucet, had a similar year—54 receptions for 689 yards and five TDs—to Holmes in 2011, and he doesn't make anywhere near what the former Ohio State Buckeye does in annual salary.
Running Back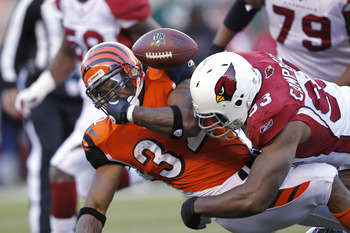 Joe Robbins/Getty Images
Cedric Benson, Cincinnati Bengals
Benson might be the worst 1,000-yard rusher in the history of the NFL.
The past three seasons have all netted him at least 1,000 yards on the ground, but he's as elusive as the Titanic (too soon?) and breaks tackles as well as I play Mario Kart on the Wii (you've never seen me play, but I assure you I'm the worst Mario Kart player in the history of the world).
At only 29 years of age, Benson should still have some years left in his legs. But he will need to prove he has some youth remaining, because Cincinnati holds two picks in the first round of the 2012 NFL draft, and one of those picks could very well be his replacement.
Tight End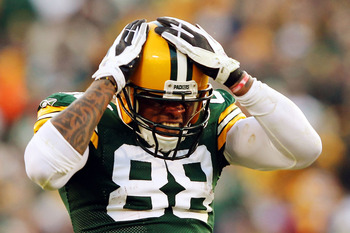 Jamie Squire/Getty Images
Jermichael Finley, Green Bay Packers
Of the 67 catchable passes intended for Finley in 2011, only 55 were hauled in. He led all tight ends with 12 drops and finished No. 12 at the position with 767 receiving yards.
To his credit, he did record the third-most TDs among tight ends with eight.
Finley has a brand-new, two-year, $14 million deal with Green Bay, but it could have been significantly larger had he performed to his potential. He still may, but catching the ball should be high on his list of things on which to improve this offseason.
Left Tackle
Jamie Sabau/Getty Images
Joe Staley, San Francisco 49ers
For being considered among the best left tackles in the game, Staley sure had a subpar 2011 season.
According to ProFootballFocus.com, Staley has been ranked the No. 20 left tackle in all of football three of the past four seasons, being given a negative player rating three times over that span.
He has surrendered only 21 sacks during that time, which is good; however, he has also missed 14 regular-season games since 2008. Staley did start all 16 games for San Francisco last season, as well as its two playoff games.
Staley's problem is inconsistency, as pointed out by B/R Senior NFL Draft Lead Writer Matt Miller:
Staley has the raw talent to be a top-10 offensive tackle, but his inconsistencies as a blocker hide his exceptional size and agility. If Staley can continue improving and stay healthy, he could eventually be one of the best here.
Left Guard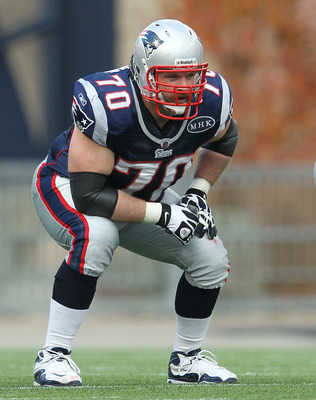 Jim Rogash/Getty Images
Logan Mankins, New England Patriots
The No. 13-ranked left guard in 2011 (Pro Football Focus), Mankins severely underperformed last year compared to what we're used to seeing from him.
For the majority of his career, he has been one of the overall top-rated guards in the NFL. He took a major step back (figuratively speaking) last season and may be on the downward swing of his time in the league.
Mankins is not as quick or agile as he once was, and that has caused him to be beaten by faster pass-rushers recently.
Expect more of the same in 2012 for this overrated lineman.
Center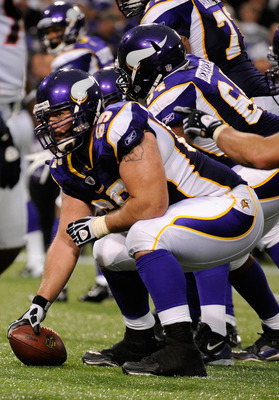 Hannah Foslien/Getty Images
John Sullivan, Minnesota Vikings
No center in football has surrendered more sacks over the past three years than Sullivan. Many consider him a top-five player at the position, but his performance to date has been less than admirable.
He is a good run-blocker, but having the game's best running back, Adrian Peterson, running behind him has created the illusion that he's better than he truly is. With Peterson's injury and subsequent rehab, there is no guarantee the All-Pro back will ever be himself again.
How will that impact Sullivan?
Right Guard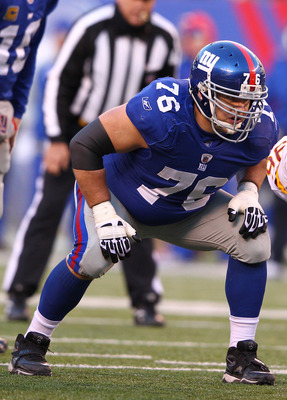 Al Bello/Getty Images
Chris Snee, New York Giants
Snee was once among the best offensive linemen in football—so good, in fact, that from 2008 to 2010 he allowed six sacks, nine QB hits and only 38 QB pressures. In three years.
The season just completed was not as kind to Snee.
He surrendered six sacks, six hits and 27 pressures in 2011—nearly identical totals to that of his previous three seasons. But why the sudden drop-off in dominance? In that three-year span, Snee gathered an overall player rating of plus-59.6 (PFF.com), but in 2011 his rating was a staggering minus-18.7, including the playoffs.
He is 30 years of age, so one might argue that age and overall wear and tear are getting the best of him. Whatever the issue, Snee is simply not as good as he once was, and if he doesn't get it together, and fast, this son-in-law of head coach Tom Coughlin may be replaced.
I'd love to be at the family dinner following that decision.
Right Tackle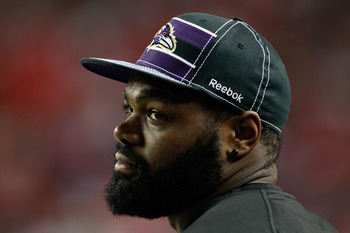 Kevin C. Cox/Getty Images
Michael Oher, Baltimore Ravens
This 2009 first-round pick has started every game for the Ravens since his rookie season.
Not only at right tackle, where he's started 31 games in his career, but also at left tackle. Oher has started 23 games while protecting Joe Flacco's blind side, including the entire 2010 season.
He was not overwhelmingly good at left tackle, so Baltimore asked him to play on the right side in 2011. He did so and surrendered 11 sacks, seven QB hits and a whopping 43 QB pressures.
Since 2009, only Phil Loadholt of Minnesota has been called for more penalties (35) than Oher (33).
At only 25, Oher can still become one of the best linemen in the NFL, but it will take a lot of work on his end to make it happen—especially in the penalties department. Thirty-three is far too many.
Defensive Tackle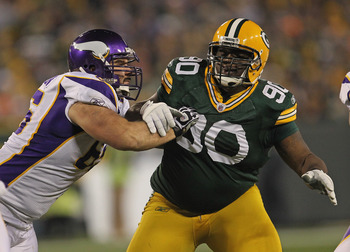 Jonathan Daniel/Getty Images
B.J. Raji, Green Bay Packers
Also a member of the 2009 draft class (No. 9 overall), Raji had a great 2010 season. He recorded eight sacks (playoffs included) and was very disruptive in the running game.
In 2011, he disappeared.
Green Bay allowed 4.7 yards per carry on the ground last year, and Raji was a big part of that. Interior linemen consistently handled the 350-pound man as if he were half that size, opening up gaping holes through which running backs routinely ran.
He has the ability to be a dominant pass-rusher from the defensive tackle spot—something of a rarity in today's NFL. It is imperative for the Green Bay defense as a whole, however, that he improves his run-stopping ability. He is simply awful when it comes to plugging holes on the line, and that is inexcusable from a player of his size and stature.
The absence of a key defensive lineman next to him could be a major reason his productivity decreased in 2011, but we'll get to that in a minute.
Defensive End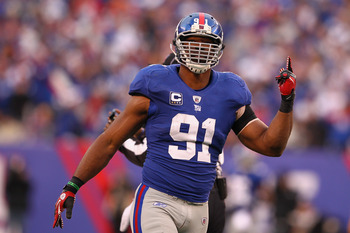 Al Bello/Getty Images
Justin Tuck, New York Giants
Justin Tuck is no longer an elite pass-rusher. In 2011, he was No. 23 in Pass Rush Productivity for left defensive ends according to Pro Football Focus, behind players like Lamarr Houston of Oakland, Raheem Brock of Seattle, Cliff Avril of Detroit and rookie Jabaal Sheard of Cleveland.
Tuck missed time in 2011 with neck and groin injuries but was able to start every game from Week 8 of the regular season through the Super Bowl.
He recorded a QB pressure once every 11 defensive snaps. Compare that to Chris Long of St. Louis, who led all defensive left ends with a QB pressure once every 5.8 snaps, and Tuck's struggles become clearer.
With Jason Pierre-Paul set to take the reins as the top pass-rusher on the team, Tuck's time may be running out in a Giants uniform.
Outside Linebacker
Jamie Squire/Getty Images
Clay Matthews, Green Bay Packers
As was hinted two slides ago, there may be a reason B.J. Raji's production dropped way off from Green Bay's Super Bowl-winning season to last season. It is likely the same reason Clay Matthews experienced a severe drop-off, as well.
The loss of defensive end Cullen Jenkins to Philadelphia tremendously hurt Green Bay's push up front.
Without Jenkins taking up bodies on the line, there was more mass to throw around at Raji and Matthews, and it showed.
Matthews still had a semi-productive season, but without Jenkins he is average at just about everything. Unless the Pack beef up in the draft, more of the same will be in order for the 2012 season.
Middle Linebacker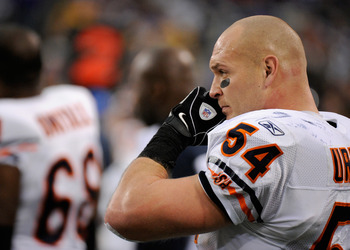 Hannah Foslien/Getty Images
Brian Urlacher, Chicago Bears
For the better part of a decade, Brian Urlacher has roamed from sideline to sideline at Soldier Field, tearing up ball-carriers and crushing receivers brave enough to chance a crossing route into his territory.
And for years he has been one of the best in the business at what he does.
However, Urlacher has been on a steady decline since breaking his wrist to begin the 2009 season. Since then, he has not been the same beast, yet he is still rated as being among the league's best.
Total tackles don't mean a whole lot if they are not impact tackles (tackles for loss, stuffs or the dreaded "assisted tackle").
He did gather three interceptions in 2011 but did not record a single sack in 80 pass-rush attempts and tallied only five total QB pressures. That's a miserable one in every 16 pass-rush attempts. He was voted to his eighth Pro Bowl despite ranking near the bottom in Pass Rush Productivity for middle linebackers (Pro Football Focus).
Arizona Cardinals second-year middle linebacker Daryl Washington led all middle linebackers with five sacks, recorded two interceptions and finished with five more tackles than Urlacher.
Why Matt Miller scored Urlacher with a "4" for pass-rush and Washington with a "5" is beyond me. It seems there should be a greater difference. Urlacher has never been a great pass-rushing threat—but that's another discussion altogether.
Washington did not make the Pro Bowl.
Cornerback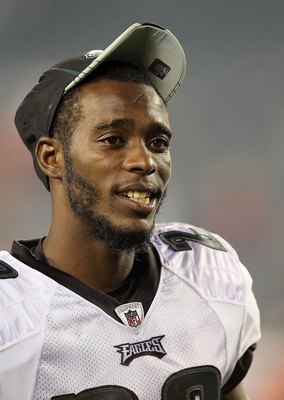 Jim McIsaac/Getty Images
Dominique Rodgers-Cromartie, Philadelphia Eagles
In his second year after becoming a first-round pick for Arizona in 2008, DRC made a big enough splash to make the Pro Bowl.
Since then, he has been beaten soundly by receivers as talented as Roddy White and as inconsistent as Michael Crabtree. He is not a factor in the running game, as he will not step up to make a tackle; he crumbles at the opportunity to make an open-field tackle regularly.
Rodgers-Cromartie was traded to Philadelphia in the Kevin Kolb deal.
Though Kolb struggled to be consistent while fighting multiple injuries in his first season with Arizona, the Cardinals got the better end of the deal even though the franchise had to part ways with its second-round pick in this year's draft.
Rodgers-Cromartie over-achieved in 2009, and though he has the raw talent to be a good starter in the NFL, he lacks the drive to live up to his potential.
Free Safety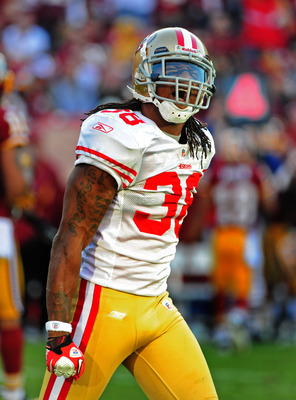 Scott Cunningham/Getty Images
Dashon Goldson, San Francisco 49ers
As overrated a player as there is in the NFL, Goldson is terrible in coverage.
Sure, he was able to intercept six passes in 2011, but he also allowed 596 yards receiving by opposing wideouts while being responsible for five touchdowns.
Goldson also missed eight tackles and was bad against the run. He gets a free pass on run defense since he's not a line-of-scrimmage safety, but he's still among the worst in the NFL at his position.
He played well in 2011, but because San Francisco's defense was so dominant, virtually everyone in the unit not named Patrick Willis has been over-hyped and overrated by one writer or another.
He's simply not that good.
Strong Safety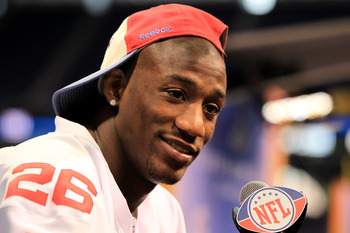 Scott Halleran/Getty Images
Antrel Rolle, New York Giants
Antrel Rolle has been overrated since the day he was taken No. 8 overall by Arizona in the 2005 NFL draft.
Originally drafted as a cornerback out of Miami, it was quickly apparent he was not athletic enough to compete even against teams' No. 3 and No. 4 receivers, routinely being beaten because of his stiff hips.
He made the switch to free safety in 2008 and was named the full-time starter. In 2009 with Arizona, he made the first of two consecutive Pro Bowls, intercepting four passes and allowing just 348 yards through the air (Pro Football Focus).
In 2011, Rolle allowed a staggering 841 passing yards, four touchdowns and a 104.0 QB rating on his way to a Super Bowl title with the Giants.
He intercepted two passes but also missed 12 tackles. He rushed the passer 41 times and recorded only four QB pressures.
How much longer will people believe Rolle is a top-tier player? The Giants are certainly duped. They made him the fifth-highest-paid safety in the league, giving him a five-year, $37 million contract that runs out in 2014.
I don't see him finishing out that deal, as he is owed over $9 million each of the next three seasons.
Keep Reading