9 Oakland Raiders Who Deserve Long-Term Extensions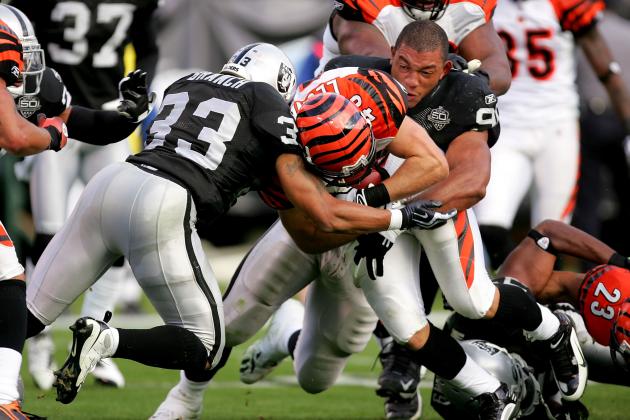 Ezra Shaw/Getty Images

New general manager Reggie McKenzie took the reins of the Oakland Raiders and has reworked the defense in what would be considered a very short period of time by NFL standards.
Next on McKenzie's agenda is the draft, then he'll go back to work on free agents before coming back to the players currently on the roster that deserve long-term contract extensions.
We'll save McKenzie some trouble and create a list and some reasons these players deserve to be Raiders for years to come.
Begin Slideshow

»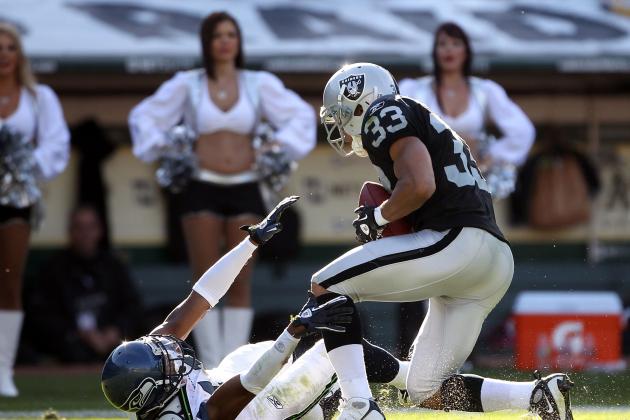 Ezra Shaw/Getty Images

The Raiders placed the franchise tag on Tyvon Branch to keep him from hitting the free-agent market.
Branch has been a consistent performer in the Raiders secondary since he came into the league. In 2009, Branch became a full-time starter and recorded a career-best 124 tackles and has produced similar numbers in run support for the past three seasons.
Branch was rated as the best safety in the league against the run last season by ProFootballFocus in 2011. He racked up 109 tackles to lead the team.
It was Branch's improvement in the passing game that was most impressive in 2011. Not only was Branch much better in coverage in 2011 than 2010 and 2009, but he was asked to drop into coverage a lot more.
| | |
| --- | --- |
| Year | % of snaps in coverage |
| 2011 | 56.0% |
| 2010 | 48.7% |
| 2009 | 45.5% |
Branch hasn't missed a game due to injury since becoming the starter in 2009, starting 48 straight games. You can't ask for more durability from a physical player.
McKenzie shouldn't hesitate to sign Branch to a long-term deal that should keep him with the Raiders for many years to come.
Probability of a long-term contract: 99%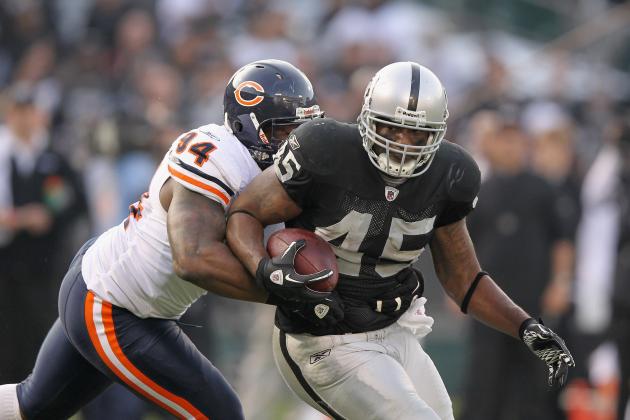 Ezra Shaw/Getty Images

The Raiders were just as quick to tender restricted free-agent fullback Marcel Reece as they were to tag Branch. While the traditional fullback might be dead or dying in the NFL, Reece and others are redefining the position.
Reece had more yards receiving than any other fullback in the league last season, but second to Reece was Houston's fullback James Casey. Offensive coordinator Greg Knapp happened to coach for Houston last season and should be installing plenty of packages for the Raiders' dynamic fullback.
While Reece still has some work to do as a run blocker, he's an underrated runner. Reece rushed the ball 17 times for a league-high 112 yards. That's 6.6 yards per carry and a full yard more than the next fullback with five or more carries.
So while many will worry about short-yardage situations with the departure of Michael Bush, Reece may end up gaining those carries. He certainly looks capable of carrying more of a load.
When the Raiders offense was most effective, Reece was involved. Expect that to continue to be a theme and for McKenzie to sign Reece to a long-term extension in the next year.
Probability of a long-term contract: 97%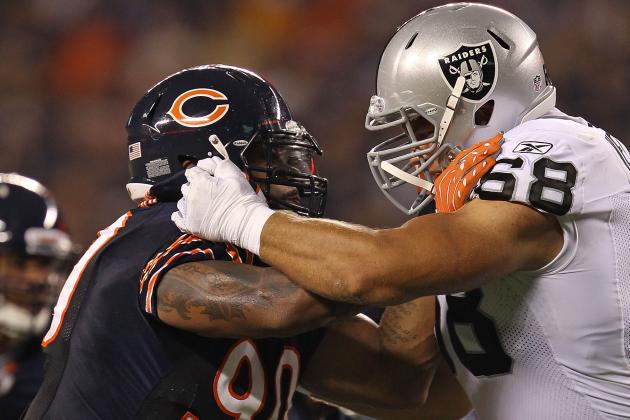 Jonathan Daniel/Getty Images

The Raiders may have finally drafted their franchise left tackle and it only took about 25 years. For the first time in decades, the Raiders have a player to be excited about on the offensive line.
Veldheer was among the best left tackles in football at run blocking last season, which was a significant improvement from his rookie campaign in 2010.
Veldheer also improved his pass blocking and limited his penalties, although he still has some growing to do in those areas.
If Veldheer can replicate his improvement over the next two seasons, the Raiders might have to pay him like a franchise left tackle and they should have no problem doing it.
With two years remaining on his contract, the Raiders will probably wait until Veldheer's contract is expired or about to expire in 2013 to discuss a contract extension.
I expect great things out of Veldheer, but it will be interesting to see how he does with a new blocking scheme as he was strong last year in the man-blocking scheme.
Probability of a long-term contract: 85%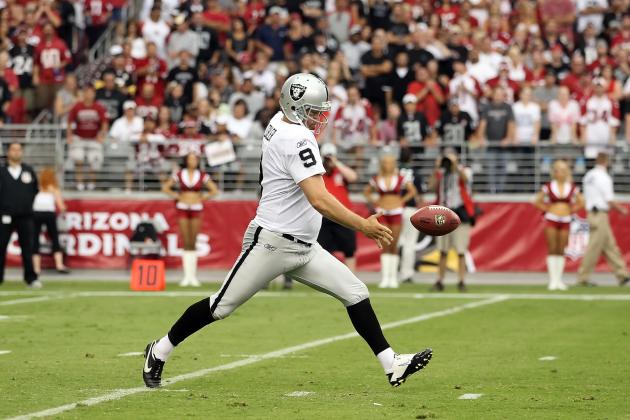 Christian Petersen/Getty Images

Lechler might be the greatest punter to ever play the game when he decides to hang up his kicking shoe.
Headed into the final year of a record contract, it's very hard to see McKenzie not bringing Lechler back.
It's a game of inches and the players that help the team win the field-position battle are extremely valuable.
Lechler makes life easier for the defense by backing up offenses and giving them a longer field. An extra five to 10 yards on a punt can sometimes be the difference between winning and losing.
Lechler is also a great place-kick holder and a threat to throw, as he was recruited as a quarterback out of high school.
There isn't a special-teams coach in the NFL that wants to deal with Shane Lechler, but unlike a return specialist, there is not a whole lot a coach can do to limit Lechler.
There might not be a safer bet in football than an elite punter.
Probability of a long-term contract: 99%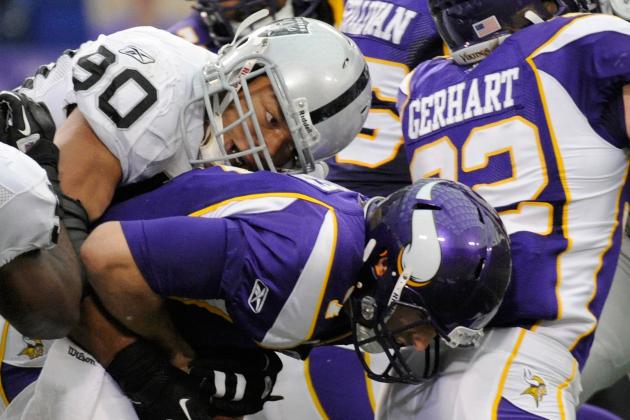 Hannah Foslien/Getty Images

Bryant was the other restricted free agent that was tendered a contract by the Raiders. Bryant produced a lot of quality play in 2011 and was the starting defensive end for the better part of the season. He's also capable pass-rusher from the defensive tackle position.
He might not start, but Bryant will play a lot of snaps as a reserve defensive lineman. As a defensive end, he's limited as a pass-rusher and he doesn't hold up well against the run inside, but he's very good against the run as a defensive end and disruptive as a pass-rusher from the defensive tackle position.
If the Raiders will put Bryant in a position to succeed, he'll be more than worth a long-term contract extension at the end of the season.
Probability of a long-term contract extension: 70%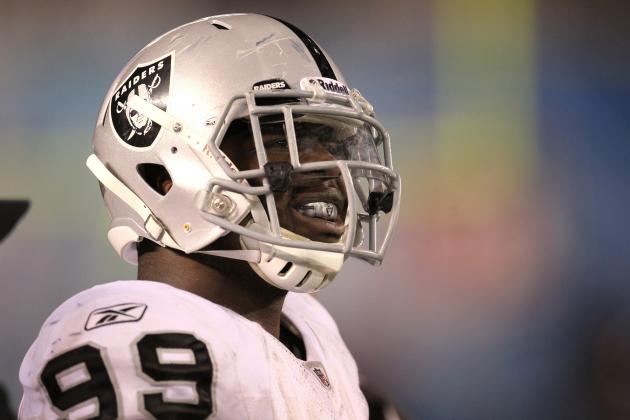 Stephen Dunn/Getty Images

A lot of fans assume Houston had a down year because he recorded only one official sack. Nothing could be further from the truth.
Houston was very effective against the run and racked up 51 tackles from his defensive end position. He was also extremely consistent and avoided highs and lows.
The Raiders have decided to keep Houston at defensive end permanently and live with the limited pass-rush skill set in return for excellence against the run.
There is always a question of role when it comes to Houston. It's not as if Houston isn't disruptive in the pass game when asked to rush the quarterback, but it's a question of how often he is asked to rush. In order to effectively rush the quarterback, the defense has to call for it and ensure there is linebacker support.
Houston's primary job is to bottle up the run and he does it well. He's still young and can continue to become a better pass-rusher as time moves on.
Provided the Raiders can add a pass-rush specialist on the outside, Houston can also spell Richard Seymour and Tommy Kelly by sliding inside to tackle where he would be more effective at applying pressure on the quarterback.
Houston is also 11th-best defensive end in Bleacher Report's NFL 1,000 rankings ahead of John Abraham, Cliff Avril, Dwight Freeney, Darnell Dockett, Robert Mathis, Charles Johnson, Justin Tuck and others.
With only two years on his contract, worth about $500,000 each season, the Raiders need to open up the wallet for Houston before he is allowed to hit the free-agent market in 2014.
Probability of a long-term contract: 93%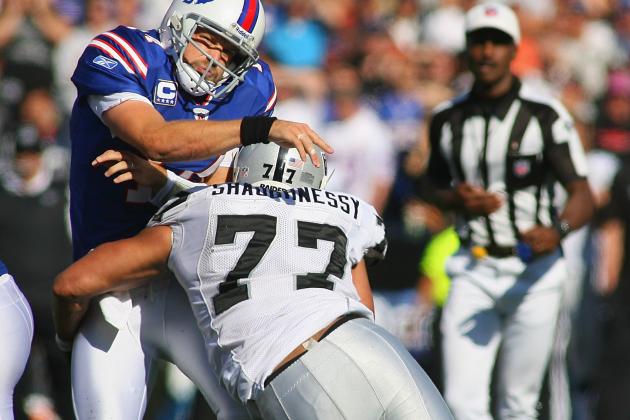 Rick Stewart/Getty Images

Categorize the final three guys as players that could merit long-term contract extensions, but have something to prove before McKenzie should open up the silver and black wallet to pay them.
Jacoby Ford
Needs to continue his development as a receiver and stay healthy. He's got a lot of potential, but will he ever be any more than a return specialist that has some receiving ability?
He appears to have everything he needs from a talent perspective, he just needs to run more precise routes and stay healthy
Probability of a long-term contract: 55%
Matt Shaughnessy
Every year we hear how great he looks, but he tends to disappear in games and hasn't been able to stay healthy. Is it only a matter of time before he remains healthy and blows up? Are his injuries mutually exclusive? I'm not so sure.
McKenzie should also be skeptical. We'll just have to wait and see if Shaughnessy remains healthy and if he does, if that breakout the Raider Nation has been promised will every become reality.
Probability of a long-term contract: 50%
Louis Murphy
Murphy found himself without much opportunity in the rotation at receiver last season. That can happen for many reasons, but Murphy did produce when given an opportunity and was threatening for 1,000-yard seasons prior to 2011.
It could have had a lot to do with the emergence of Denarius Moore and Darrius Heyward-Bey, but that doesn't mean Murphy might not be in the Raiders future plans.
Murphy should get more opportunity as a fourth receiver and key reserve and he needs to run with those opportunities.
As so long as Murphy doesn't make any huge errors, he should at least have the opportunity to sign a more modest long-term extension.
Probability of a long-term contract: 45%