New York Yankees: 10 Advantages They Have Over the Boston Red Sox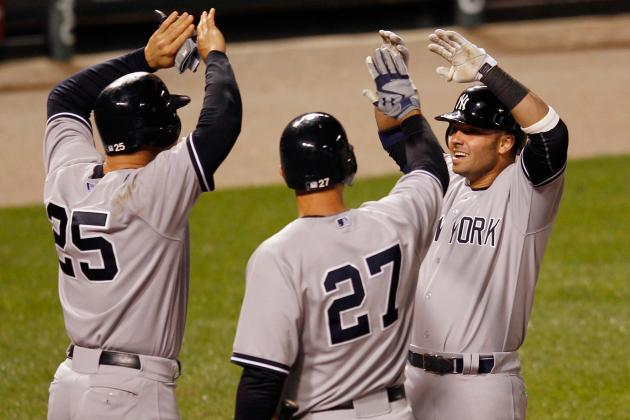 Rob Carr/Getty Images

The New York Yankees and the Boston Red Sox, a rivalry that cannot be matched by any other in the world of sports. Regardless of how either team is doing over the course of the season, a game between these two teams is always something to look out for.
This season though, the Yankees have the overall advantage over the Boston Red Sox. There are a number of factors that make the Yankees, on paper, the superior team.
Of course, please note, that this is merely just on paper. Just because the Yankees have advantages over the Red Sox does not mean they will overtaker them in the overall season series and/or beat them in the divisional standings. Anything can happen in the world of sports, and just because one team possesses an advantage(s), it does not make them unbeatable.
With that being said, here are 10 advantages the Yankees have over the Red Sox in 2012.
Begin Slideshow

»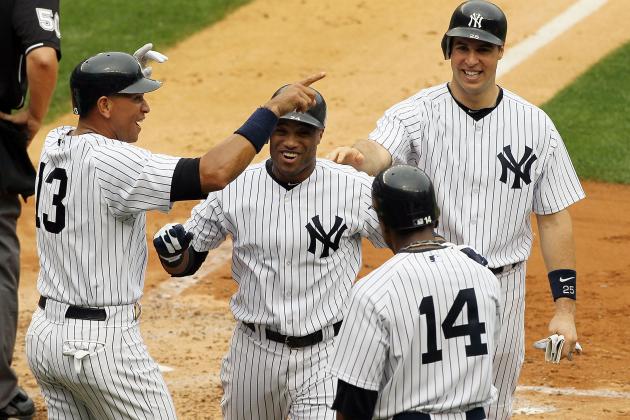 Jim McIsaac/Getty Images

The Los Angeles Angels have Albert Pujols. The Detroit Tigers might have the best 3-4 duo in the league.
But sometimes, those players in the middle of the lineup you depend on driving in runs night after night, might not be able to. Thus, you need guys that could provide in other spots, whether he's batting leadoff or batting eighth in the lineup.
And that's why the New York Yankees not only have a better offense than the Red Sox, but have one of the best overall offenses in the league. They have a team whose players can put on an offensive performance no matter who it is or where they are in the lineup.
Derek Jeter and Brett Gardner provide the speed and get on base. Curtis Granderson, Robinson Cano, Alex Rodriguez, Mark Teixeira, Nick Swisher, and newcomer Raul Ibanez provide plenty of power and help drive in runs. And Russell Martin has a mix of both power and speed that you don't normally get with a catcher.
Now don't get me wrong, the Red Sox have a good offense as well. Jacoby Ellsbury, after all, showed that he can drive in runs and steal bases within the same season, recording 32 home runs and 39 steals. Had it not been for Justin Verlander, he probably would have won the MVP award (and would have deserved it). In addition, Dustin Pedroia, a former MVP, has that same ability, although not in the same amount as Ellsbury showed last year. Adrian Gonzalez and David Ortiz provide plenty of power for this team.
I would have added Kevin Youkilis to their great offense, as well. However, his overall numbers have dipped since his 2008 season; the power and the ability to hit for contact are going away. It also doesn't help that he's suffering from back stiffness, which is not doubt affecting the way he's playing, both offensively and defensively.
These are just the guys one through five in the lineup, though. What about the rest of the lineup, the guys batting sixth through ninth?
First, we have Ryan Sweeney. He showed excellent promise as a player in 2009, with the Oakland Athletics, hitting .293 in 134 games. However, he has managed to play in just 190 games the past two seasons, and lacks power in his swing.
Next, is Cody Ross. Like Kevin Youkilis, he had a great 2009, with the then-Florida Marlins, hitting .270 with 24 home runs and 90 RBI. But like Youkilis, the power and the ability to hit for contact has dipped since then. He managed to hit 14 home runs with the San Francisco Giants last year, but his batting average was .240.
Hitting eighth in the lineup is Jarrod Saltalamacchia. He had a number of chances in Texas, before finally being shipped off to Boston. He got his first full season last year, and hit 16 home runs. He's still relatively young (he turns 27 in May) and has power potential, but let's see how he can do in his second full season with the team? Also, you have ton wonder if how many at-bats he'll get with the defensively-minded Kelly Shoppach behind him on the depth chart, and highly-touted prospect Ryan Lavarnway waiting in the wings.
Finally, there's Mike Aviles. When he plays enough games, he can hit for a high average. He hit .325 in 102 games for the Kansas City Royals in 2008, and .304 in 110 games, in 2010. But that's the problem, having him play a good portion of the regular season. He strained his arm in the 2009 World Baseball Classic, resulting in him getting Tommy John surgery. In 2011, he began the season as the Royals' starting third baseman, but was then optioned to Triple-A Omaha over Mike Moustakas. This season, he'll be sharing time at the shortstop position with Nick Punto. Currently, he's healing from a left ankle strain that he suffered in Monday's game against the Blue Jays.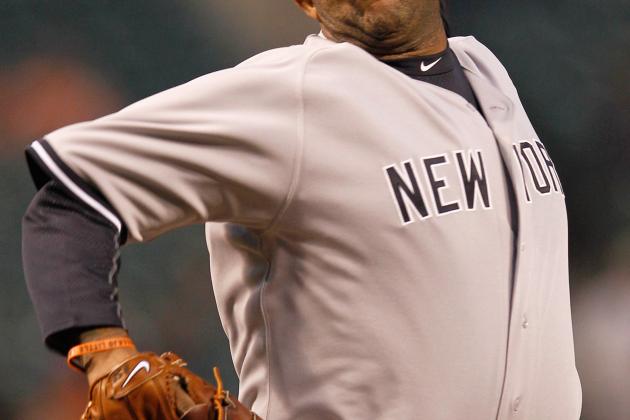 Rob Carr/Getty Images

Yes, Michael Pineda is on the disabled list, but look at what the Yankees' pitching rotation has, and what the Boston Red Sox has.
For the Yankees right now, they have C.C. Sabathia, Hiroki Kuroda, Phil Hughes, Ivan Nova, and Freddy Garcia.
C.C. Sabathia is one of the most consistent pitchers over the past decade. He's the ace of the organization for a reason. He logs in plenty of innings strikes guys out, and posts low ERAs each season.
Hiroki Kuroda doesn't have the best win-loss record in the majors, but if you look beyond that, he posts great numbers. Heck, even though Kuroda just turned 37, last season—with the Los Angeles Dodgers—was his best yet. He pitched in over 200 innings last season, and posted career-highs in wins (13), strikeouts (161), and ERA (3.07).
Phil Hughes might be the wild-card in this rotation, but that doesn't mean he lacks talent. In 2010, his first full season as a starting pitcher, he earned 18 wins. However, in 2011, he suffered from shoulder inflammation. If he can somehow return to his 2010 form, it certainly will help out the Yankees. And if it turns out he truly wasn't fit to be a starter, they could always relegate him to the bullpen (in 2009, he went 3-for-6 in save opportunities and earned eight wins in 51 games).
Ivan Nova had an impressive rookie season last year. He won 16 games and recorded a 3.70 ERA. So far, he's starting off the regular season well, helping the Yankees win their first game of the season Monday. If he can keep performing as well as he has, and increase his strikeouts, he'll be a mainstay for years.
Finally, there's Freddy Garcia. After several years, battling injuries and mediocre pitching performances, he signed with the Yankees as a low-risk, potentially high-reward deal, alongside Bartolo Colon. Well, he delivered. In 25 starts, Garcia earned 12 wins and posted a 3.62 ERA.
You also have to consider Pineda in the mix, when he eventually returns from the disabled list. Despite what has happened this year, this kid is young, but has plenty of talent. He did a great job in the first half of 2011 with the Seattle Mariners. His second half wasn't too bad either, although you couldn't tell if you merely looked at the win-loss record.
There's also Andy Pettitte, who after a year of retirement, decided to come back and pitch (at least) one more season. He may be 39 years old, but here's why I'm confident he'll be just fine in 2012. There is only one season in Pettitte's entire career, in which he did not record double-digit win; that was in 2004, when he was with the Houston Astros, and that was because he needed elbow surgery. He's also starting off 2012 on the right foot; on Monday, he pitched three innings for Class-A Tampa, allowing two hits and one run in his outing.
Meanwhile, in Boston, we have Jon Lester, Josh Beckett, Clay Buchholz, Felix Doubront, and Daniel Bard.
There is doubt in my mind that Jon Lester is a phenomenal talent. He's a 200-plus innings, 200-plus strikeouts kind of guy, who nets 15 wins a season easy, and has an ERA that ranges between 3.20 and 3.50.
Josh Beckett is another solid talent. He recorded a 2.89 ERA last season, and is another pitcher that can pitch 200-plus innings a season. And if it weren't for that September disaster, his overall statistics would have been a lot better.
From the third to fifth spots in the rotation, however, is where I'm concerned.
I like Clay Buchholz, I like the way this guy pitches. In 2010, he went 17-7, with a 2.38 ERA, which is very impressive. And it certainly looked like he was going to perform similarly in 2011. Unfortunately, he went on the disabled list in June and it was discovered in August that he suffered a stress fracture in his back. There's little doubt in my mind that Buchholz can still pitch effectively. My question is, will he continue to suffer back problems, which in turn, can affect his effectiveness on a long-term basis.
After that, you've got two players who have little to no experience as starting pitchers in the major leagues.
First, there's Felix Doubront. He played in 12 games back in 2010, and started in three of them, going 2-2. Last season, he made 11 more appearances, but didn't get a start, and had an ERA of 6.10. This is his first full season, so there's no idea as to how he'll do. He might do well like Ivan Nova did last year, he might now.
The other, Daniel Bard, has pitched in the majors before, but not as a starting pitcher. Instead, he was the setup man last year and did a great job in that role. He made 70 appearances, posting a 3.33 ERA over 73 innings. However, the organization decided to switch him to a starter. He suffered throughout spring training and was roughed up by the Toronto Blue Jays on Tuesday, allowing five runs and eight hits in five innings.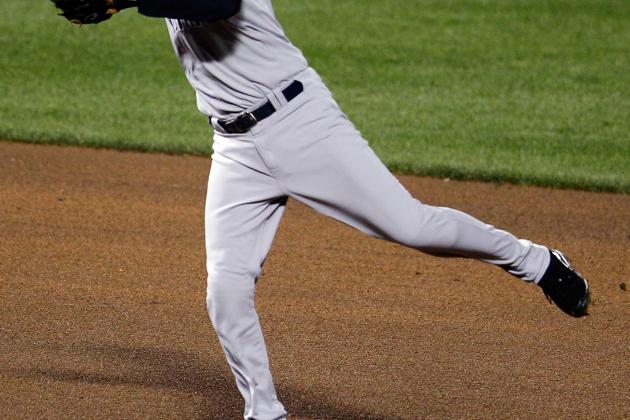 Rob Carr/Getty Images

Derek Jeter has been the starting shortstop of the New York Yankees since 1995. Even after 16 seasons playing in the big leagues, he is still able to make excellent defensive plays (although obviously, nowhere near his prime) and is able to hit very well. Through six games this season, he's hitting .370, better than anyone else in the starting lineup.
But because he's done so well at shortstop, there hasn't been a pressing need to find a suitable replacement for him. Eventually, Jeter's time will come, but his long-term status at the position certainly helps the organization.
Meanwhile, in Boston, the Red Sox have used a number of different shortstops over the past decade.
They had Nomar Garciaparra, but in 2004, suffered an injury to his Achilles tendon during spring training. Pokey Reese would become the starting shortstop for the first two months of the season.
Then,in July, Garciaparra was traded to the Chicago Cubs, and the Red Sox received Orlando Cabrera from the Montreal Expos. With Cabrera as he starting shortstop, the Red Sox won their first World Series in 86 years. However, after the celebration was over, Cabrera was a free agent, and he would sign with the Los Angeles Angels.
Since then, it's been one shortstop after another. Edgar Renteria, Alex Gonzalez, Jed Lowrie, Alex Cora, Nick Green, Marco Scutaro, all of them have served as a starting shortstop for the Red Sox. And now this year, Mike Aviles and Nick Punto will be sharing time at the position. There's also prospect Jose Iglesias to consider in the near future, as well.
Many people, including myself, consider shortstop to be the most important defensive position in baseball, outside of the pitcher-catcher battery. Well, it certainly doesn't help the Red Sox, when you've had to use 11 different shortstops within the past decade.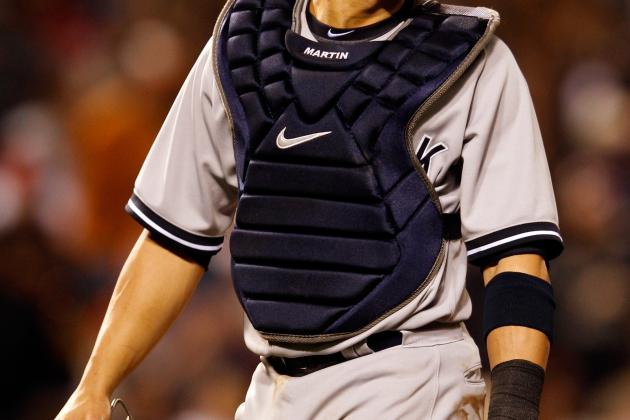 Rob Carr/Getty Images

Remember when I said how Russell Martin has a mix of both power and speed as a catcher?
I also forgot to mention his defense.
When it comes to throwing over to second base, Martin is one of the better catchers in the game today. He also does a good job at framing pitches, which helps the Yankees save runs.
Meanwhile, Jarrod Saltalamacchia has got the arm to throw it over the second base, but lacks the glovework, and can be considered questionable, when it comes to his game calling. Boston does have Kelly Shoppach, who is a great defensive player (but horrible offensively), but unless Saltalamacchia struggles or suffers an injury, don't expect Shoppach to be in too many games.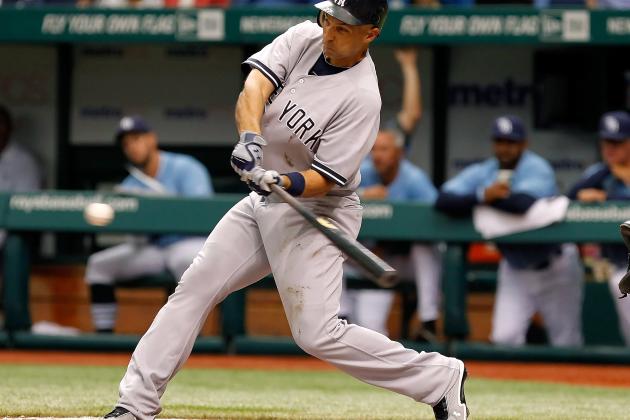 J. Meric/Getty Images

What I like about the Yankees lineup is the fact that there's no true designated hitter on the roster. Granted, Raul Ibanez will be the one usually listed on there, but even at his age, he can still play in the outfield from time to time, so it allows others to take the spot. Plus, even without Ibanez on the lineup, the team doesn't take too big of a hit offensively.
Whether Ibanez plays in the outfield or doesn't play at all, it at least allows guys like Alex Rodriguez, Andruw Jones, and Nick Swisher to play as a designated every now and then, to give themselves a rest from fielding, and allow others like Eric Chavez and Eduardo Nunez playing time, as well.
Boston, on the other hand, has a designated hitter in David Ortiz. No doubt that Ortiz is a fantastic offensively, but he's also the team's cleanup hitter, so when you take him out of the lineup, it definitely makes an impact. And you can't put Ortiz at first base often. Over the past five years, he's played 19 games at the position (he didn't even play there at all in 2008). In fact, the last time he's even played more than 50 games as a first baseman was in 1998, when he was with the Minnesota Twins.
As a result, players like Adrian Gonzalez and Kevin Youkilis hardly get any breaks from fielding, which can make an impact, in terms of durability and long-term energy.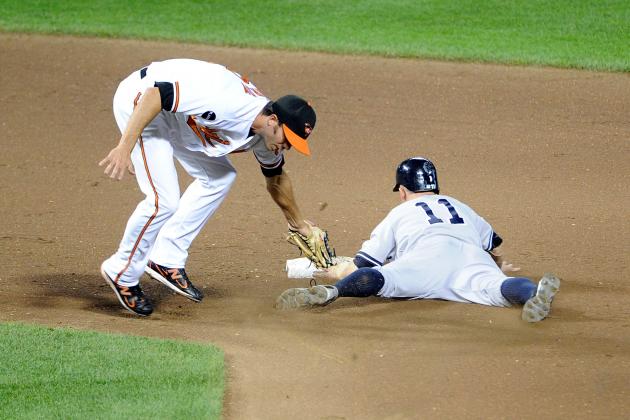 Greg Fiume/Getty Images

We all know that the Yankees offense possess plenty of power, but the team has plenty of speed.
"Chicks dig the long ball," but speed is essential, too. It's what helps makes that single turn into a double, or that double into a triple. It also helps when you have guys that have the speed to steal bases and get into scoring position, which in turn, help make it easier to drive in runs.
Derek Jeter, even at his advanced age, can steal between 15-20 bases. Curtis Granderson, though becoming more of a slugger than a stealer, can still record 20-25 stolen bases, and hit double digits in triples. Alex Rodriguez, though known more for his bat than his speed, once recorded 46 stolen bases (1998, with the Seattle Mariners) and hit double digits in stolen bases every year from his rookie season in 1996 to 2009 (with the exception of 2002, where he had only nine).
And then, of course, there's Brett Gardner. In three years with the Yankees, he has 136 stolen bases, including 49 last year. He has the potential to get 50, maybe even 60 stolen bases, with enough opportunities.
As for the Boston Red Sox, Jacoby Ellsbury had 120 steals in his first two full seasons with the team, and had 39 last year. But you have to wonder how many times he'll steal bases, because the organization might want to consider using him as a slugger, rather than a stealer (especially if he can continue to put up numbers like did he last year on a more consistent basis).
The same could be said for Carl Crawford, who is currently recovering from minor wrist surgery. In nine full seasons in the majors, he has 427 stolen bases in his career. However, last year, in an attempt to turn him into a power hitter, he not only struggled with injuries, but had just 18 stolen bases. Now, depending on where he hits in the lineup when he comes back, and his overall health, will help determine as to whether or not he will be providing speed, as he had done so when he was on the Tampa Bay Rays.
The only other speedy player on this team is Dustin Pedroia, who does a good job of getting on base, and is capable of stealing between 20-30 bases a season. However, that's about it. Compared to the Yankees, they're a much slower team.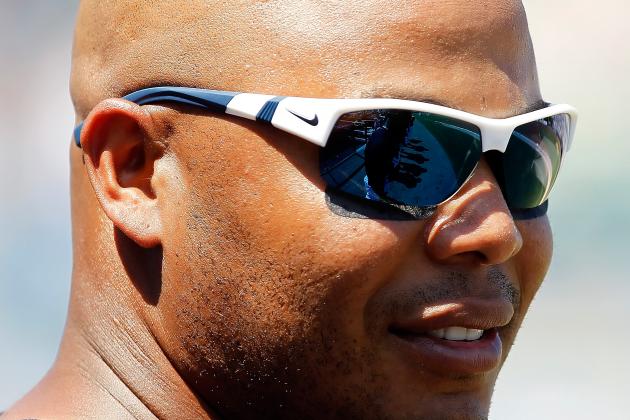 J. Meric/Getty Images

Quick question: Who would you rather have on your bench?
A.) Andruw Jones (or Raul Ibanez), Eric Chavez, Eduardo Nunez, and Chris Stewart?
or
B.) Darnell McDonald, Nick Punto, and Kelly Shoppach?
Tough question, am I right? However, I'm positive I'd go with A on this one.
Rob Carr/Getty Images

Mariano Rivera is the greatest closer in the history of professional baseball. I could just end this slide with that and move on, but let's take a look at what the Red Sox have going right now.
Their closer coming into the season was supposed to be Andrew Bailey, who they got in a trade from the Oakland Athletics. However, he needed to have thumb surgery and now he's out until July.
They could have used Mark Melancon, who was the closer of the Houston Astros last year, and also got in a trade. However, they're sticking him in setup role.
Thus, because Bailey is out and they don't want to use Melancon as closer, the organization are now going with Alfredo Aceves, who, while he's won 10 games as a reliever in two separate seasons, was originally intended to be used in the back end of the rotation, alongside Daniel Bard. However, due to Bailey's injury, that plan was scrapped, and Aceves is now the closer, while Bard will still be used as a starter.
So, in a showdown between closers, it's Mariano Rivera versus Alfredo Aceves, Even against Bailey, Rivera is still the clear winner, but now, it's no contest.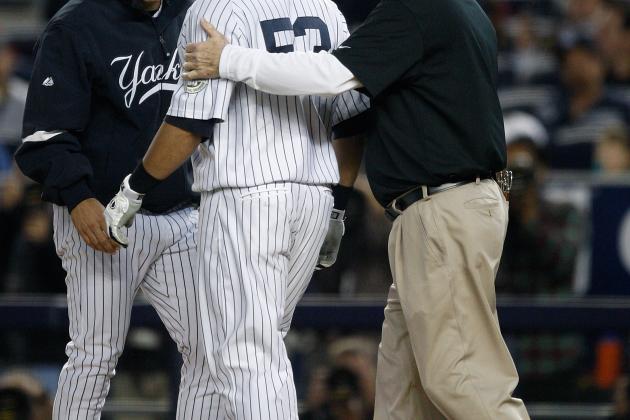 Jared Wickerham/Getty Images

Every team is going to have players that suffer injuries over the course of the regular season. It's going to happen, whether you like it or not.
But what is up with Boston and their medical personnel? It's crazy the number of players that have ended up on the disabled list over the past couple of years.
Just look who's on the list right now: Carl Crawford, Ryan Kalish, Daisuke Matsuzaka, Chris Carpenter (not of the Cardinals), Bobby Jenks, John Lackey (who underwent Tommy John surgery in November and won't be back until the 2013 season), Andrew Miller, and Rich Hill. The regular season has barely even started, and yet eight players are already on the disabled list.
Yes, the Yankees have players on the disabled list too, but outside of Pineda, they're either relief pitchers, or were going to get little playing time in the majors anyway.
And yes, the Yankees had main stars suffer injuries last year, but look what happened. Derek Jeter's calf was nagging him, but after spending time on the disabled list, he hit .327 after the All-Star break. Alex Rodriguez only played 99 games last season, but is now feeling a lot better, physically.
A healthy team, of course, makes for a better overall team. The Yankees, for the most part, not only keep their stars healthy, but if they do suffer injuries, they are able to come back and continue to perform at a high level. Just another factor that helps this organization win games throughout the regular season.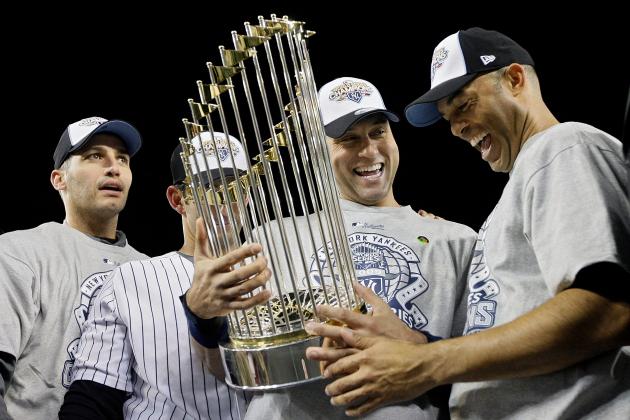 Pool/Getty Images

What makes the Yankees so great is that so many players on the team are either on long-term contracts, which in turn, help develop chemistry. And no matter the team sport, chemistry can go a long way in winning games.
Alex Rodriguez and C.C. Sabathia are signed until 2017. Mark Teixeira is signed until 2016. Derek Jeter has played for the Yankees his entire career, and he' still signed until 2013 (with a mutual option for 2014). Phil Hughes and Rafael Soriano until 2014.
Young guns like Ivan Nova, Michael Pineda, and Eduardo Nunze won't get to be free agents until 2017. Brett Gardner and David Robertson are locked until 2015.
The players have several years to get to know one another, create bonds, and develop chemistry amongst one another.
As for the Boston Red Sox, it's there, but not to the level that the Yankees have.
Only three non-arbitration players are signed until 2015 beyond: Adrian Gonzalez (until 2018), Carl Crawford (until 2017), and Clay Buchholz (until 2015, with options for 2016 and 2017).
A number of players are entering the final years of their contracts or were signed to just one-year deals, including David Ortiz, Daisuke Matsuzaka, and Cody Ross.
If the Red Sox want to be more successful, both short-term and long-term, you need to get more players signed to longer-term deals. Yes, for some, it can be a big risk (see John Lackey, who's signed until 2014) at times, but if you can get the chemistry, your team can achieve success.