Jose Reyes: Marlins Shortstop Reaches 100 Triples, a Rare Modern-Day Feat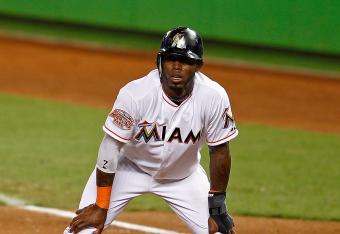 Mike Ehrmann/Getty Images
Though Miami Marlins shortstop Jose Reyes is off to a ho-hum start this season, he has accomplished one feat worth noting: On April 8, against the Cincinnati Reds, he hit the 100th triple of his career, further solidifying himself as one of the most electric and exciting players in the game today.
From 2005 to 2011, the 28-year-old averaged 13 triples a season, leading the National League in the category four times. On pace for over 20 triples at one point last year, Reyes led the league with 16 after tapering off as the season wore on.
When the campaign concluded, he was sitting on 99 for his career.
He reached the big milestone on that warm, sunny April day in exciting fashion. After going hitless in his first four at-bats, Reyes took his turn at the dish in the top of the ninth inning against Reds fireballer Aroldis Chapman. On the very first pitch, the speedy Dominican whacked a line drive to deep left-center and it was off to the races.
He never slowed down—he had done this 99 times before and he was going to do it again.
After momentarily fumbling with the ball, centerfielder Drew Stubbs threw it in with Reyes bearing down on the third base bag. Shortstop Zach Cozart took the throw, but didn't bother relaying it to third. It was too late—Reyes, within feet of the sack, would have been safe by a mile.
Upon receiving the "safe!" call from the umpire, Reyes joined three other stars as the only active players with 100 or more triples. The leader of the pack is Carl Crawford with 112, while Johnny Damon sits at 107 and Jimmy Rollins remains at 100.
Reyes, though, is the best triples hitter of the quartet—he does it with more frequency than the others. He hits one every 45 at-bats, besting Crawford, who holds the next best mark with one every 49 turns at the dish.
And Crawford is hurt. And he's older. Heck all the guys are older than Reyes, and slower than Reyes and less base path-savvy than Reyes—so you can bet the fleet-footed Marlin will eclipse each of their current triple marks in the near future.
The triple itself is an interesting phenomenon. It is perhaps the single-most exciting play in baseball—sure, home runs are great but they aren't exciting.
Thrilling is not a guy hitting the ball hard and then strolling around the base paths.
Thrilling is a guy hitting the ball hard, or just hard enough, putting his head down and running at top speed 270 feet around the diamond, never letting up, sliding in head-first or foot-first at third, often beating a throw by just inches.
That's thrilling. That's the triple.
It combines the good eye and solid contact of a home run with speed, endurance, great base running and, often, quite a bit of luck.
Yet, for much of baseball's history, the triple wasn't particularly rare. In fact, 100 career triples isn't a very elusive feat—over 150 players have reached the mark since baseball began.
But today, with the continually shifting dynamic of the game and a greater emphasis placed on the home run, the three-base hit is becoming harder to come by—a novelty even. Some players, like Hall of Famer Sam Crawford, used to make their careers hitting triples. He hit them like Miguel Cabrera hits longballs.
That doesn't happen anymore. Triples don't happen anymore—or that often, at least.
Now, they just seem to occur by happenstance or as flukes. Therefore, when a player comes along like Jose Reyes, who can hit them with regularity and with some precision, the baseball world should take notice.
Every time he steps to the plate, Reyes is just one millisecond of a swing away from executing one of the greatest offensive plays in the game.
He's done it 100 times before—and this king of triples may do it 100 times again.
This article is
What is the duplicate article?
Why is this article offensive?
Where is this article plagiarized from?
Why is this article poorly edited?

Miami Marlins: Like this team?