NBA Playoffs 2012: 5 Reasons Why the Celtics Will Win the East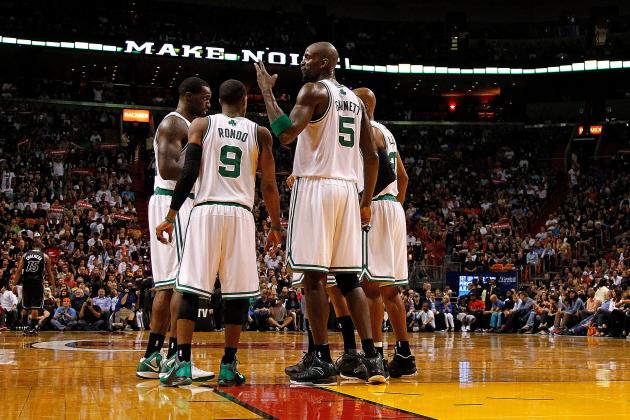 Mike Ehrmann/Getty Images
Boston Celtics
The NBA playoffs are a little more than two weeks away, and the Boston Celtics are rolling in with a ton of momentum. Far from beating upon cupcakes, their recent play has given Celtics fans hope for one last championship run for the Big Three.
Boston's April schedule was thought to be a season killer for an aging team grasping on to hopes for one last hurrah. But Wednesday night's home victory over the Atlanta Hawks capped off an improbable 5-2 start to the month, highlighted by two victories over the Miami Heat, and a current four-game win streak, all against current Eastern Conference playoff teams.
The Celtics have accumulated the NBA's best record (18-7) since the All-Star break, thanks to a number of unlikely developments. Here are five reasons why Boston should emerge from the NBA playoffs as Eastern Conference Champions.
Begin Slideshow

»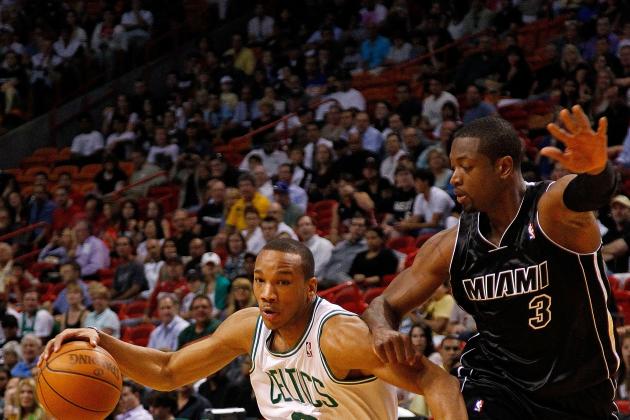 Mike Ehrmann/Getty Images
Celtics Guard Avery Bradley
When the Celtics selected the young guard out of the University of Texas, it was a fairly low risk pick. Rajon Rondo was then, and is now, firmly entrenched as the long-term answer at point guard for the C's, so immediate expectations for Bradley were low.
Following an unspectacular freshman year, it was important that he enter the league in a situation where he could develop slowly, and Boston was exactly that place. In addition to being allowed to come along at a steady pace, Bradley benefited from being drafted by a team that put a premium on the one skill that he had consistently shown even in college: lock-down defense.
Bradley was forced into playing more minutes this year due to injuries to both Rajon Rondo, and more recently, Ray Allen. Given greater responsibility, Bradley quickly proved to be one of the NBA's best perimeter defenders, but he also showed some unexpected development in his offensive game.
To be clear, Bradley will not soon emerge as a threat to someday unseat Ray Allen as the NBA's premier shooter, but his overall game has been a key to Boston's current run towards the NBA playoffs, and paved the way for the following move...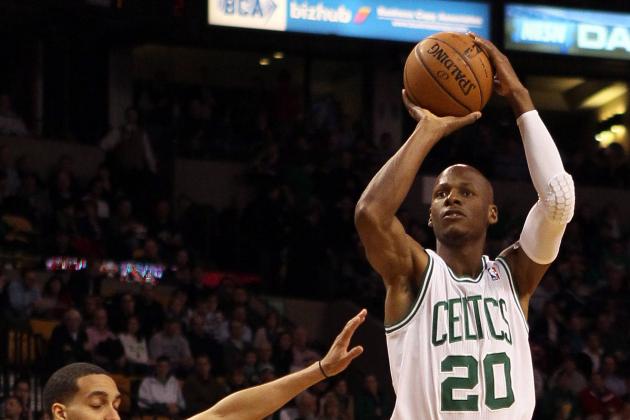 Elsa/Getty Images
Ray Allen
The Celtics guard is not going to play enough games coming off the bench to be eligible for the award, but his acceptance of the sixth man role may turn out be the most important adjustment for any team heading into the NBA playoffs.
With Avery Bradley fitting so well into his new role as a starter, the team has responded with some terrific play over the last few weeks, creating a tough predicament for Celtics coach Doc Rivers once Allen returned from a 12-game absence due to an ankle injury. Being the classy, team-first player that he has always been, Allen took the pressure off of Rivers by gladly accepting a back up role.
The move not only helps to provide some much-needed scoring punch for Boston's second unit, but it also reduces the mileage put on the Allen's legs, and gives the team a look that other teams haven't seen in a playoff setting, adding a bit of an element of surprise to their postseason run.
Mike Ehrmann/Getty Images
Kevin Garnett
If Kevin Garnett is taking the Cream or the Clear to rejuvenate his once problematic knees, I pray that same group responsible for handling Ryan Braun's sample are put on the KG case.
Sure the move to center has given Garnett generally more favorable match ups on the offensive end, but his rejuvenated play has re-energized the team and the Boston fan base. He is still essentially a spot-up, set shooter from 15-18 feet, but his renewed vigor has allowed him to be more active on the boards and on the defensive end, areas where his contributions are most needed.
Rajon Rondo may now be Boston's best player, and Paul Pierce is still their best closer, but Kevin Garnett is still the heart of the Celtics; and a healthy heart makes life, and an extended playoff run, a whole lot easier to navigate.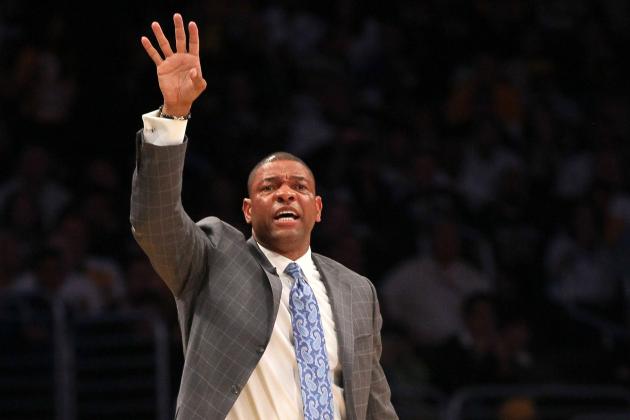 Stephen Dunn/Getty Images
Celtics Coach Doc Rivers
What other coach would you say is better than Doc heading into the 2012 NBA playoffs? Some questioned whether current Chicago Bulls coach Tom Thibodeau was the true brains behind the Celtics team that won the 2009 NBA Championship. But it's clear now, particularly with the job he's done this year, that Rivers knows what the hell he's doing.
He's managed to prevent Rajon Rondo from going into the tank after a half-season of trade rumors, he figured out a way to rejuvenate Kevin Garnett by moving him to center and he's trusted Avery Bradley enough to not only give him major minutes, but to stick with the kid as a starter even after Ray Allen's return.
It undoubtedly helps that Rivers has a veteran crew that cares only about winning, but many of the moves he's made this year have been pure genius. If he doesn't win his second NBA Coach of the Year award this season, we'll need to double check for those hanging chads.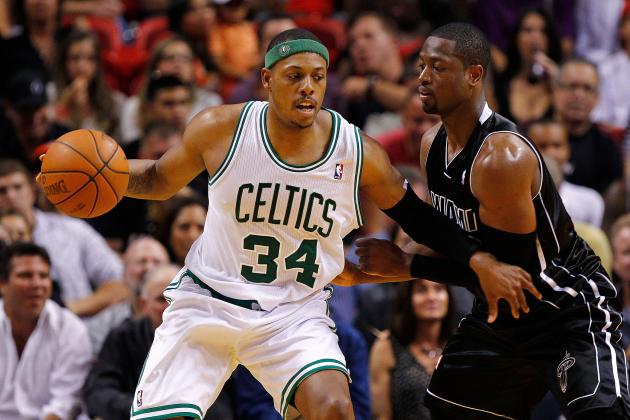 Mike Ehrmann/Getty Images
Paul Pierce
Paul Pierce is coming off of a March campaign during which he emerged as the NBA's Eastern Conference Player of the Month, putting up north of 22 points per game, while averaging 5.6 rebounds and 3.6 assists while leading the Celtics to a 12-5 record.
He continues to demonstrate time and time again that when the Celtics need a big bucket, he's the man to go to. Just as he did against the Heat in the closing minutes of Boston's 115-107 win in Miami on Tuesday night, Pierce continues to prove to be a better closer than Kyra Sedgwick.
His days as a consistent 20-point scorer are far behind him, but No. 34 still knows how to deliver a big bucket when his team need's him most, and I'm certain he'll have enough bullets in the chamber to shoot down Boston's Eastern Conference foes during this year's playoff run.
Contact Geoff at geoff@popflyboys.com, follow him on Twitter @snglemarriedguy, and read more of his takes on sports and pop culture at popflyboys.com