B/R Debate: What Is New York Jets QB Mark Sanchez's True Ceiling?
April 13, 2012

Christopher Pasatieri/Getty Images
The New York Jets are still trying to pick up the pieces from their meltdown at the end of the 2011 season that caused them to miss the playoffs.
One quick way to pick up several of those pieces would be for Mark Sanchez to make leaps-and-bounds improvement over his first three years and finally live up to the billing as a top-five pick. But exactly what is Mark Sanchez's ceiling?
To debate the topic, we bring in TJ Rosenthal of The Jet Report, a fan blog for the Jets, who can also be found on Twitter.
I'll let you lead us off.
TJ: The Jets traded up to the fifth pick to obtain Mark Sanchez in 2009. I'm sure they didn't have "career game manager" in mind when they did it.
Sanchez was a confident, quick-decision-making, exuberant player enough times throughout '09 and '10 with the Jets to allow the observer to feel that there is still more upside potential, as long as the consistency in his play can improve to other quarters besides the fourth.
That's when he seems to focus in the best.
However, if the mental strain of offensive handcuffs over the first few years and any mechanical flaws are the real culprits of his struggles—not a faulty offensive line, mediocre run game, ex-offensive coordinator Brian Schottenheimer and chirpy WR's that Sanchez apologists claim were the main collective cause for his problems in 2011—who helps him fix that? Rex Ryan? Tony Sparano?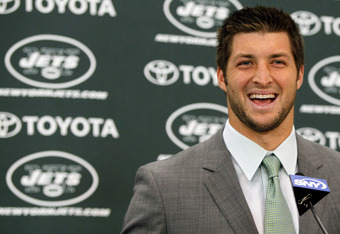 Mike Stobe/Getty Images
Add to that the pressure of trying to win back some of the trust that he lost in the locker room in '11 and the potential madness of "Tebowmania," and you now have additional threats to his growth process.
If the threats that seem to be growing in number are managed, I think he can be a legitimate passer and team leader. We've already witnessed enough performances by him in the clutch to know he can handle the pressure of the big game in the Big Apple when he is trusting himself out there.
Erik: You're a first timer to the B/R debate, but you speak like a seasoned vet. Spot-on analysis.
My thoughts on it are thus: No matter what the culprits were, whether they were the previous offensive scheme and coordinator, mediocre running game, diva receivers, confidence issues, poor accuracy or anything else, Sanchez's full potential won't be realized until he is surrounded by talent.
That is to say, he's not the type of quarterback that can lead a rag-tag offense to big games.
Yes, he has his moments, but those moments need to be consistent as you mentioned. Sanchez's total stats have improved, but alarmingly, his yards per attempt have dipped year after year, if only slightly from 6.7 to 6.5 and finally 6.4 in '11.
He's had some great moments, specifically in the playoffs, and there's no need to question his ability to lead a team in the games and moments that matter most, but the question is whether he can consistently get his team into those games and moments in order to show his ability to lead in those situations.
TJ: It's completely reasonable to argue Sanchez needs more weapons—another vertical threat, more designs for the eternally emerging tight end Dustin Keller, a real feature running back to help bolster the fear of play action and so on.
The natural comparisons he has to deal with regarding his local neighbors at the position haven't allowed him any breathing room with the fanbase or New York media, either.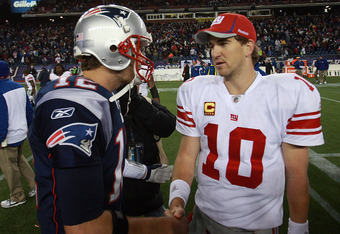 Jim Rogash/Getty Images
Future Hall of Famer Tom Brady, the Jets' decade-long divisional nemesis, has done more with more interchangeable no-name targets (Randy Moss aside) than any quarterback I can think of. Eli Manning just won his second Super Bowl while emerging as a top-five quarterback during the same year that Sanchez struggled the most as a pro.
Where die-hards who don't miss a play have mainly taken issue with Sanchez's play, though, has been in his inconsistency with the plays he is supposed to make, his lack of downfield attempts and his body language—the "nuts and bolts" type stuff such as hitting the slant pattern and other routes with open guys on the run.
This, combined with what has become a habitually visible moping when things aren't going well, are what many loyalists feel are within his power to fix, whether he is surrounded by an All-Pro skill position cast or not.
The "downfield" argument is mixed. The pro-Sanchez fans will argue he's lacked time to throw long, while the receivers have failed to get separation often enough. Opponents to this view feel he's just gun shy now, afraid to turn it over, afraid to make a mistake, which is the unfortunate side effect of the "game managing handcuffs" he was asked to wear from the onset in New York.
Erik: The comparisons between he and Brady/Eli Manning, at this point, aren't fair to make. He's entering his fourth year, which is when Manning ultimately came into his own with the Super Bowl XLII win. But even Manning had a bad year that year, throwing a league-leading 22. Brady, on the other hand, was revered for his clutch play early in his career, not for dazzling statistics and lighting up a scoreboard.
So what does that mean for Sanchez? It means it doesn't matter what kind of stats he puts up, just that he gets it done when it matters.
Still, as I mentioned earlier, you'd like to see him put his team in position for him to get it done more often. Let's not forget, either, that he's had some erratic clutch play as well. The Jets blew an 11-point lead against the Colts in the '09 AFC Championship and almost came back from down 24 in '10.
His ceiling is high in the sense that he got his team into the AFC Championship twice, not in the sense that he will one day throw for 5,000 yards and 35 touchdowns.
But he has got to stop sulking. As soon as that lower lip extends past the upper lip, the Jets are cooked.
TJ: Many have a short memory when it comes to the career trajectory of Eli Manning, who inspired a lot of local chatter regarding being benched himself, I believe, late in year three or four. Brady has, of course, been coached well and has risen to the occasion with a calm, cool hand seemingly from the onset in Foxborough.
Sanchez? In three years, he's already had some extreme highs and lows. From a Jets standpoint, hopefully he's learned from them all and brings more of a battle-hardened demeanor and exterior to his play entering camp this year.
He'll need one.
Between "Tebowmania" and a vulture-like local media that will fly around him, waiting for the first sign of weakness, he will be heavily challenged to show that he is confident and in control not just of the offense, but of his emotions, from the minute he puts his cleats on for the first time this summer.
Fair or not, that's how it's going to be for him in the coming months.
Many of us still have faith in him and feel that he has a lot more room to grow. Above all, Sanchez has to have faith in himself. Without that, he'll never prove that the ones who have stood by him through the struggles were right in doing so.
Erik: In order for others to have confidence in you, you must also have confidence in yourself.
A great debate, TJ. Thanks for joining me, and with this being one of my favorite Jets debates yet, I truly hope you will join me again in the future.
For the readers, be sure to check at the AFC East blog every day for a new debate over AFC East-related topics.